Try this delicious and easy-to-make Ajo Blanco Soup recipe. Made with almonds, garlic, bread, and sherry vinegar, this classic Spanish soup is a great way to enjoy the flavors of Spain. Make it for lunch or dinner.
The Homemade Ajo Blanco Soup Recipe is a Variant of Gazpacho Because, Like This, It Is Also Made with Bread, Oil, and Garlic. Ajoblanco Is a Very Popular Cold Soup in Andalusia and Extremadura.
If there is a specific origin of ajoblanco to locate the Ajo Blanco, it is in Almáchar, Málaga, where there is even a day dedicated to the Ajo Blanco. It is celebrated on the first Saturday of September.
To make a classic Ajo Blanco Soup Recipe, we will need very few ingredients: almonds, garlic, bread, oil, vinegar, and a pinch of salt.
We will make the almond soup recipe more or less thick depending on the quantity of bread that we use. We can also adapt it to our taste by varying the quantities of vinegar or salt. In addition, it can always be lightened with cold water.
The most traditional Ajo Blanco Soup Recipe is accompanied by sweet grapes. You can also add ham, fish in brine, or pickles, but the one we leave you today is the Ajo Blanco made according to its original recipe. So, we hope you dare do it because it's delicious.
INGREDIENTS
100g of day-old bread
250ml water
1 clove of garlic
175g of raw almonds
half a teaspoon of salt
1 tablespoon of white wine vinegar
75ml light olive oil
For garnish, green seedless grapes for
How to Make Ajo Blanco Soup Recipe
Step 1
First, we crumble 100 g of bread from the previous day into pieces and add 250 ml of water to a basin. While preparing the remaining ingredients, we let the bread soak in the water.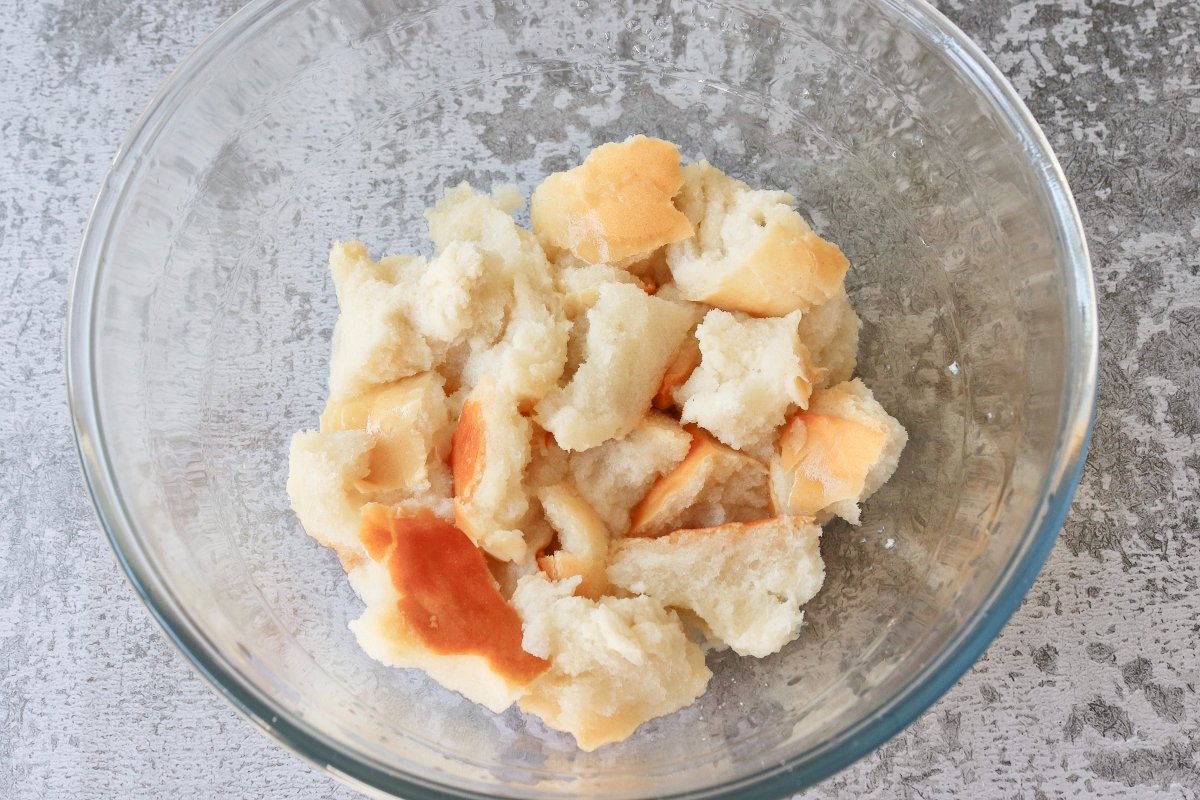 STEP 2
Remove the germ from 1 clove of peeled garlic. When eating raw garlic, as is the case here, it is best to remove the germ from it to make digestion easier.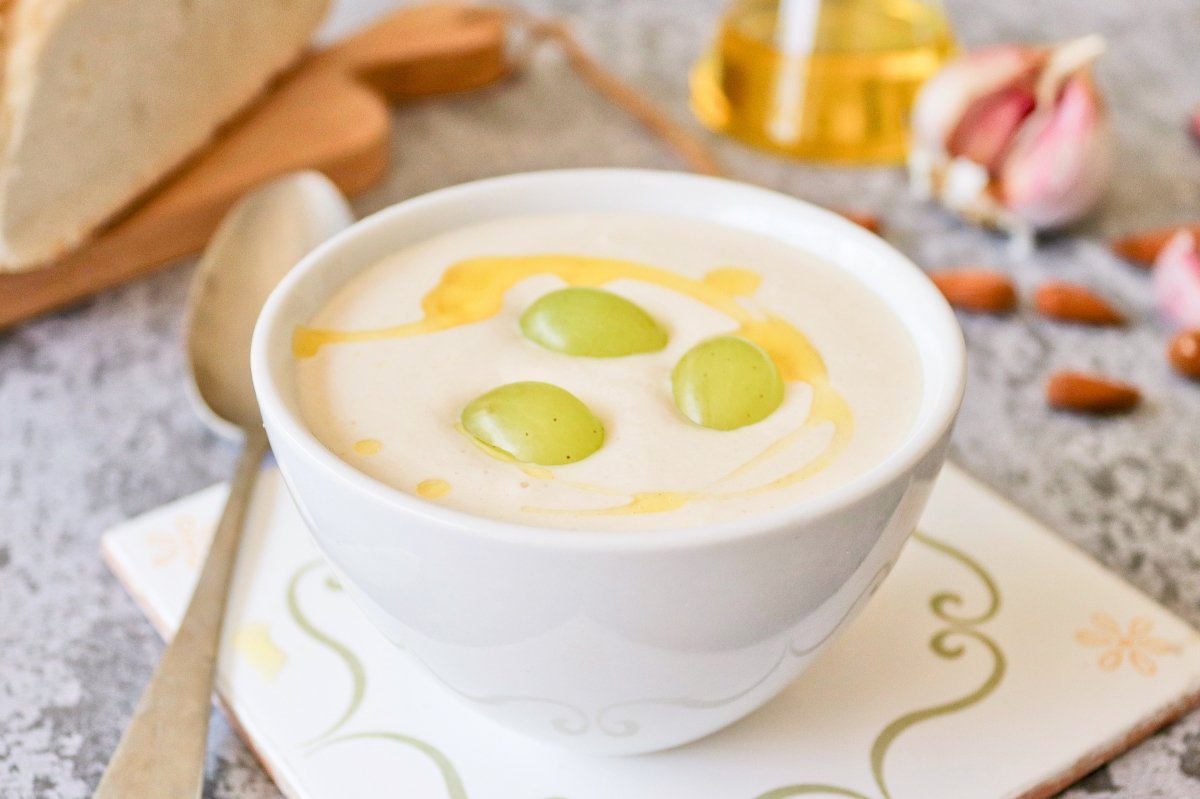 STEP 3
If you don't have a glass blender, you can use any other food processor and, if required, strain the soup afterward to make the Ajo Blanco Soup Recipe smooth and lump-free. In the blender's glass, combine 175 g of raw almonds, the garlic, and 1/2 tsp. salt, 1 tablespoon of white wine vinegar, and 75 ml of sweet olive oil.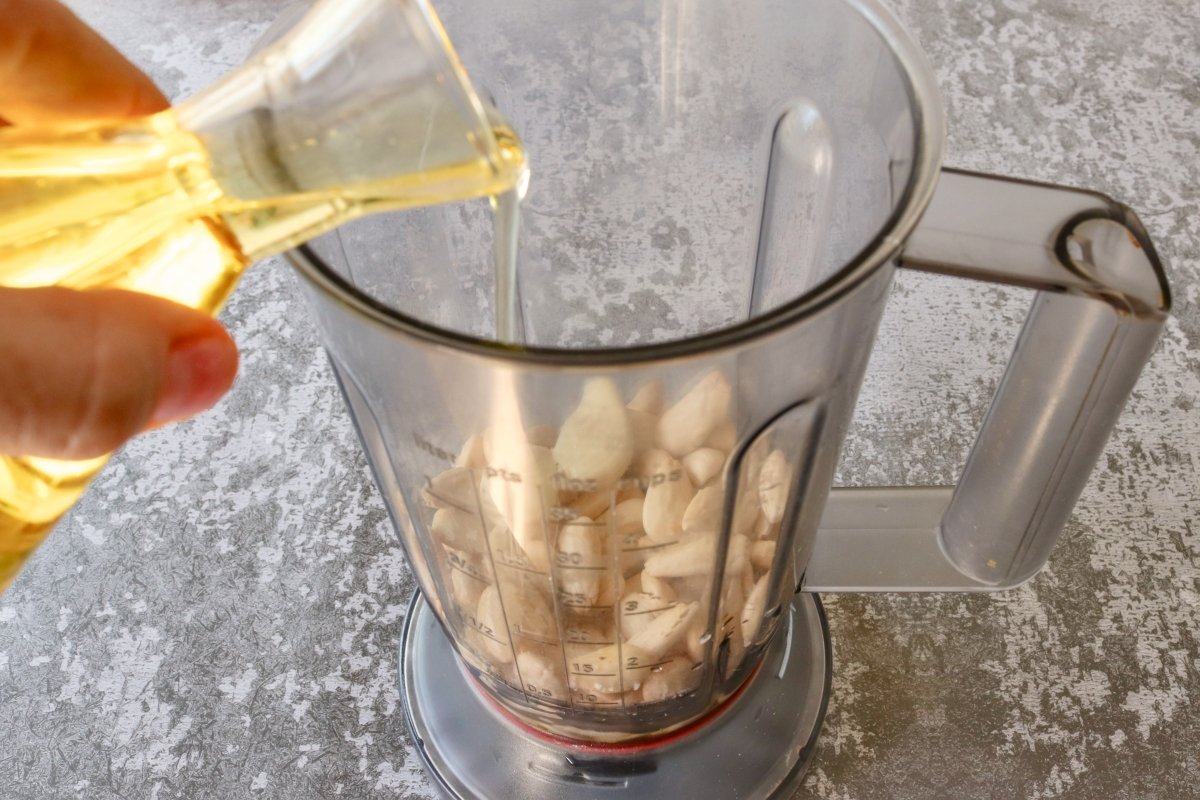 STEP 4
The bread that had been soaked in water was also added. We don't drain it since grinding, the entire mixture needs the water that the bread hasn't absorbed.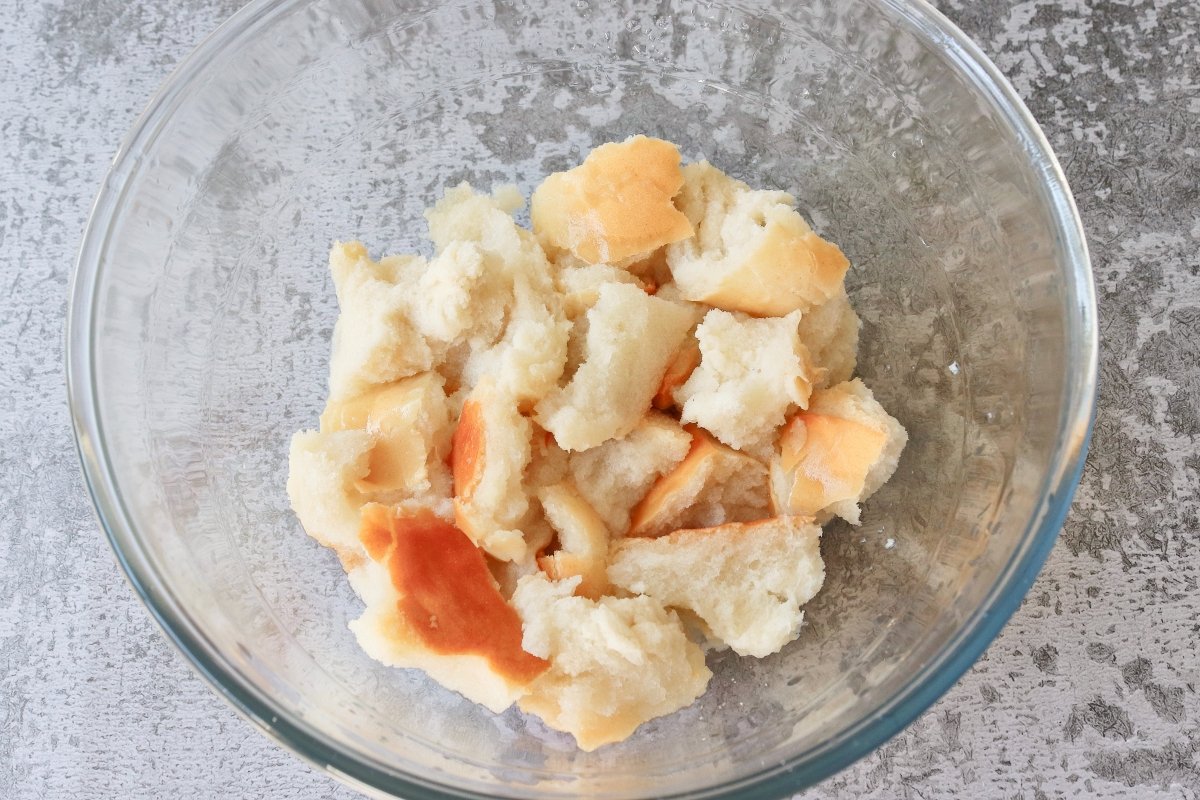 STEP 5
Once all the ingredients are combined, they are ground to a silky smooth consistency before the Ajo Blanco Soup Recipe is placed in the refrigerator for at least two hours. To prevent it from absorbing any flavor from the refrigerator, we cover it with a film.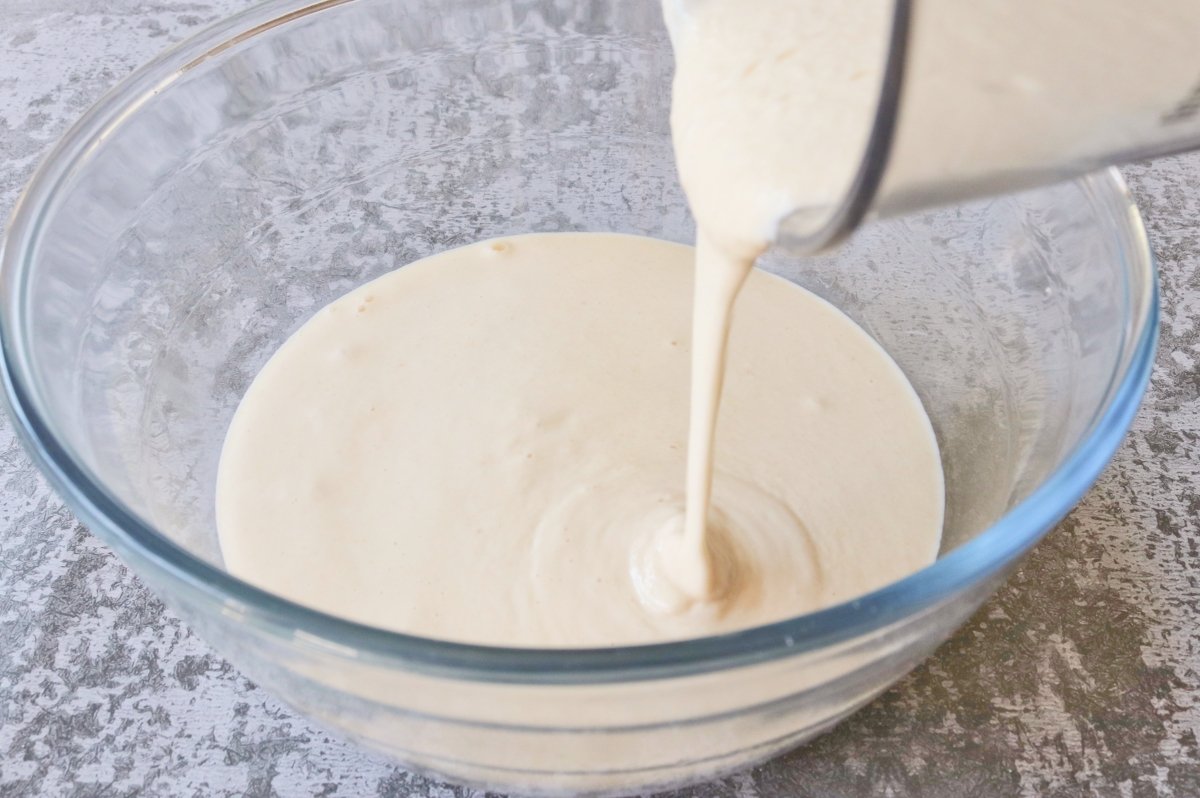 STEP 6
For each dinner, we chopped a few green seedless grapes to go with the ajo blanco.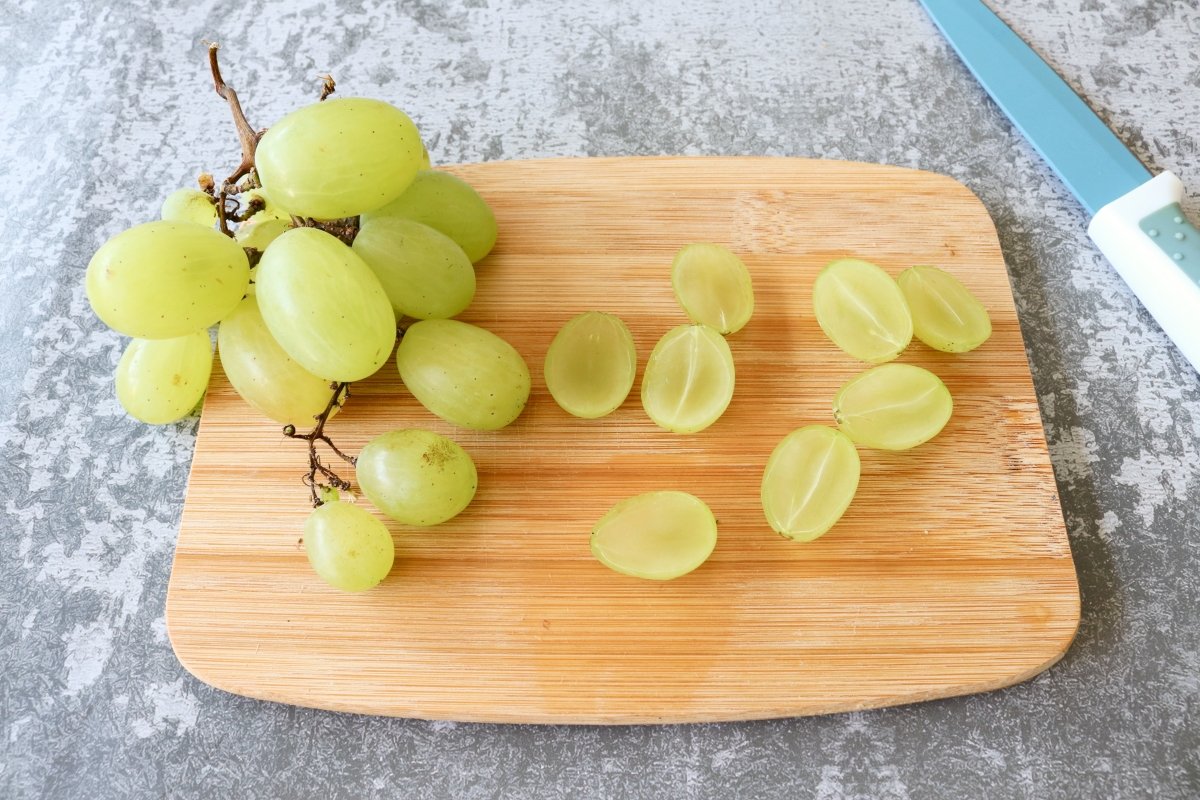 STEP 7
With the grapes and a spray of olive oil, the ajo blanco is served very cold.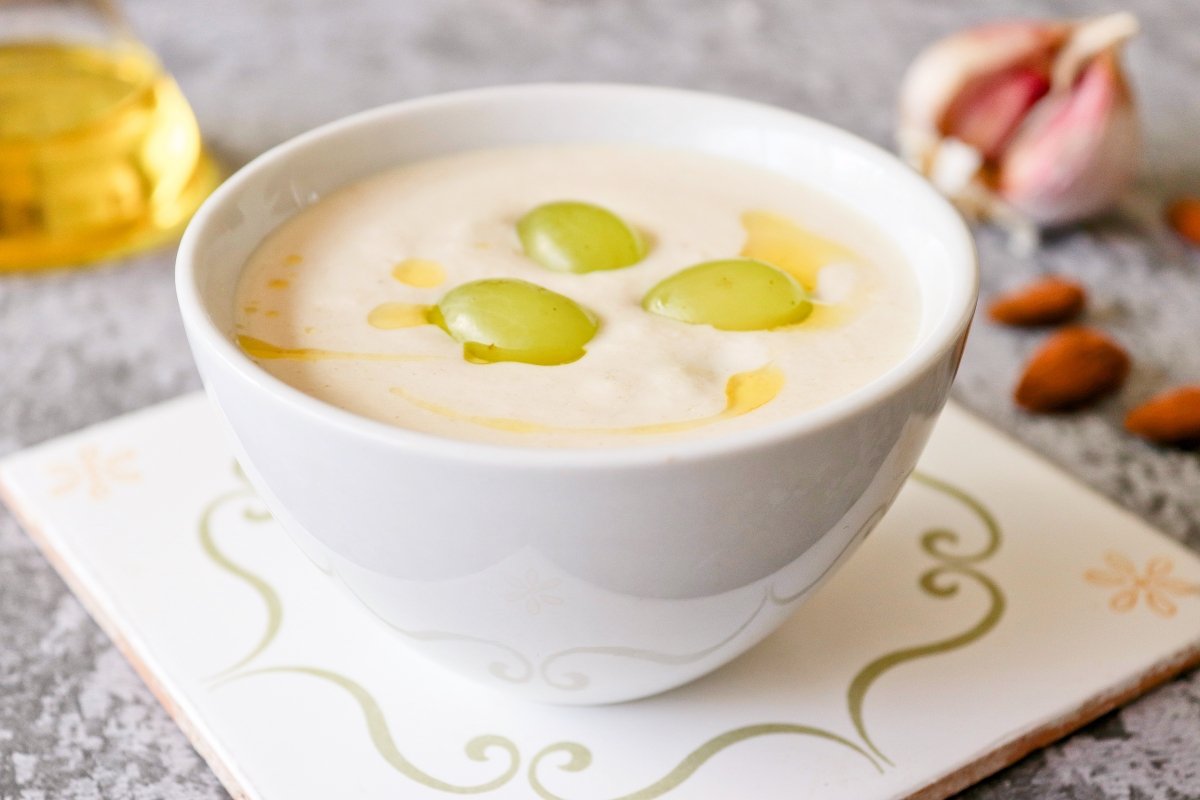 FAQS
What does ajo blanco mean in English?
Ajo Blanco, which translates to "white garlic," is also known as a white gazpacho. The best advice is to get sherry vinegar from delis. Use red wine vinegar instead.
What Berry is used to garnish ajo blanco?
With a trip to the blender, a straightforward base of bread, almonds, and water becomes incredibly velvety. The soup is finished with a green grape garnish, which gives it a lively and fruity touch.
What is Spanish soup made of?
It originates from Andalusia, a region known for its numerous vegetable and olive groves. Tomato, olive oil, vinegar, and raw vegetables like cucumber, pepper, onion, and garlic are the key components of gazpacho.
What is the history of Ajoblanco?
Its roots can be found in some well-known Roman soups composed of equal parts vinegar, oil, and bread. But, Arab cuisine, with its extensive use of almonds, undoubtedly had an impact on this recipe, turning it into what is currently known as ajoblanco.
What are the three types of soup?
Soup can be divided into four primary categories: thin, thick, cold, and national. These soup varieties are well-known in today's contemporary kitchen.
Is ajo garlic good?
The flavor of ajo rojo garlic is delightfully mild and creamy. This Spanish type is fairly similar to Creole Red, yet it is a lovely and unique garlic. When baked, the ajo rojo is light and creamy, but be careful if you eat it raw—the heat creeps up gradually.
What form of garlic is best for health?
Consuming raw garlic can help prevent colds, fevers, and coughs. The best approach to reap the benefits is to consume two chopped cloves of garlic each day.
What ajo means?
Ajo means garlic.
What is ajo made of?
Ajo Blanco was traditionally made with only bread, almonds, and garlic and was seasoned with vinegar and oil. However, modern recipes frequently draw inspiration from gazpacho and include fruit as well (not for nothing is ajo blanco sometimes known as the white gazpacho).
What is ajo for cooking?
It is a straightforward sauce composed mostly of freshly squeezed orange and lime juice and garlic cloves that have been roasted in olive oil. You must have it in your cooking arsenal. Here are some of the uses I put it to this week.
Also Read: