The authentic oyakodon recipe is a traditional Japanese chicken and egg donburi. When we talk about fast food, we imagine a good hamburger or a slice of pizza. However, if you now think of typical Japanese fast food, you will come across the word donburi. Donburi is a Japanese elaboration that has rice as the main ingredient and is served in a bowl.
There are many types of donburi, and among them, we find oyakodon, one of the most popular donburi in Japan, especially in offices, where workers are looking for a nutritious option to eat and continue their working day. It is easy to prepare and even easier to find in restaurants.
In addition, oyakodon ingredients are very common and we can find them in any pantry. As we mentioned at the beginning, the main ingredient is rice, which we will top with onion, egg, chicken breast, and a very rich sauce that will give our oyakodon the perfect flavor.
If you follow the steps below, you can enjoy a delicious dish with flavors that will take us on a journey with our palates to one of the most sought-after countries in terms of gastronomy.
INGREDIENTS
200ground rice
50g whole chicken breast
Salt to taste
1 tablespoon of soy sauce
1 tablespoon mirin
2 tablespoons of fish broth
1/2 teaspoon of white sugar
25g onion
Chopped fresh parsley to taste
3 eggs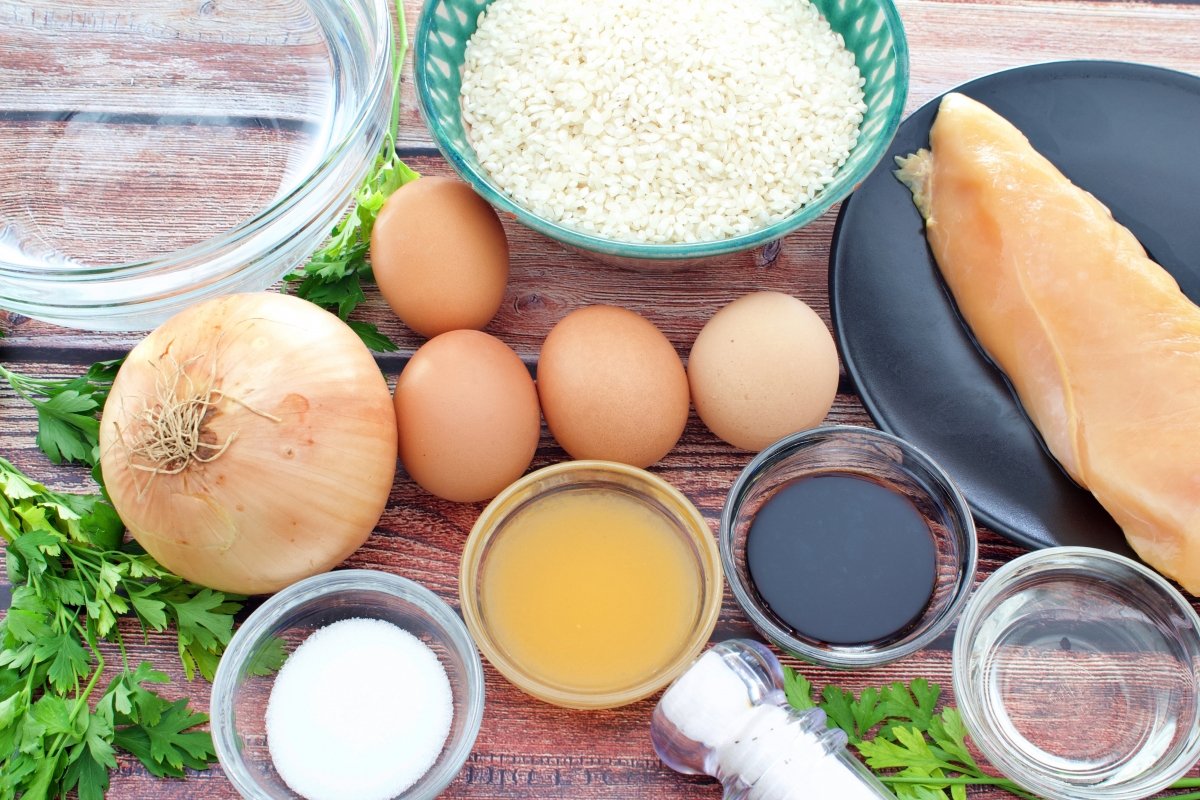 HOW TO MAKE AN AUTHENTIC OYAKODON RECIPE
STEP 1
To begin, prepare 200 g of rice. To do this, it is thoroughly rinsed in order to eliminate the starch and get a flawless texture after cooking.
When it's clean, we bring the rice to a boil in a saucepan with the amount of water specified on the package for our type of rice.
Reduce the heat to low, cover the saucepan, and simmer the rice for about 15 minutes, or until no water remains. Allow the rice to rest for 10 minutes with the lid on.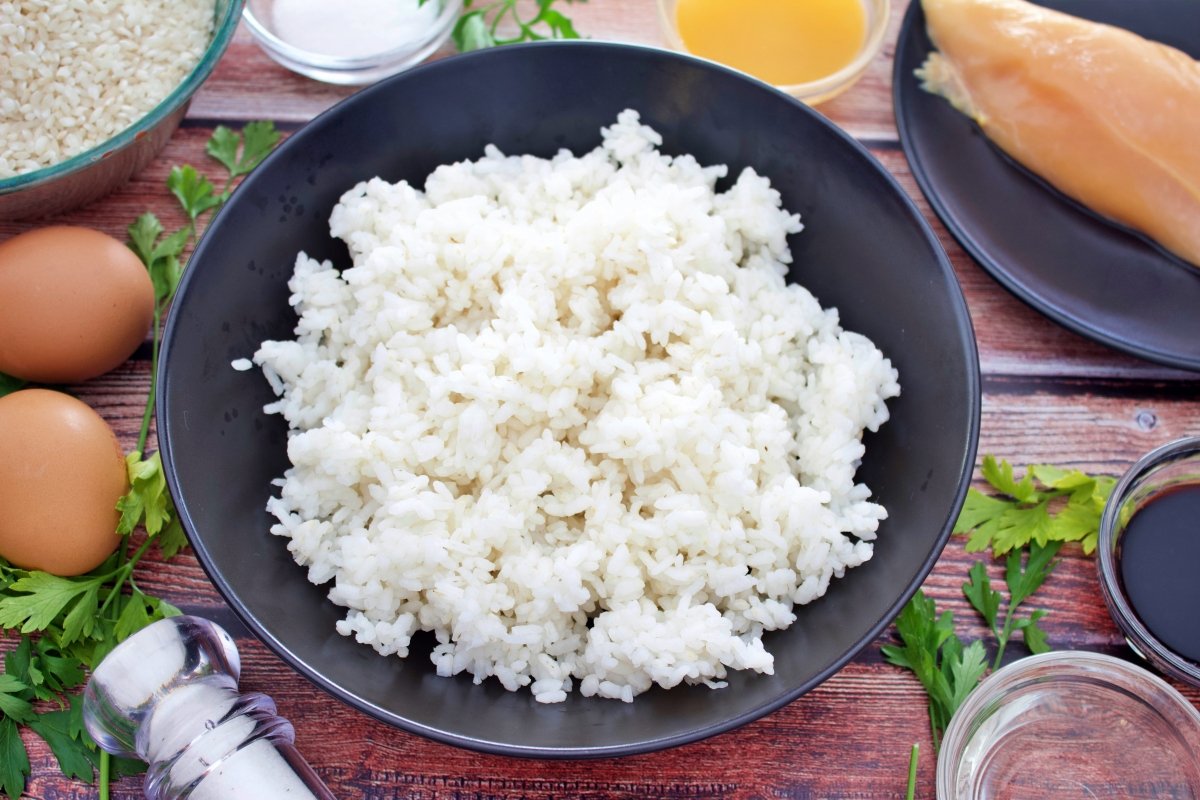 STEP 2
Then, cut the 50 g of whole chicken breast into large, equal cubes. We season with salt to taste.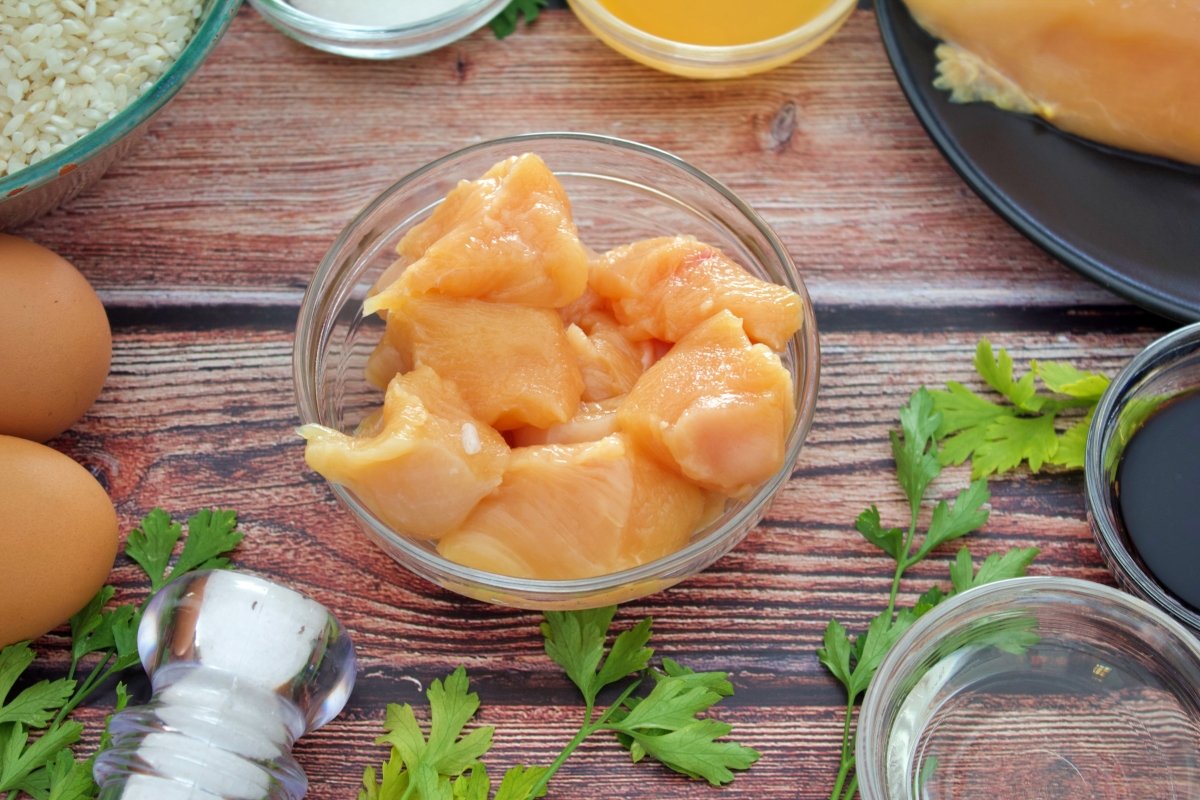 STEP 3
Now, without heating, combine 1 tablespoon soy sauce, 1 tablespoon mirin, 2 tablespoons fish stock, and 1/2 teaspoon white sugar in a small skillet little larger than the bowl in which you will serve this meal. Stir until the sugar is completely dissolved.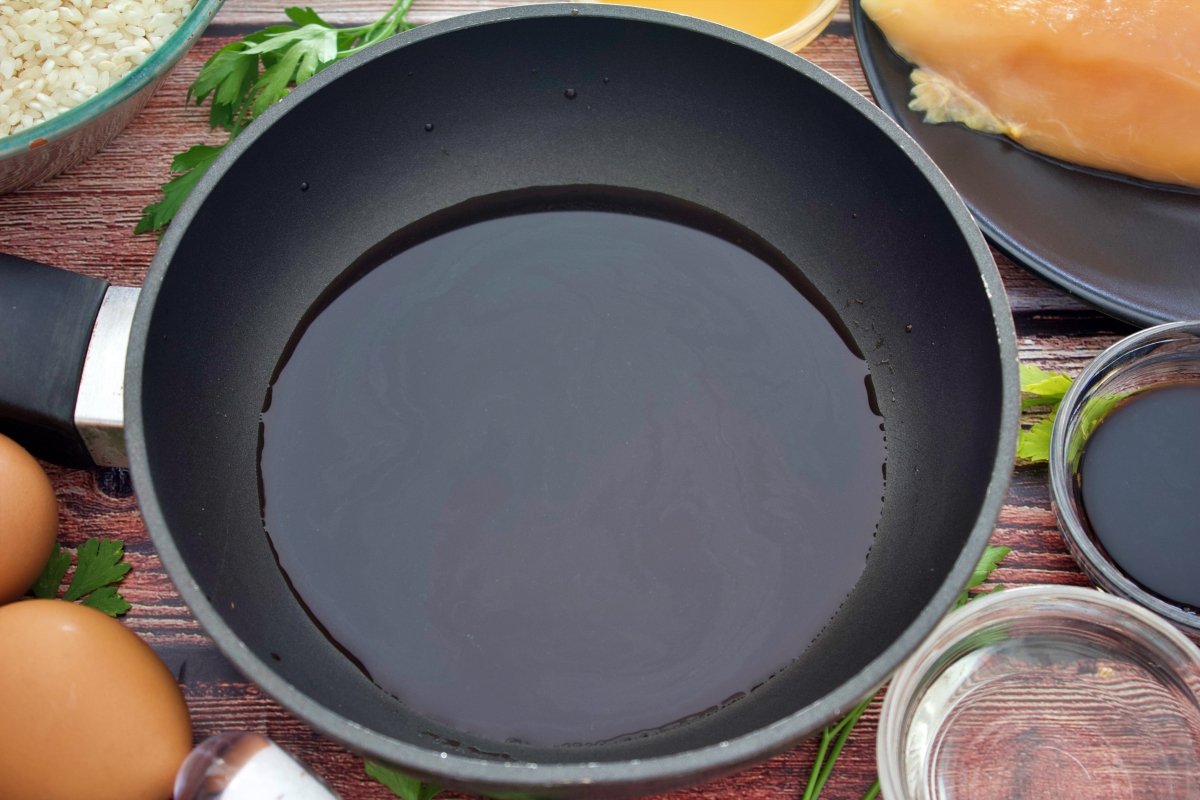 STEP 4
Then add the chicken breast pieces and 25 g of julienned onion to the pan. Yes, we heat over medium heat with the cover on and stir sometimes.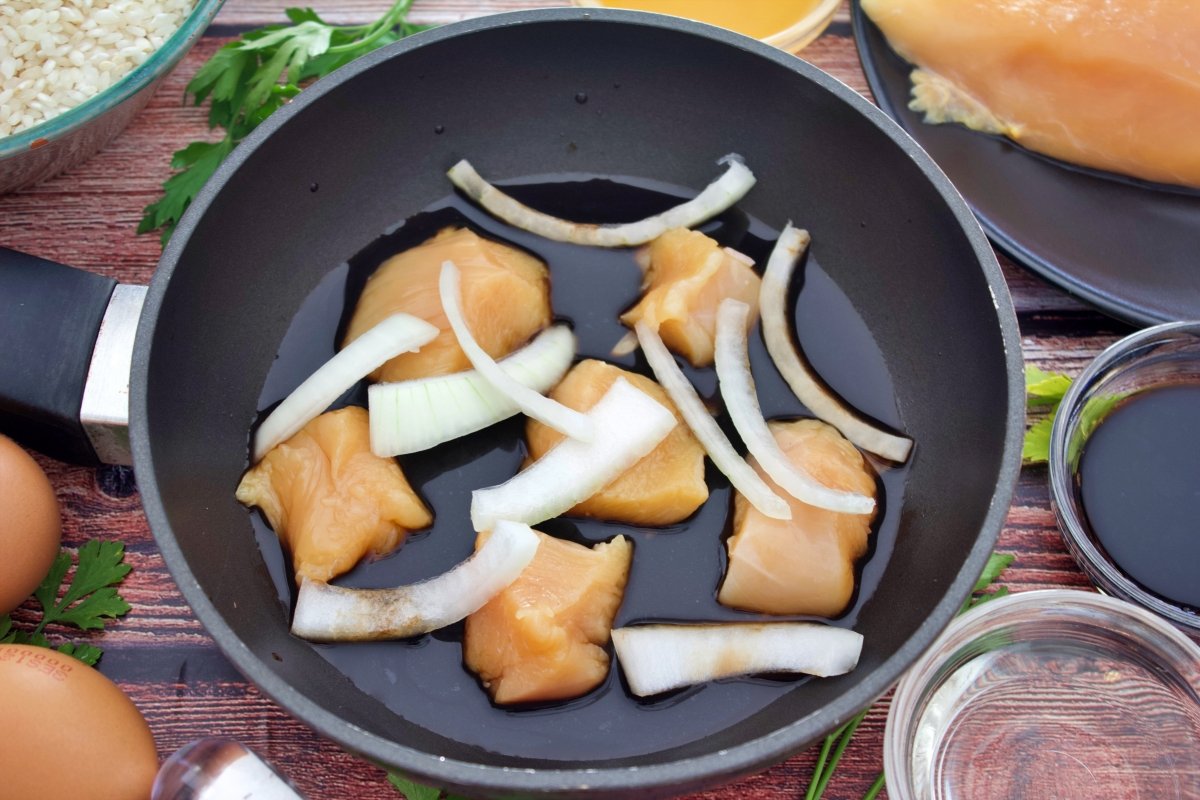 STEP 5
When the chicken is well cooked, sprinkle with fresh parsley. It doesn't have to be very finely cut.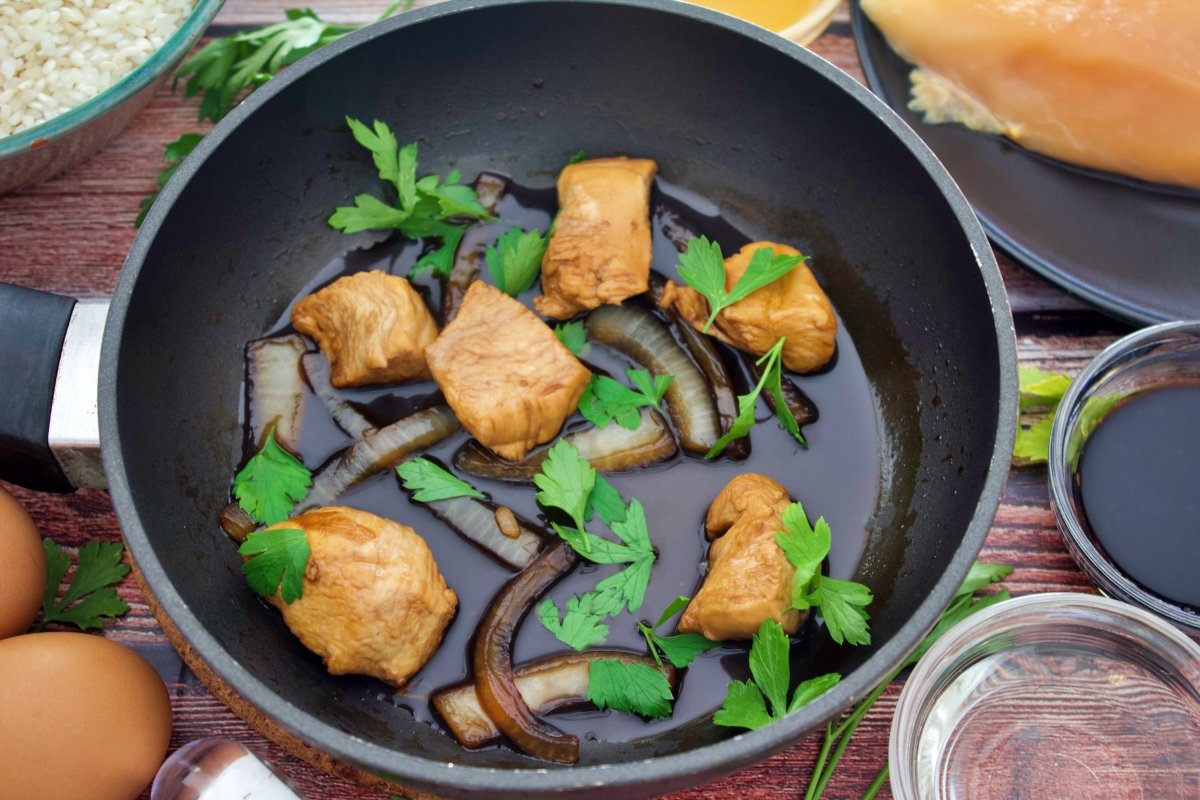 STEP 6
Cover the pan again with 2 softly beaten eggs. Cook until it resembles a tortilla. You don't have to take out too much. We cook till the texture is to our liking.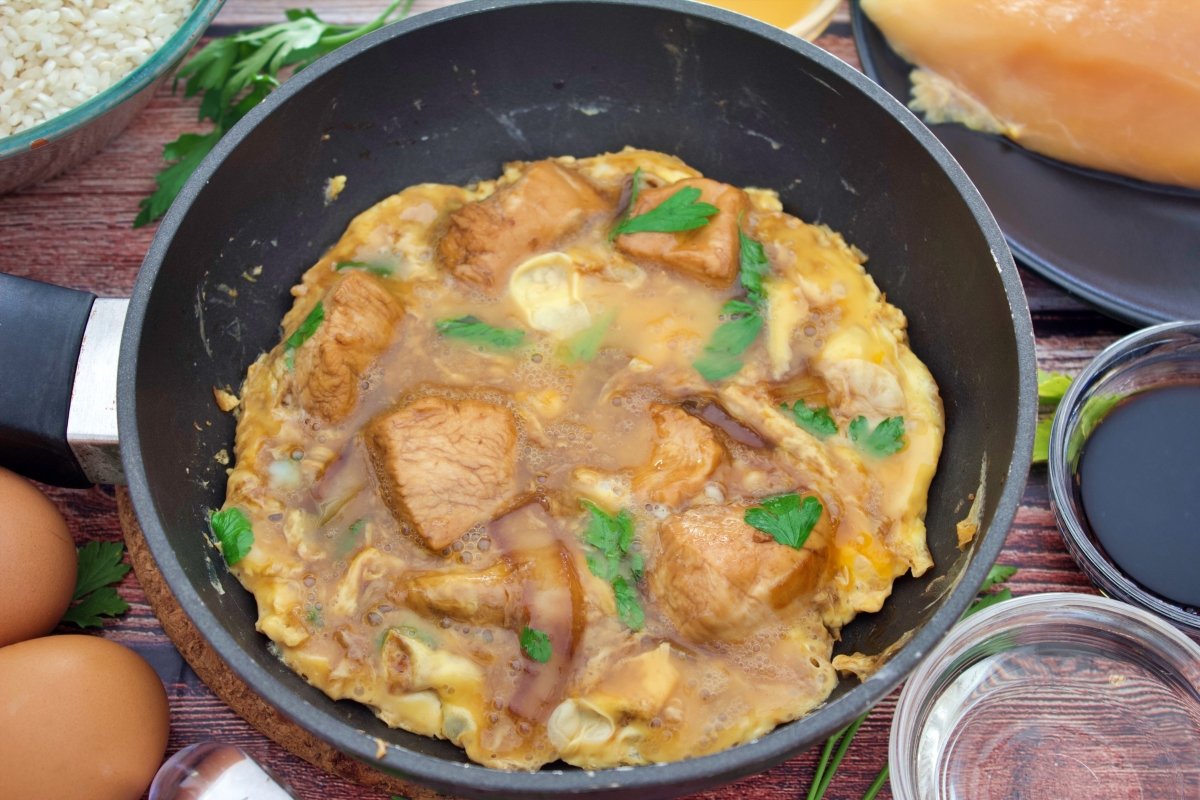 STEP 7
To finish, pour the previously cooked rice into a bowl and top with the pan mixture.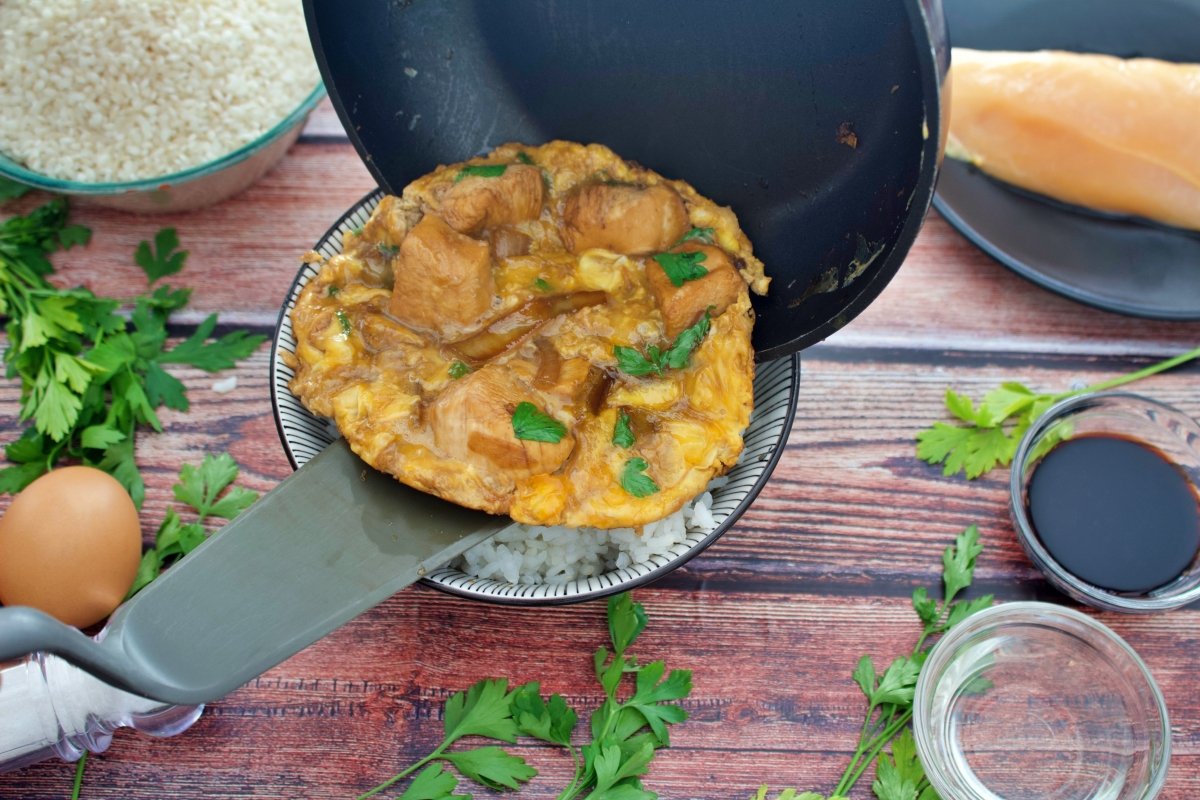 STEP 8
We remove the yolk from the white of the remaining egg, place it in the centre, and serve it right away. We already have a delicious Japanese meal called oyakodon. To have fun with!