In Banana Split Dessert without Cream Cheese Simply arrange the various ingredients on the plate and serve the banana split, which is an incredibly easy dessert to make. Spray whipped cream is an option for a quick alternative, but we can whip our own cream if we prefer it to be creamier.
The classic ice creams that accompany the banana are vanilla, strawberry, and chocolate ice cream with milk. In addition, the banana split is served with whipped cream and strawberry, caramel, and chocolate syrups.
As an option, it also contains nuts or other dried fruits, although in our case, we did not add them. What we've added are cherries, one on each scoop of ice cream, to top off this summery dessert.
The Banana Split Dessert is served in an elongated container with a bottom to hold the ice cream scoops and the banana or plantain.
Let's discuss in detail how to make Banana Split Dessert without Cream Cheese.
INGREDIENTS
50 ml of cream to mount the cream mounted in a spray
1 banana or plantain
1 ball of vanilla ice cream
1 ball of strawberry ice cream
1 ball of chocolate ice cream
1 tablespoon caramel syrup
1 tablespoon of chocolate syrup.
1 tablespoon strawberry syrup
3 candied cherries.
How to Make Banana Split Dessert without Cream Cheese
STEP 1
To achieve this, whip 50 mL of 35% fat cream for each banana split. For it to drive well, it must be really chilly. We won't add more sugar because the ice cream already contains enough of it. Put the whipped cream in a piping bag with a curly tip and use it to garnish the banana split.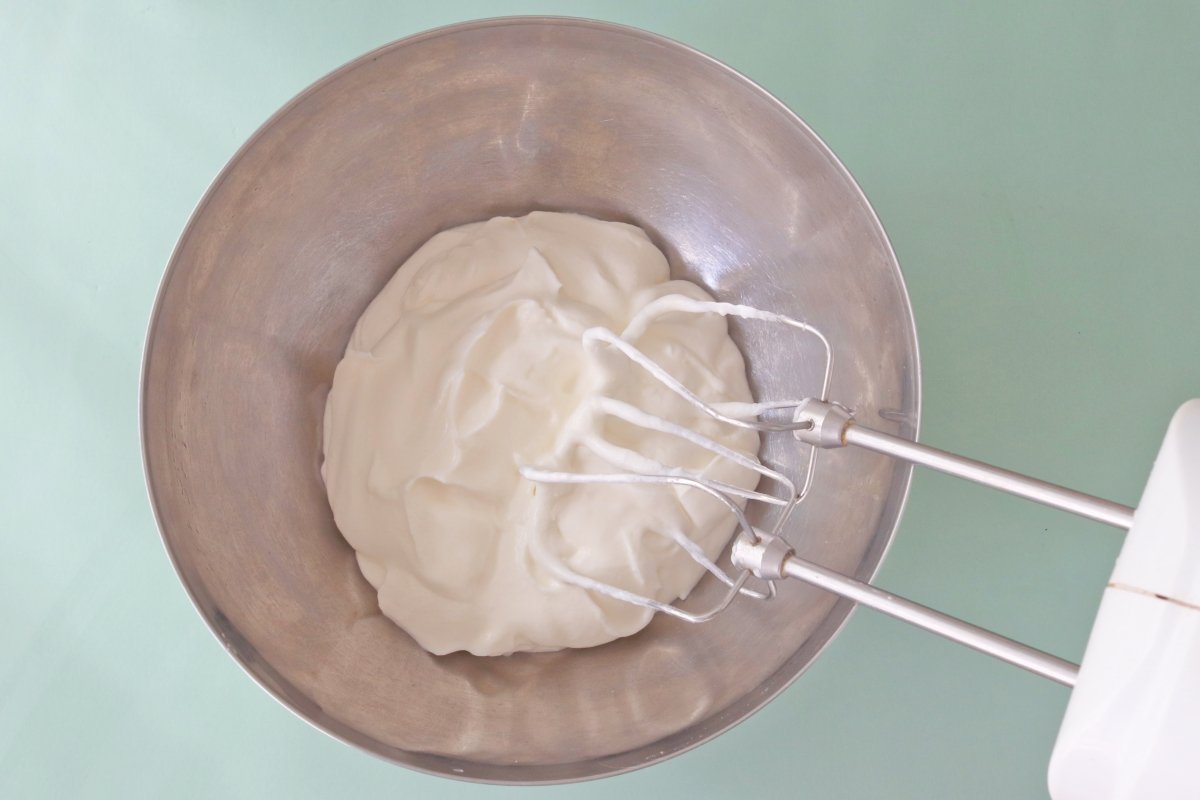 STEP 2
Cutting 1 banana or plantain comes next. To do this, we peel it first, then cut it in half lengthwise, making sure that the two halves are of equal thickness.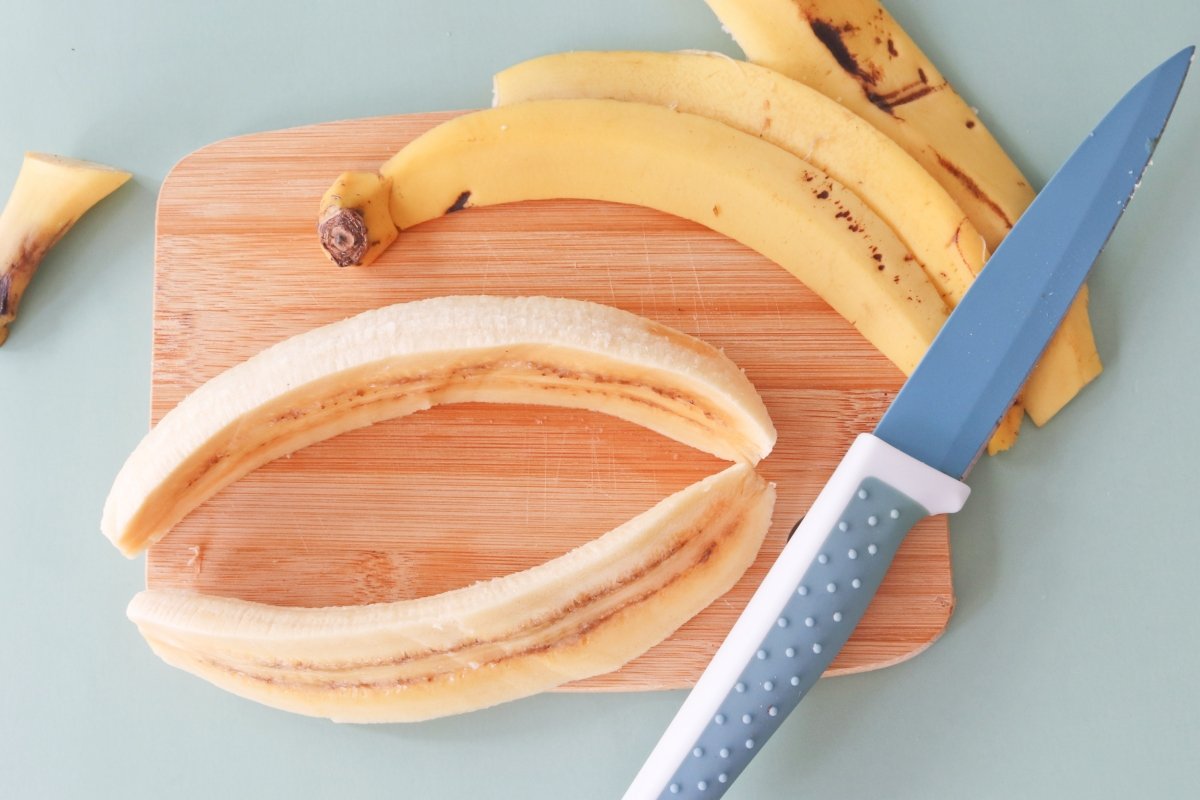 STEP 3
The ice cream scoop is then heated in a bowl of hot water before being used to form the balls. This will make it simpler for us to remove the ice cream scoops and clean them in between flavors.
On a large platter, sandwich the first scoop of vanilla ice cream between the two banana halves. After rinsing the spoon, we add 1 scoop of strawberry ice cream. Finish with a single scoop of milk chocolate ice cream after once again cleaning the spoon.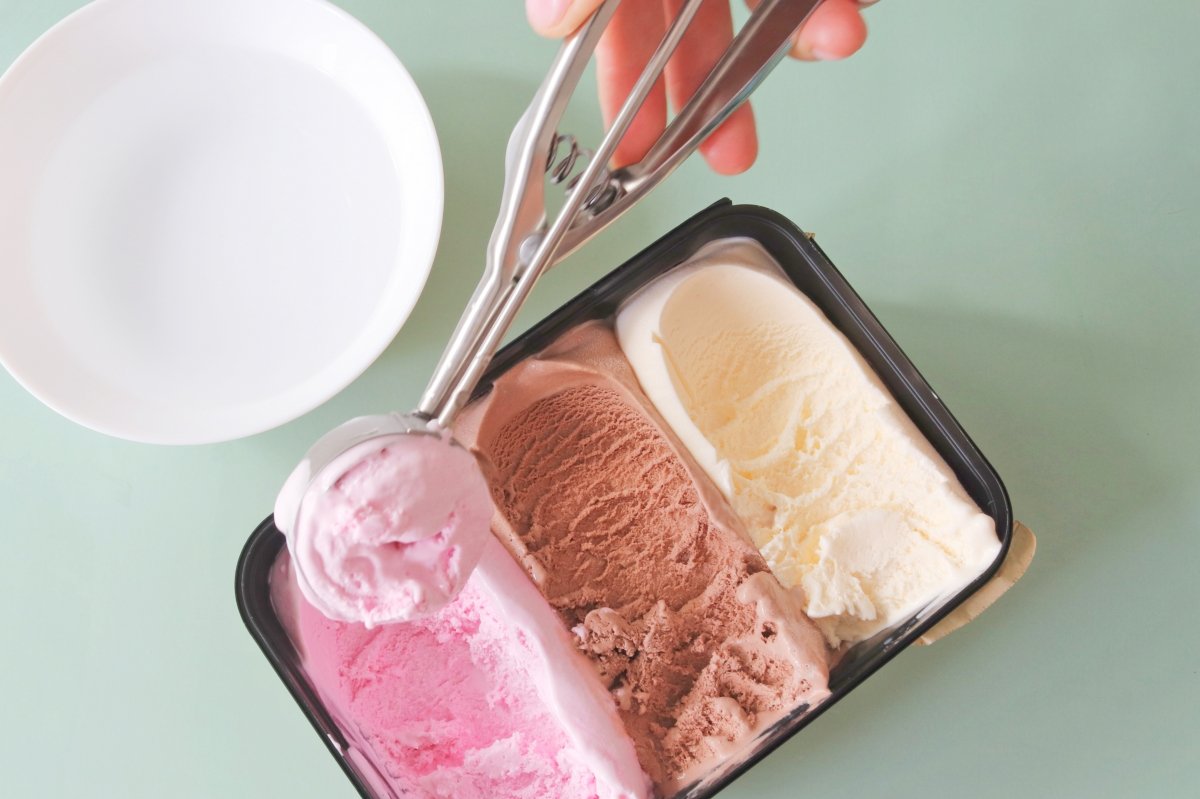 STEP 4
Fill the spaces between the ice cream scoops with cream using a piping bag or spray cream. Add 1 tablespoon each of strawberry, chocolate, and caramel syrup to the decorations. We top each scoop of ice cream with 1 tablespoon of icing and wafers to complete it.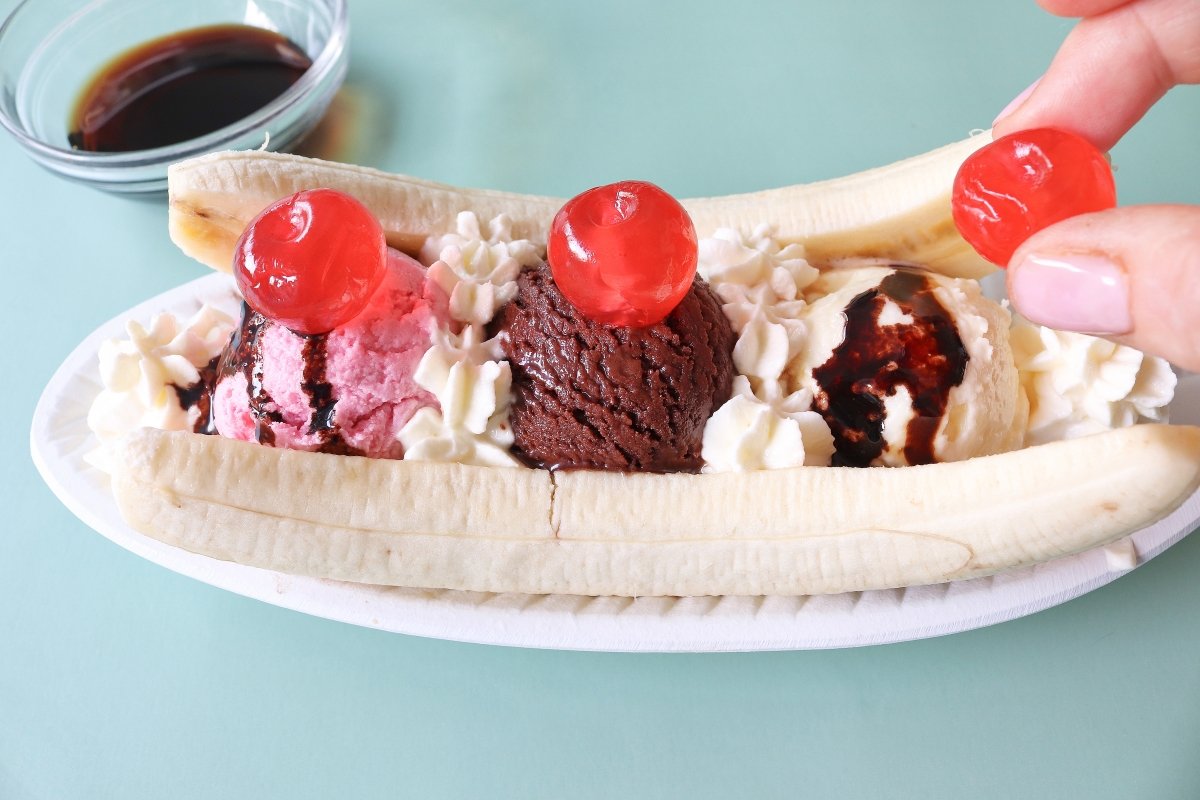 STEP 5
We started serving the banana split right away.
FAQS
How do you make banana splits?
The banana should be peeled before being cut in half lengthwise. In a long, shallow dish, place the banana slices up against the sides. Between the banana slices, arrange the scoops of vanilla, chocolate, and strawberry ice cream in a row.
What is the original banana split made of?
The original banana split consisted of a banana that had been split vertically down the center, three scoops of ice cream each in a different flavor, and fruit on top.
The original recipe included crushed pineapple, strawberries, raspberries, marshmallow syrup, chopped almonds, and pitted black cherries.
Does banana split have an egg?
The egg is optional you can whip it with sugar and whipped cream.
Is banana splits good for you?
The banana itself serves as the major ingredient in a banana split. You may obtain potassium, vitamin B6, vitamin C, manganese, fiber, and more from this fruit. It can boost energy levels and even has ingredients that control blood sugar levels.
What does banana split taste like?
A banana split is a traditional dessert that combines vanilla, strawberry, and chocolate ice cream with toppings including whipped cream, maraschino cherries, and chocolate syrup. The ice cream is sandwiched between the two halves of the split banana, thus earning the name.
How many calories is a banana split?
Nutrition information for one banana split, per serving (490 g) A serving of 490 grams of banana split has 965 calories. 34 g of fat, 12 g of protein, and 159 g of carbohydrates make up this portion.
Who invented a banana split?
David Stickler is credited with creating the banana split in 1904 after cutting a banana in half and adding scoops of strawberry, vanilla, and chocolate ice cream, three types of flavored toppings, and whipped cream.
Why is it called a banana split?
The new treat's invention contest was allegedly sponsored by Hazard. In Hazard's creation, a banana was cut in half, along with three scoops of ice cream, chocolate sauce, pineapple, strawberry topping, nuts, and whipped cream. To finish off his dessert, Hazard added two red cherries.
What is the longest banana split?
The banana split was 8,040 meters (8.04 kilometers) long and took 12 hours to make. It had 2,000 liters of toppings, 2,500 liters of ice cream, and 40,000 bananas.
Why do the skins on bananas split?
Your homegrown bananas are likely overripe if they are splitting open on the cluster. Bananas should be picked while still green and allowed to ripe at room temperature on the counter.