Beef brisket tacos cannot be missed in Mexican cuisine, so typical of the state of Jalisco. They differ from other tacos because they are made with veal (or beef, as they say in these lands), especially with a cut called "suadero," and they are characterized by browning in a pan or griddle once armed.
Our recipe is an adaptation of the traditional recipe, and in this one, we used a round piece of veal, although any other that is used for cooking or braising (round, tail, skirt…) will also work.
The sauce that accompanies the meat is essential for the barbecue taco filling to acquire flavor and juiciness, so be generous when adding herbs, spices, and other condiments.
Use the peppers you find in your main grocery stores, adjusting the quantities according to whether you like them more or less spicy. With three red peppers, which we used, the meat acquires a delicious and subtle hint of heat.
Before we leave you with the recipe, one last recommendation. It is corn tortillas' crunchy characteristics. They are very rich, but also very brittle. They can be replaced by corn and wheat tortillas, which are more resistant and pleasant to handle. You will find them in most supermarkets.
INGREDIENTS
For the meat:
600g stewing beef
1/2 onion
2 cloves of garlic.
2 bay leaves
5g salt
For the sauce:
3 red peppers
25ml white wine vinegar
1 clove of garlic
1 clove
1 pinch of ground black pepper
1 pinch of dried oregano.
1 pinch of dried thyme.
1 pinch of ground cumin.
1 pinch of ground ginger
1 pinch of ground cinnamon
Salt to taste.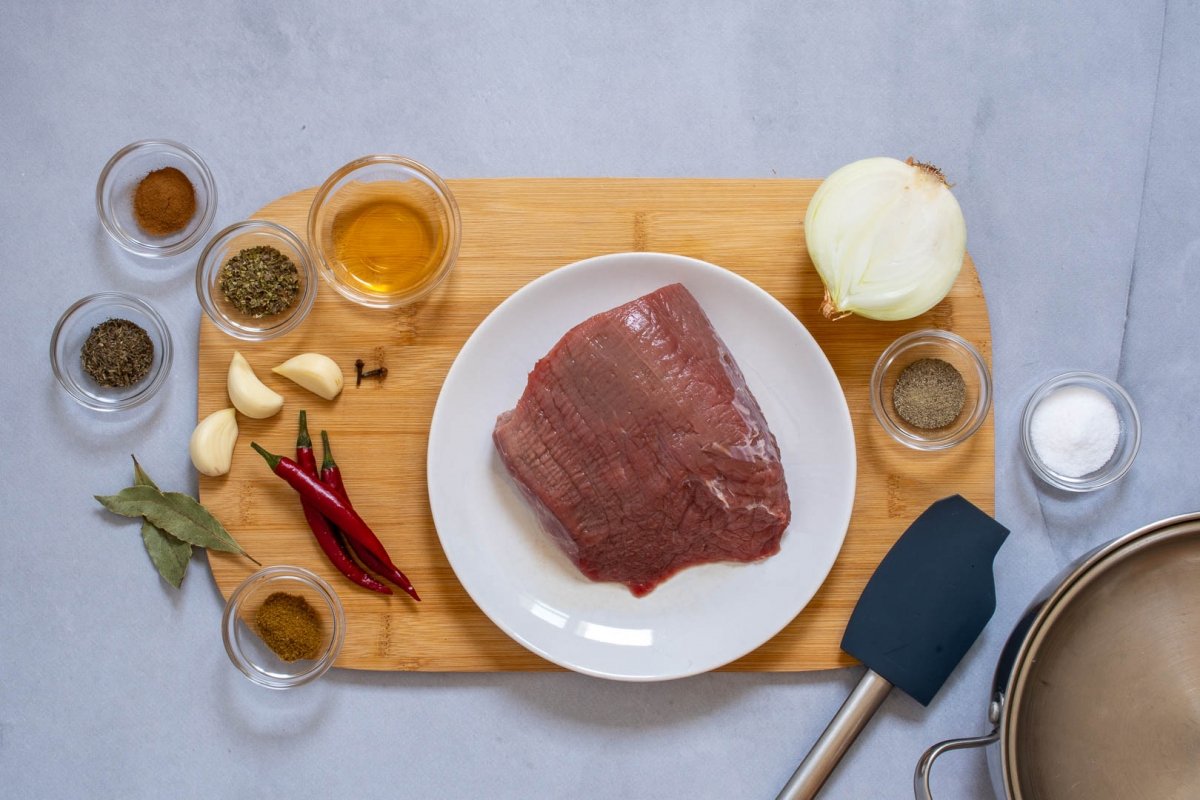 For mounting:
12 corn tortillas (or corn and wheat mix) for tacos
20ml of extra virgin olive oil.
1/2 onion
1/2 Lima
4-6 sprigs of fresh cilantro (optional)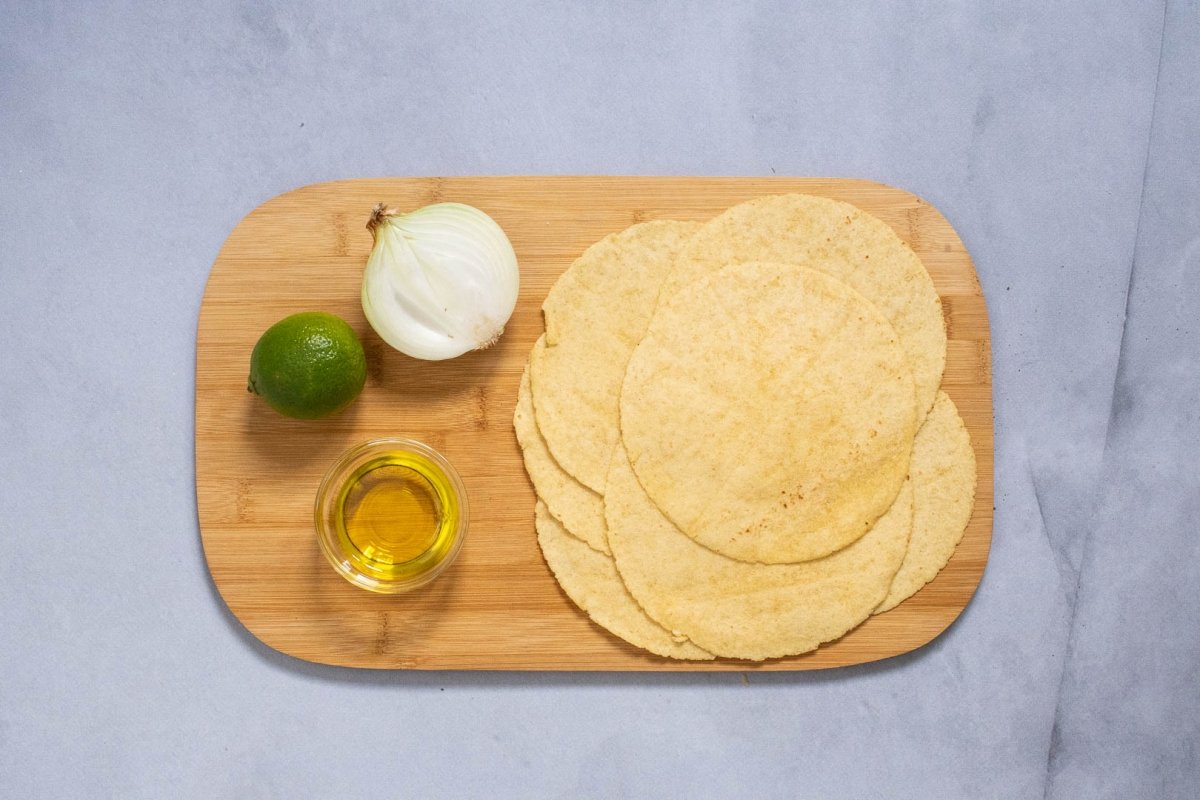 How to Make Beef Brisket Tacos
STEP 1
To prepare the meat, simmer 600 g of stewed beef in a pot with 1/2 peeled onion, 2 peeled garlic cloves, 2 bay leaves, and 5 g of salt for 3 hours over very low heat, covered with water. We watch the process to ensure that the meat does not become dry, adding more water as needed.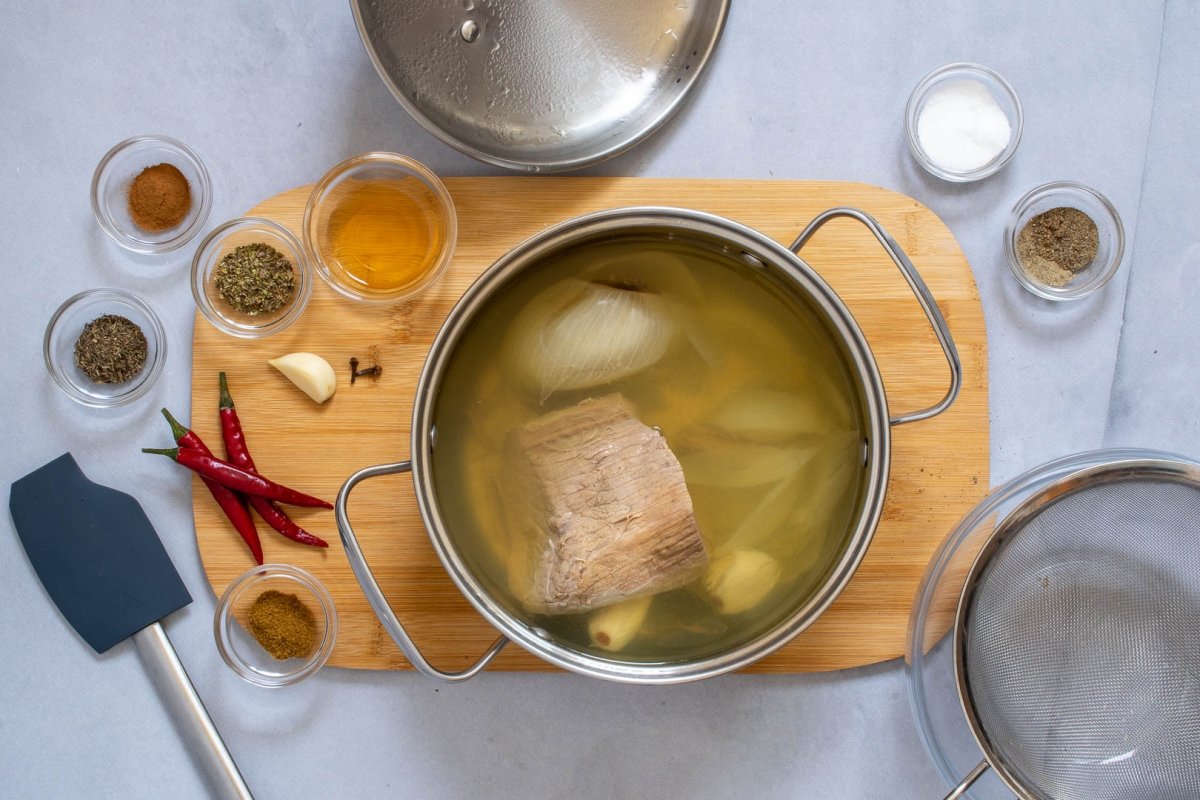 STEP 2
Remove the meat from the pan and shred it with two forks, being careful not to burn yourself. We've made a reservation.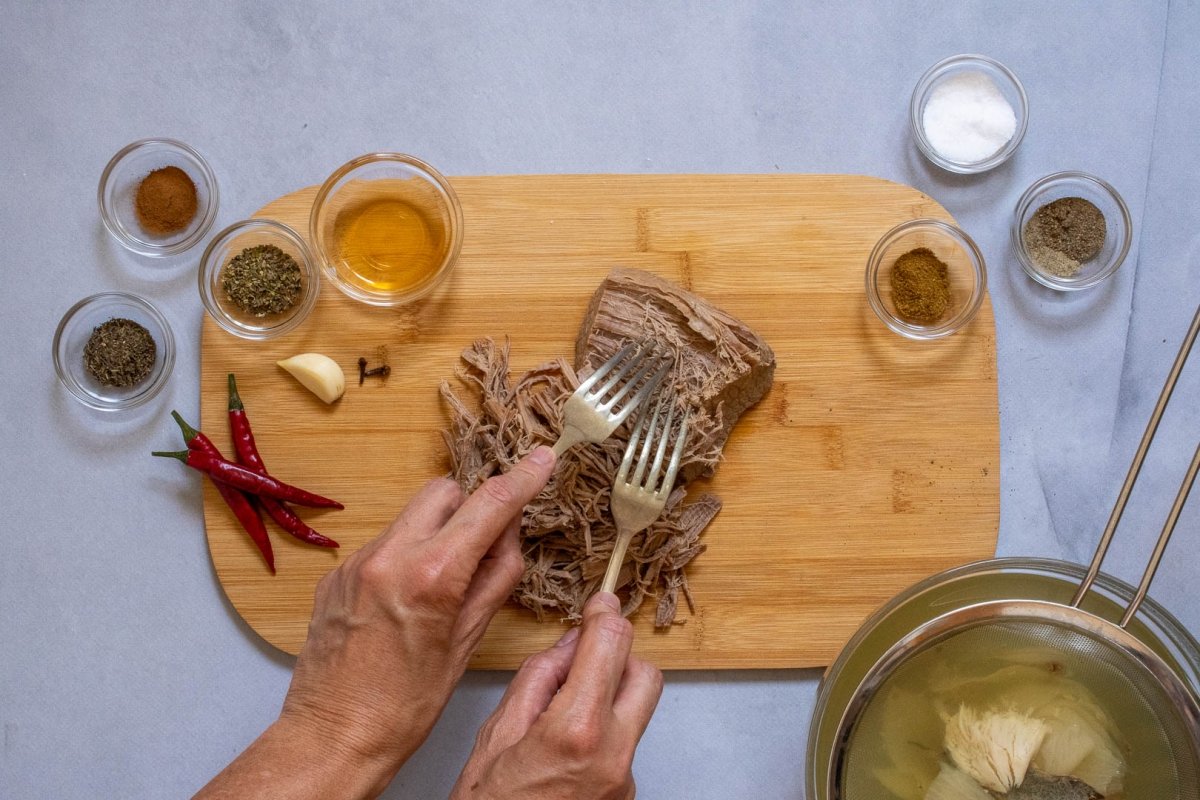 STEP 3
We filter the broth, reserving 300 mL for our meat sauce and keeping the rest for various uses.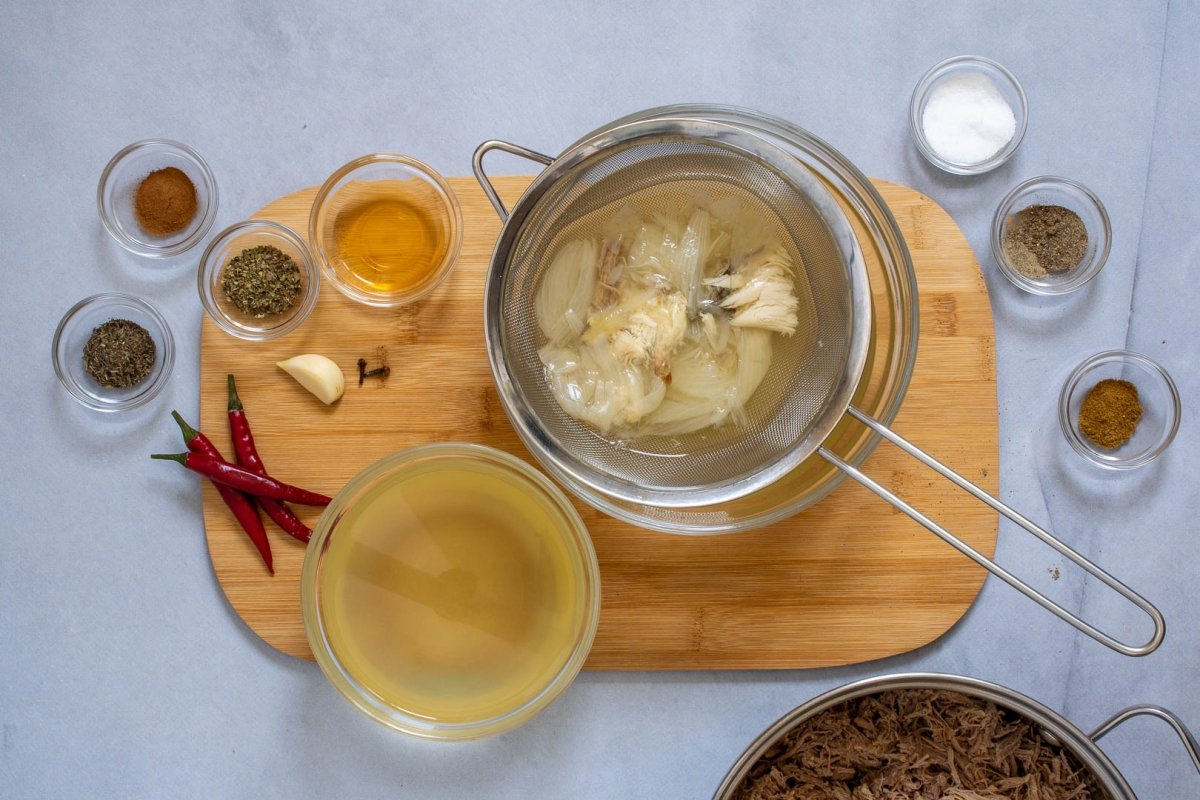 STEP 4
To make the sauce, we boil 3 red peppers in plenty of water for 5 minutes, then turn off the heat and leave them in the pan for another 5 minutes.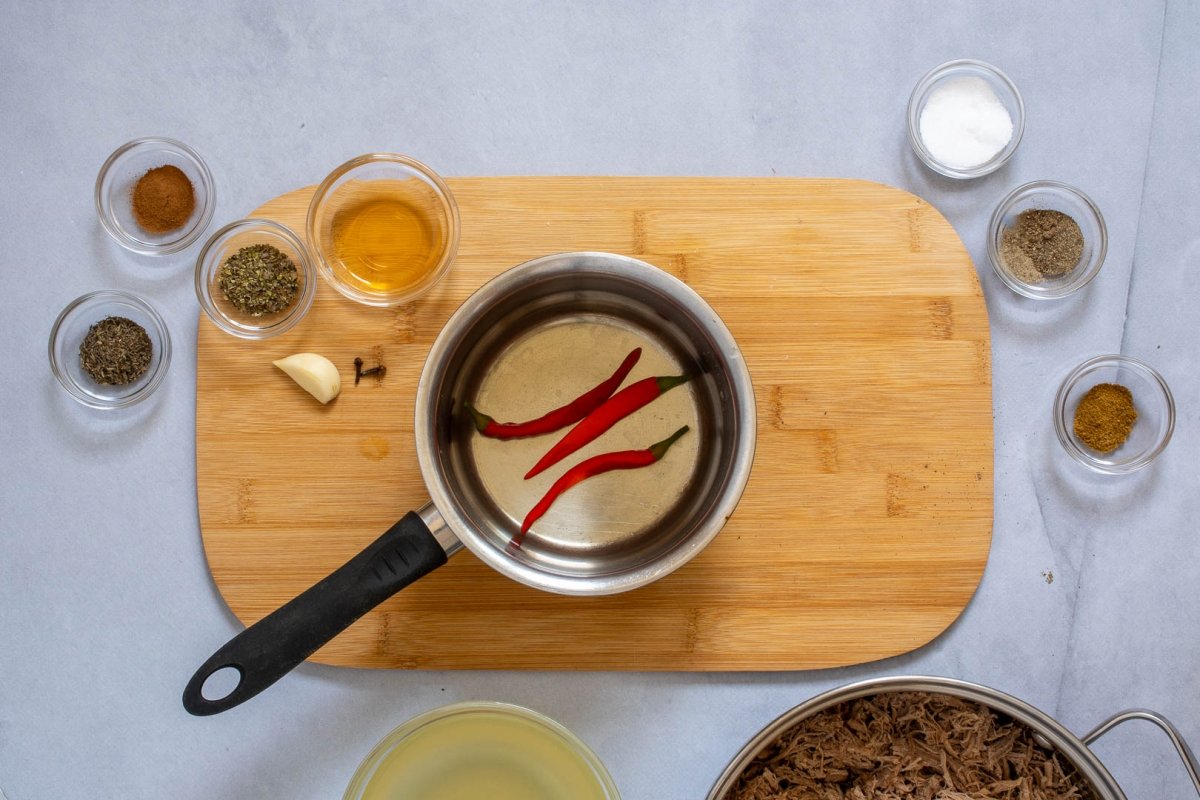 STEP 5
In a blender glass, combine 3 boiling red peppers, 300 mL of separated broth, 25 mL of white wine vinegar, 1 clove of peeled garlic, 1 clove, and 1 pinch of each of the spices listed below: ground black pepper, oregano, thyme, cumin, ginger, and ground cinnamon.
Crush until the sauce is homogenous, then season to taste.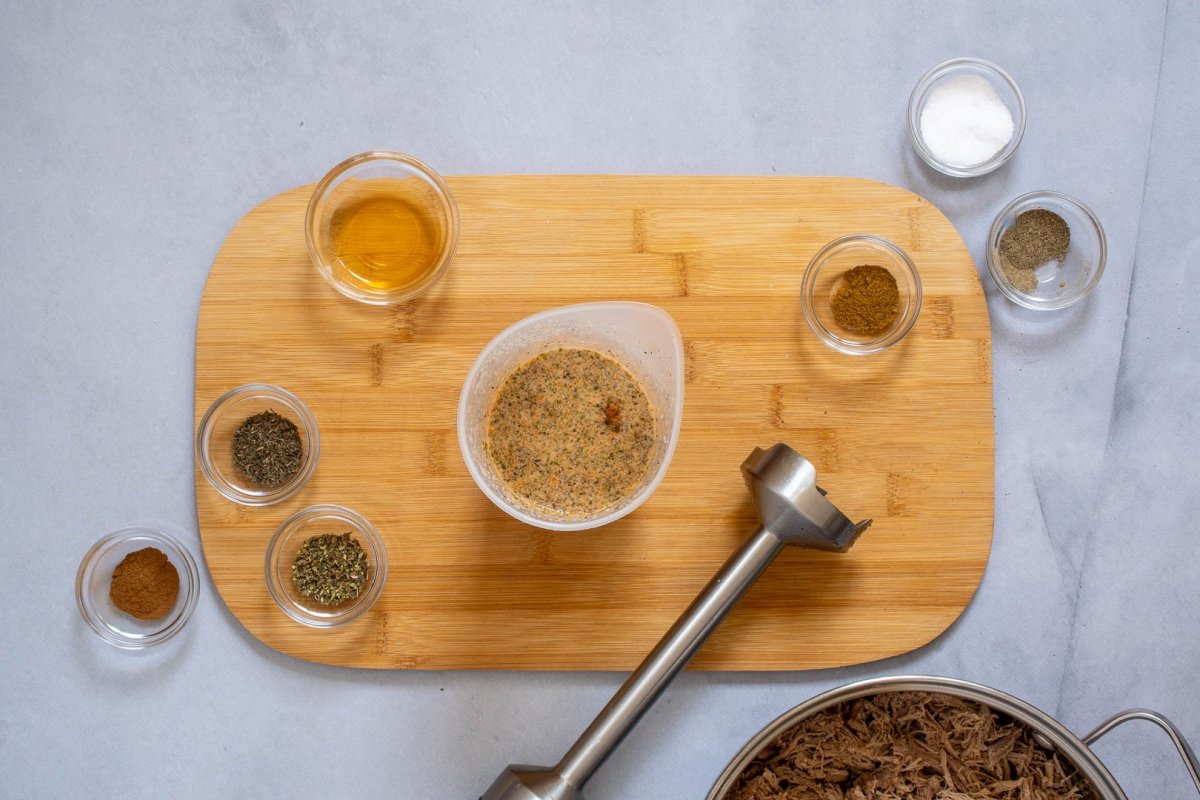 STEP 6
Add the sauce to the shredded meat in a skillet. When it begins to boil, cover the pan and cook for 30 minutes over low heat to allow the flavors to combine.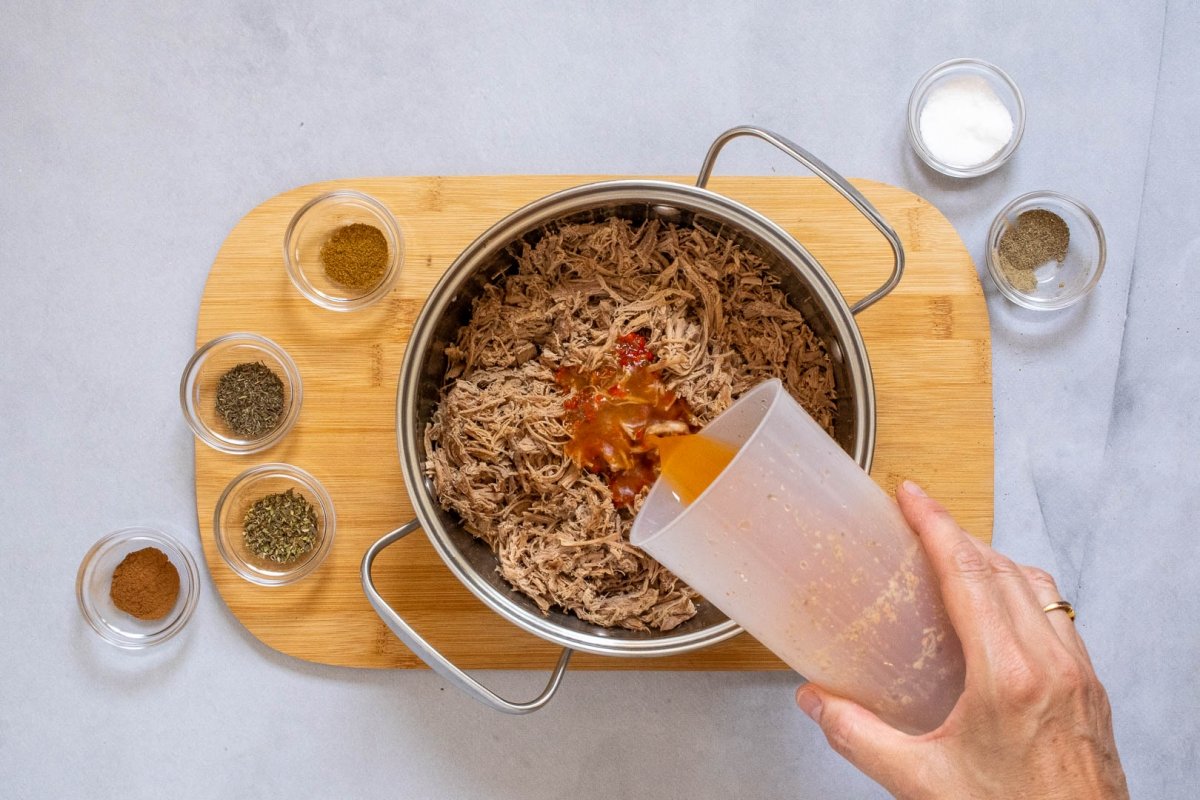 STEP 7
Fill 12 corn tortillas (or a corn and wheat mixture) with the meat, fold them in half, and spray both sides with extra virgin olive oil.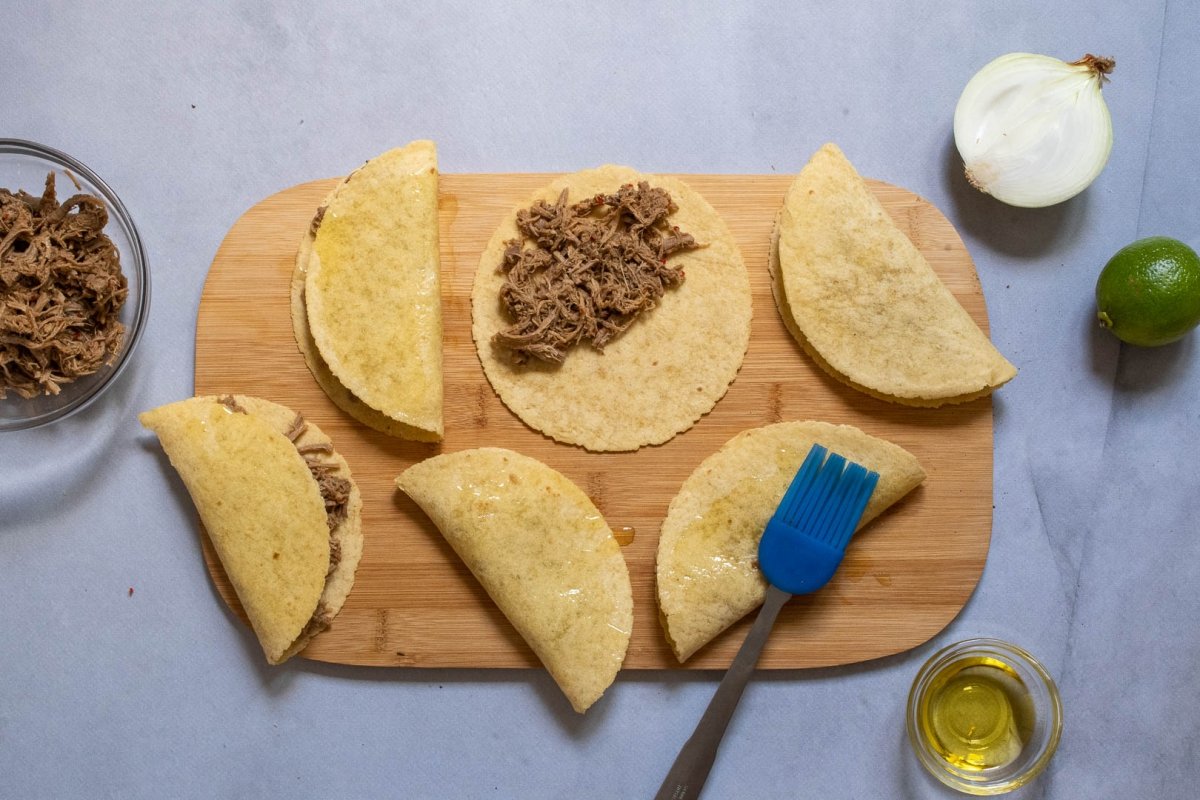 STEP 8
We cook the tacos in a heated skillet or griddle, turning them occasionally, until golden brown.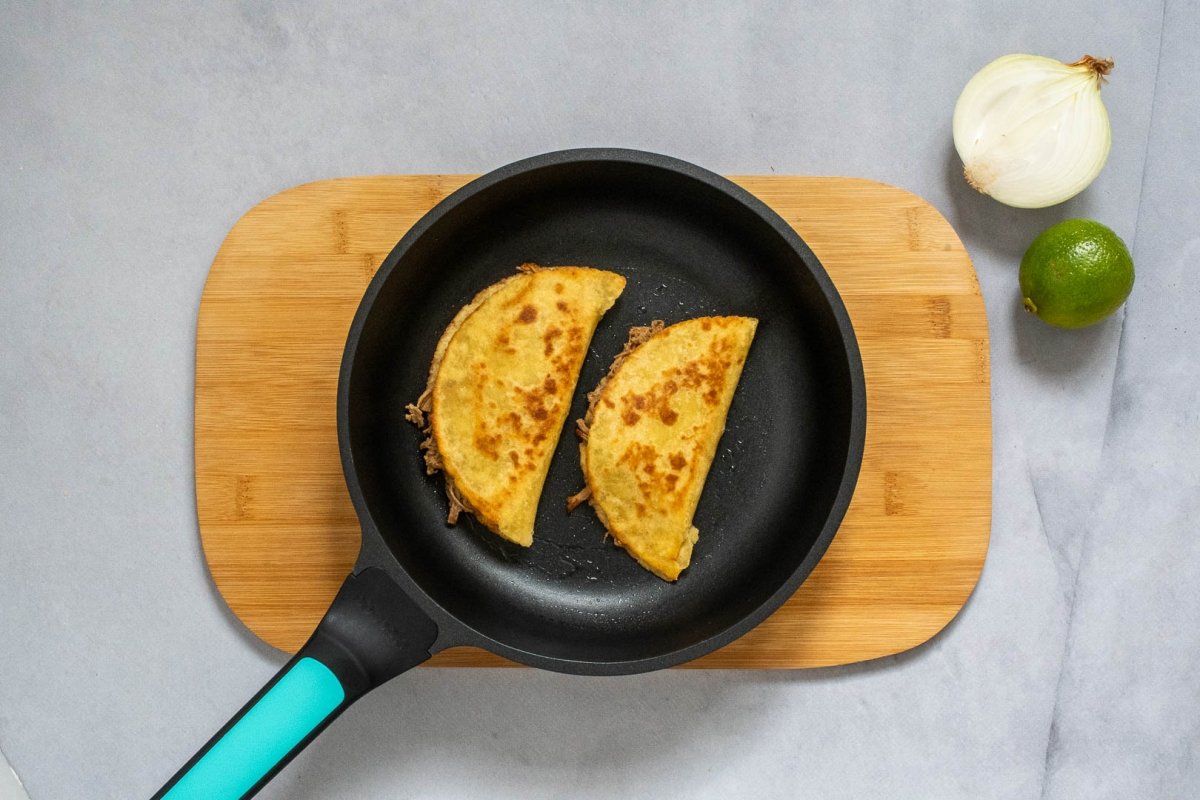 STEP 9
Meanwhile, thinly slice 1/2 an onion and cut 1/2 a lime into wedges.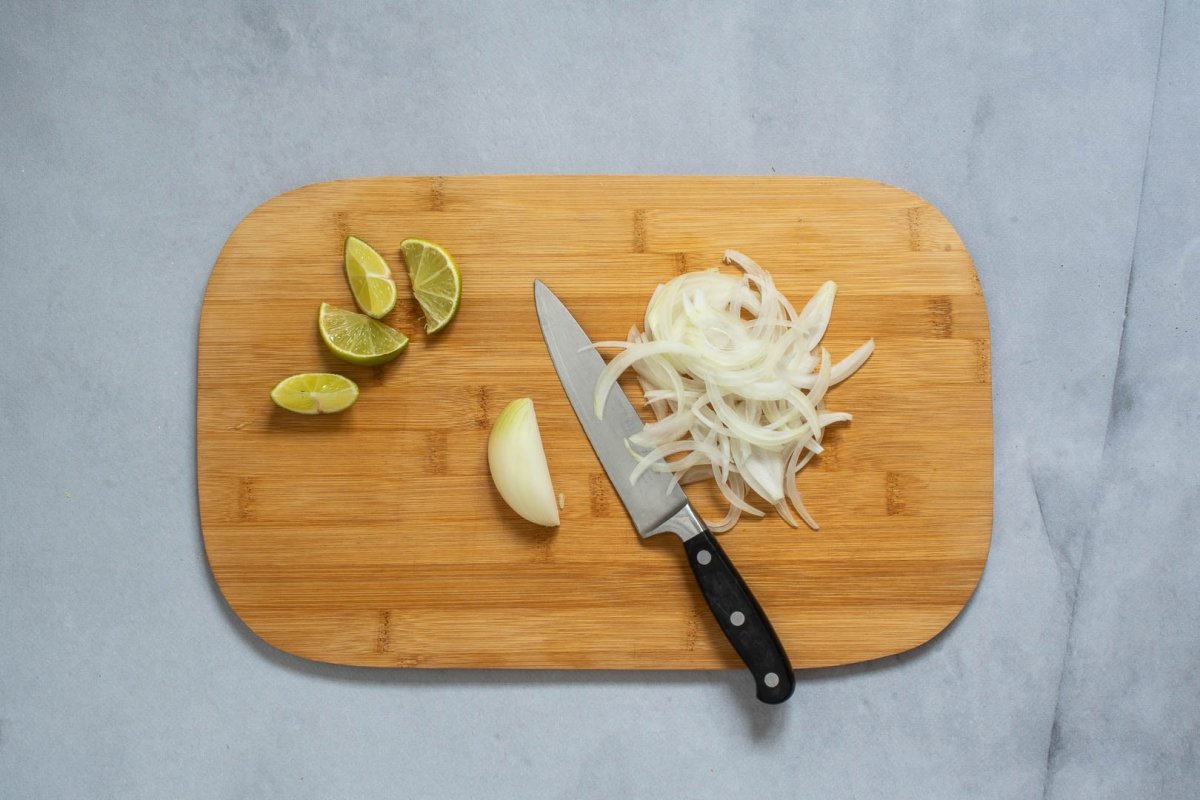 STEP 10
We serve the grilled tacos immediately, plain or with onion strips, lime wedges, and fresh cilantro if desired.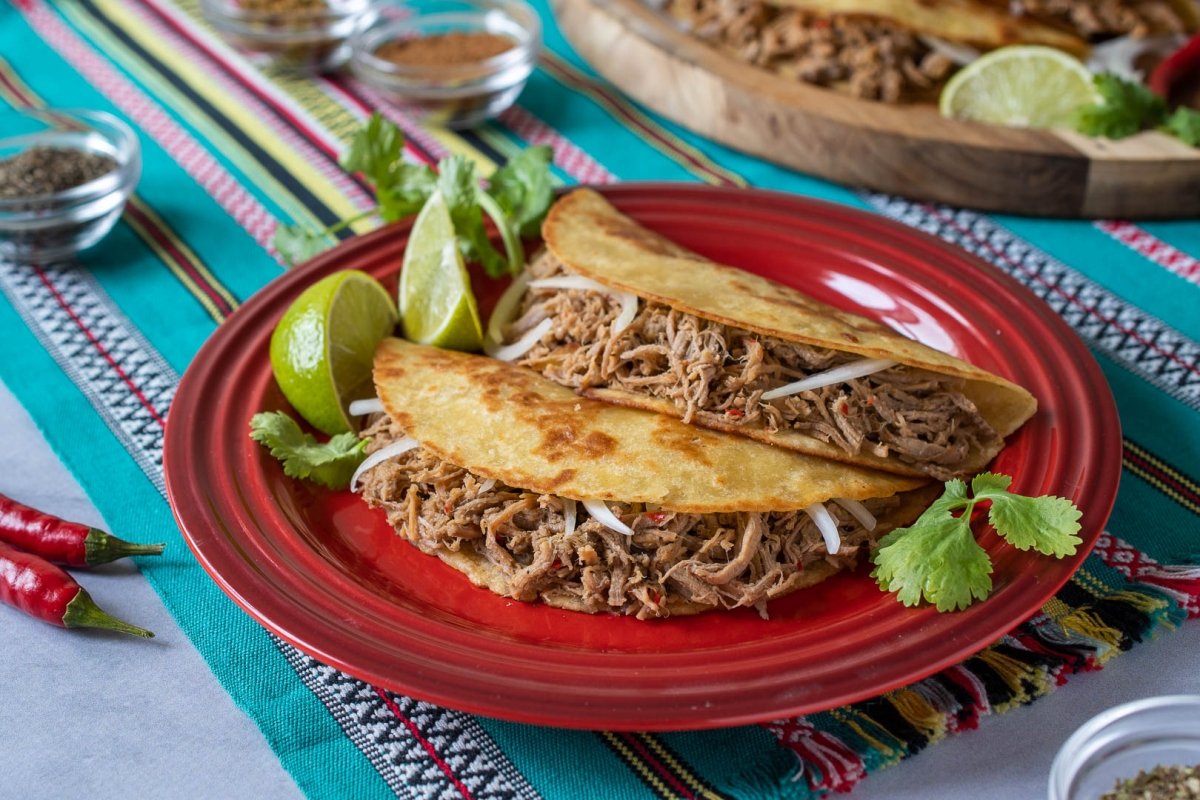 FAQS
1. What goes well with brisket?
You can serve the following with the brisket:
smoked asparagus
smoked mac and cheese."
smoked baked potatoes.
smoked Brussels sprouts.
Baked Beans
roasted carrots
Oven-roasted potatoes.
Boiled Corn on the Cob
2. How do you reheat brisket for tacos?
Place the brisket in a saucepot and heat it over medium-low heat until heated through. Always keep the brisket taco filling separate from the tortillas.
3. How do you make the juiciest brisket?
After the first three hours of direct grilling, generously spray the brisket with the apple juice and apple cider mixture. This spritz not only keeps the meat wet but also contributes to the delectable, smoky bark.
4. Can I cook a brisket the day before?
Brisket can be partially or entirely cooked the day before and eaten the next day, but much of the moisture will be lost and the bark will have softened. If you need a brisket for lunch, the overnight cook is the best option.
5. Can you leave the brisket out overnight?
Is it safe to leave smoked brisket out overnight? A smoked brisket can easily be left out overnight. What exactly is this? Simply place it inside a cooler or a warming oven to prevent it from cooling too quickly and becoming chilly.