BELLY PORK RAMEN, The key to making authentic pork ramen is in a thick, flavorful broth. In addition, you cannot miss the marinated eggs with a honeyed and delicious yolk, and the tender, and very famous, bacon with an authentic Japanese flavor. You will find the keys in this delicious recipe.
Good ramen must have at least three basic preparations: the broth, the bacon, and the marinated eggs, in addition, to season it you can use soy, miso, or simply a little salt.
To make the broth of this famous pork ramen tonkatsu soup, with noodles and other ingredients, some patience is required, but the result is spectacular and with the most authentic Japanese flavor. Take note of each step and do not miss the recipe for the exquisite and authentic ramen. traditional pork ramen recipe
The broth can be very rich and thick (  pain ), or a very smooth and almost transparent broth ( assari ). We have opted for a rich and dense broth whose cooking must be prolonged and on very low heat, to favor the extraction of collagen.
pork bone broth ramen, as mentioned at the beginning, can also be classified depending on the type of final seasoning in the broth. Among the possible options we have: shio, broth with salt; shoyu, with soy sauce or broth from cooking chashu bacon; miso, broth with miso; and finally, the tonkatsu broth, broth made only with pork.
Pork spicy ramen Most of the ingredients needed to make this pork chop ramen can be purchased at any grocery store, although perhaps, for more specific ingredients, we may have to resort to the international section of large supermarkets or Asian grocery stores.pork ramen soup
Although a broth cooked over the fire cannot be compared to a broth made in a pressure cooker, in a traditional pork ramen recipe take note that the latter can be used: you are only going to have to have the broth for at least one hour and fifteen minutes. Of course, over very, very low heat.
INGREDIENTS
1 kilo of chopped pork

1 kilo of chopped chicken thighs

1 small onion

The green part of half a leek

14g sliced ​​fresh ginger

1 quarter head of garlic, halved

Half a sheet of 

kombu seaweed

half a teaspoon of salt
For the bacon ( 
chashu):
700 g of fresh bacon with skin

4 garlic cloves, peeled and halved

1-ounce ginger, peeled and thinly sliced

6 Chinese scallions, or 3 Western scallions, chopped

1 teaspoon salt

250 ml of rice wine (sake)

250 ml sweet rice wine (mirin)

160ml soy sauce (shoyu)

Boiling water (until ingredients are covered)
For the marinated eggs ( 
ajitsuke size
 ):
4 eggs

250 ml of water

175 ml of rice wine (sake)

125 ml soy sauce (shoyu)

125 ml sweet rice wine (mirin)

60g sugar
To assemble the ramen bowl:
1 liter of chicken and pork broth

180 ml of broth from cooking the bacon

Toban djan

 hot sauce 

to taste (chili

bean sauce

, optional)

4 Chinese chives, sliced

8 spring onion tips to make flowers

Shimeji

 mushrooms 

to taste

Enokitake

 to taste (enoki mushrooms)

4 marinated eggs ( 

ajitsuke Tamago

 )

400g Chuka soba

 noodles 

or instant noodles

4 slices of pancetta ( 

chashu

 )

4 sheets of nori seaweed in thin strands, or in strips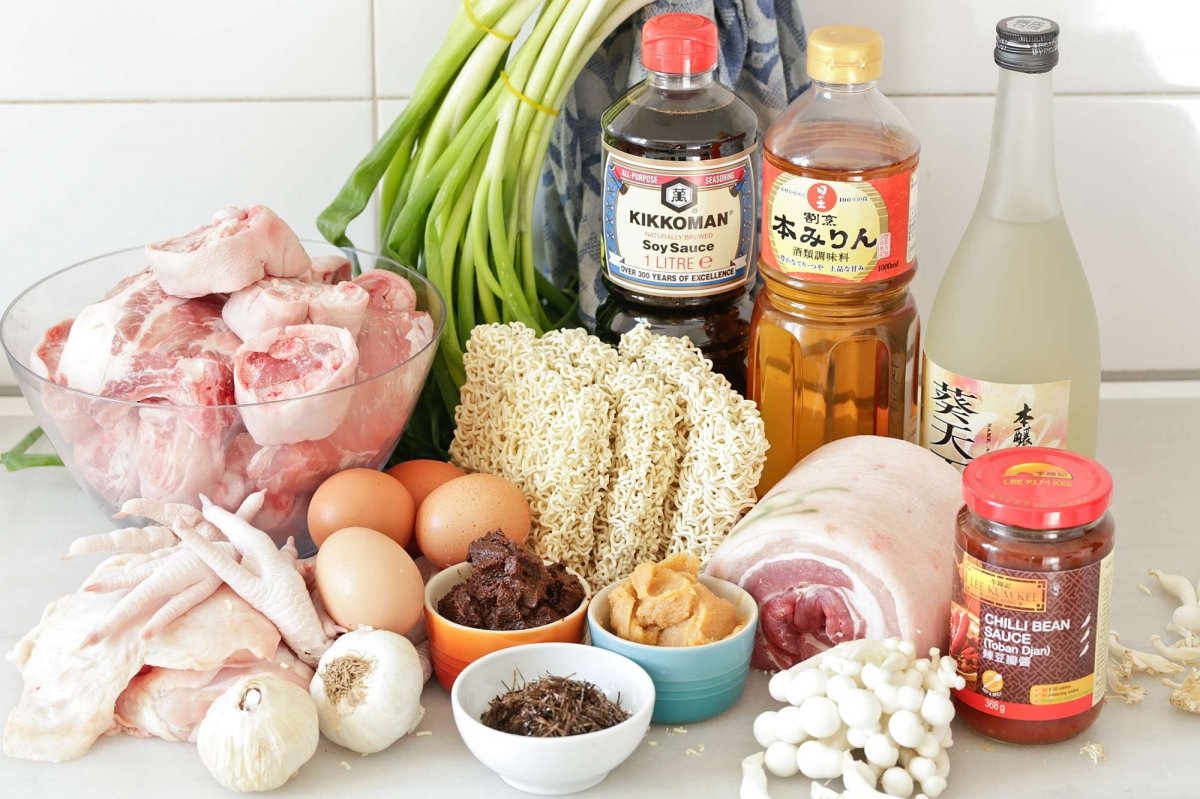 HOW TO MAKE BELLY PORK RAMEN
Next, we will see step by step, how to prepare each of the necessary preparations to enjoy authentic ramen.
HOW TO PREPARE THE BASIC BROTH FOR RAMEN
STEP 1
Put 1 kg each of chopped chicken and pork in a pot, add 1 kg of water, and bring to a boil. The meats should be returned to the pan after being strained, after which they should be rinsed in cold water.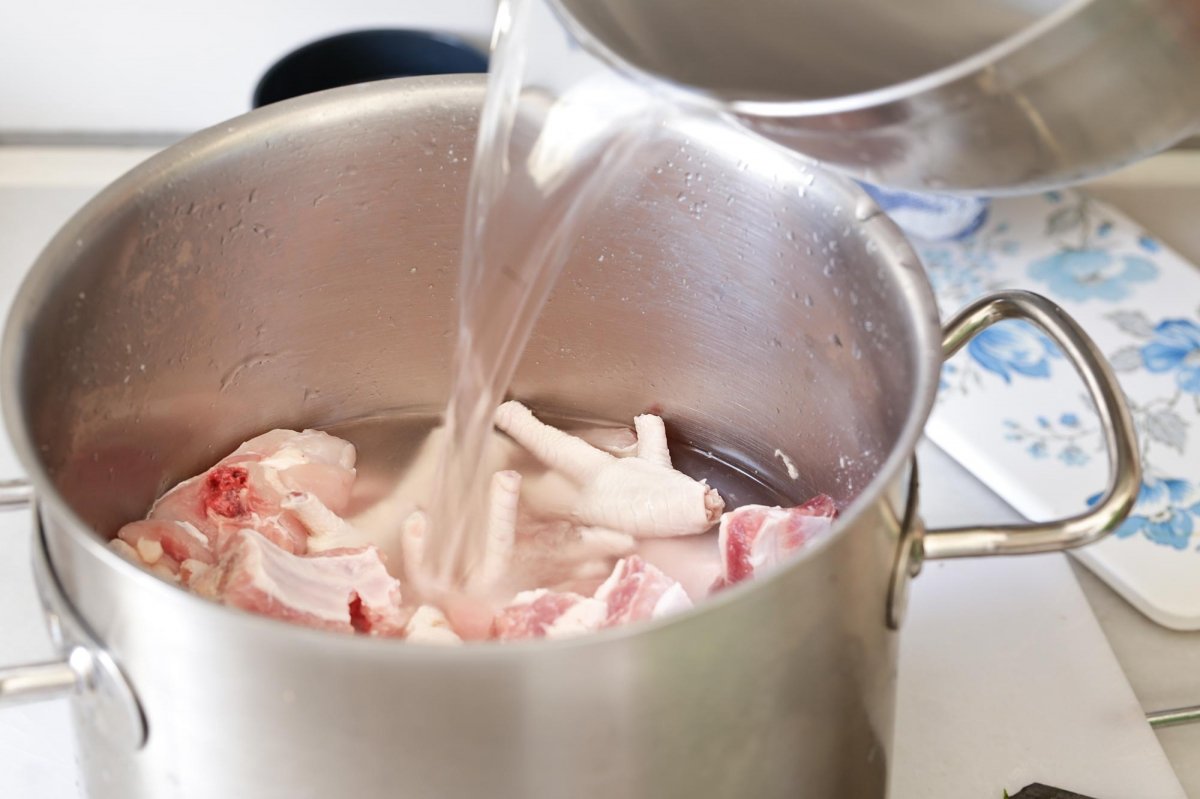 STEP 2
Add 1 small onion, the green portion of half a leek, 14 g of fresh ginger that has been thinly sliced, 1 clove of chopped garlic, 1 leaf of kombu seaweed, and 1/2 teaspoon of salt. Put two fingers' worth of water on top of the meat.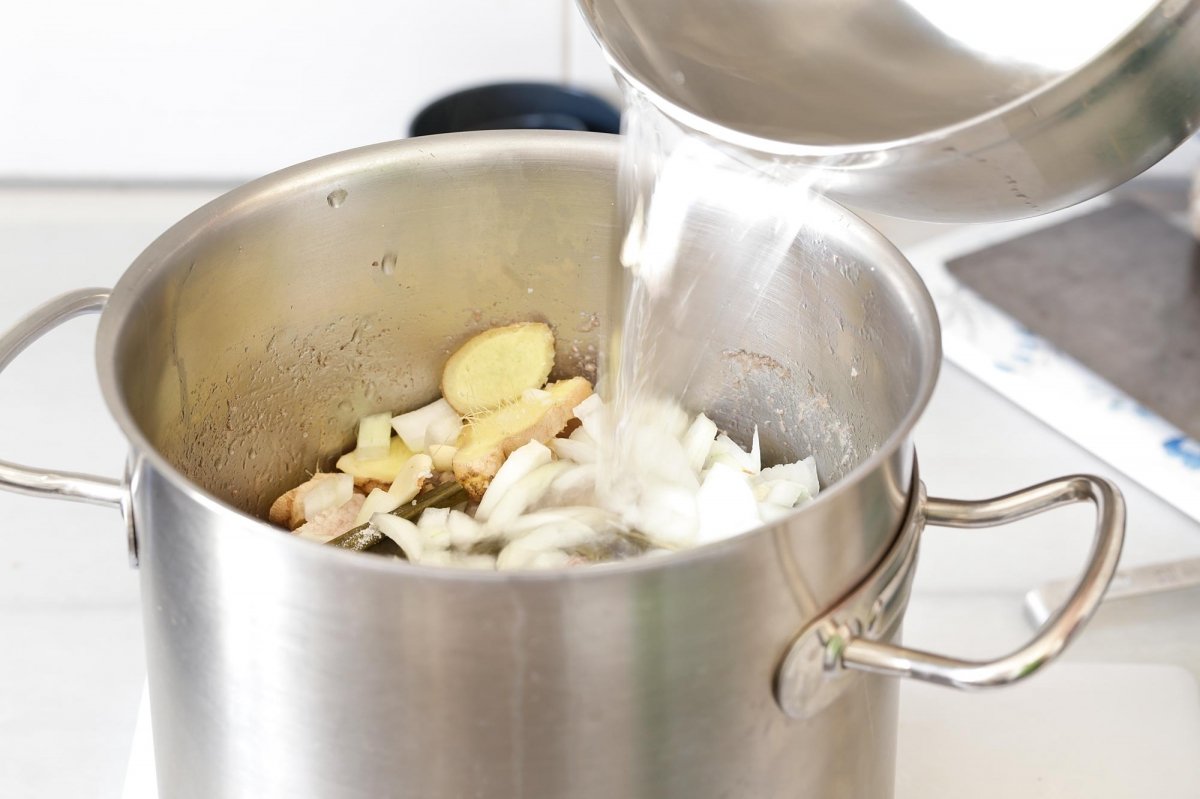 STEP 3
After 12 hours of cooking at very low heat, the broth is strained, put into the refrigerator, and the heat is turned off. We will need to add a bit more water if the meats run out of broth while cooking. To build the bowl of ramen, we should still have one liter of broth.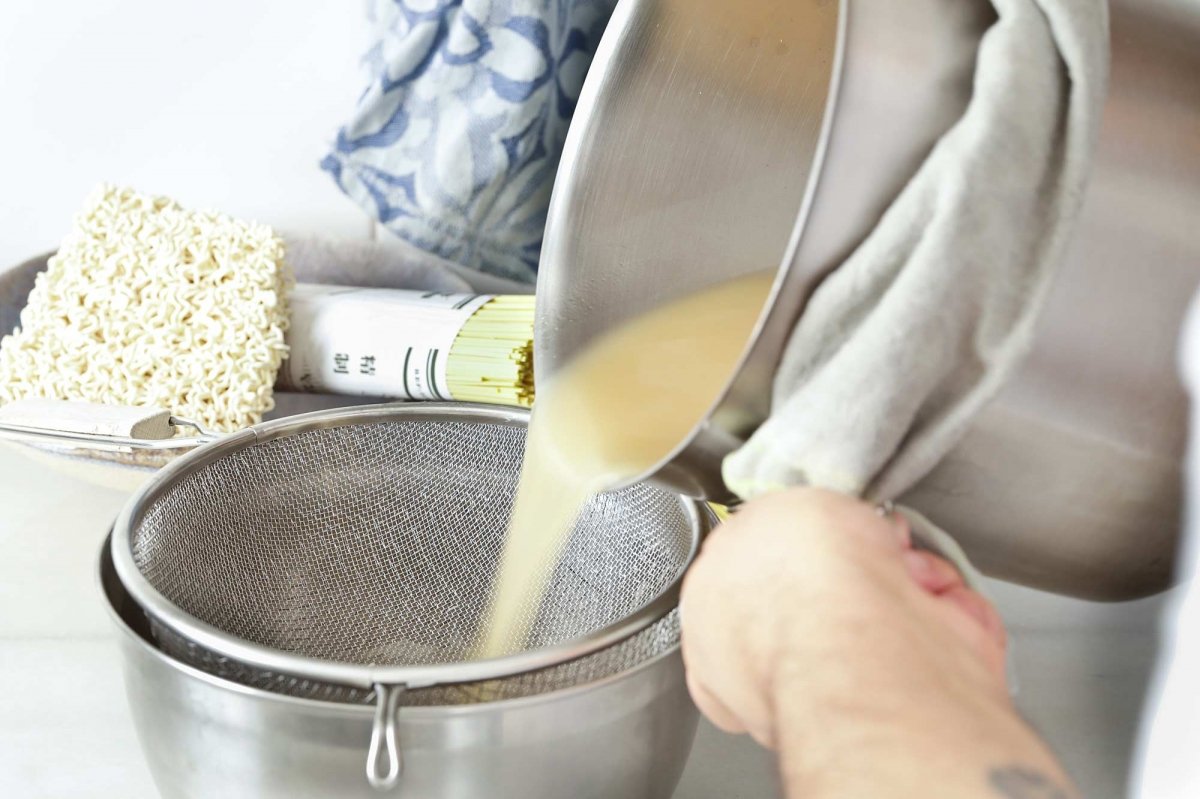 HOW TO PREPARE PANCETTA FOR RAMEN
STEP 1
Fresh bacon with skin weighs 700 g, which we roll up and secure with twine thread. We reserved.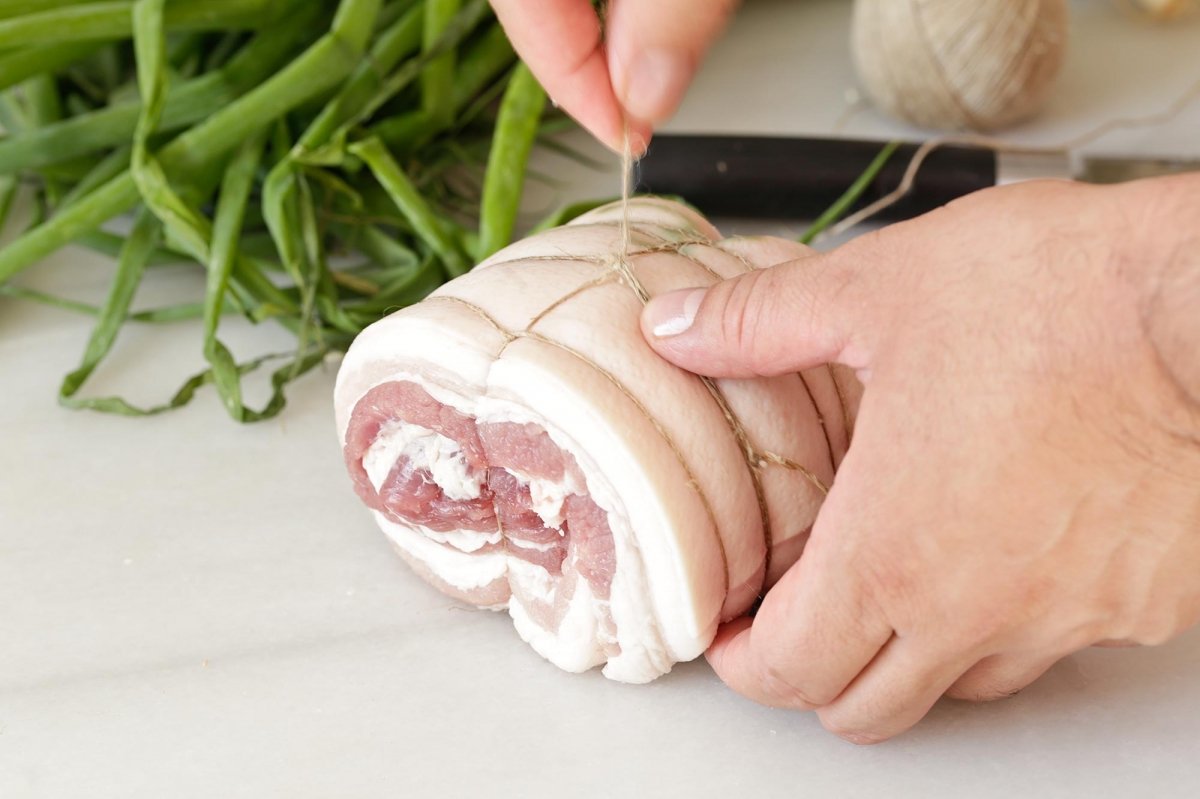 STEP 2
Set the oven temperature to 130 °C. In a separate cast iron skillet, combine 4 peeled and chopped garlic cloves, 28 g thinly sliced peeled ginger, 6 Chinese or 3 Western scallions, 1 teaspoon salt, 250 ml rice wine, 250 ml sweet rice wine, and 160 ml soy sauce.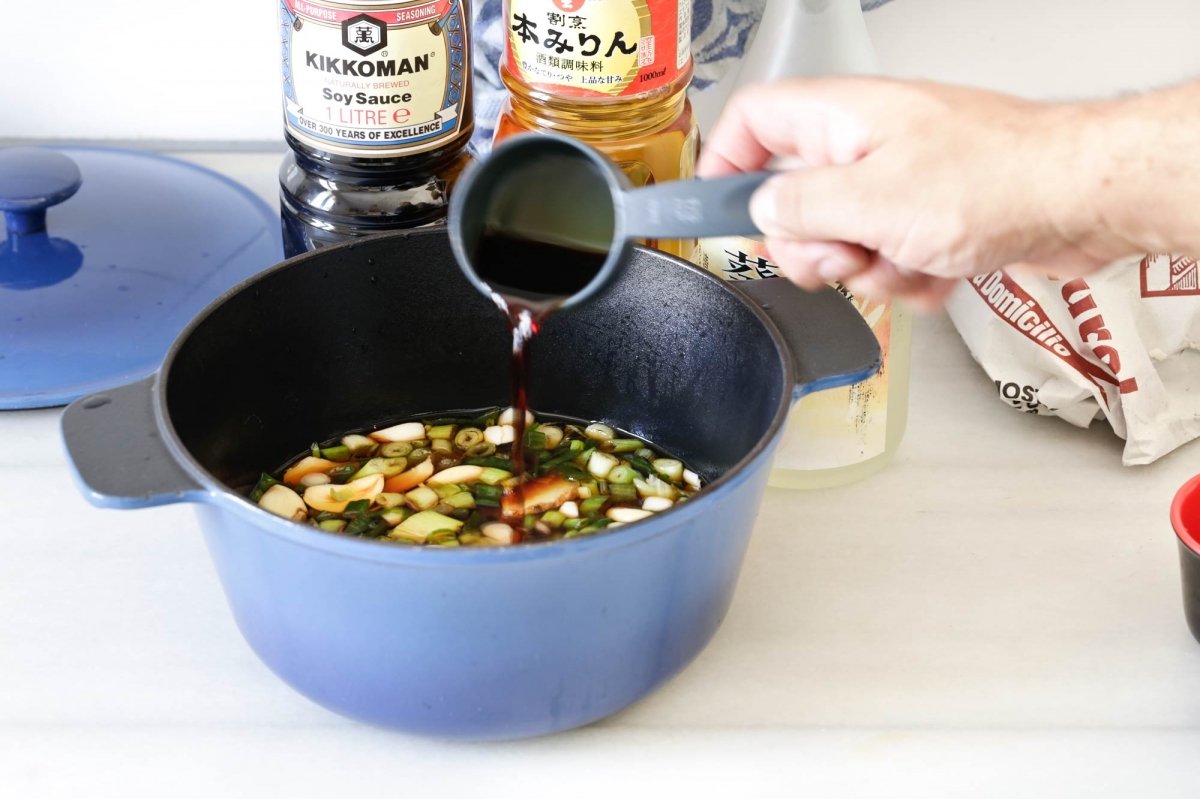 STEP 3
After bringing the mixture to a boil, turn it off, add the bacon, and cover it with hot water.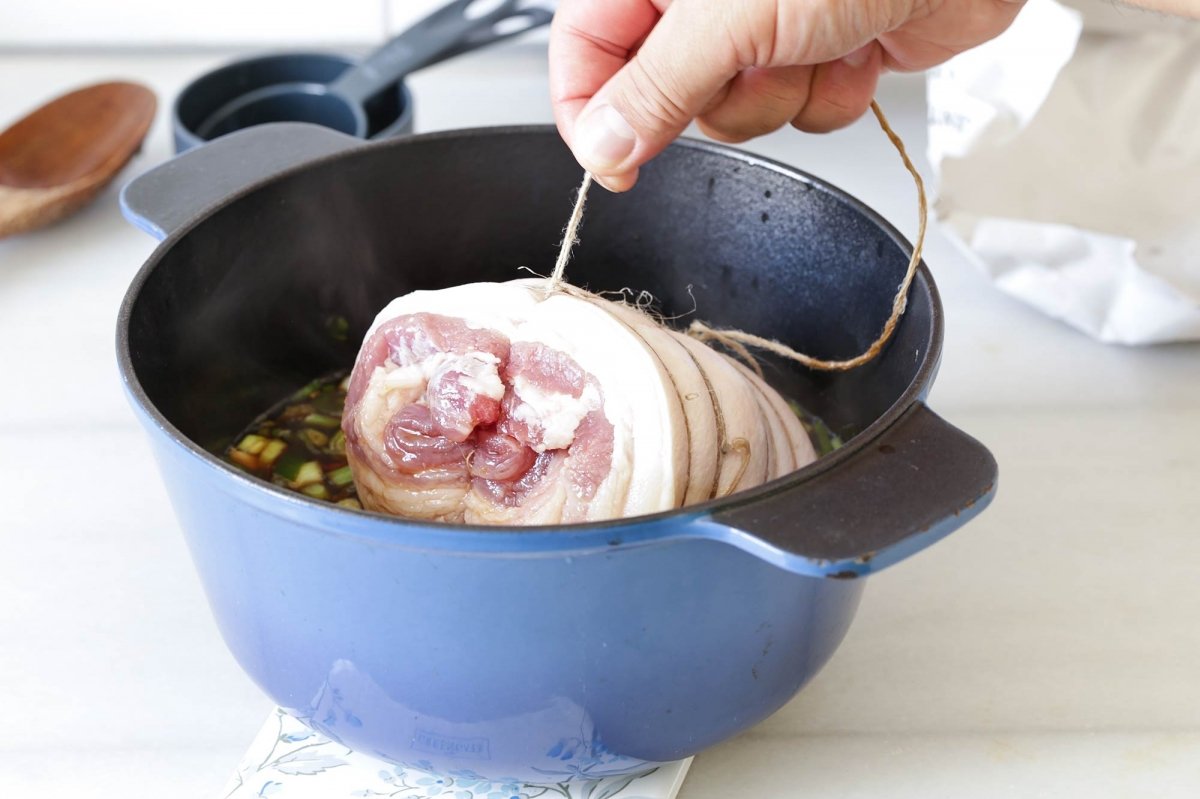 STEP 4
Bake the pan for two hours covered. After this, the bacon is turned over and baked for a further two hours.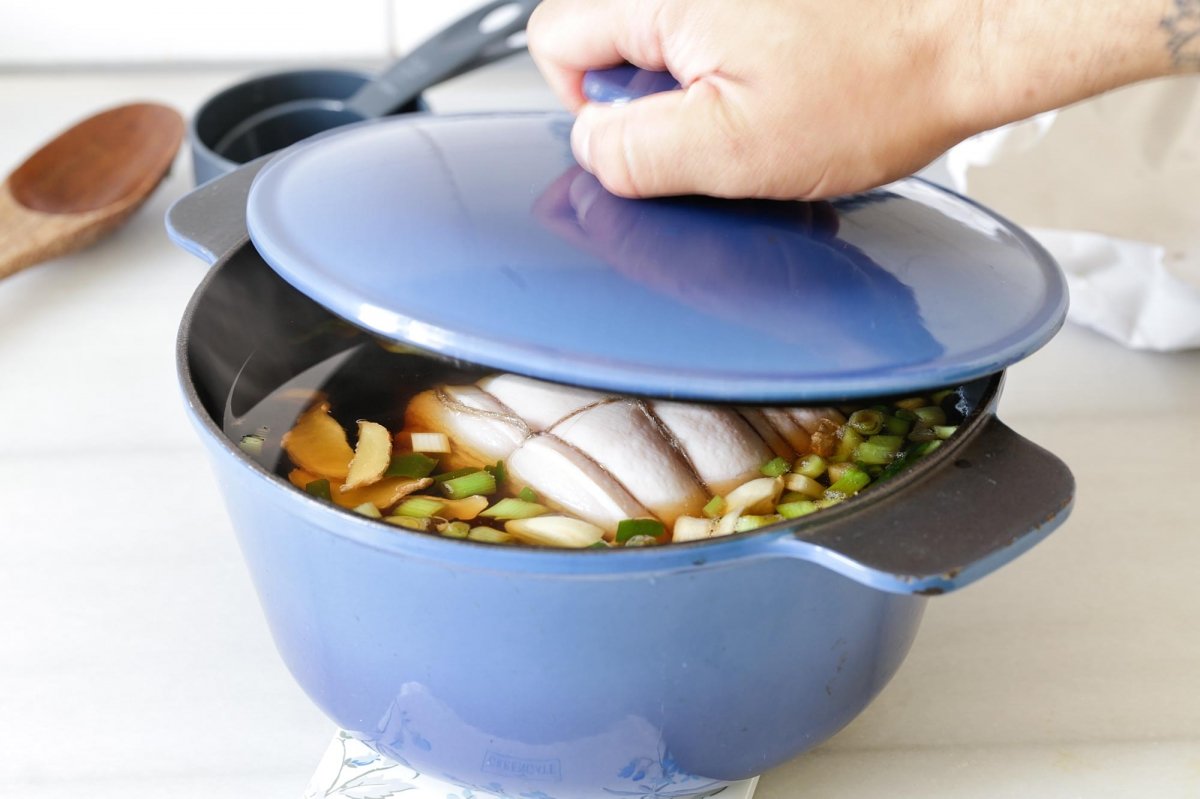 STEP 5
Before pulling the string from the bacon, take the pan out of the oven and let it cool.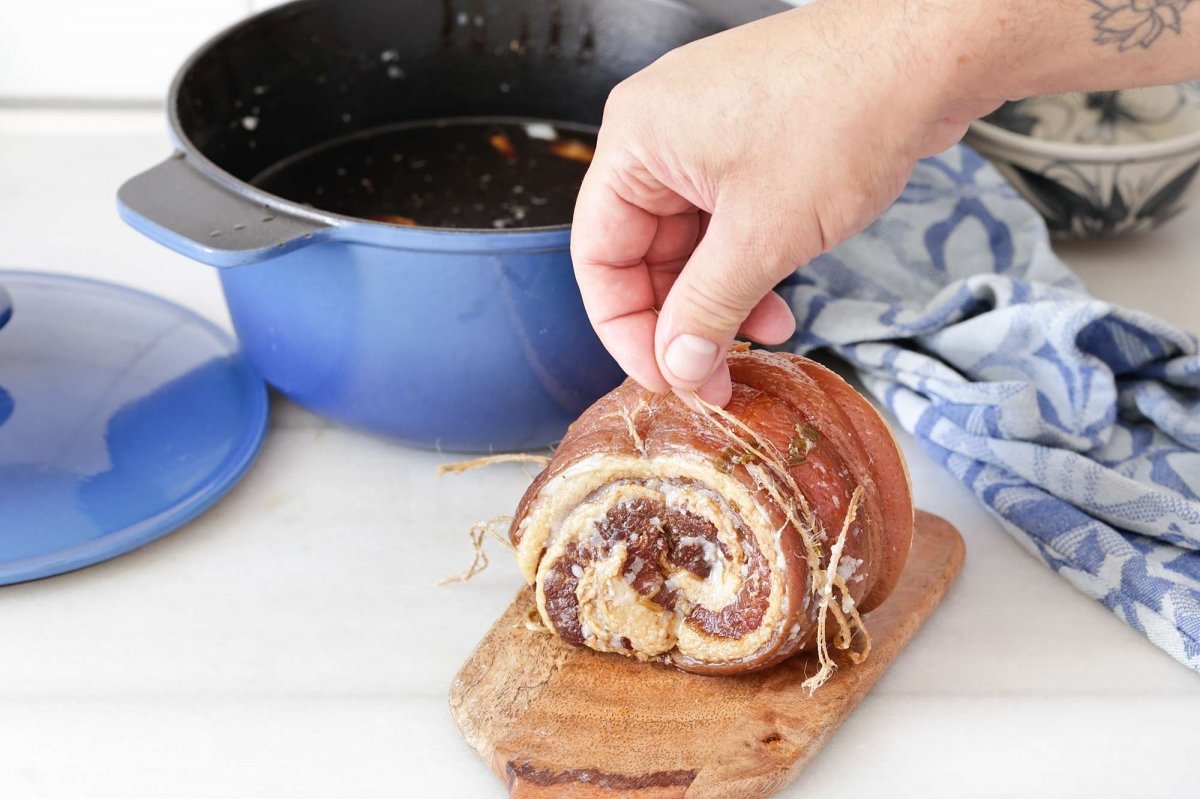 STEP 6
Before serving the ramen, we chop the cold bacon into pieces and store them in an airtight container. The cooking broth should be saved since it will be used to season the ramen soup.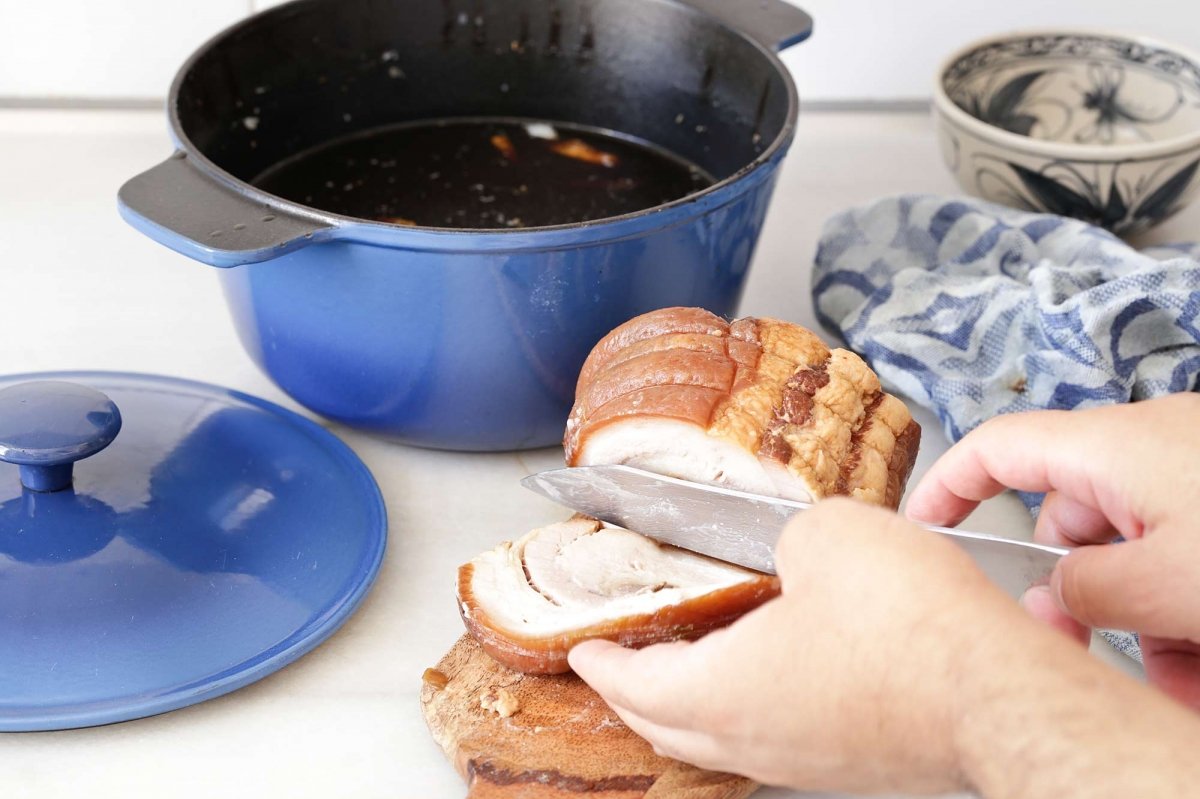 HOW TO PREPARE MARINATED EGGS
STEP 1
Prepare a container with two kitchen paper sheets put at the bottom and keep it handy.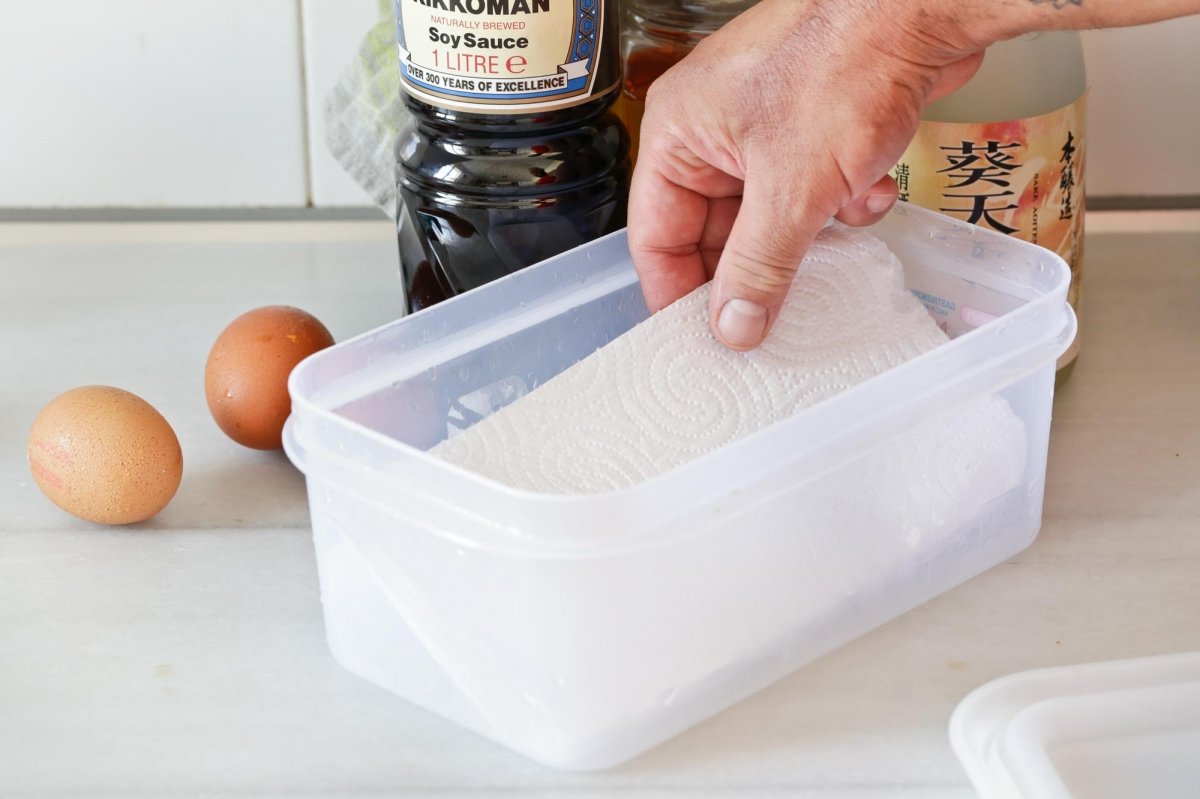 STEP 2
To gently set four eggs in a saucepan of boiling water, pierce the base of each with a needle, being careful not to crack the shell. This will stop the eggs from hatching with a flat bottom.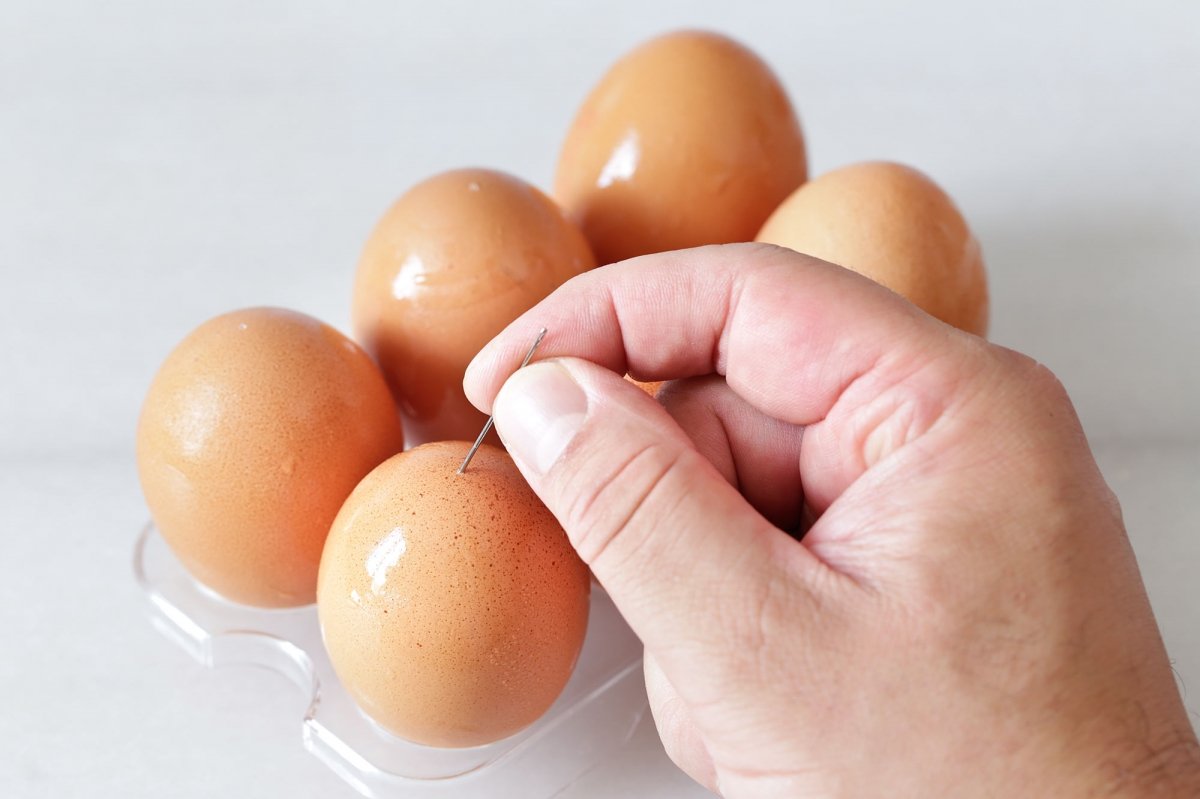 STEP 3
Cook them for 6 to 8 minutes on the lowest heat setting. We immediately remove them, submerge them in ice-cold water, and carefully peel them. Depending on the type of fire—gas, electric, glass-ceramic, or induction—cooking time may vary.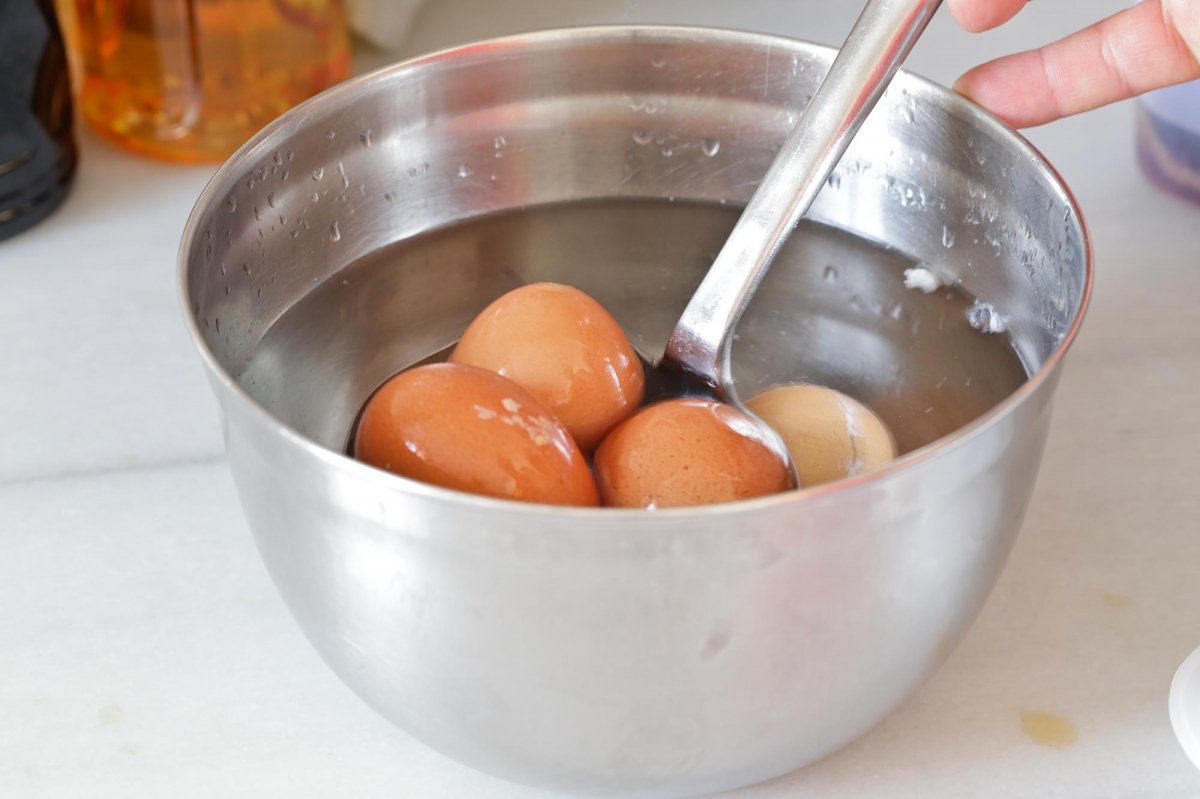 STEP 4
Pour the marinade into the container that We had lined with kitchen paper after mixing 250 ml of water with 175 ml of sake, 125 ml of soy sauce, 125 ml of sweet rice wine (mirin), and 60 g of sugar.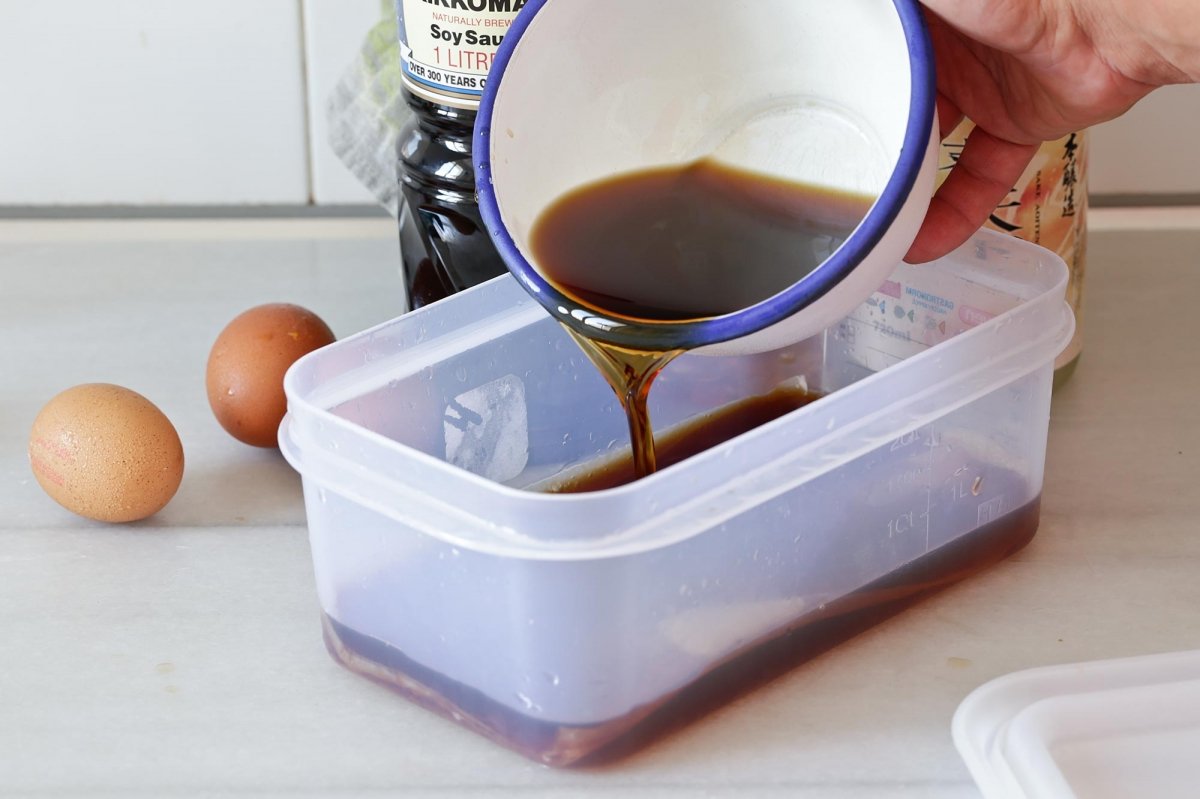 STEP 5
We carefully add the eggs to the marinade.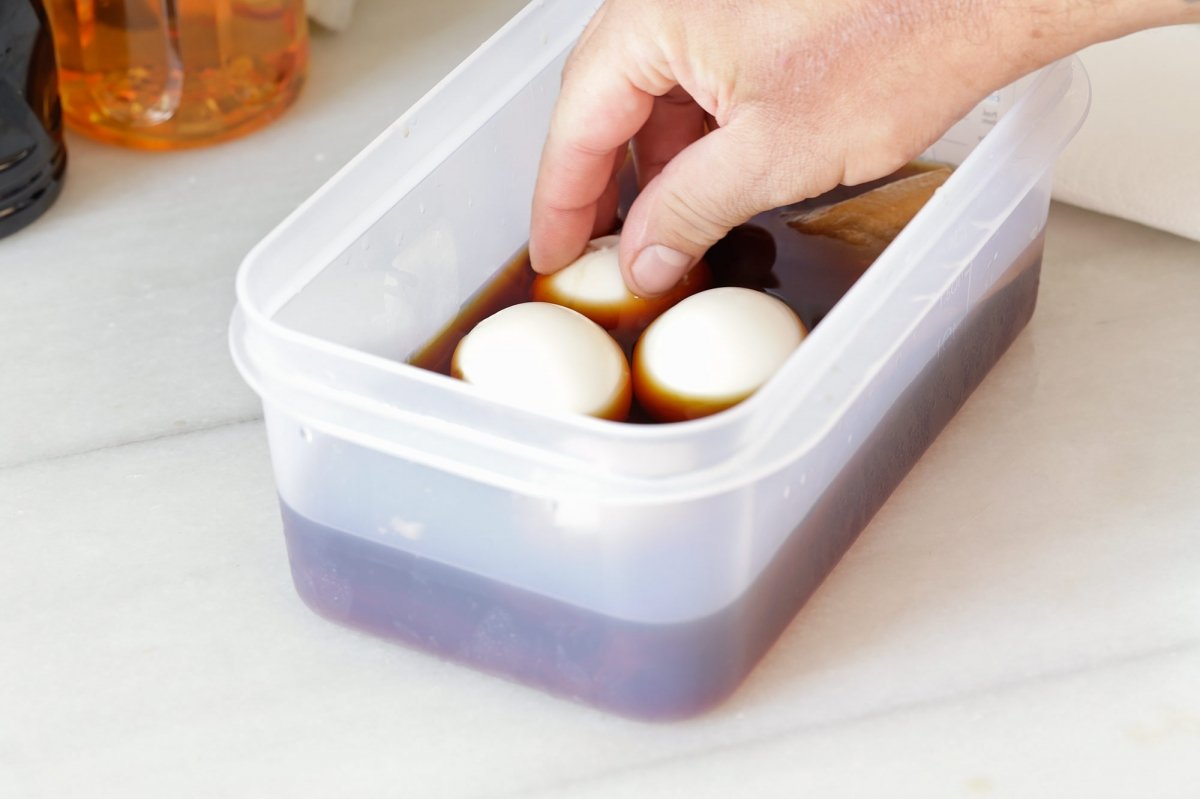 STEP 6
We let the eggs marinate for 12 hours in the fridge, covering them with 2 sheets of kitchen paper folded in half so that they constantly remain covered and soak in the marinade.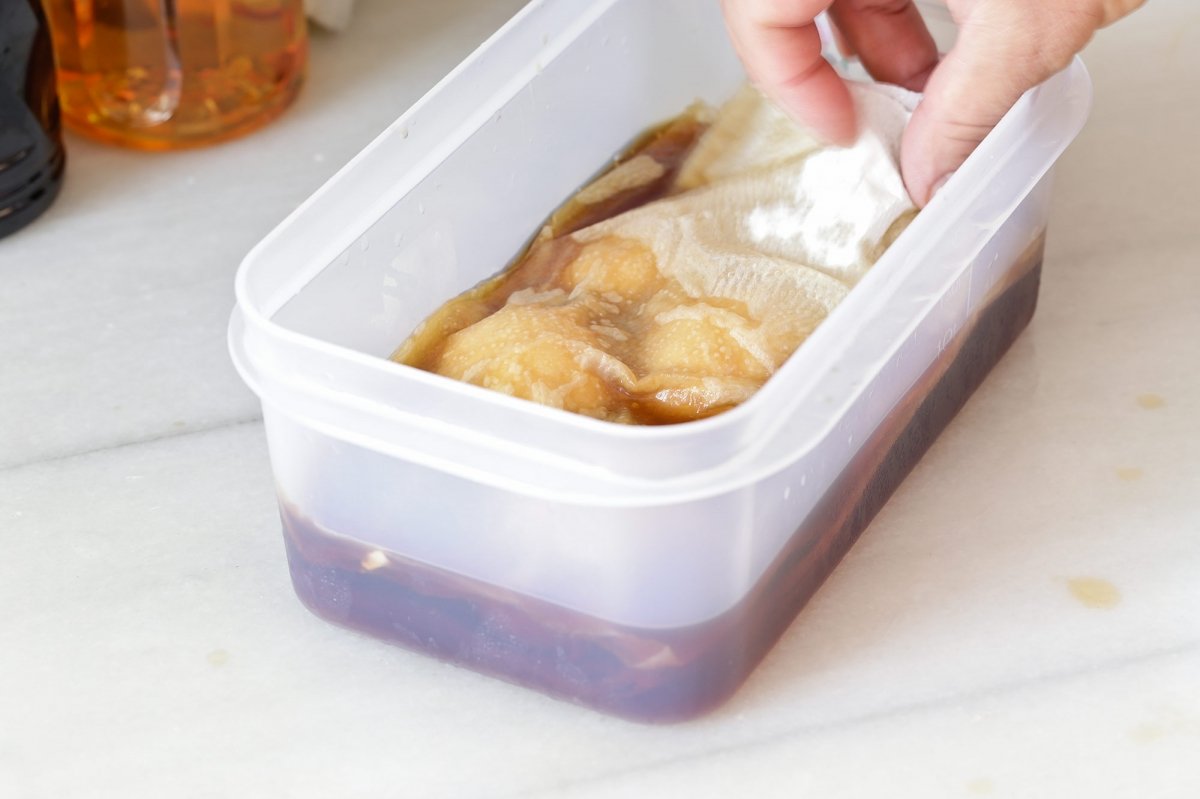 STEP 7
We drain them after 12 hours and store them in the refrigerator in an airtight container until we need them.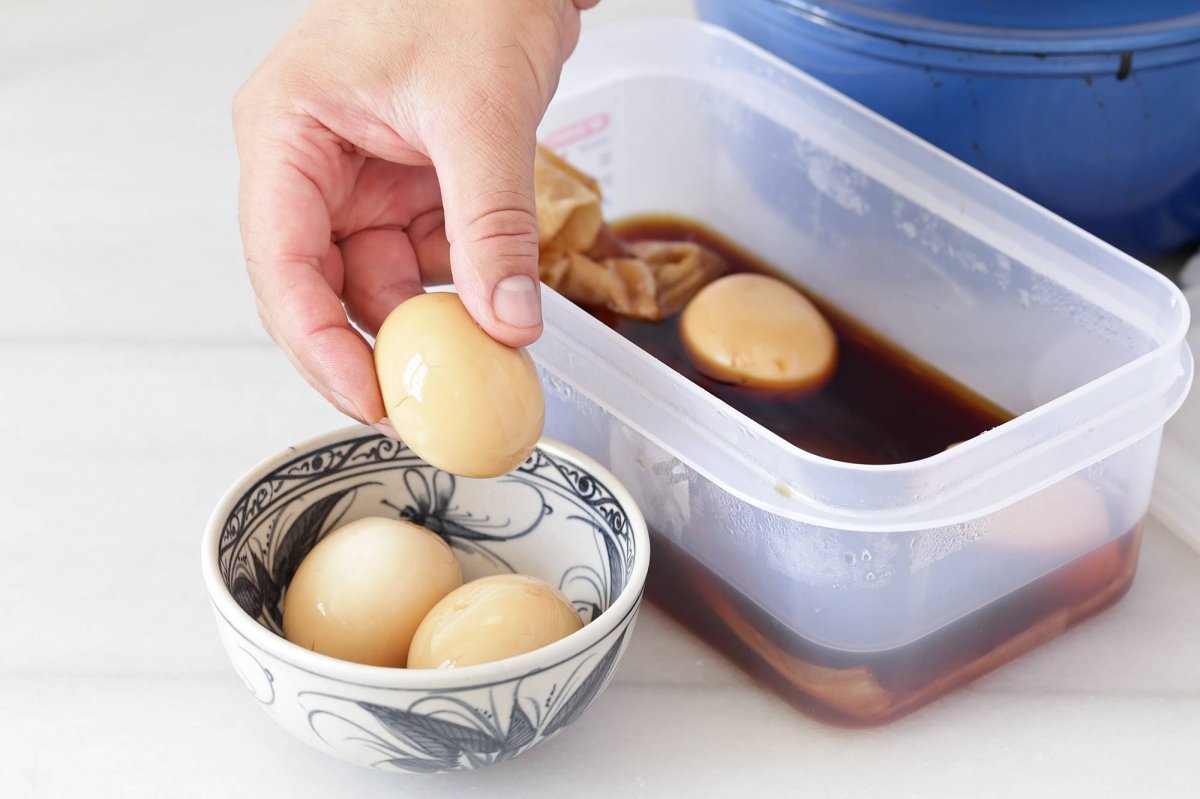 How to assemble the ramen
STEP 1
Add 180 ml of the bacon broth (chashu) to 1 litre of ramen broth and heat to a boil. Toban djan hot sauce can be added to taste, although it's not required.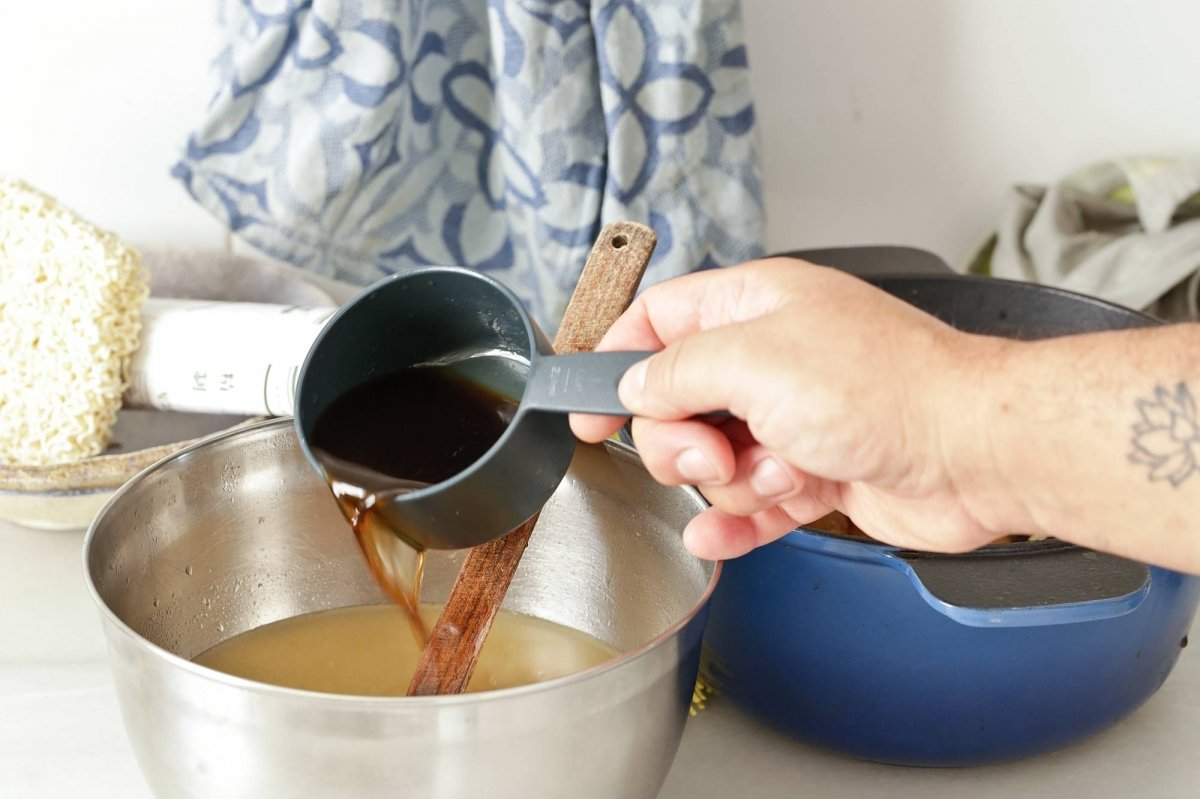 STEP 2
Four Chinese chives, including the green section, should be cut into slices and kept aside to soak in cold water.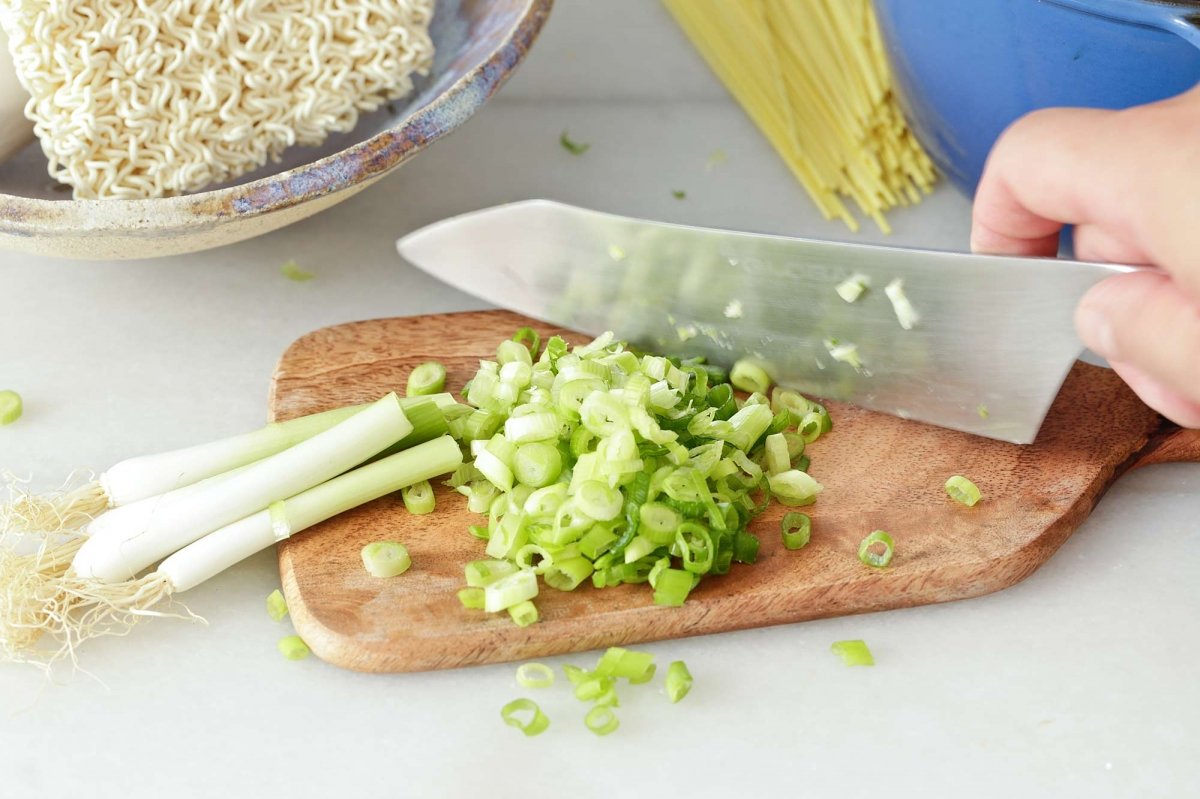 STEP 3
Eight spring onion tips were sliced into julienne strips by making many cuts, as indicated in the photo, but without cutting the other end of the tips.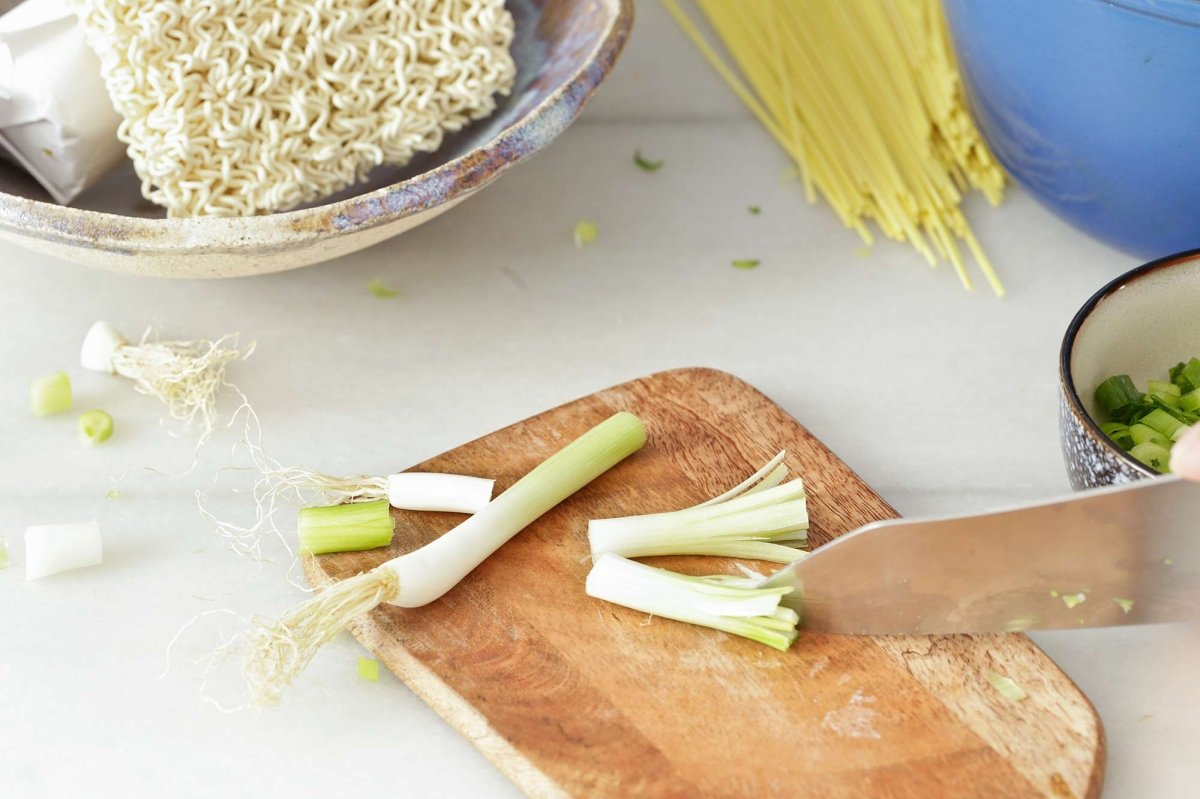 STEP 4
We garnish the ramen bowls by dipping the spring onion tips in ice-cold water and storing them in the refrigerator until serving.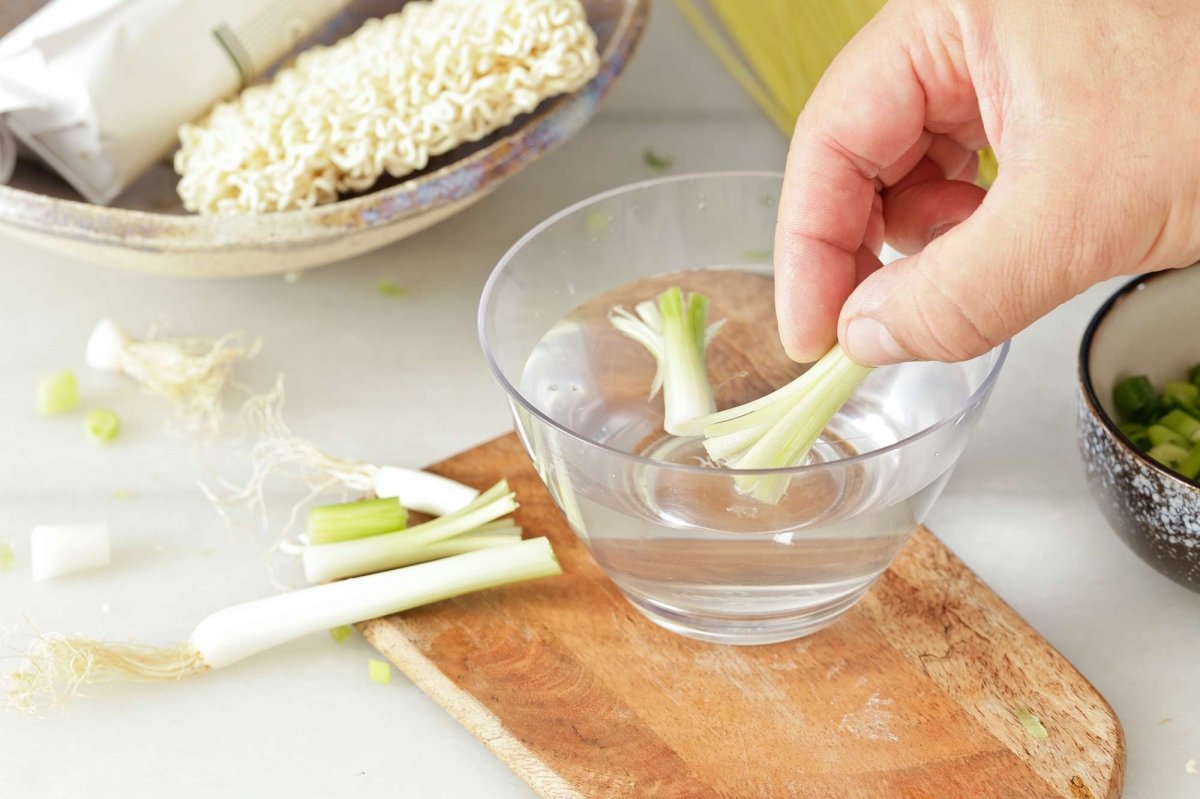 STEP 5
We prepare the shimeji and enokitake mushrooms by cleaning, cutting, and reserving them.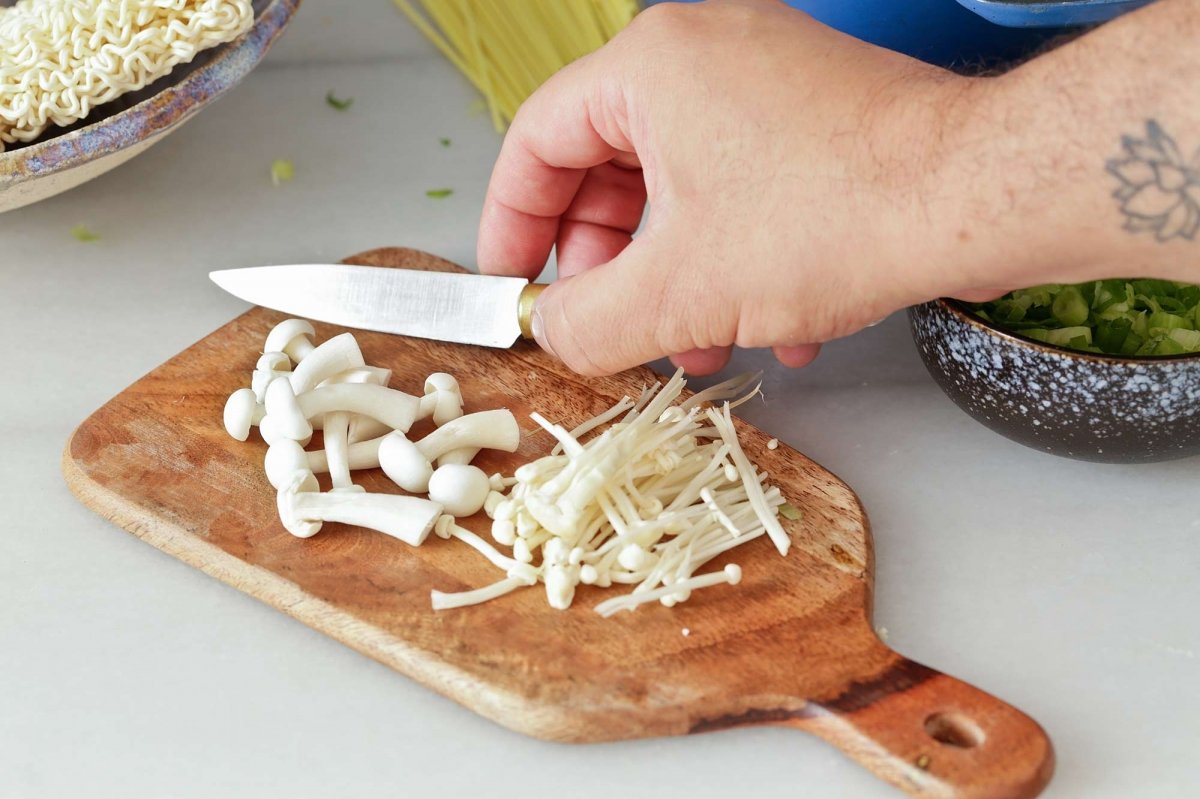 STEP 6
Four eggs are divided in half and set aside.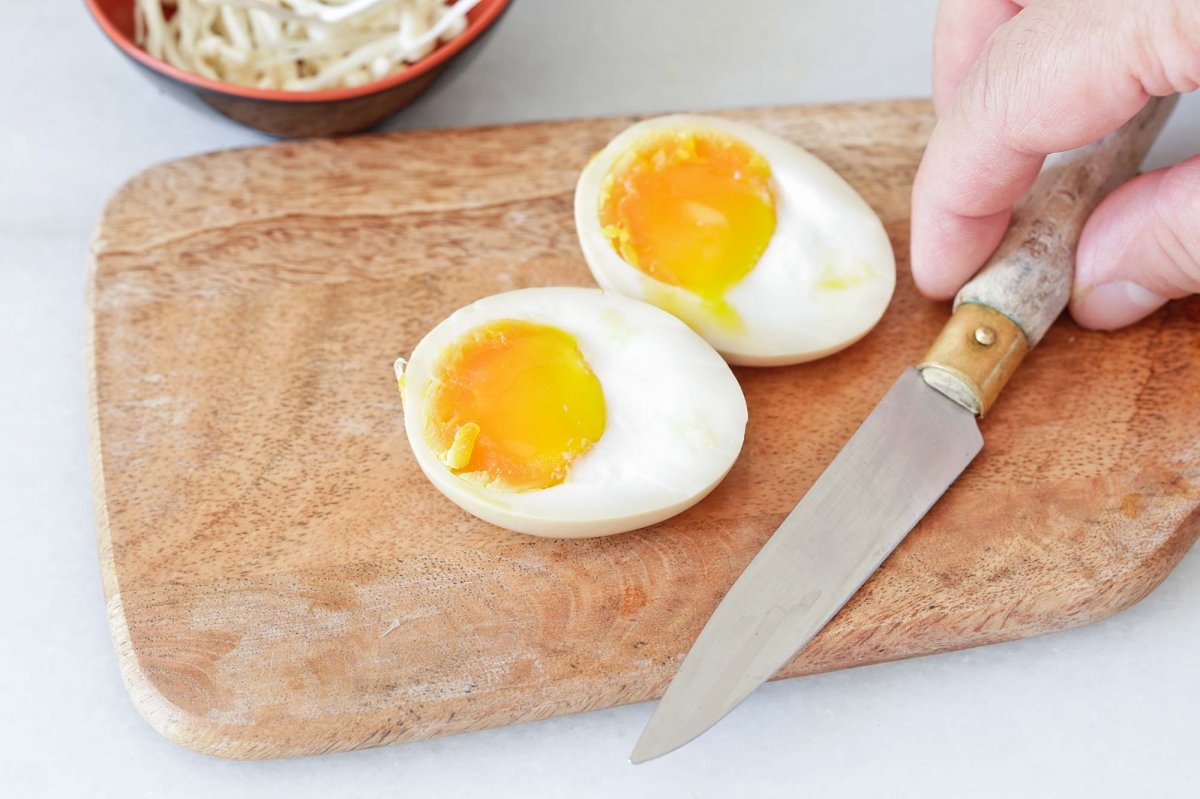 STEP 7
400 g of noodles were cooked in the broth for the durations recommended by the manufacturer, drained, and divided among four separate bowls.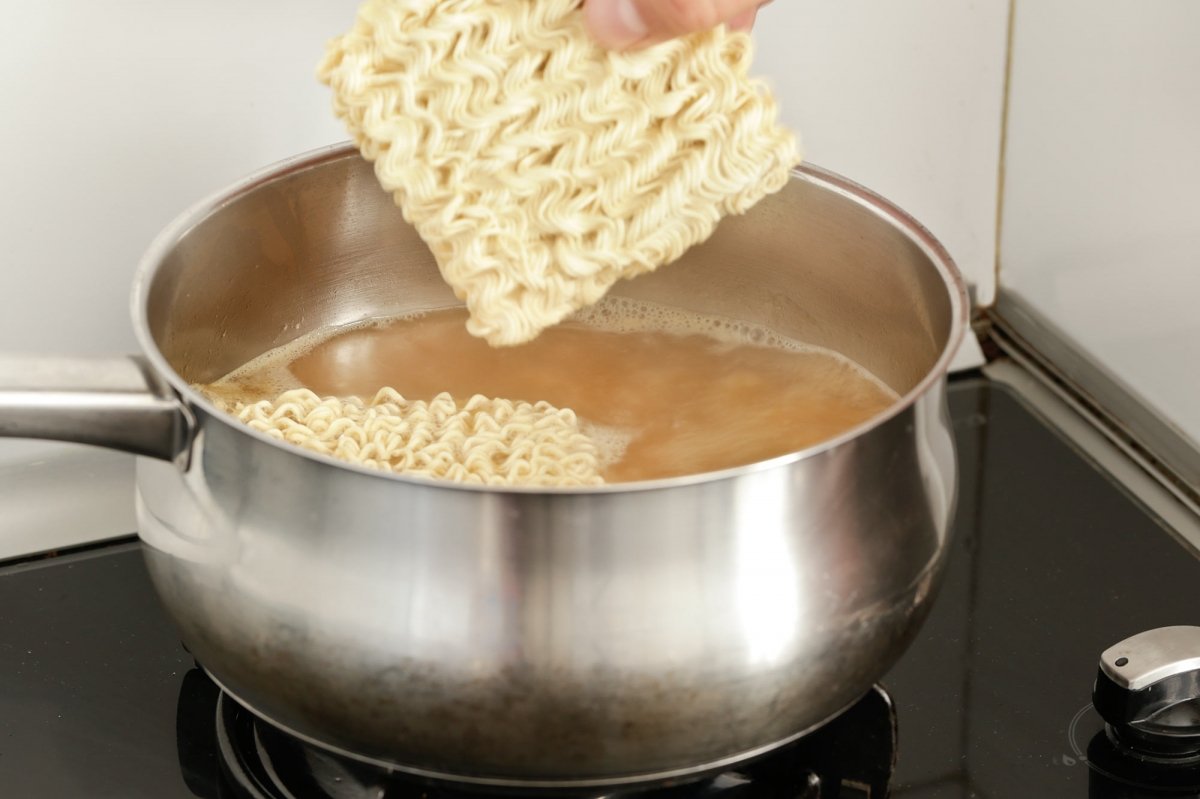 STEP 8
Add the reserved, drained, thinly sliced onions along with a quarter of the boiling broth to each bowl.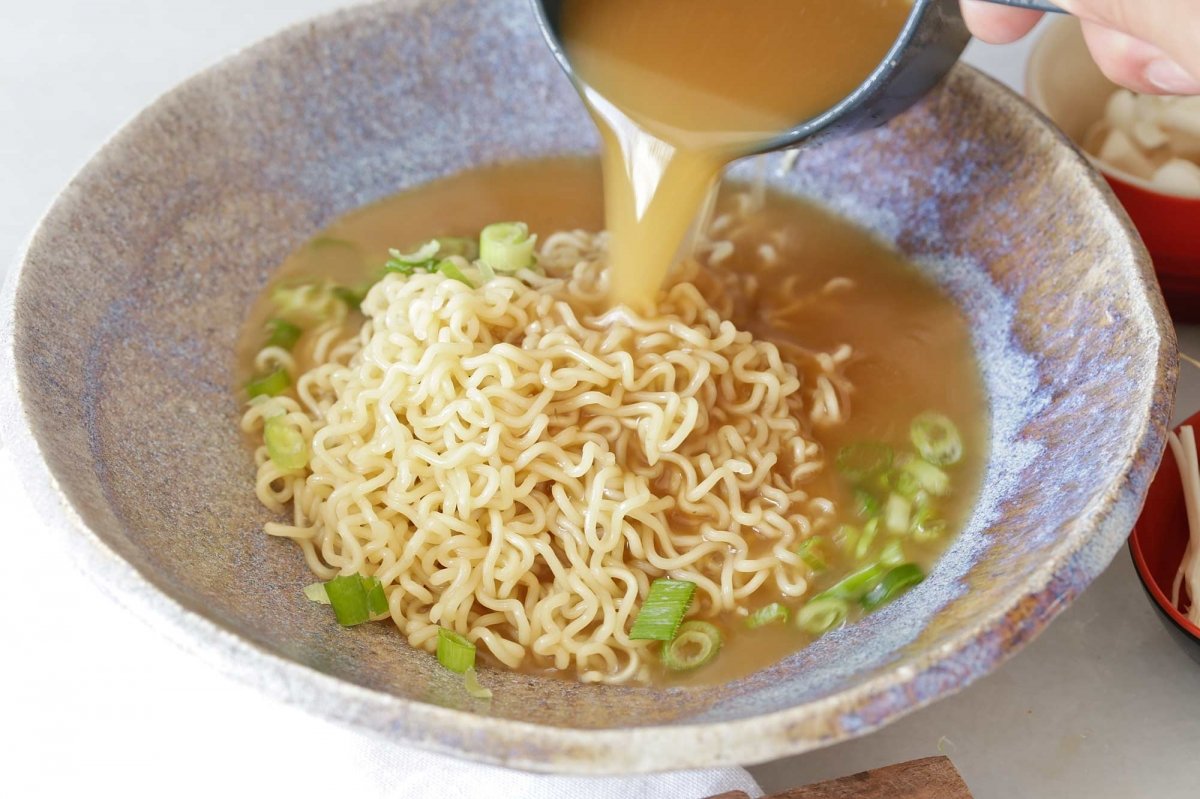 STEP 9
Add some shimeji and enokitake mushrooms, 1 piece of bacon that has been split in half, and 2 marinated egg halves to each bowl. The entire bacon slice can be added.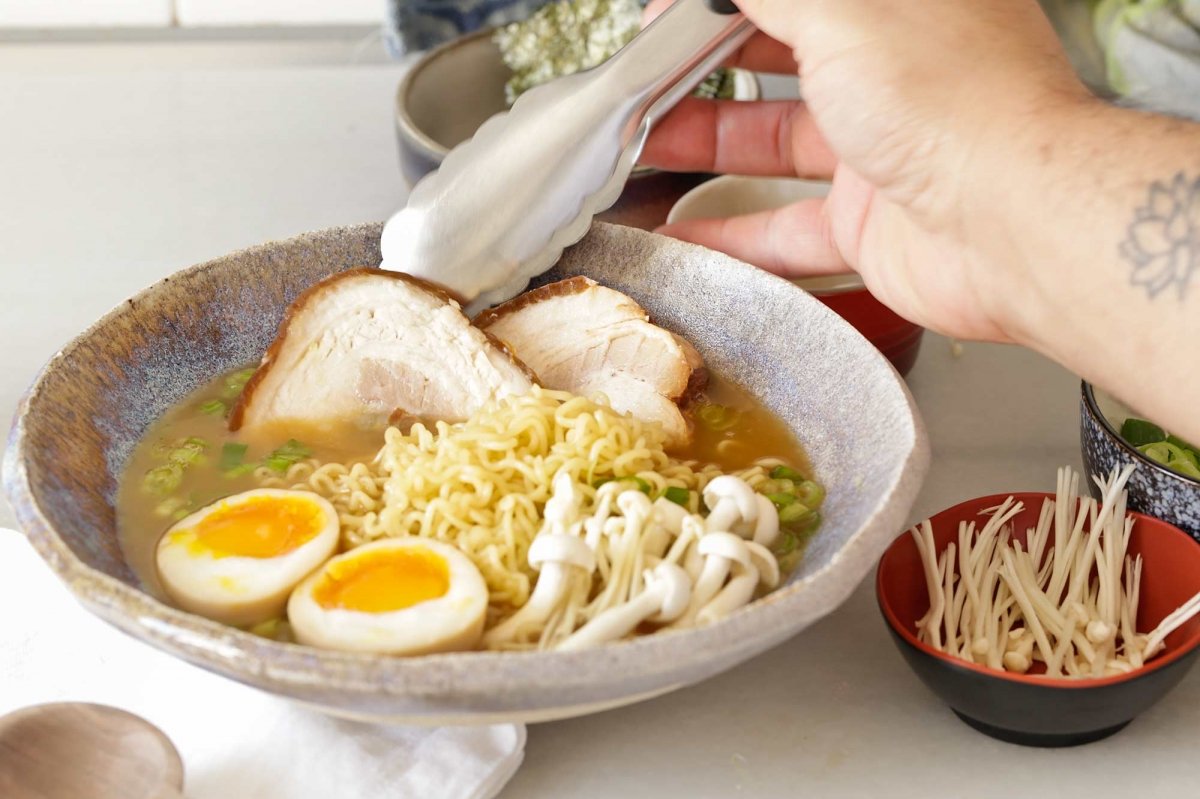 STEP 10
Before serving, we garnish each bowl of ramen with roughly 4 sheets of nori seaweed shavings and 2 spring onion tips.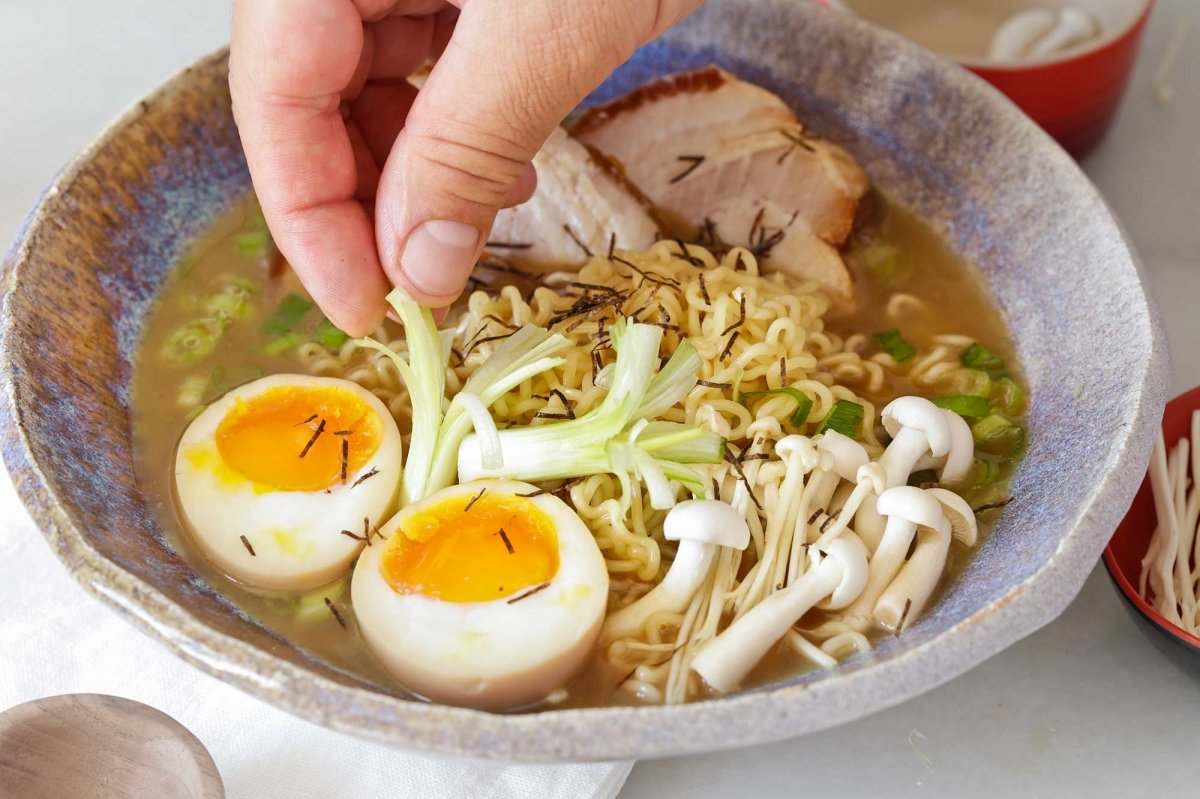 ALSO READ: EASY AUSTRIAN COOKIES