The best tuna ceviche recipe is ideal for a simple party snack or warm summer nights! This quick and simple recipe for traditional ceviche made with tuna will quickly become one of your favorites! very excellent!
With only a few essential ingredients, ceviche can be created in about 20 minutes.
There is the ceviche of a single fish, although it is relatively common to find it varied with other fish and types of shellfish. Each region, not just Peru, prepares its own variations of ceviche based on the freshest raw materials available.
Ceviche is fish that has been marinated, or "cooked," with extra flavorings and an acid like lemon or lime. The cuisine is from South America, and each country has its own variation of seafood ceviche (or cebiche).
Citrus juice's acid denatures, or changes, the texture of the fish and even kills some microorganisms. Freshly procured foods, such as sushi-grade tuna, however, help to reduce any problems with potential pathogens.
INGREDIENTS
Half red onion
2 slices of tuna (previously frozen and thawed)
6 limes
1 bunch of cilantro
black pepper to taste
Salt to taste
HOW TO MAKE THE BEST TUNA CEVICHE RECIPE
STEP 1
We start by cutting half a purple onion into a very fine julienne.
STEP 2
Next, we cut 2 slices of tuna into bite-sized cubes, not too big but not too small, about a finger thick.
STEP 3
In a salad bowl, add the julienned onion and tuna tacos. On these ingredients, we squeezed 6 limes.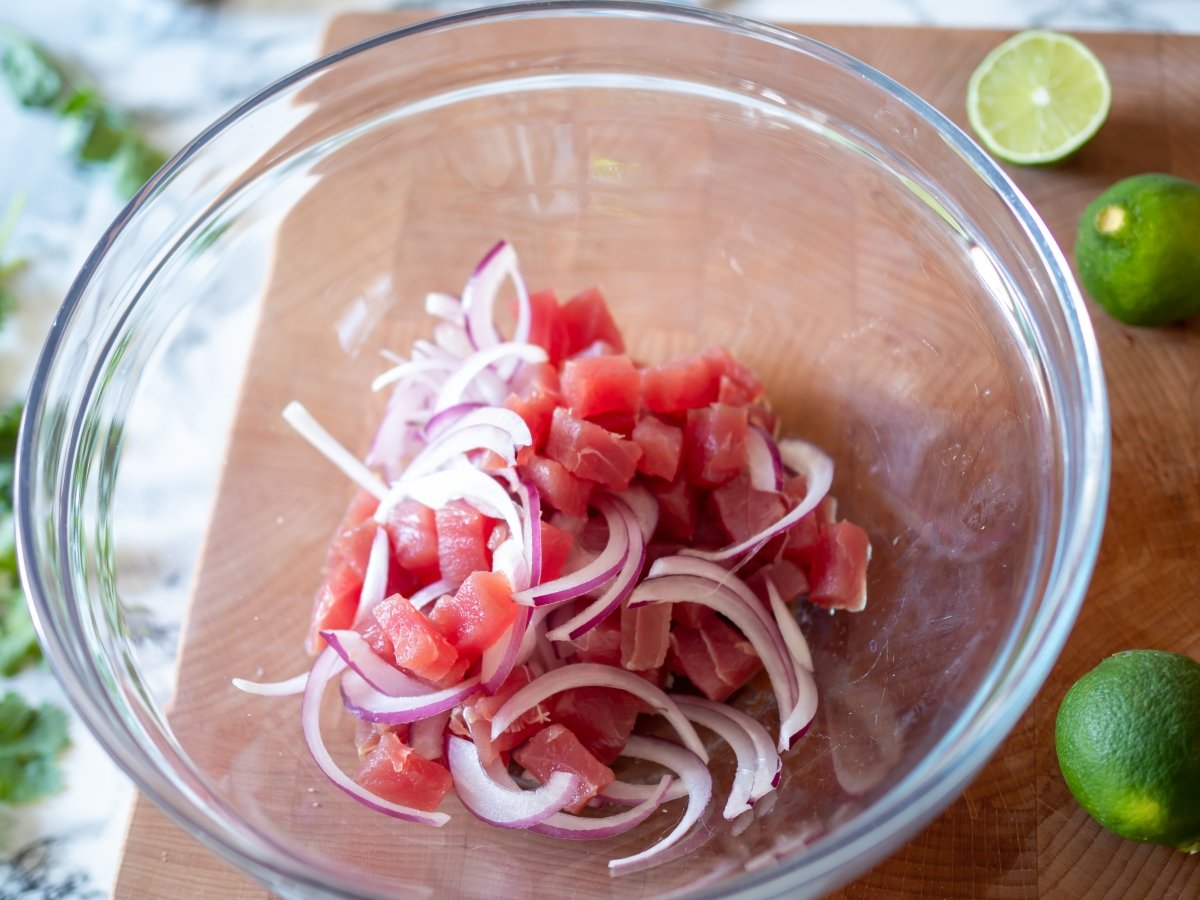 STEP 4
Add 1 bunch of chopped cilantro, ground black pepper, and salt to taste, and mix well. Cover and let the ceviche rest in the refrigerator for 5 minutes.
It is not recommended to let it macerate for a long time because the tuna would lose its flavor and texture. All that remains is to serve and enjoy.