The Creepy Halloween Appetizers Recipe is made with fun and joy, and it also makes your day.
The Halloween celebration, which takes place on October 31st, has settled into our nation.
And because it's a part of our festivities, we'd like to provide you with some other amusing treats to savor as you watch a horror film or wait for neighborhood children dressed as their favorite horror characters to come to your door and ask for candy.
To start, we did mummies with sausage and puff pastry, very simple and striking. For the scary bleeding eyes, we are going to make stuffed eggs for which we use a little mayonnaise, pieces of black olives, and roasted piquillos.
In addition, we added Tabasco to give them a spicy touch. Another of the appetizers that we have prepared is mini pizzas in the shape of ghosts, monsters, and spiders using sliced ​​cheese and again the black olives on hand. Let's go for the most terrifying recipe of the year!
INGREDIENTS
FOR 4 MINI HALLOWEEN PIZZAS:
FOR 4 PUFF PASTRY MUMMIES:
1 sheet of puff pastry
4 sausages
1 beaten egg
1 teaspoon of mayonnaise
1 pitted black olive
FOR 4 TERRIFYING EYES:
2 boiled eggs
2 tablespoons mayonnaise
a little chives
A few drops of Tabasco
1 pitted black olive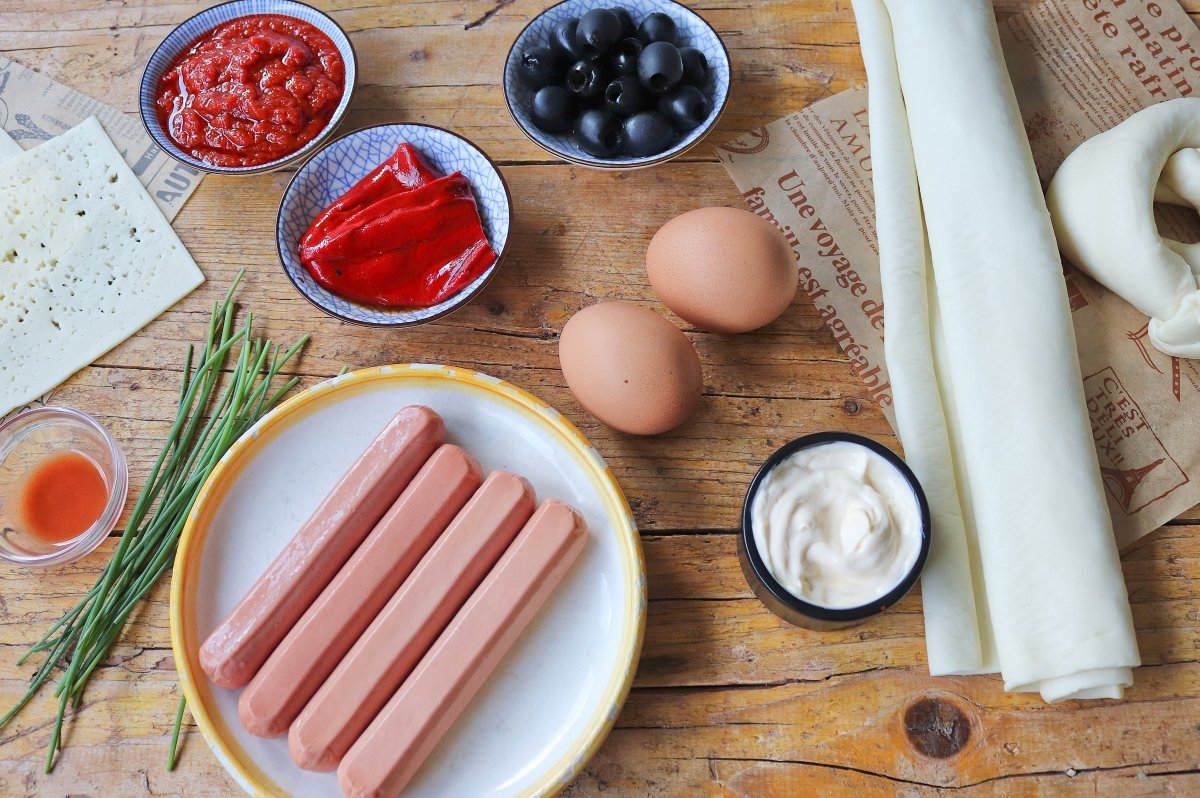 HOW TO MAKE CREEPY HALLOWEEN APPETIZERS RECIPE
MINI HALLOWEEN PIZZAS:
STEP 1
Using a round cookie cutter, divide the pizza dough into 4 equal pieces to create small Halloween pizzas.
STEP 2
Then, we add 2 tablespoons of fried tomato to each small pizza, along with 2 slices of cheese that we will slice into various shapes as they melt (ghost, mummy…).
FOR 4 PUFF PASTRY MUMMIES:
STEP 1
To make puff pastry mummies Cut 1 sheet of puff pastry into strips and wrap 4 frankfurters in these strips.
STEP 2
We paint the sausages with 1 beaten egg and cook them together with the mini pizzas for 20 minutes at 200°C with heat from top to bottom.
STEP 3
As miniature Halloween pizzas and puff pastry mummies bake, we create scary eyes. Two hard-boiled eggs will be used for this, which we will divide in half.
Keep the whites and separate the yolks. 2 tablespoons of mayonnaise, some finely chopped chives, and a few drops of Tabasco should be combined with the yolks.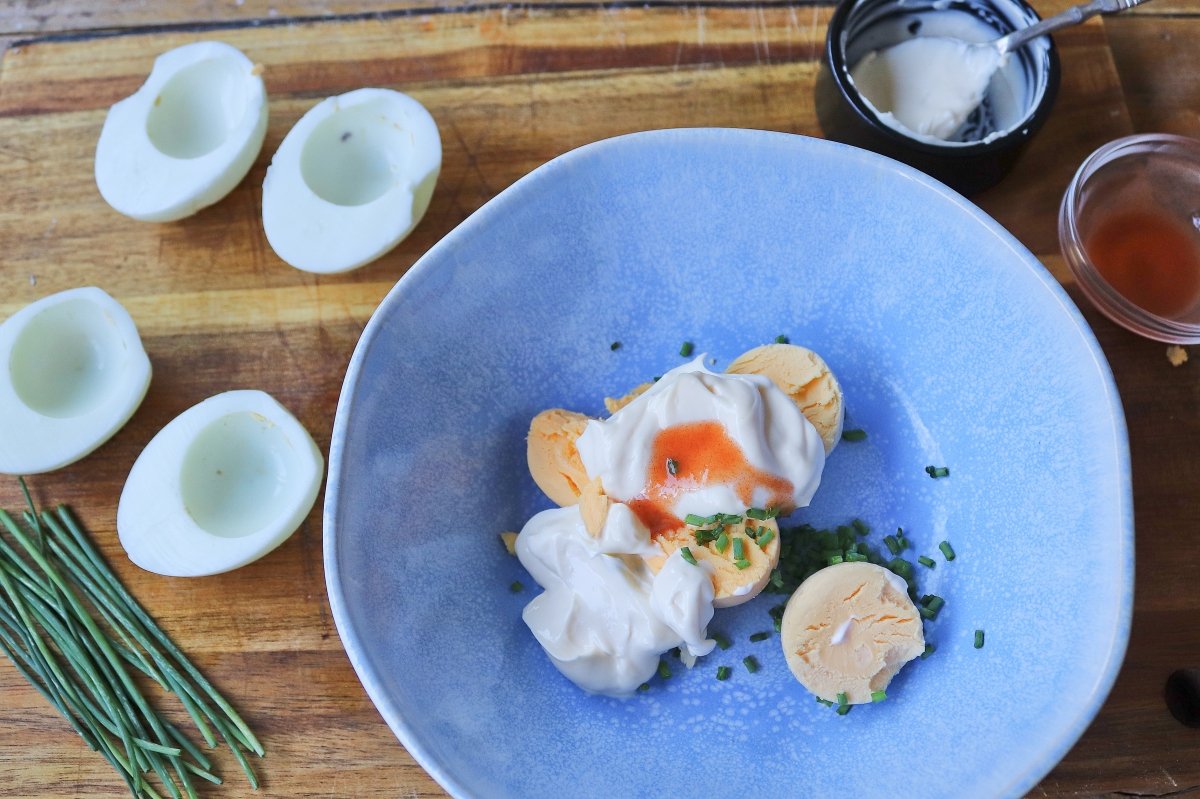 STEP 4
Once the mini Halloween pizzas and puff pastry mummies are out of the oven, decorate the mini pizzas with 5 or 6 black olives in the shape of a spider, ghost, or monster.
STEP 5
Then, decorate the puff mummies with 1 teaspoon of mayonnaise and 1 olive cut into pieces to make the eyes.
FOR 4 TERRIFYING EYES:
STEP 1
Finally, we decorate the terrifying eyes with 1 black olive cut into slices and 1 piquillo pepper cut into strips.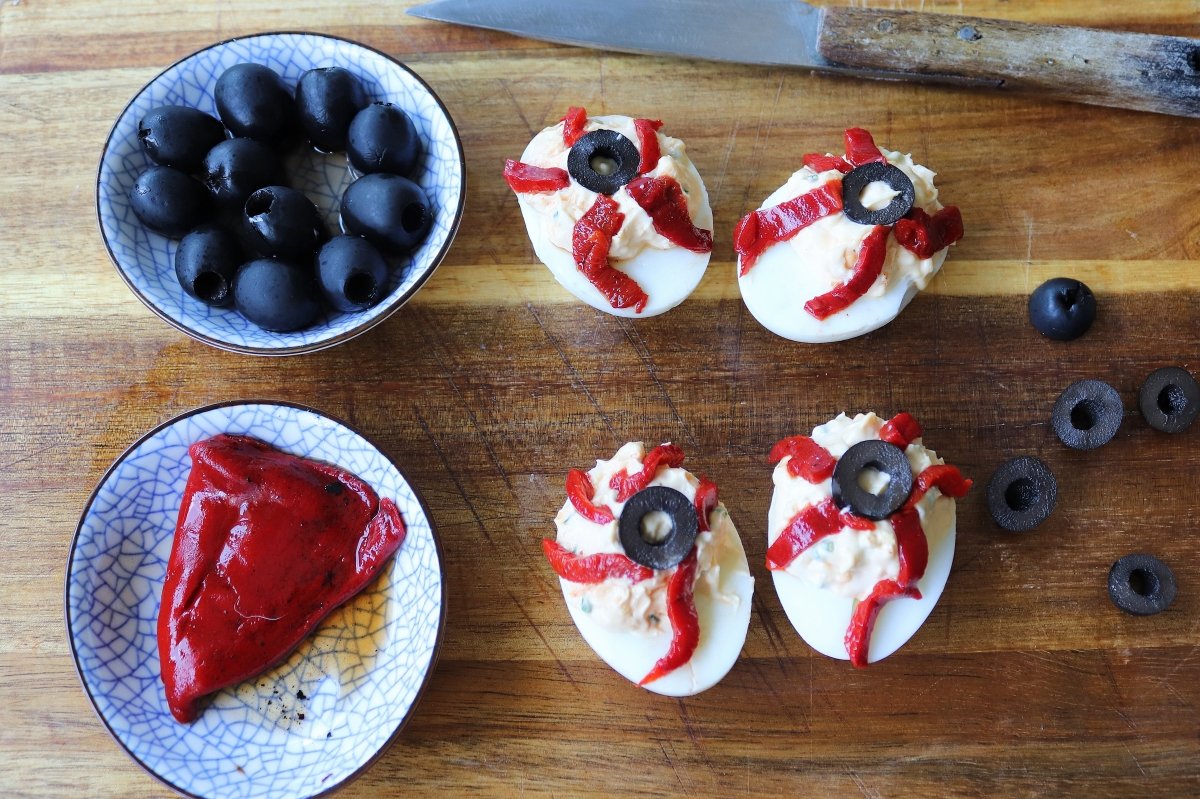 STEP 2
We serve freshly prepared Halloween appetizers.