The Huesos de Santo recipe is the recipe of Spanish cuisine as Saints' Day approaches.
The traditional holy bones, which are the ones we teach you to prepare in this recipe, are filled with pastry yolk or yolk candy. However, gastronomic concerns and the desire to innovate have brought with them curious proposals such as saint bones filled with chocolate, strawberry, coconut, praline, etc.
The holy bones are made up of three components: a marzipan tube, an egg yolk filling, and a sugar coating.
They are arduous, to be sure, and require talent, patience, and time to properly complete. Although we can promise you that home-cooked meals are a genuine treat. It has nothing to do with advertising.
INGREDIENTS
For the marzipan:
125g ground almonds
25g mashed potato
112g of sugar
50g of water
1 piece of lemon zest
10g fine cornmeal
For the pastry yolk:
150 g) sugar
75g of water
6 yolks
5 g of fine corn flour
1 tablespoon of water
For the icing:
150g icing sugar
45g of water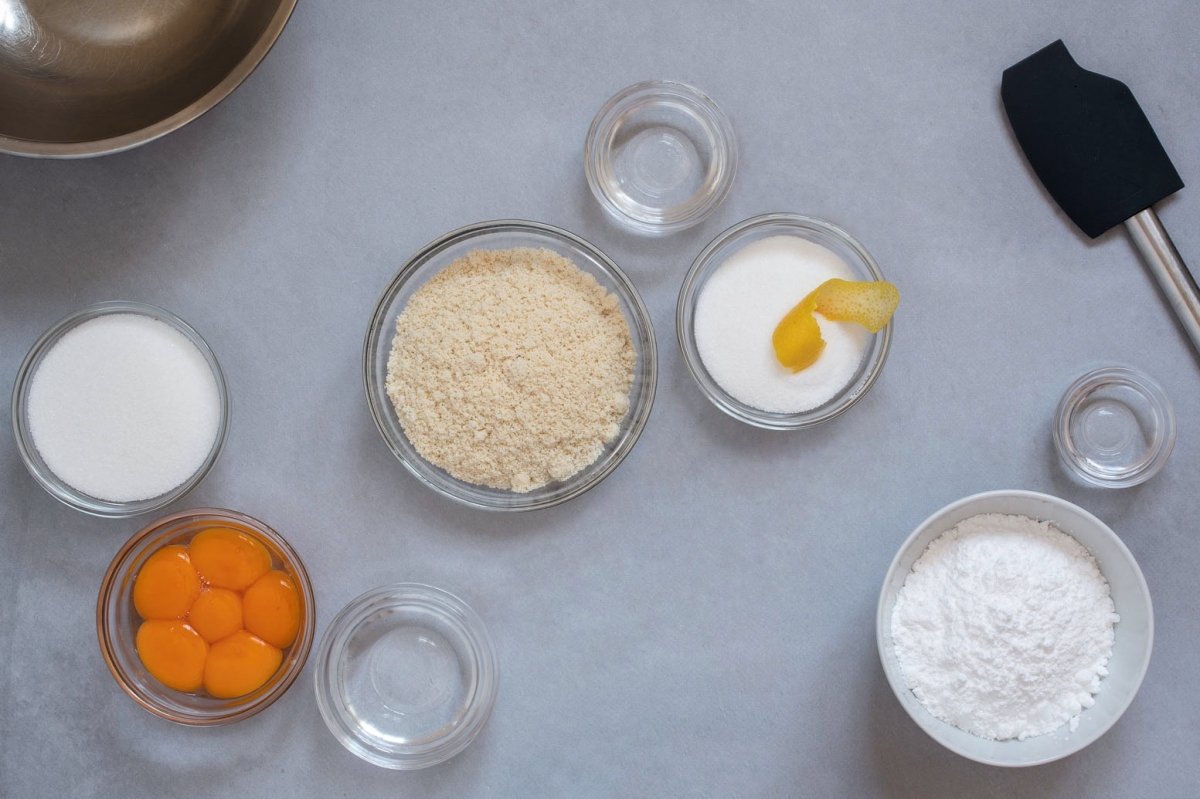 HOW TO MAKE HUESOS DE SANTO RECIPE
STEP 1
In a wide, deep mixing basin, combine 125 g crushed almonds and 25 g mashed potatoes to make the marzipan.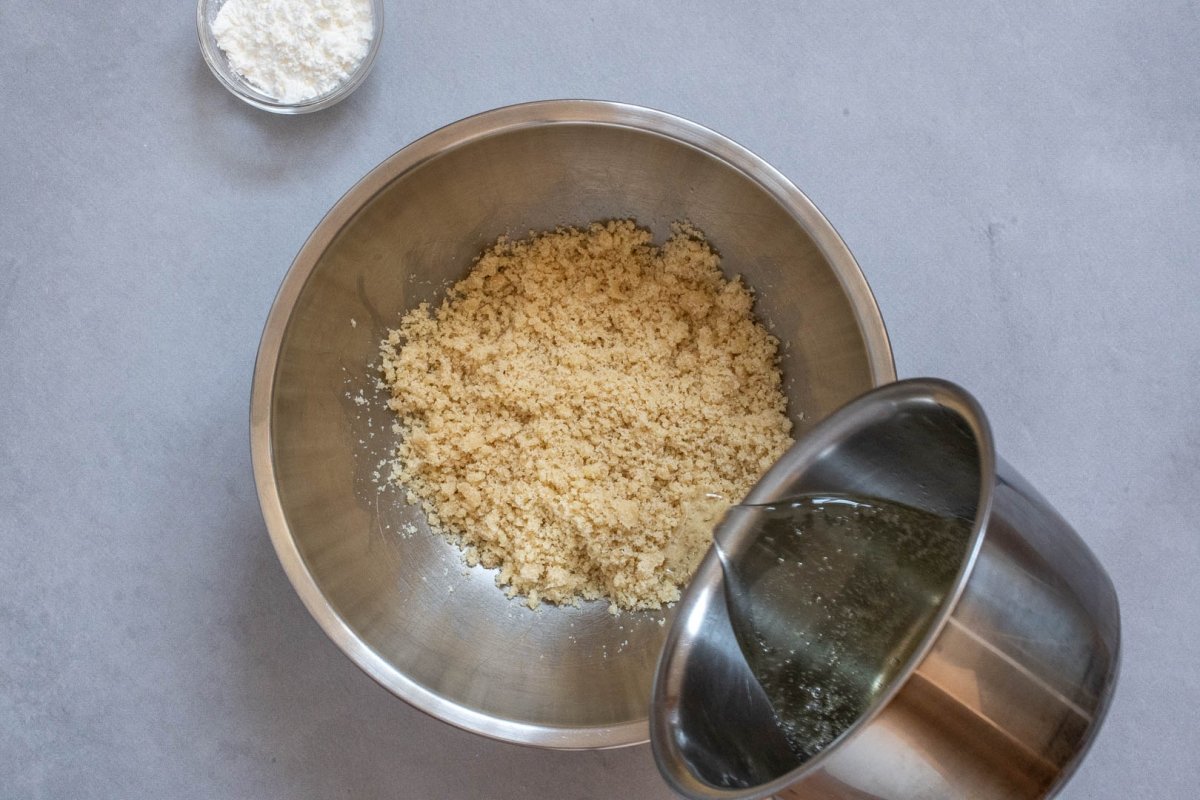 STEP 2
In a saucepan, combine 112 g of sugar, 50 g of water, and 1 piece of lemon zest. Bring to a boil and continue to cook over low heat until a strong syrup is formed, or until the temperature hits 112 ° c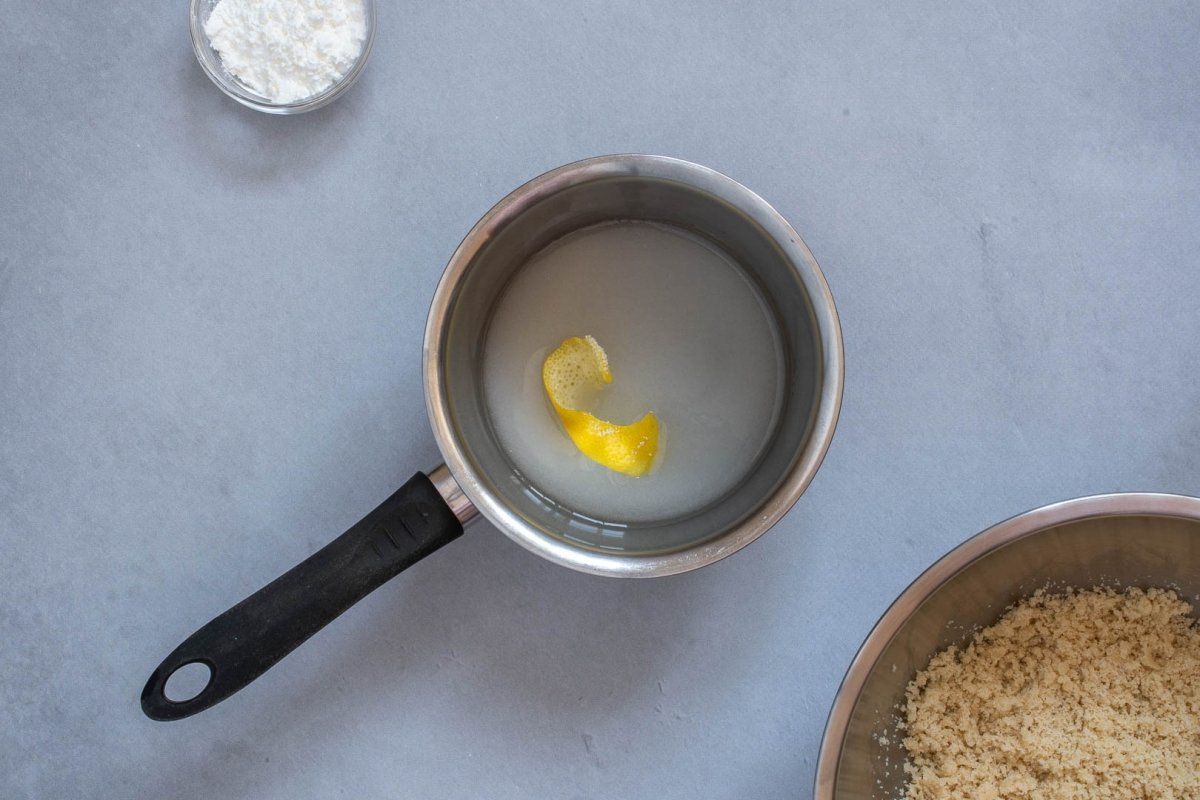 STEP 3
Pour the syrup over the almond-potato mixture and vigorously swirl to combine. We will have to use our hands and knead as if we were making bread at some point. You want a uniform, slightly sticky, yet firm dough.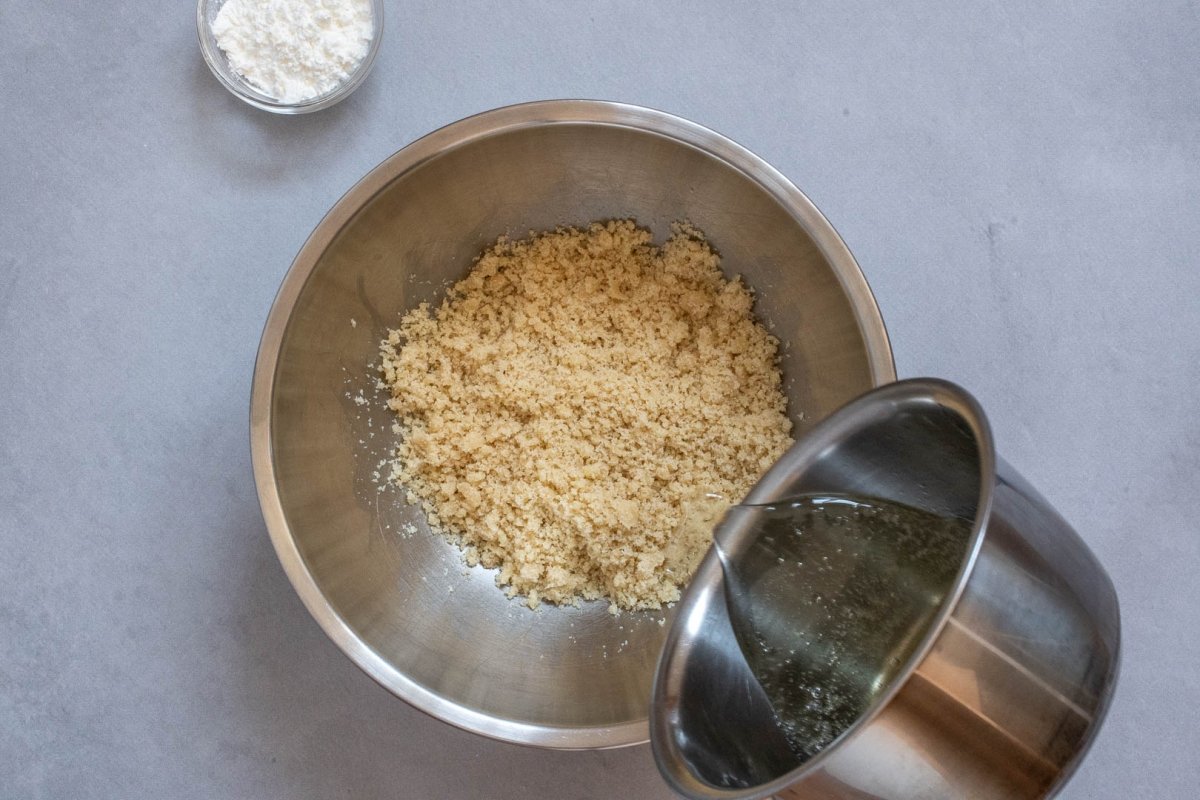 STEP 4
Wrap the dough in plastic wrap and place it in the refrigerator for 3 hours to form.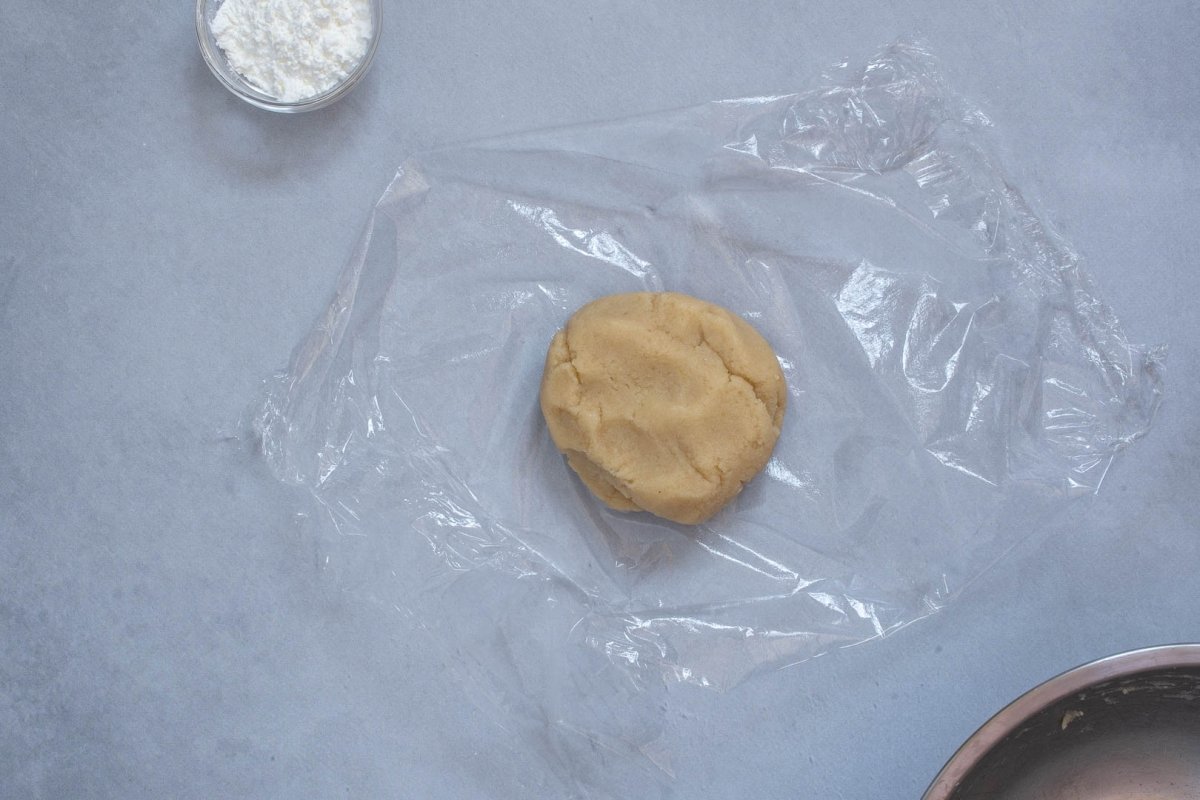 STEP 5
When the marzipan has rested, knead it lightly and roll it out on a sheet of parchment paper, adding a little fine corn flour, about 10 g, on top to keep the rolling pin from sticking.
It is important to obtain a sheet of marzipan about 2 mm thick on which we will mark the characteristic lines of the saint's bones with a skewer.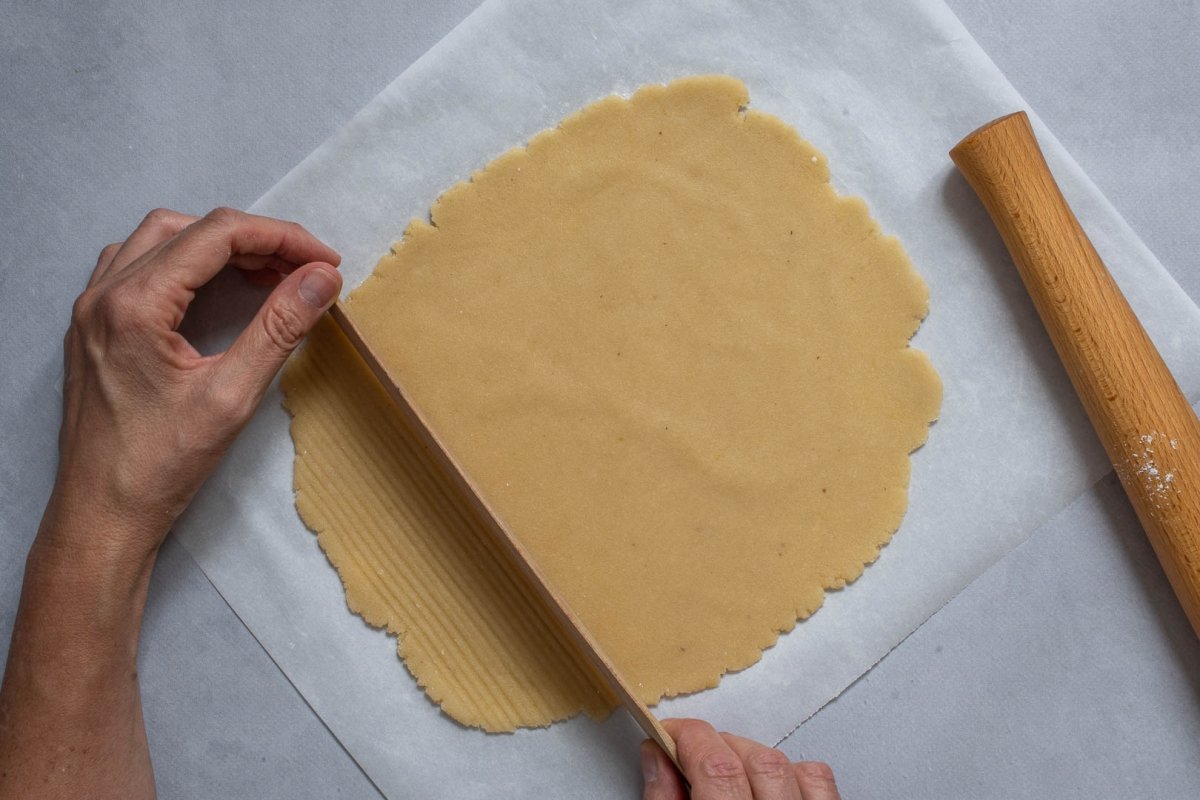 STEP 6
Cut the marzipan into 6×6 cm squares.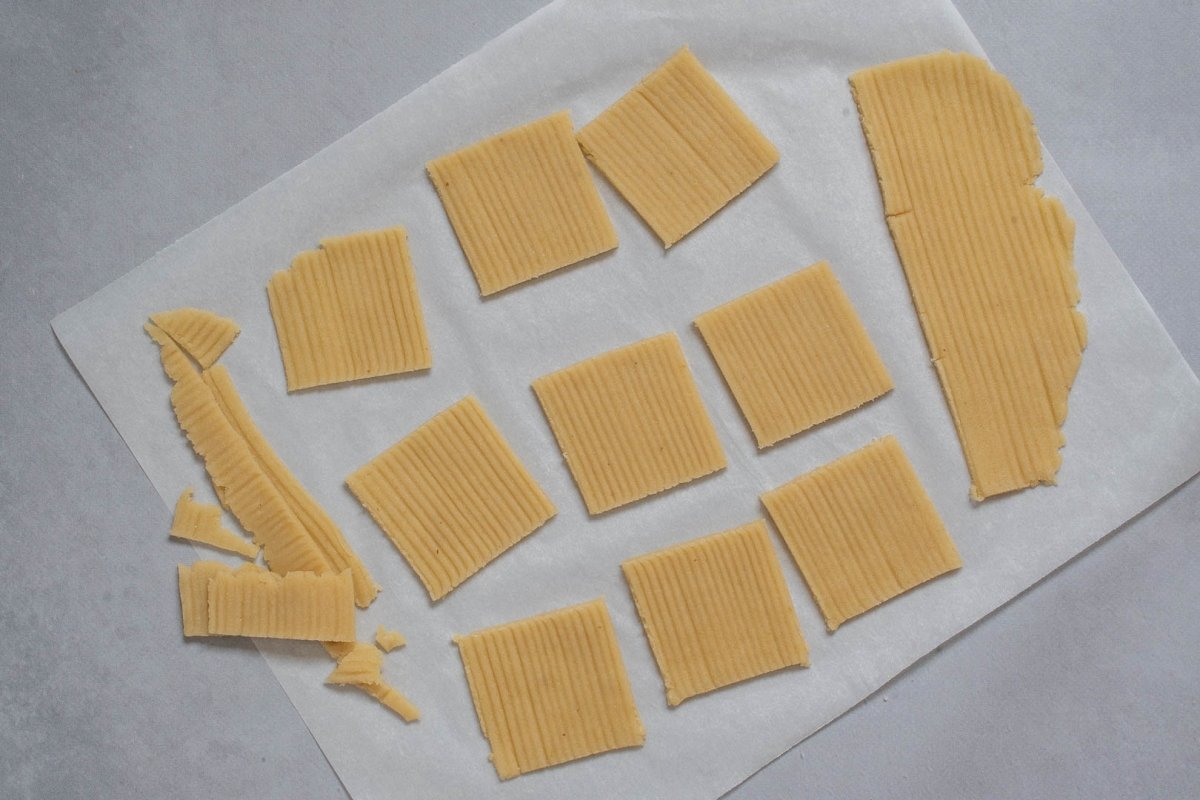 STEP 7
Wet one end of the square, wrap it around the handle of a wooden spoon, and tightly press the joint closed. Repeat as needed, and allow the eclairs to dry for 2-3 hours.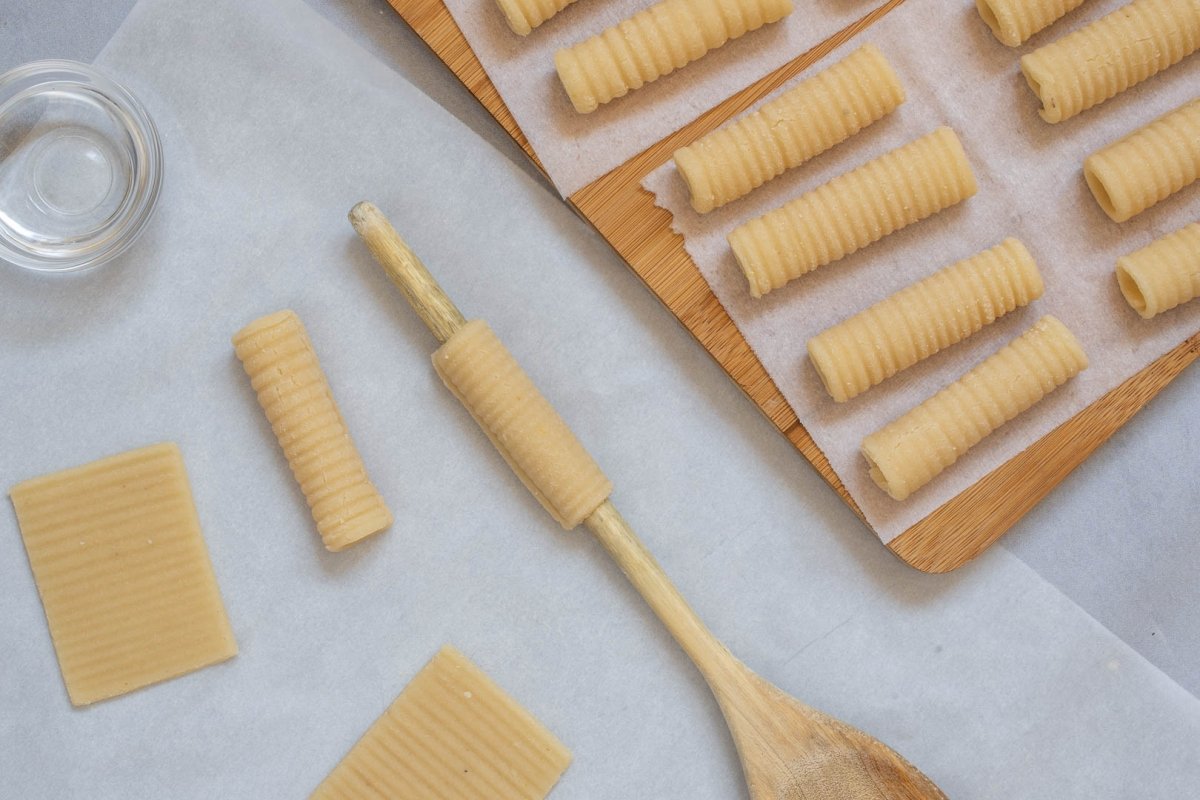 STEP 8
To make the pastry yolk, combine 150 g of sugar and 75 g of water in a pot.
Bring to a boil and continue to cook over low heat until a fine-grained syrup is formed, or until the temperature hits 105 oC. Pour it over 6 egg yolks, constantly beating to keep them from curdling due to the heat.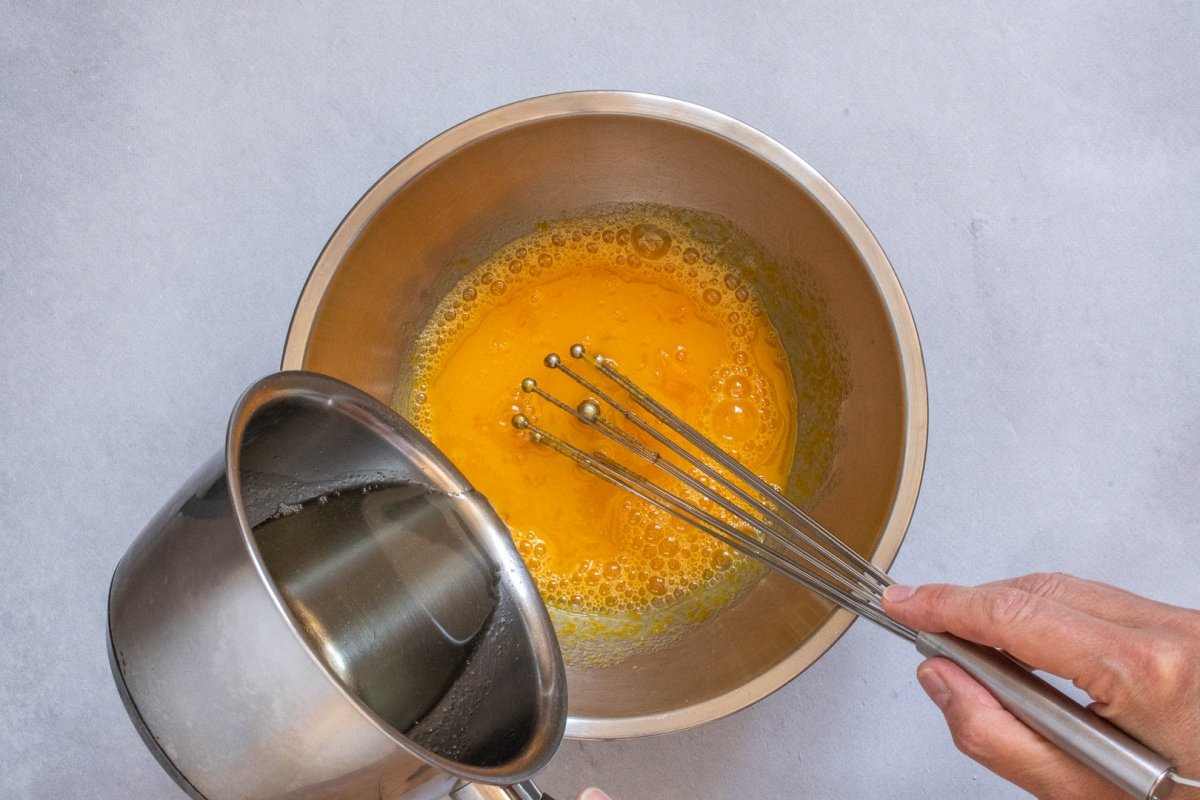 STEP 9
To the yolks, add 5 grams of fine corn flour dissolved in 1 tablespoon of water, and cook the mixture in a saucepan, stirring constantly, until a thick cream (above 65 oC) is achieved.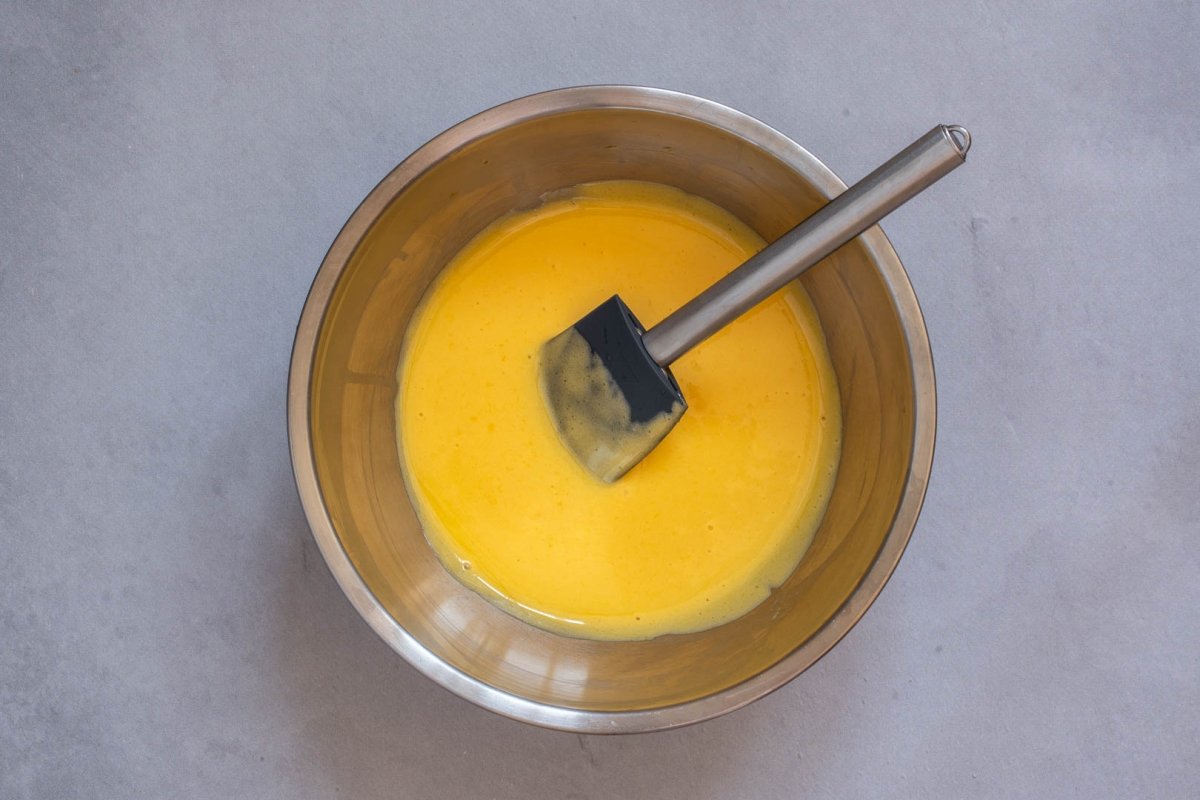 STEP 10
When the marzipan eclairs are dry, place the yolk in a piping bag fitted with a fine piping tip, fill the saint bones, and leave them lying down to prevent the filling from leaking.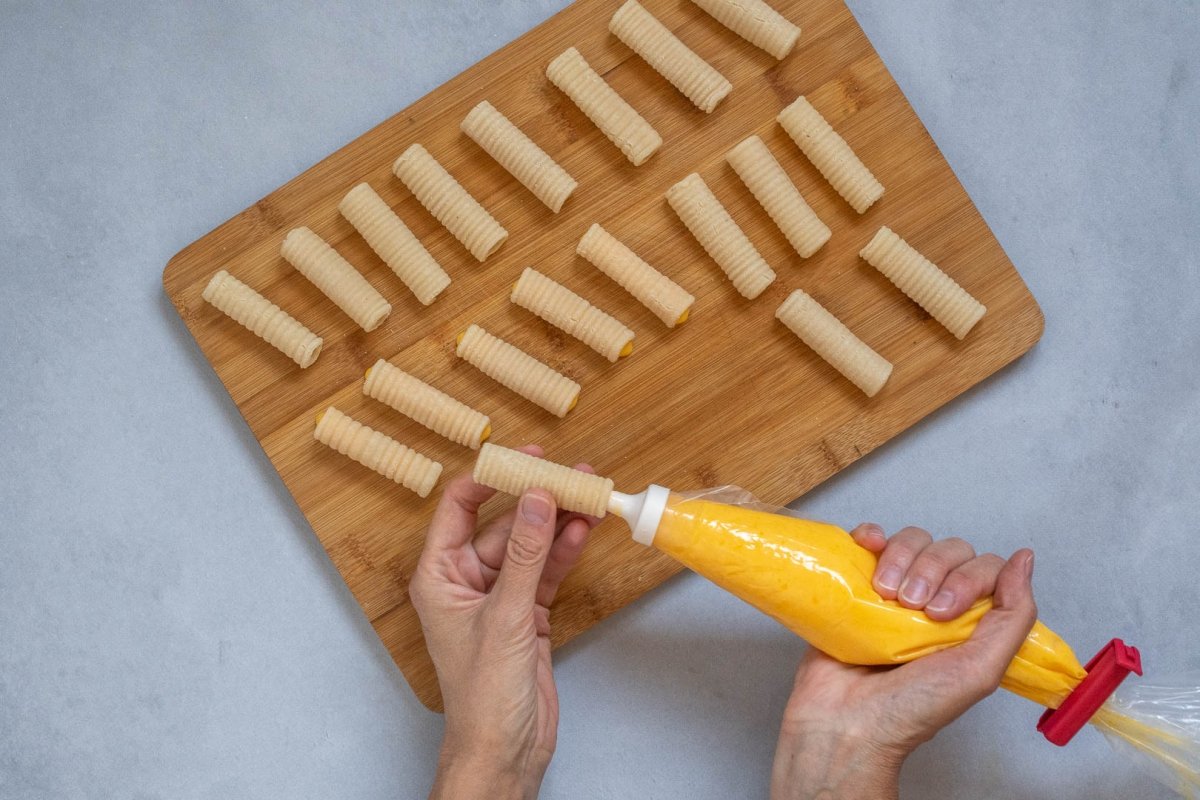 STEP 11
To make the frosting bath for Santo's bones, combine 150 g of icing sugar with 45 g of water.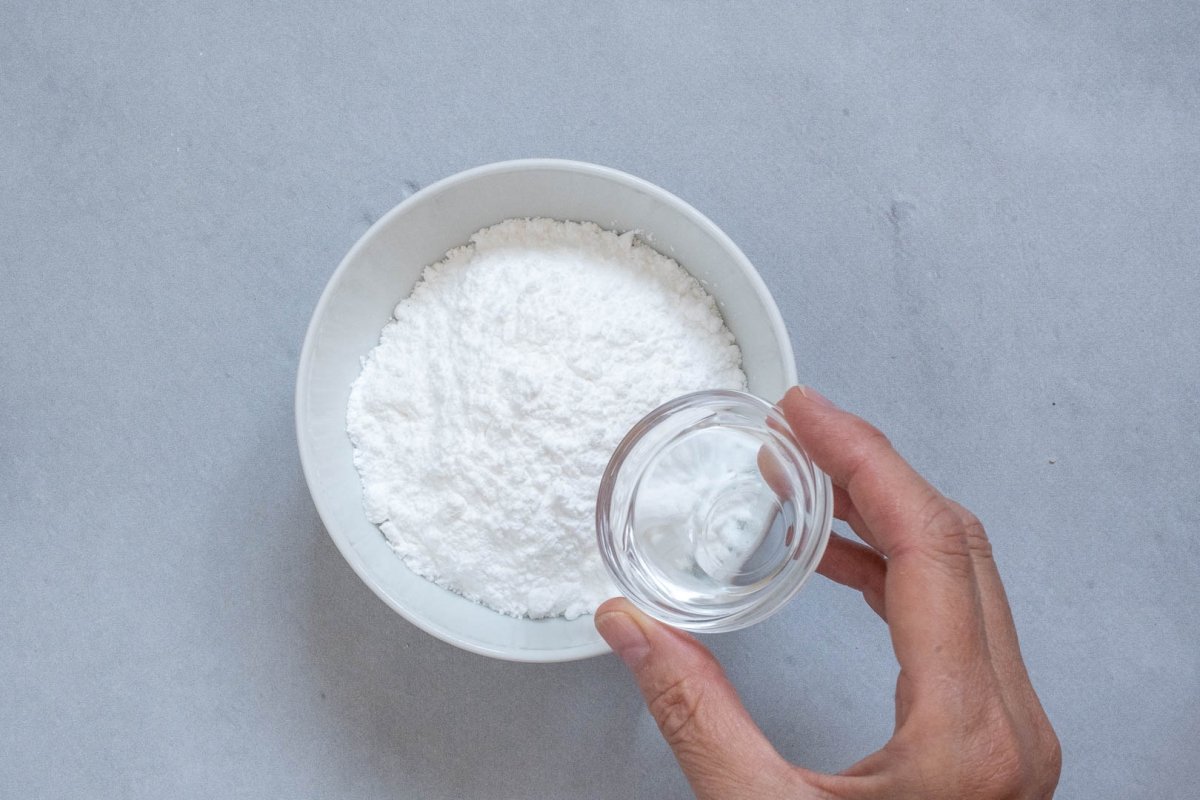 STEP 12
The exact amount of water is difficult to perfect; the ideal is to add spoonful by spoonful and stir until you get a bath that is sufficiently fluid to bathe the bones easily, yet with enough body to cover them well.
We bathe the saint's bones in the glaze.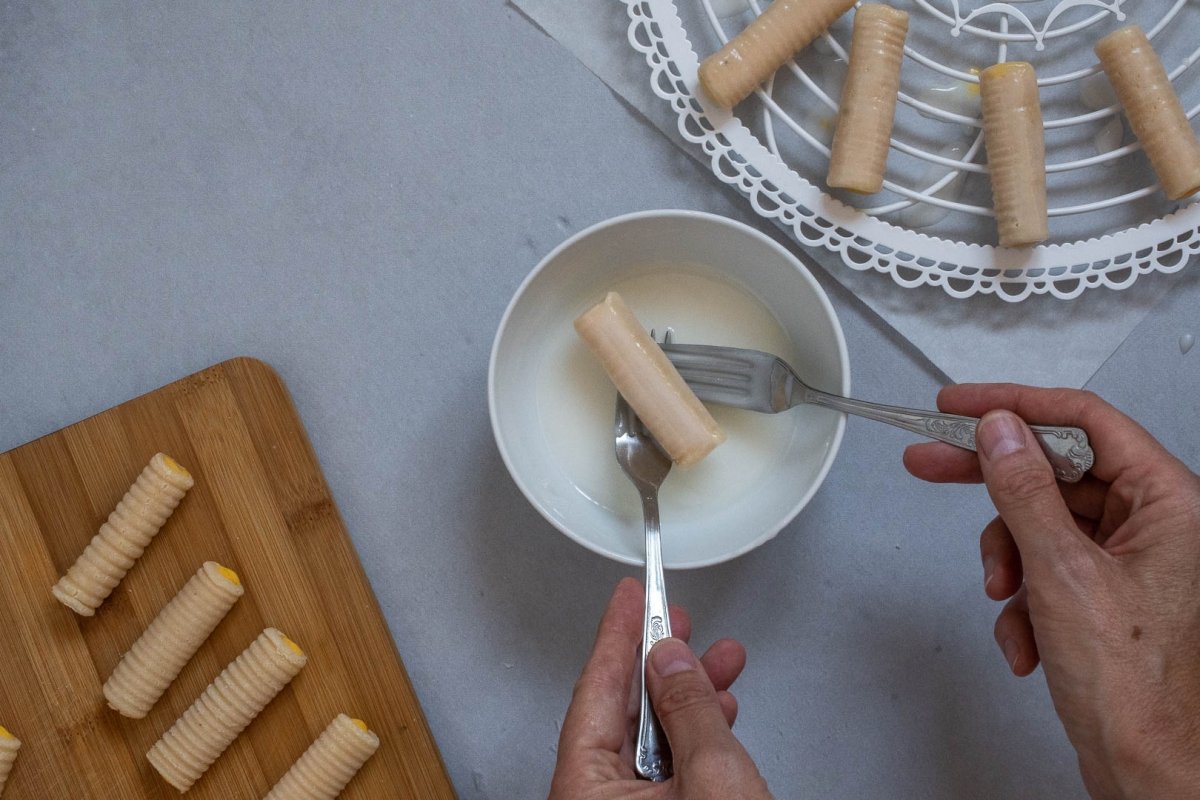 STEP 13
Allow the frozen saint bones to drain on a grid and, once dry, sink our teeth into them.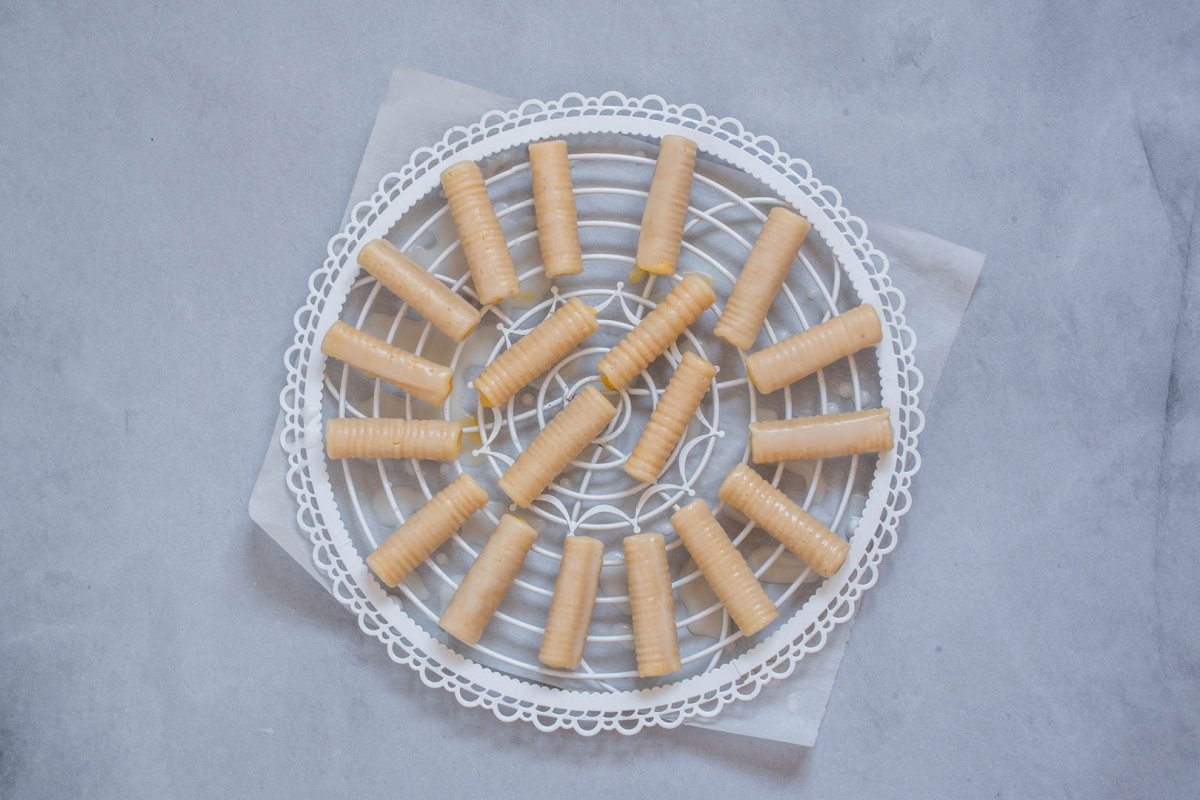 ALSO READ: HOMEMADE BAO BREAD