Mimosa Salad Recipe with Potatoes and Carrots Mimosa salad is a traditional dish of Soviet cuisine. Their names are due to the color of the last layer of the salad, which refers to its namesake flower, the mimosa. These flowers are very important for Russian women since every March 8, International Women's Day, it is traditional to give them a bouquet of the said flower.
Russian cuisine recipes are in front of a typically festive recipe, which is made especially for special times or celebrations like Christmas or New Year. This salad is made with basic ingredients such as potatoes, carrots, boiled eggs, canned tuna, and mayonnaise, and it is characterized by the attractive arrangement of the ingredients in layers.
Currently, this salad has several versions with fish other than tuna, such as mackerel or salmon. Do not stay without trying it and surprise your guests with this salad whose presentation is surprising. salad for breakfast benefits.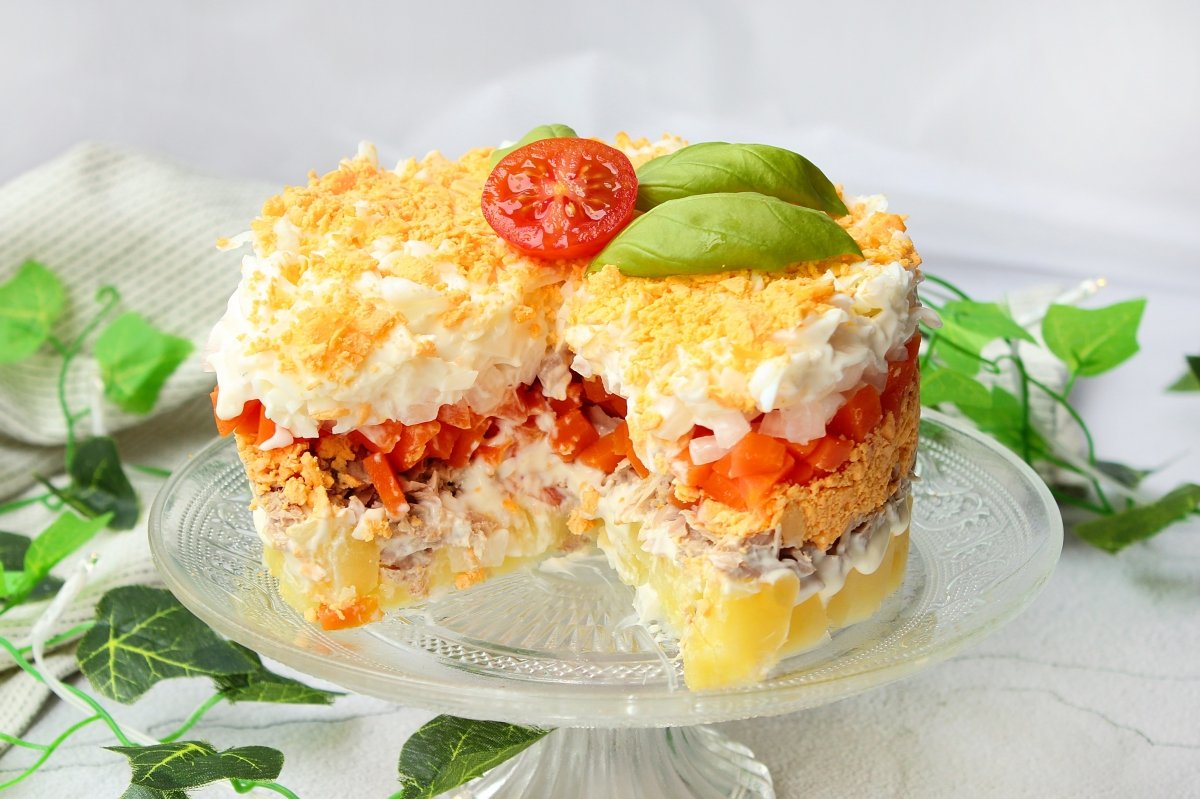 INGREDIENTS
350g potato
250g of carrot.
150g spring onion
1 teaspoon of salt.
4 boiled eggs.
150g mayonnaise
180 g canned tuna, drained
1/2 cherry tomato
A few leaves of fresh basil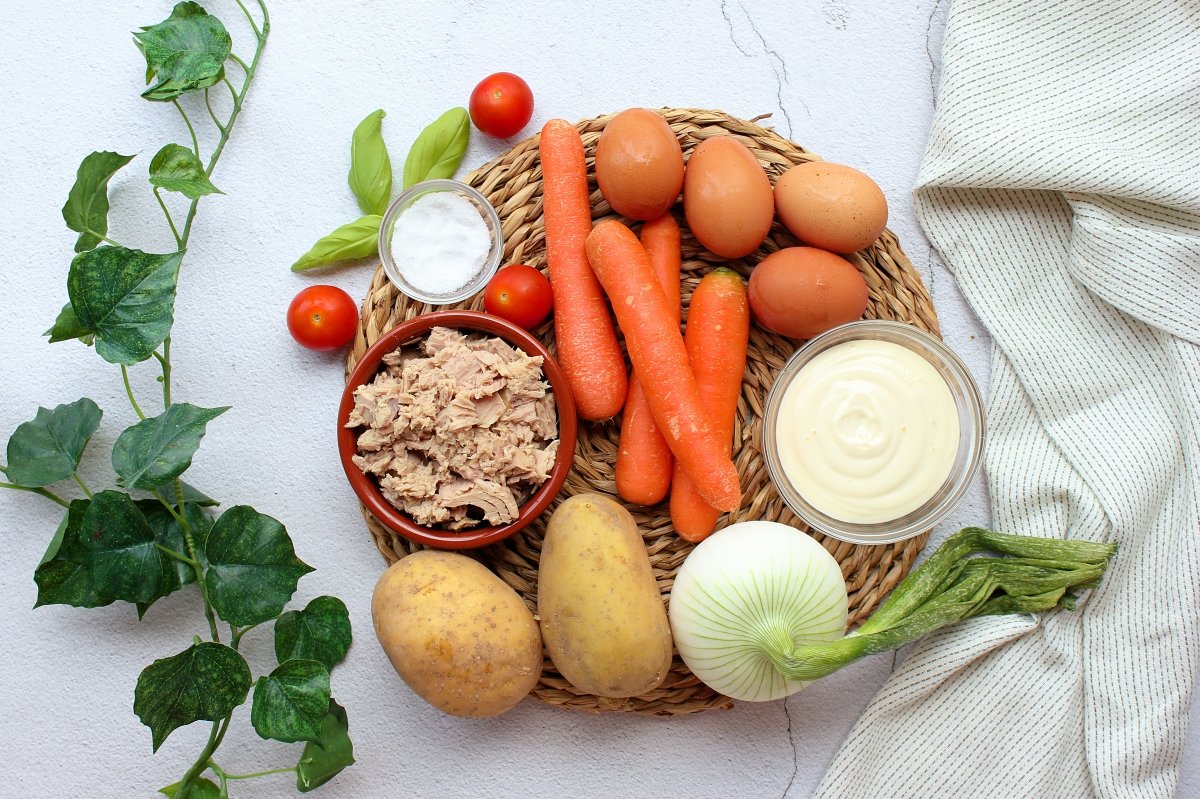 HOW TO MAKE MIMOSA SALAD RECIPE WITH POTATOES AND CARROTS
STEP 1
The first thing we have to do is peel and cut it into small cubes. There is 350 g of potato, 250 g of carrot, and 150 g of onion.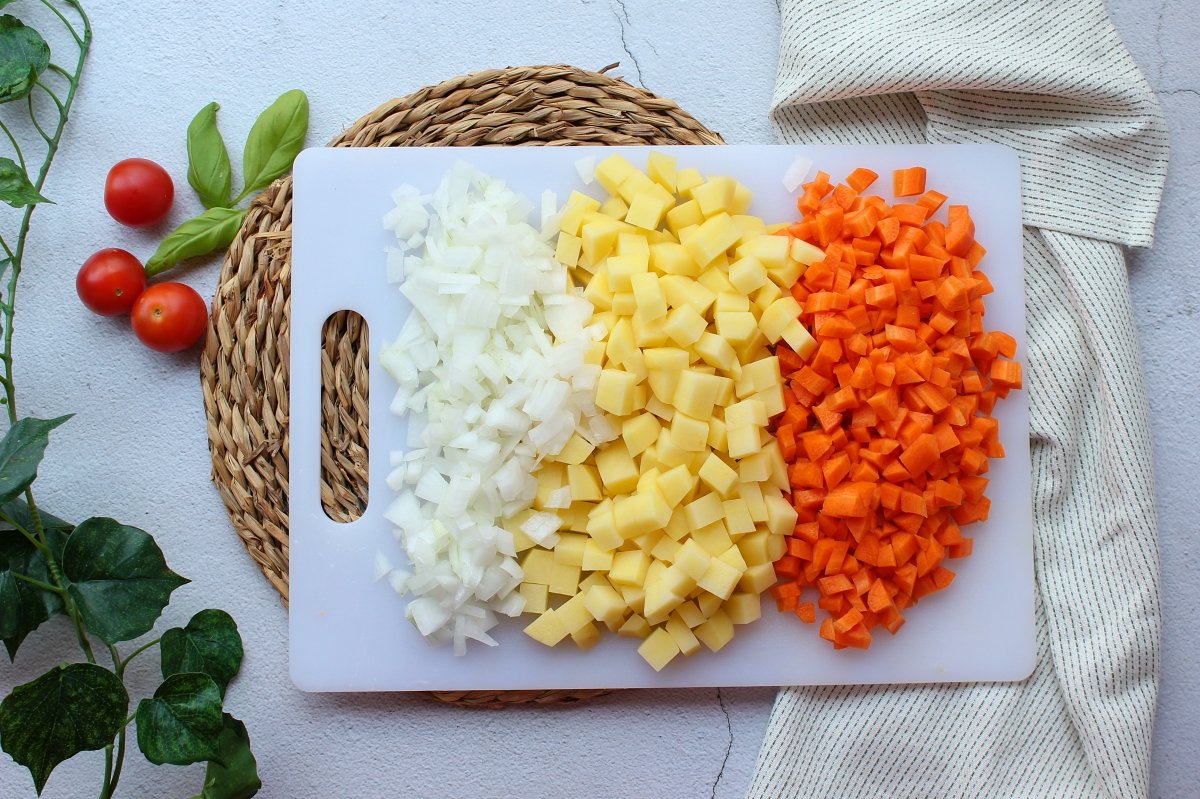 STEP 2
Add chopped potatoes and carrots to a saucepan with lots of water. Ten minutes after the water starts to boil, add salt to taste. By placing one of the components in a special net designed to cook vegetables, you may cook the two ingredients in the same pot without mixing them. When cooking different items that require varying cooking periods, this approach is also a great way to save time and energy.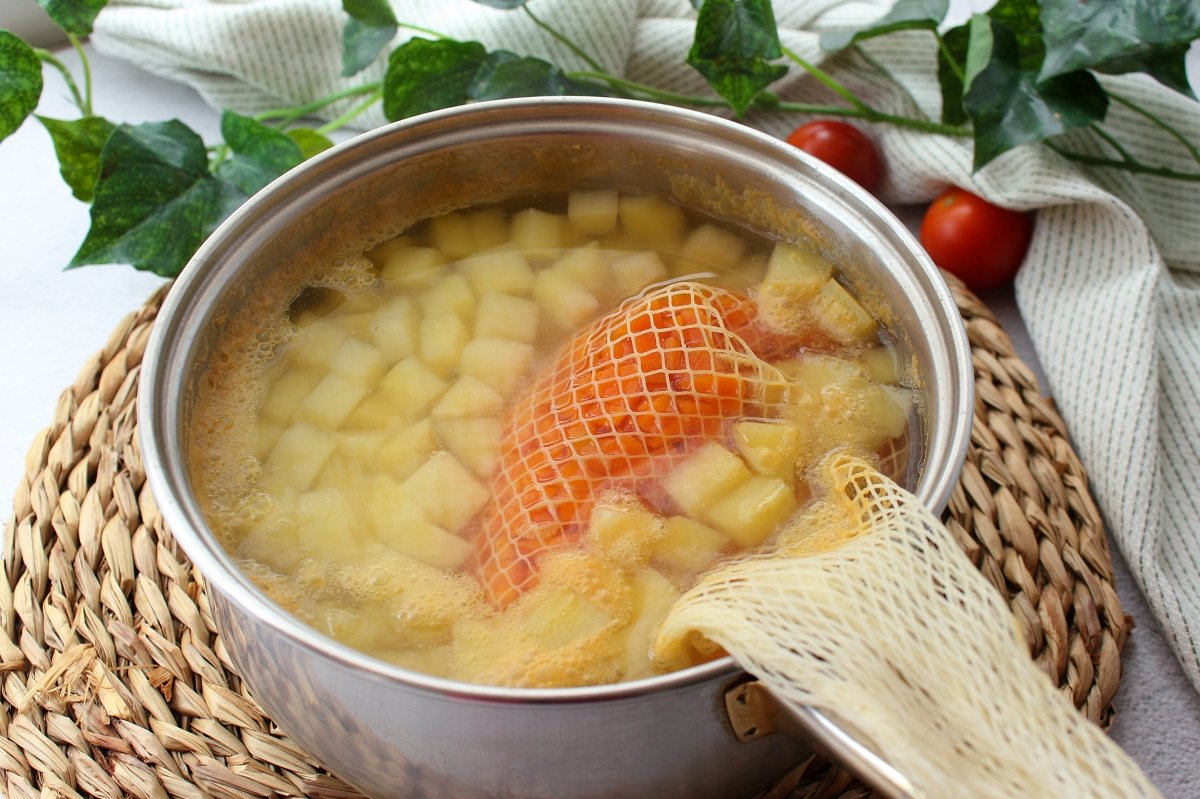 STEP 3
Once the potatoes and carrots cool under running water.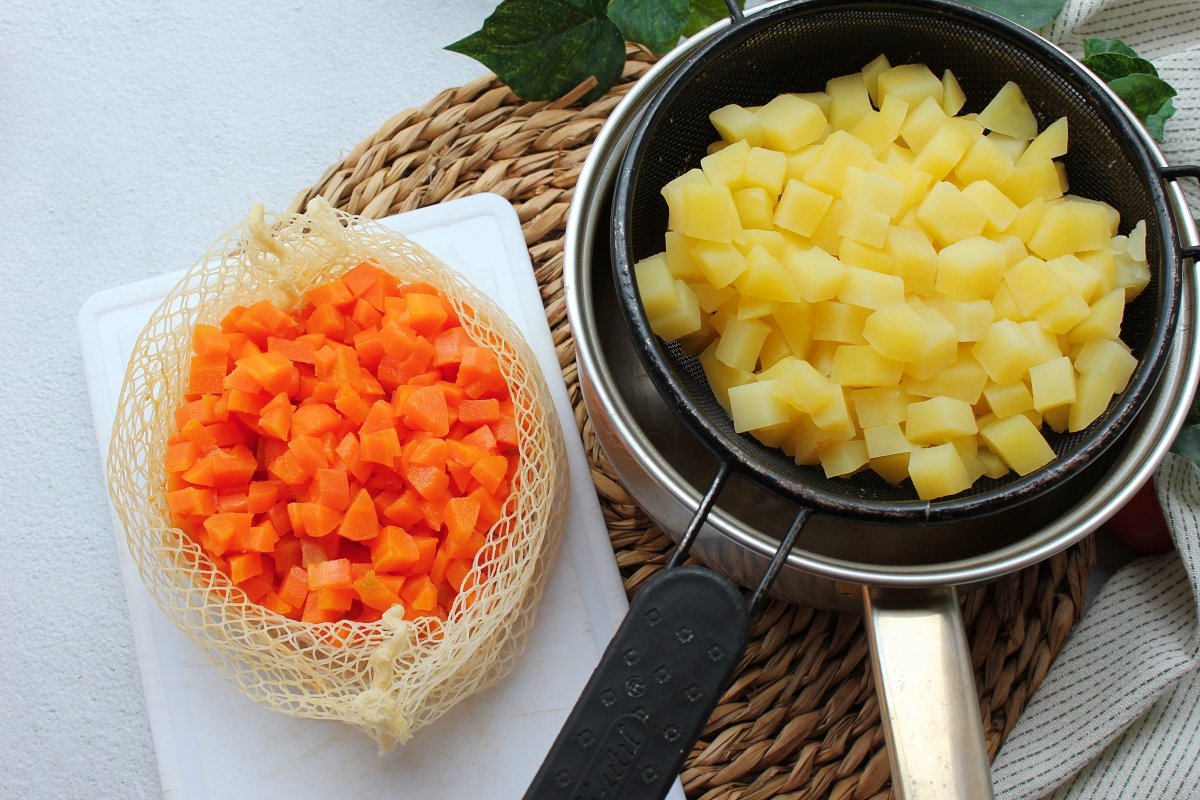 STEP 4
Four hard-boiled eggs should be peeled, sliced in half, and their whites and yolks grated.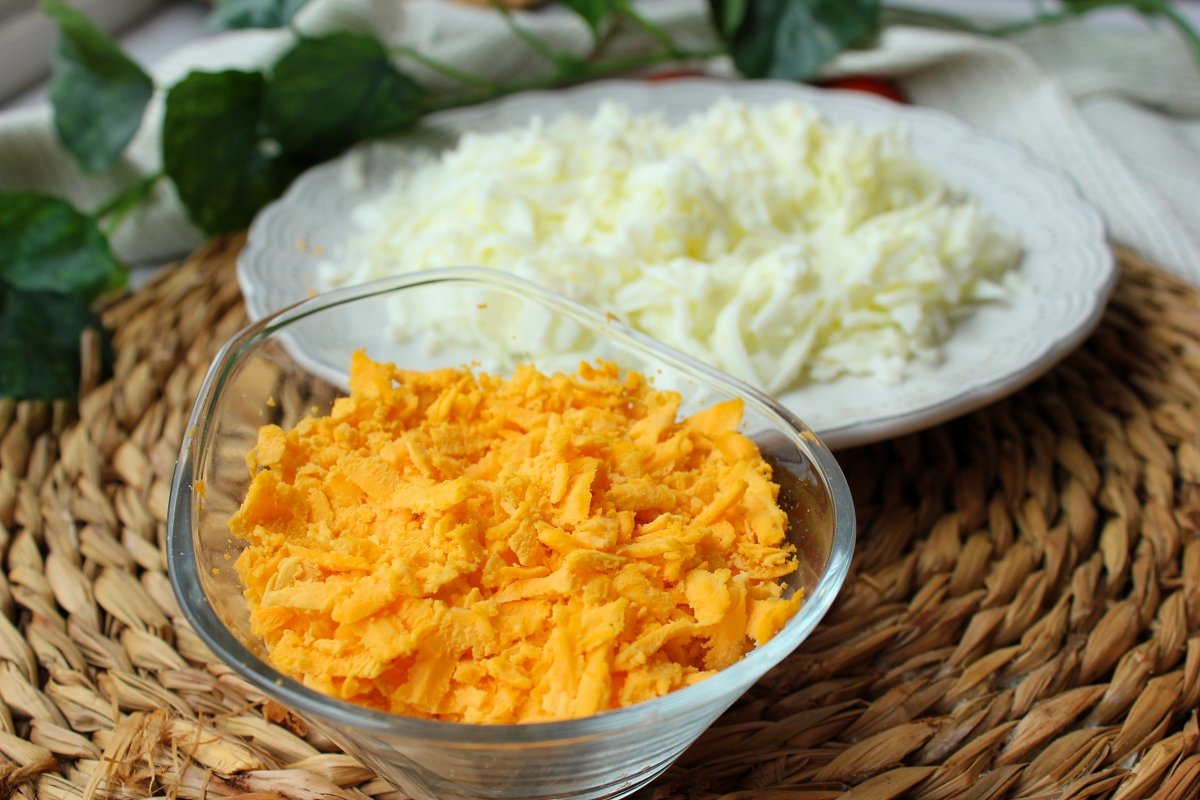 STEP 5
We can now start putting the mimosa salad together. To achieve this, we set a ring of plating with a diameter of 12 cm above the surface where the salad would be displayed. I chose a tiny cake stand that would be perfect for serving during a celebratory supper. I lined the inside of my veneer ring, which was hardly noticeable, with parchment paper to give it more height.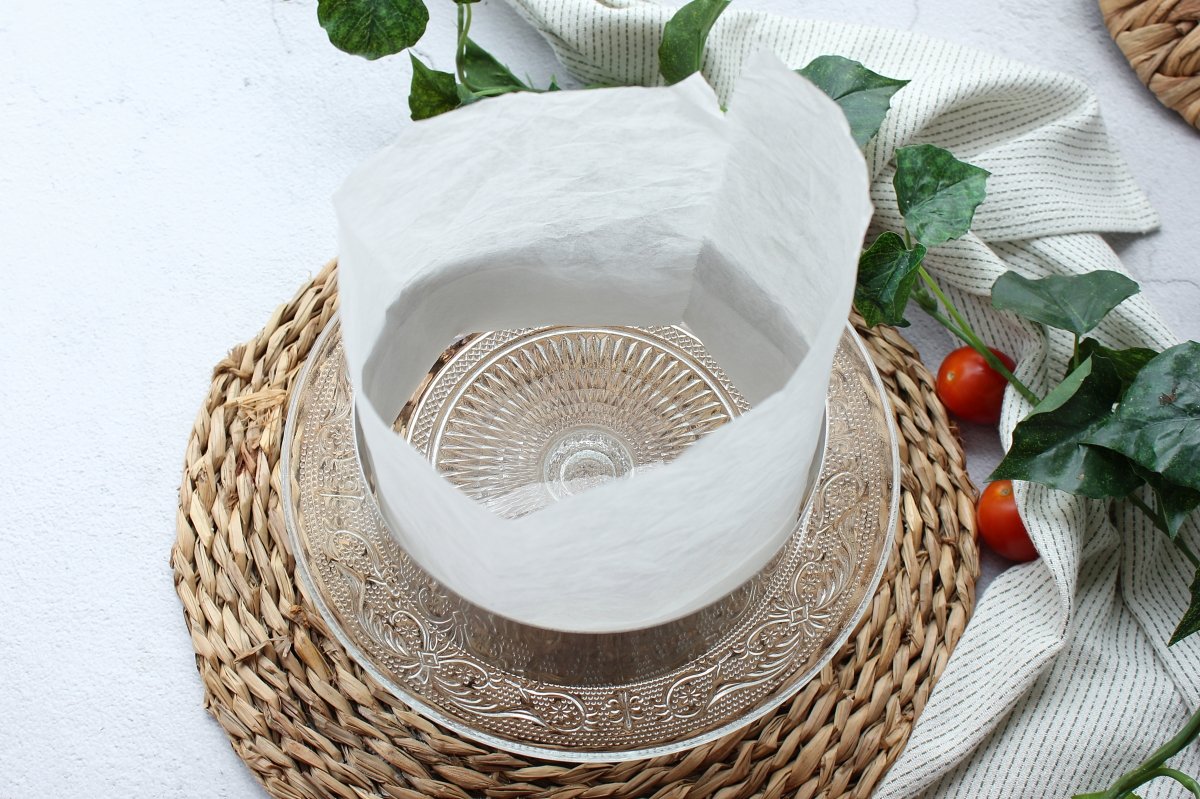 STEP 6
The cooked potatoes are first used as the salad's foundation. We will flatten them somewhat with the use of a fork to provide a solid foundation for our salad. 180 grams of well-drained, grated canned tuna are added on top of a layer of 75 grams of mayonnaise.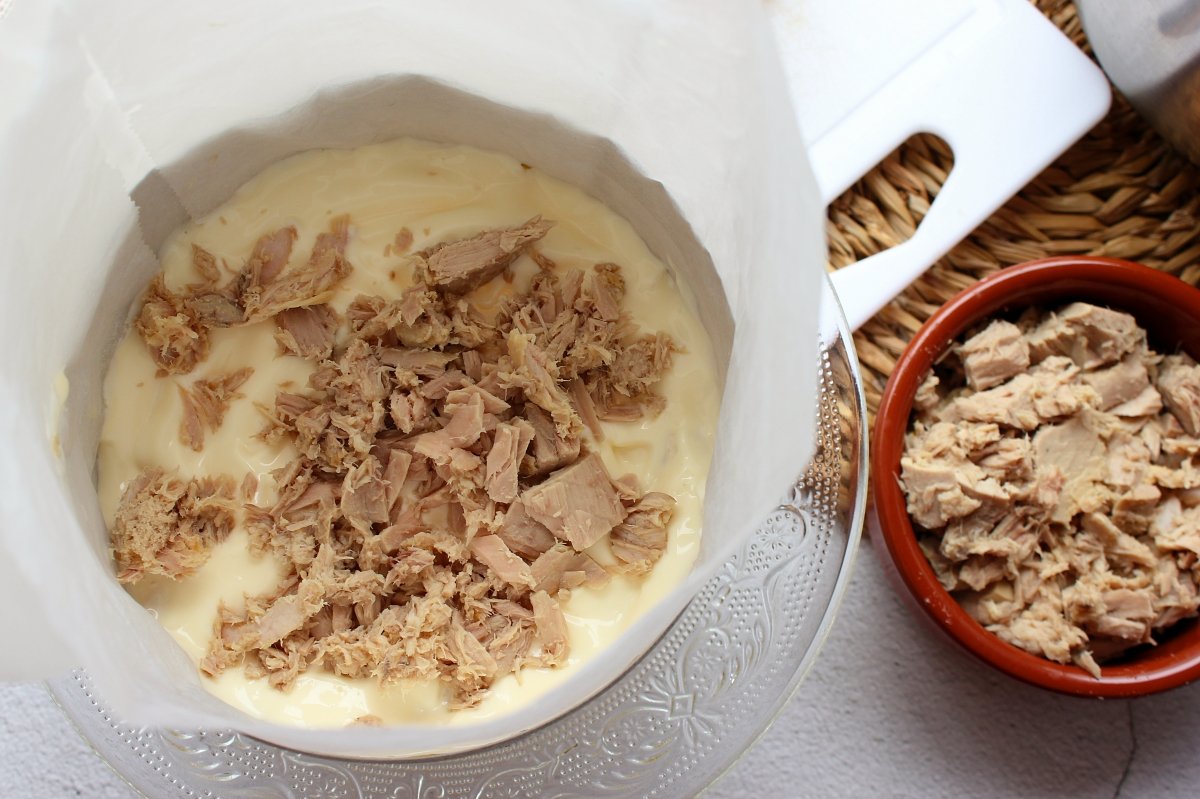 STEP 7
Add half of the yolks in a layer, then sprinkle the cooked carrots in cubes on top. We apply pressure to ensure strong adhesion of all the layers. You can also provide a cooked carrot that has been grated if you choose.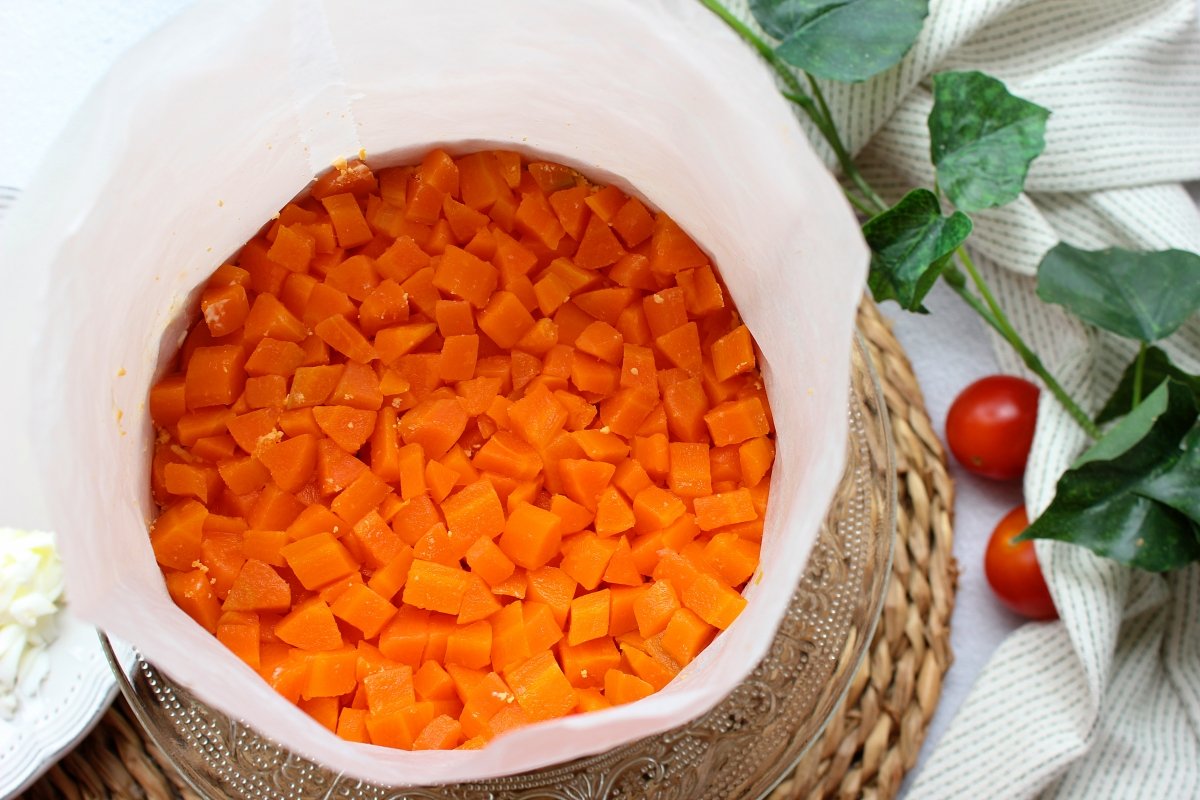 STEP 8
In order to complete the layers of components, we add the chopped onion, 75 grams of mayonnaise, and the grated egg whites, and then we top the salad with the remaining grated yolks. Give the ingredients at least an hour in the refrigerator to solidify.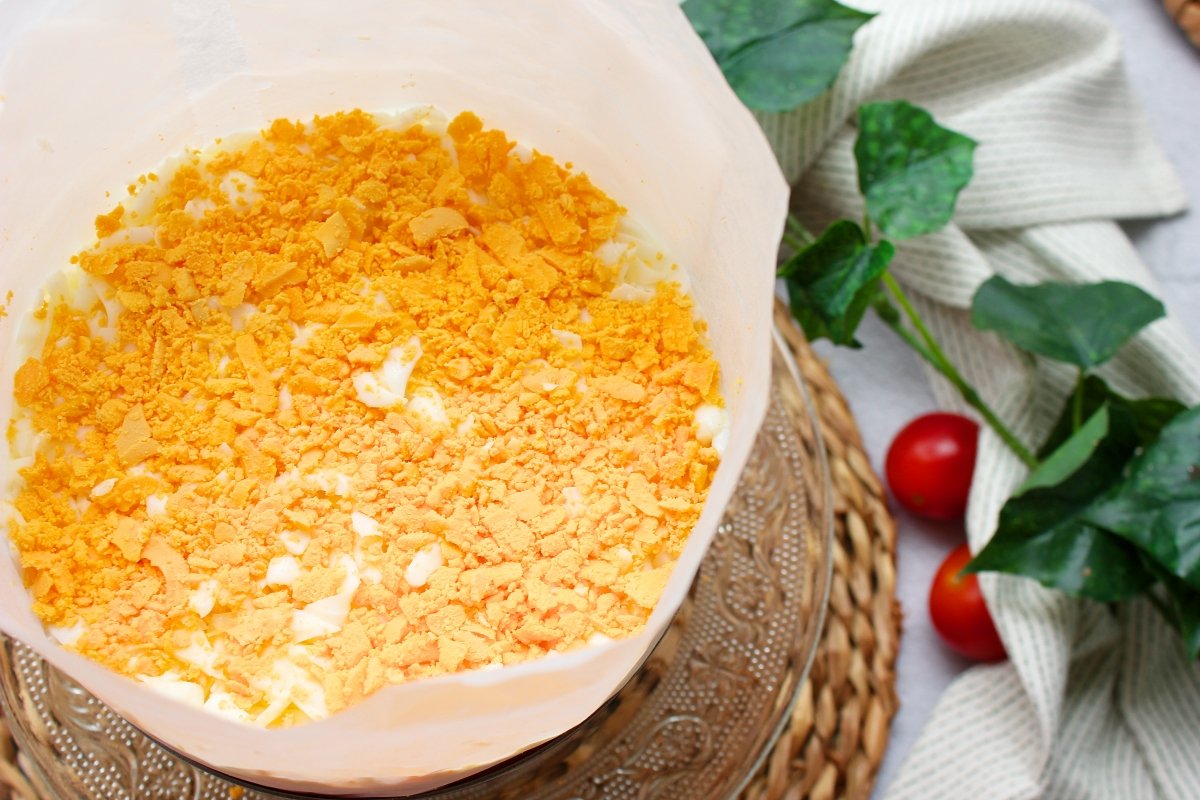 STEP 9
We take the baking paper and veneer circle off before serving, then adorn the surface with whatever we choose. I decided to garnish the salad with a few basil leaves and the bottom half of a cherry tomato.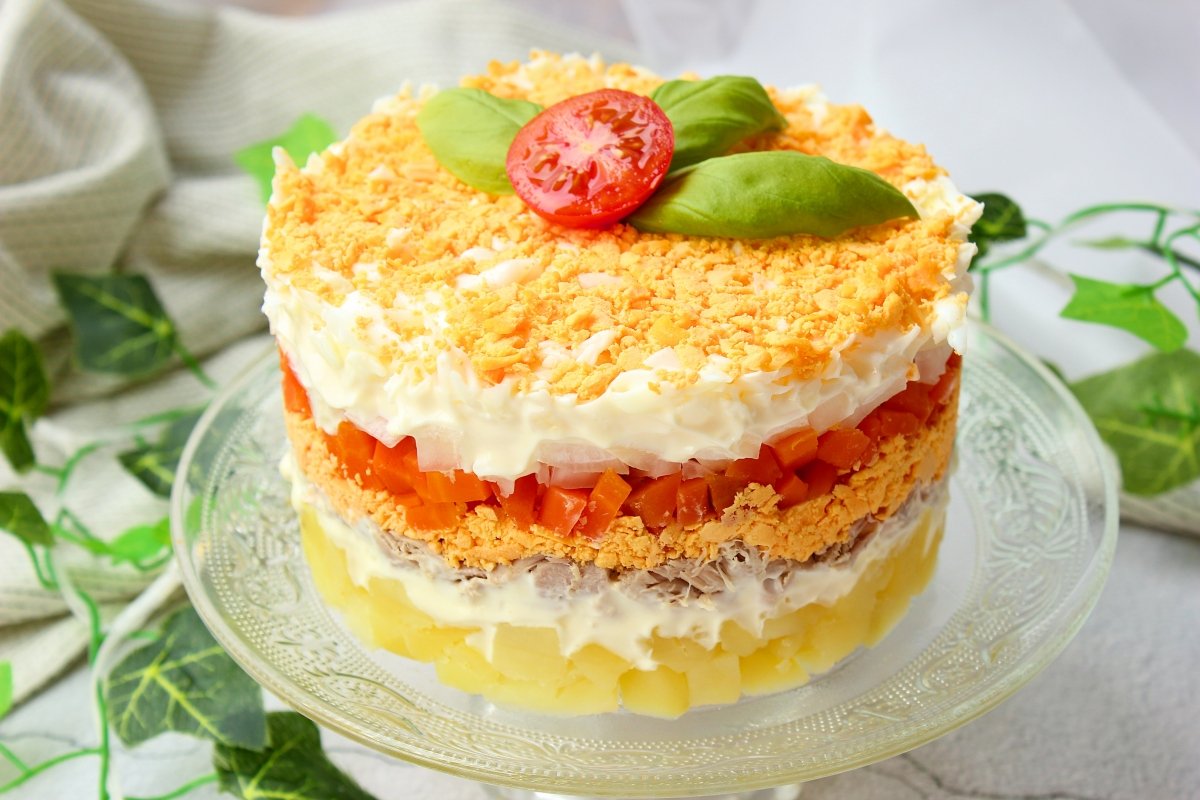 ALSO READ:CRISPY BREADED SQUID NUGGETS ARE THE PERFECT, EASY-TO-PREPARE