The use of nutritional yeast has peaked in recent decades due to the increase in adherence to the vegetarian diet.
Nutritional Yeast Content is that its high content in vitamins, minerals, and proteins has made it an essential ally in menus without animal products.
Moreover, its advantages, such as helping prevent anemia or good cognitive development, as well as its culinary versatility, have attracted the interest of vegetarians and non-vegetarians alike. Now, what exactly is it? What is it for? Who has the advantage? Let's find out.
WHAT IS NUTRITIONAL YEAST?
Nutritional yeast is a dietary supplement sold in health food stores, specialized stores, and, increasingly, supermarkets.
It occurs in flakes or powder form and is neither more nor less than the yeast Saccharomyces cerevisiae.
We owe two of history's greatest inventions to this unicellular fungus: beer and bread. Then there's this dietary supplement.
Unlike bread yeast, whether fresh or dried, nutritional yeast is dormant yeast.
For instance, while bread yeast activates instantaneously when placed in a glass of warm water and alerts us with its bubbling effect, nutritional yeast has gone through a series of processes that result in cell death, rendering it inert but keeping all of its benefits.
WHAT IS NUTRITIONAL YEAST USED FOR?
Nutritional yeast is used to control blood sugar levels, lower cholesterol, prevent anemia, improve cognitive development, boost the immune system, and maintain healthy skin, nails, and hair.
A combination of vitamins, minerals, and amino acids that help to relieve fatigue, improve concentration, and combat stress.
It is also critical to supplement vegetarian diets, which should stress enough intake of quality protein, minerals like calcium and iron, and vitamins like B12, which nutritional yeast has in plenty.
It can also be used as a gourmet ingredient, either as a condiment or as the main ingredient.
Its distinct cheese aroma elevates it beyond the melancholy poster of food supplements and places it prominently in dishes favored by vegans.
Individuals with lactose intolerance, individuals allergic to dairy proteins, milk, and gastronomic curiosities. advantages, making it one of the most commonly suggested dietary supplements for the general public.
WHAT IS NUTRITIONAL YEAST MADE OF?
The way someone realized that these yeasts are useful for our diet and, moreover, can be so appetizing is mainly due to two reasons.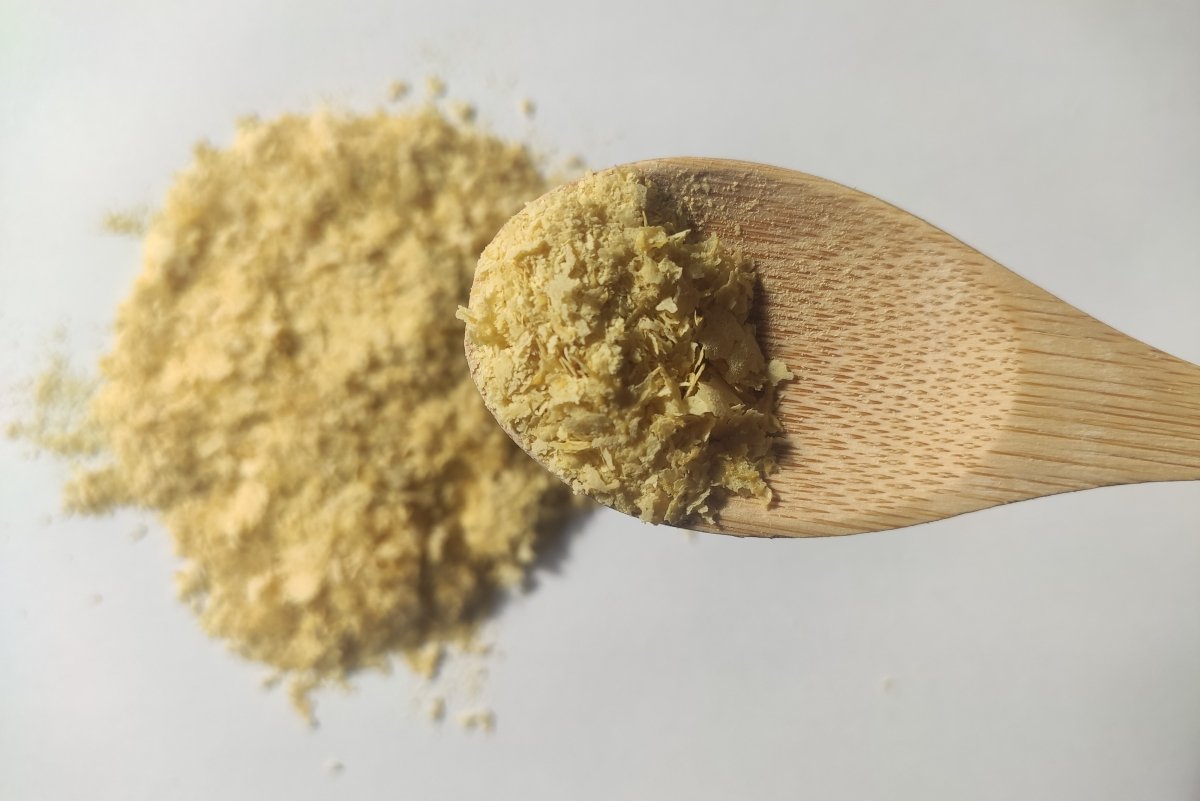 The first is in the manufacture of the beer itself. This cocktail, which made us joyful on so many summer evenings, necessitates an alcoholic fermentation.
It is nothing more than the conversion of sugar into alcohol. We are not capable of doing so, but yeast is. In the case of beer, the microorganism digests sugar from malt or barley and produces alcohol as a result (and CO2, a gas whose nutritional properties we have not yet discovered).
What happens next is that once the transformation of the sugar is done, the yeast is killed by the heat needed for fermentation. The leftover yeast can then be dehydrated and packaged, resulting in the beer yeast.
It was, in fact, the best-selling version as a food supplement in the 90s, especially recommended for students during exams. However, it had a big drawback: its incredibly bitter taste. Although it could also be eaten in flakes or added to certain dishes, it was most often used in the form of tasteless pills.
This was to change with the discovery of sugar beets as a source of sugar. If you remember, in the process of alcoholic fermentation, brewer's yeast takes sugars from malt or barley to obtain the alcoholic result, beer.
The difference in the nutritional yeast process is that he takes these sugars from sugar beets instead of malt or barley.
The heat from the process renders it inactive again, and it can also be dehydrated and marketed. The big difference is that this version is full of reminiscences of cheese and a touch of nuts.
NUTRITIONAL YEAST VS BREWER'S YEAST BENEFITS
The differences, however, do not end there. The manufacturing process also influences the nutritional quality and the presence of additives.
MORE NUTRIENTS, FEWER SULFITES
Brewer's yeast is produced during the brewing process. There are some noticeable distinctions between this and nutritional yeast, which is obtained through a specialized method.
The first is that the heat required for the beer-making process severely inactivates the brewer's yeast, resulting in the loss of a significant number of nutrients, which can be up to five times fewer vitamins and minerals than nutritional yeast, according to commercial brands.
Secondly, brewer's yeast may contain sulfites, an additive that is not present in nutritional yeast but is used in beer making to prevent the growth of undesirable microorganisms.
For this reason, people sensitive to sulfites may experience some digestive discomfort or skin reactions when consuming brewer's yeast.
Taste: THE TRANSITION FROM BITTER TO SALTY CHEESE
As previously stated, each technique uses a distinct source of sugar in the fermentation process. This peculiarity, combined with the progressive application of heat, is what gives nutritional yeast a sweet, aromatic, dry, and somewhat spicy flavor reminiscent of a slice of cheddar followed by nut bread.
Those who do not feel the call of culinary exploration, on the other hand, have the pill version of these food supplements at their disposal, providing another option to benefit from their qualities and benefits.
NUTRITIONAL YEAST BENEFITS AND USES
Due to the large amounts of minerals, vitamins, proteins, and fiber, nutritional yeast has many beneficial properties and virtues. These are some of the most notable.
Supply of Vitamins and Minerals: Skincare for the Immune System
thiamin, cells, It's hard to decide which benefits of nutritional yeast we should start talking about. This low-calorie product is rich in B vitamins, including vitamin B9, or folic acid, niacin, riboflavin, thiamin, and vitamin B6.
Folic acid, associated with riboflavin, plays a fundamental role in the synthesis of red blood cells, which, added to the amount of iron contained in nutritional yeast, gives it a preventive capacity against anemia.
For its part, the contribution of niacin helps to improve the skin, reducing acne, and all the B vitamins, in alliance with zinc, help to maintain strong hair and nails.
NUTRITIONAL YEAST CONTENT
Similarly, nutritional yeast is often fortified with vitamin B12. Vitamin A, together with vitamin B6, is essential for good neural development and good cognitive functioning.
Its incorporation into nutritional yeast is particularly important for vegetarian diets since this vitamin is only found in foods of animal origin, in seaweed-based supplements, or, as in this case, in fortified products.
In this way, it becomes one of the most complete supplements for vegetarians and vegans.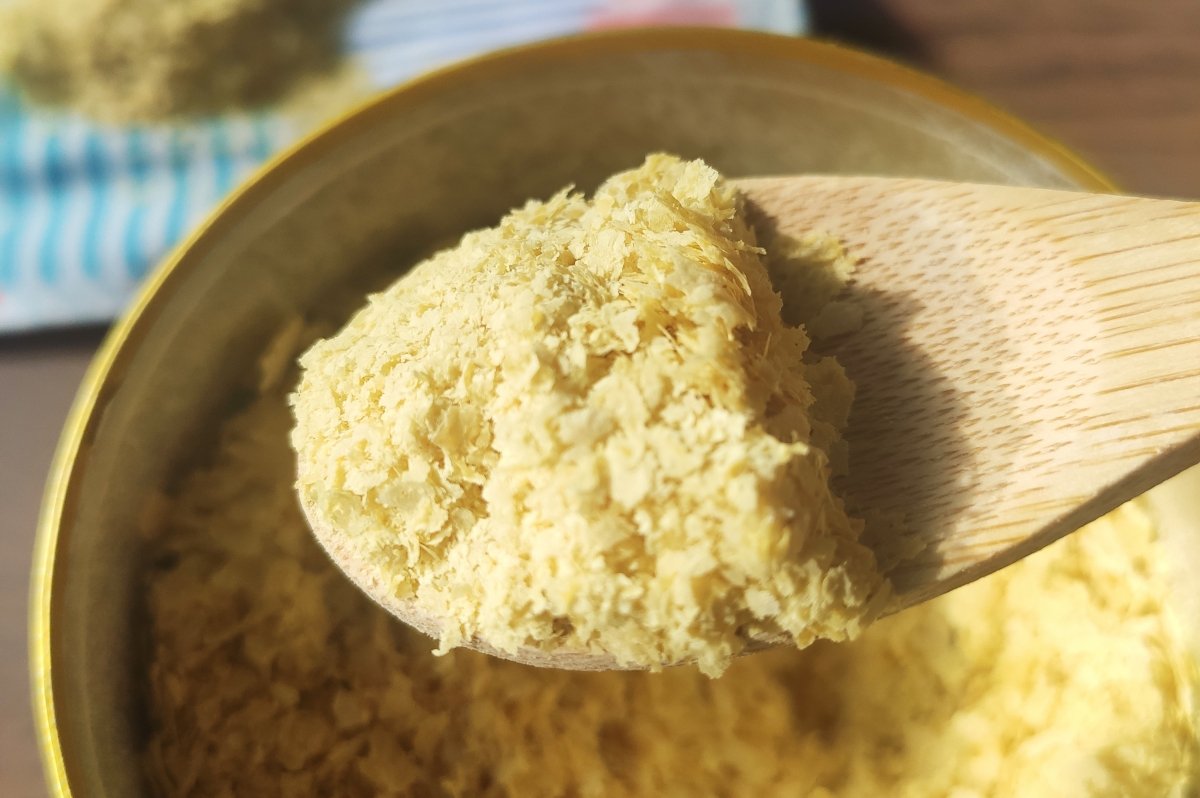 Among its minerals, zinc stands out, which helps the proper functioning of the immune system, cell division, and tissue healing, and promotes the synthesis of keratin and collagen.
Therefore, together with the group of vitamins B, it strengthens hair and nails.
PROTEIN AND FIBER IMPROVE MOOD AND CARDIOVASCULAR HEALTH.
It also has two other major advantages: its high protein and dietary fiber content. Fiber helps regulate cholesterol and sugar levels, which makes nutritional yeast known for its cardiovascular protective role.
Regarding protein content, it contains all essential amino acids, including tryptophan, which is responsible for the synthesis of the feel-good neurotransmitter called serotonin. This quality makes it particularly recommended for people suffering from a bad mood or intense fatigue.
CONTRAINDICATIONS OF NUTRITIONAL YEAST
The contraindications to taking nutritional yeast are linked to its intrinsic qualities. The high content of minerals such as iron makes it a supplement not recommended for people with liver disease.
Likewise, people with kidney failure should consult their doctor before incorporating nutritional yeast into their daily lives to avoid overwork due to mineral metabolism.
Similarly, its high protein content, up to 50 g per 100 g, must be taken into account so as not to exceed the recommended daily intake (0.8–1 g/kg body); otherwise, it runs the risk of causing symptoms such as nausea or headache.
HOW TO TAKE NUTRITIONAL YEAST: USES IN THE KITCHEN
The undeniable and incomparable virtue of nutritional yeast is that, beyond being a food supplement, it is a wonderful ally in creative cooking.
Cheese lovers who have stopped consuming it, for one or more reasons, have found an open door to dozens of recipes. cheddar, Recreations of parmesan, cheddar, or melted cheese are possible thanks to their aroma and nutritional properties.
The absence of lactose and milk proteins prolongs the satisfaction of its consumption among the population, not only vegetarians and vegans but also lactose intolerant or allergic to milk proteins, who thanks to these imitations can enjoy fondue evenings.
Of course, its powder format also allows it to be used as a seasoning for grilled vegetables, stews, soups, and salads, and as a touch of gratin for cooked preparations.