Piquillo Pepper Appetizer Recipe, We Are Going to Prepare Piquillo Peppers Stuffed with Hake, a Very Easy And, at The Same Time, Excellent Recipe.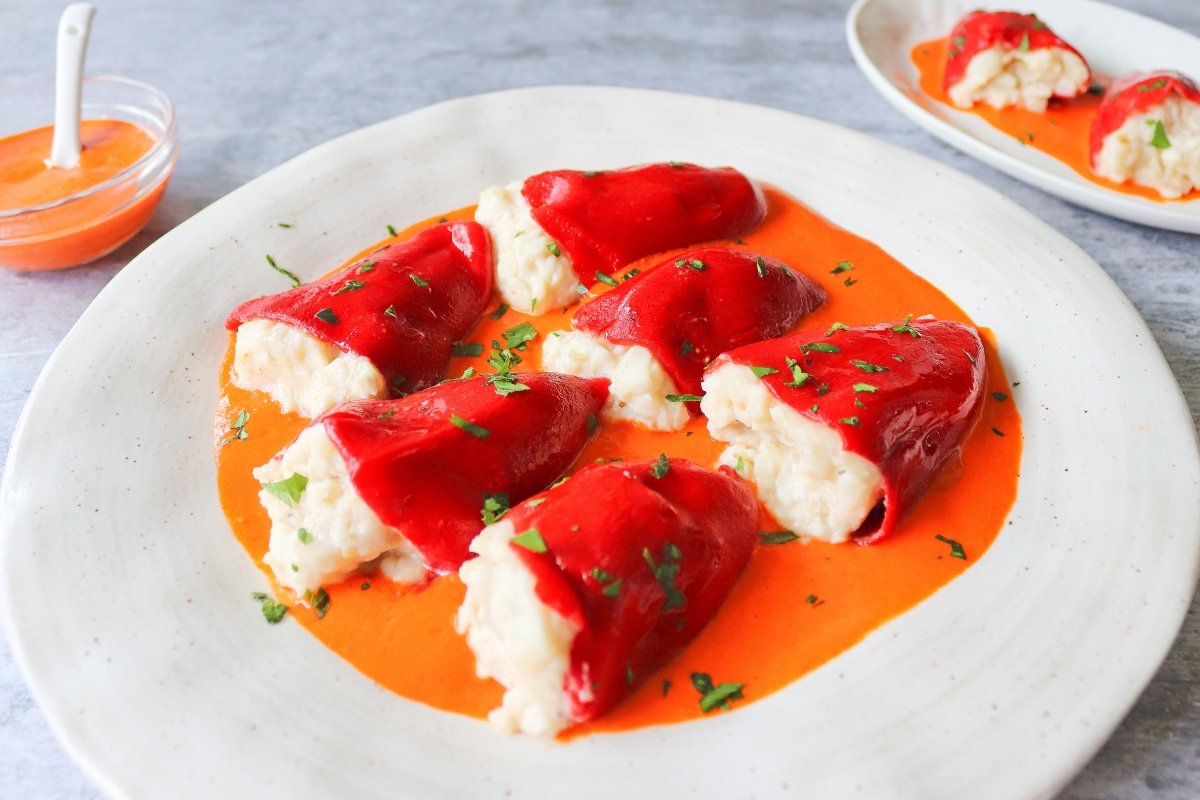 This Time We Will Garnish the Peppers with A Hake Béchamel Sauce like the One You Would Make to Make Croquettes. Indeed, if You Have Some Dough Left, You Can Take the Opportunity to Make Some Croquettes.
In any supermarket, you can find jarred piquillo peppers. Piquillo peppers are already roasted and ready to eat. As an accompaniment, they can be prepared candied with a little sugar over low heat.
This dish is ideal for preparing in advance, hake stuffed peppers with bechamel sauce and its piquillo peppers sauce, and heating them in the oven to serve the stuffed piquillo peppers as freshly prepared.
Hake-stuffed piquillo peppers can be eaten as a starter, as a tapa, or even as a main course with rice.
INGREDIENTS
50g of butter.
1 onion
1 pinch of salt
1 pinch of ground black pepper
50g wheat flour
400ml of whole milk
400 g hake fillets without skin or bones
15 piquillo peppers.
1 tablespoon olive oil
2 cloves of garlic
1 teaspoon dried tomatoes (optional)
200 ml cooking cream
How to Make Piquillo Pepper Appetizer Recipe
STEP 1
50 g of butter should be heated in a sauté pan until melted. Then add 1 onion, diced, and add a bit of salt and freshly ground pepper. Poach until the onion starts to brown.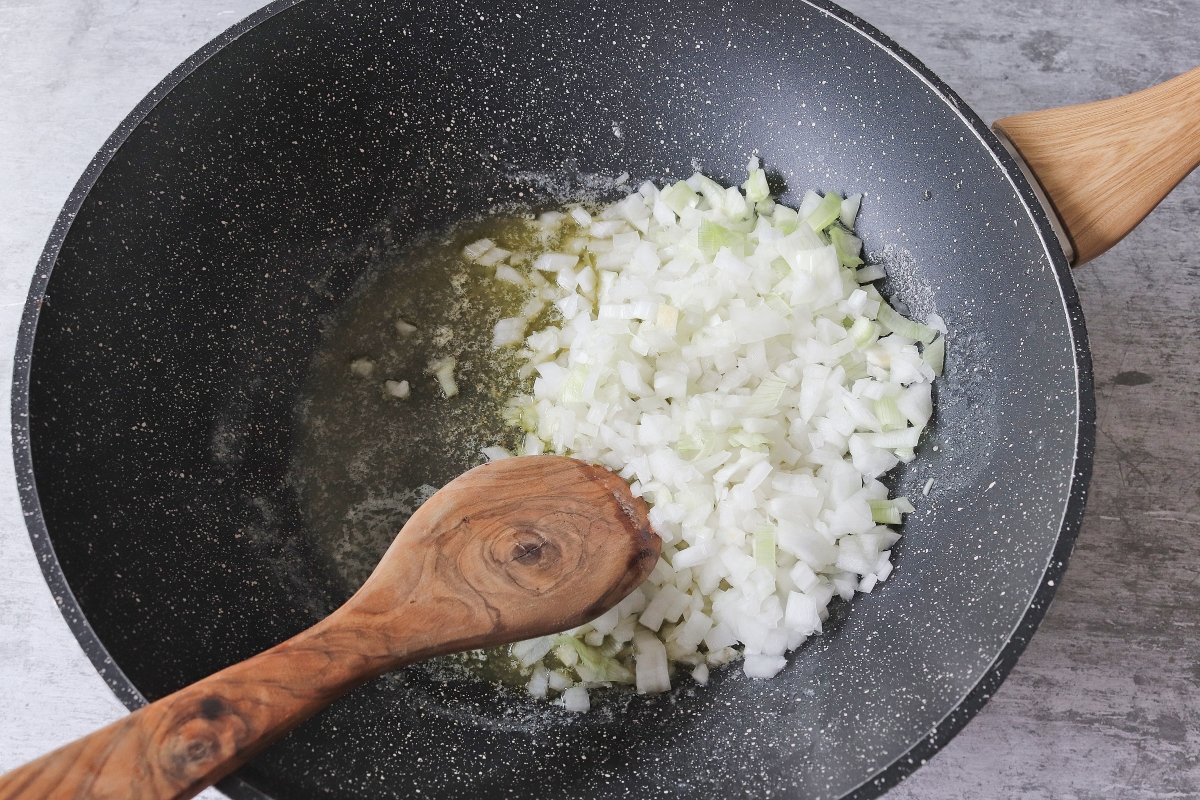 STEP 2
Add 50 g of wheat flour to the sautéed onion and continue cooking for a few minutes over low heat.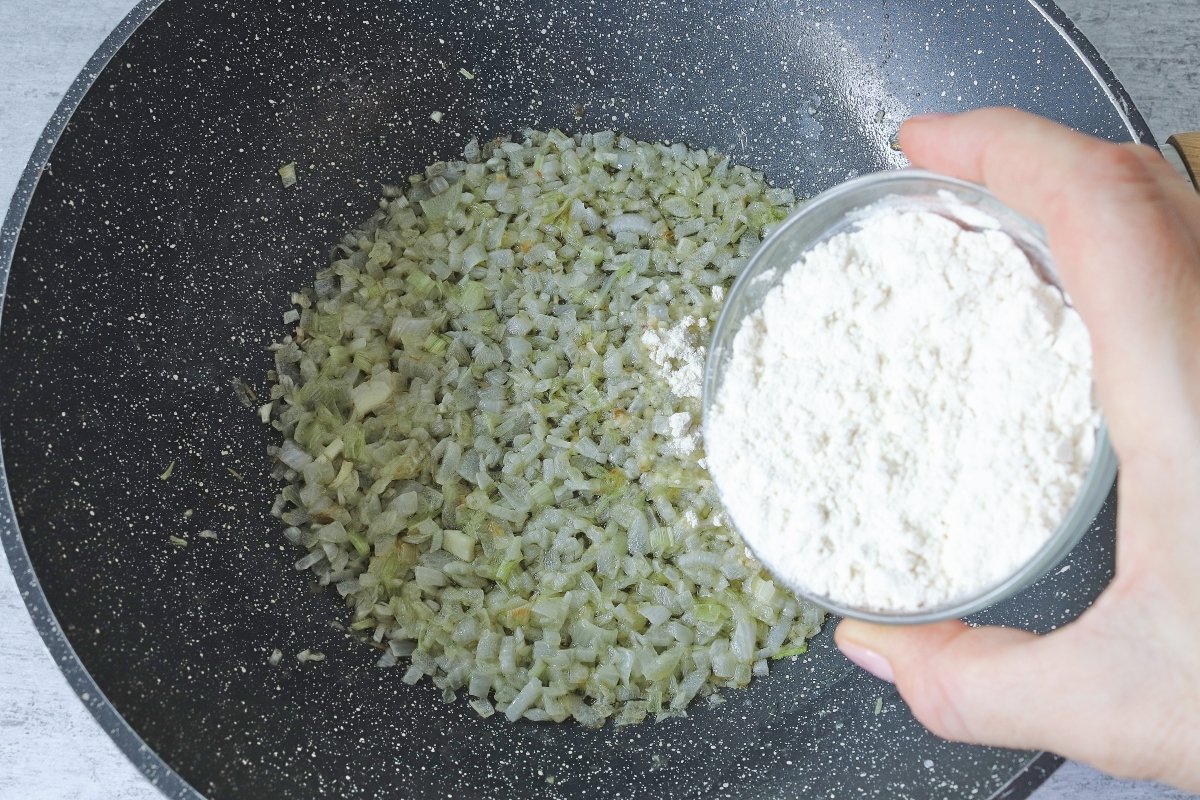 STEP 3
400 cc of previously heated whole milk should be added slowly while stirring to prevent sticking. When there is no more milk to add, reduce the heat to a minimum while you chop the hake and remove the bones since the flour will slowly absorb the milk.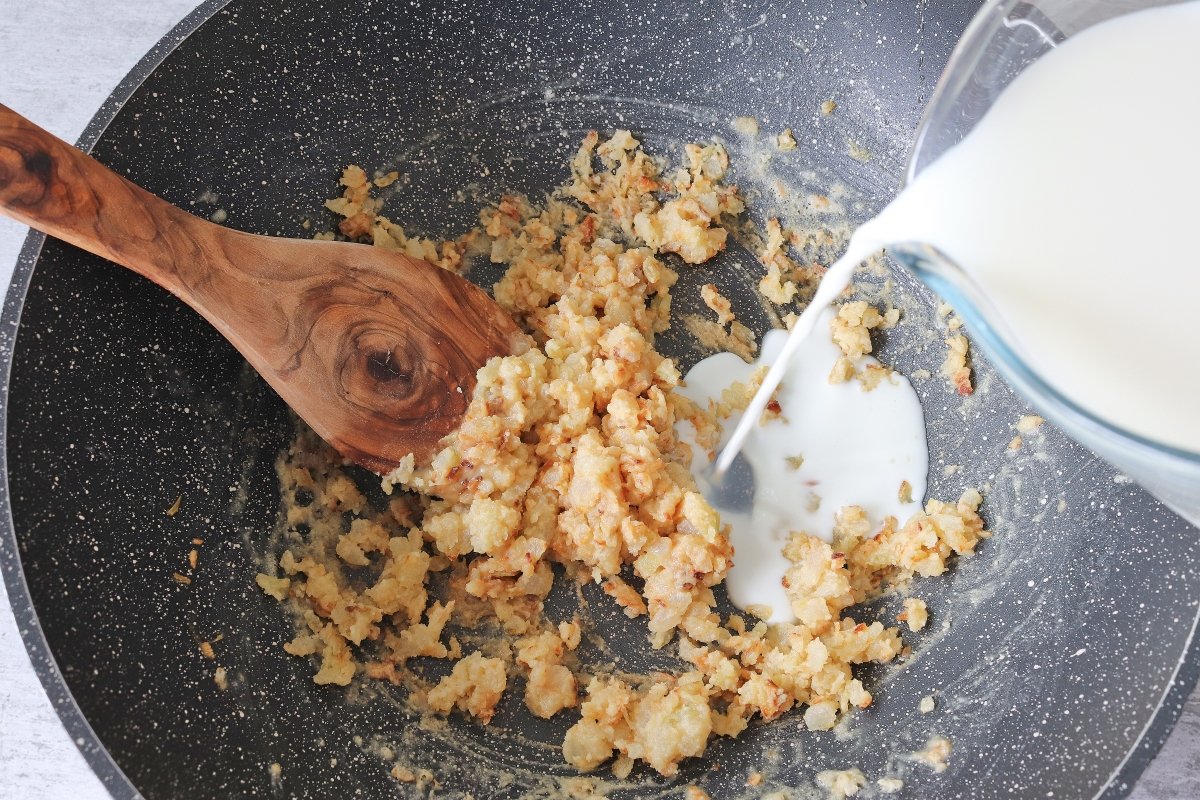 STEP 4
We'll season the recently prepared béchamel sauce and add 400 g of small-cube hake that hasn't had any skin or bones.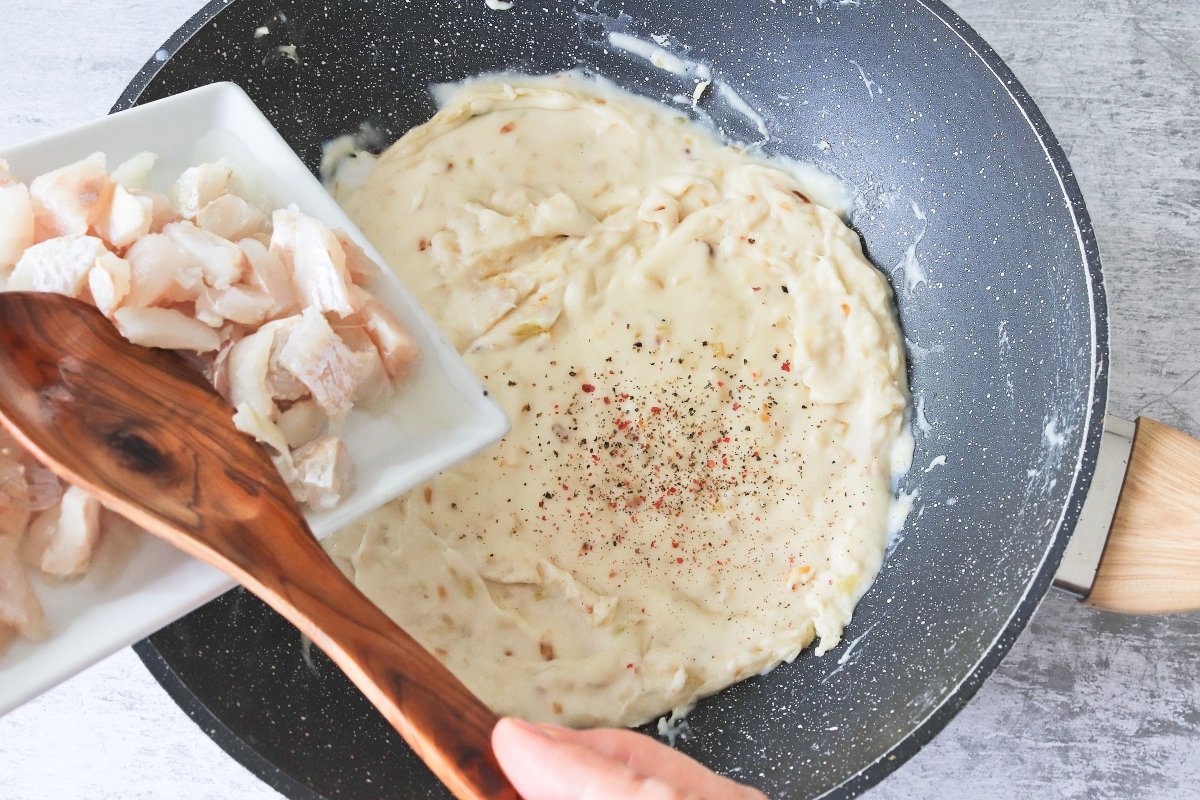 STEP 5
To allow the hake to cook in the béchamel sauce, keep the skillet on medium heat for an additional 5 minutes. When ready, pour the hake bechamel into a bowl and allow it to chill for one and a half hours, first outside and then inside the refrigerator.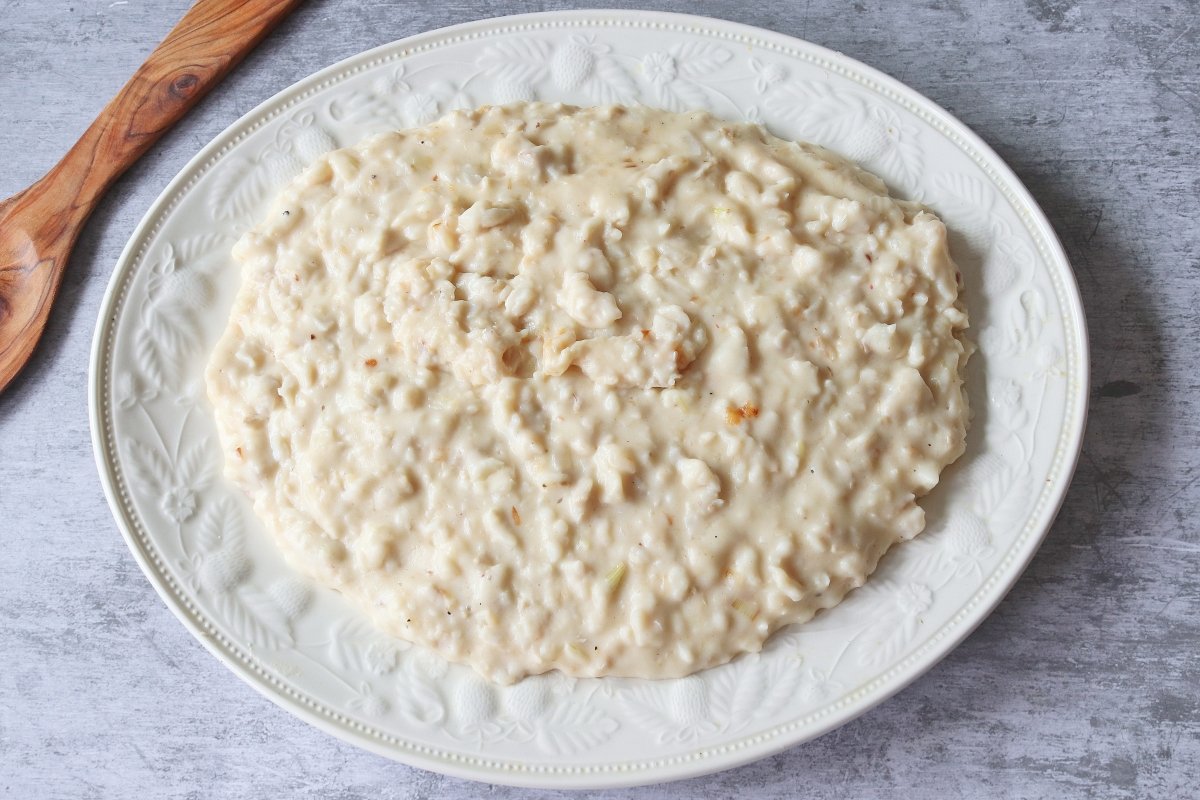 STEP 6
As we create the accompanying sauce, we fill 12 piquillo peppers with the cooled hake bechamel sauce and bake them at 180°C with heat from top to bottom for 10 minutes.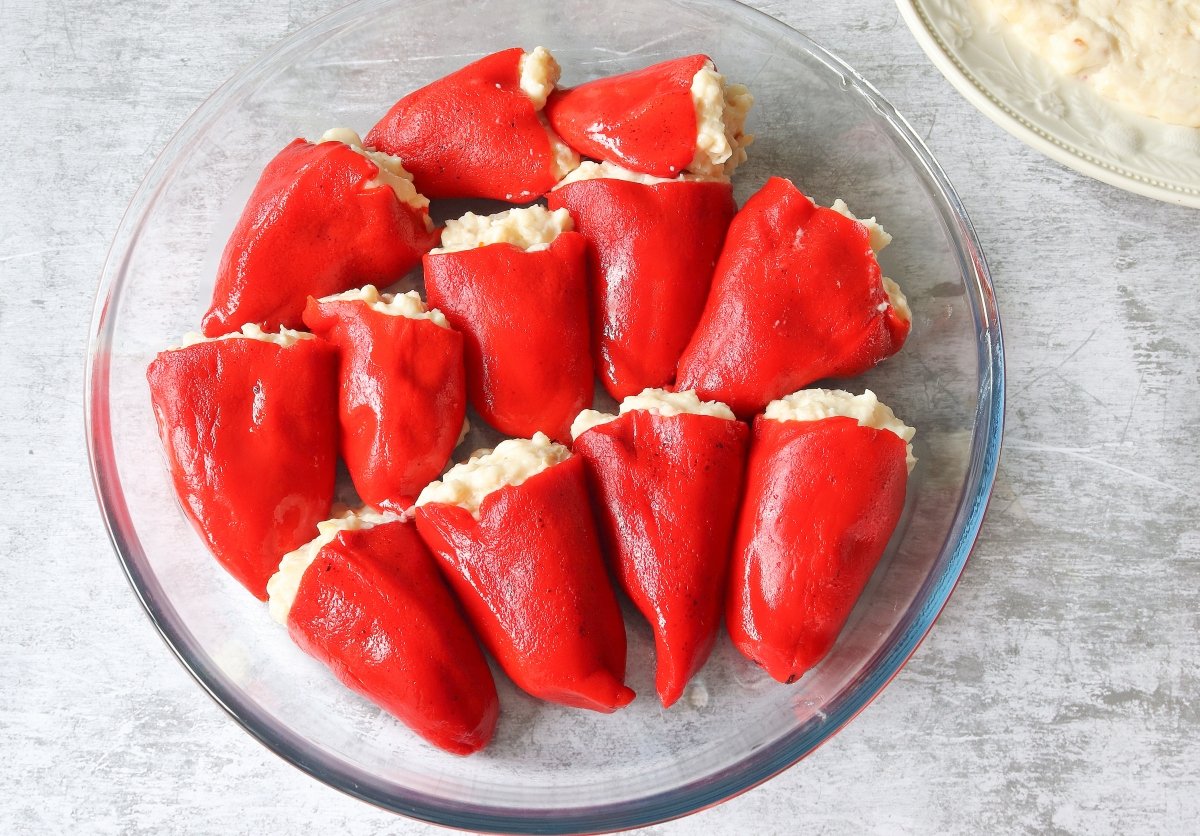 STEP 7
We'll heat up 1 teaspoon of olive oil in a pan to make the sauce. Two garlic cloves should be thinly sliced and lightly browned without being burned. Add 3 piquillos, 1 teaspoon of fried tomato, and 200 ml of cooking cream after turning off the heat.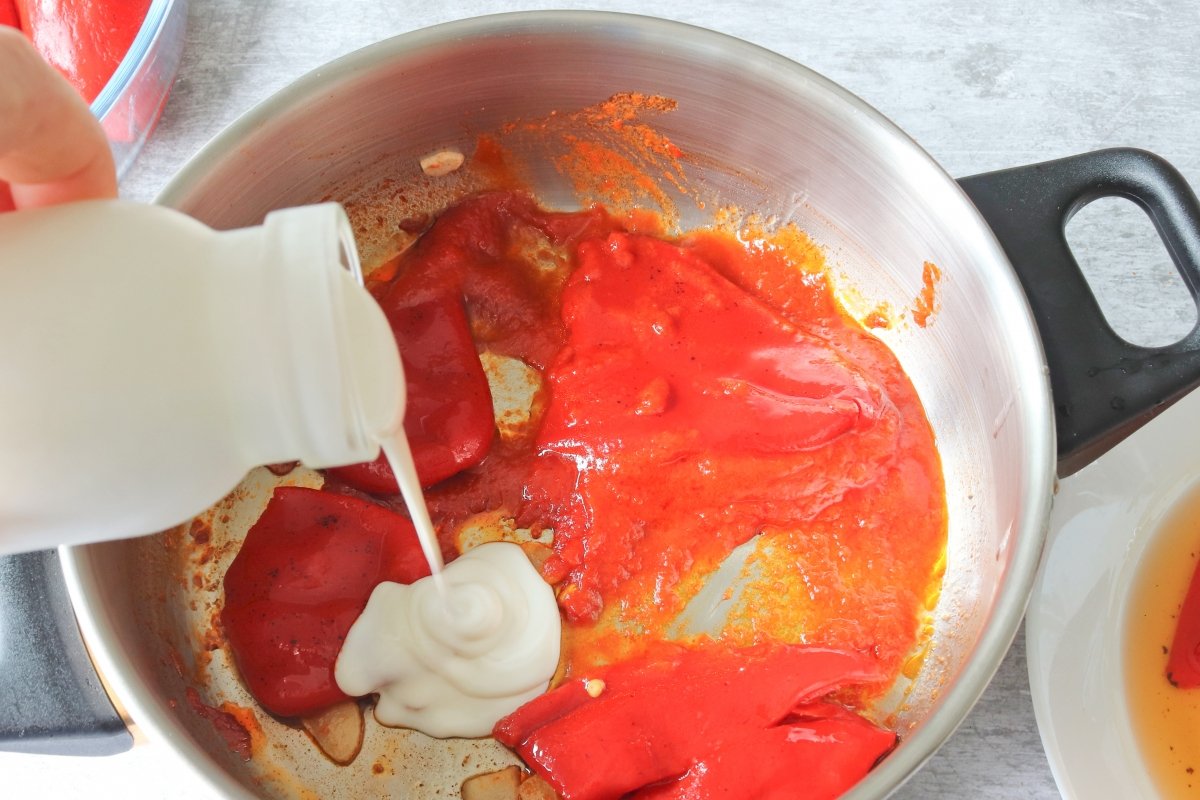 STEP 8
The sauce is minced. We can add some of the liquid the peppers are carrying if we feel it is too thick. Pepper and salt.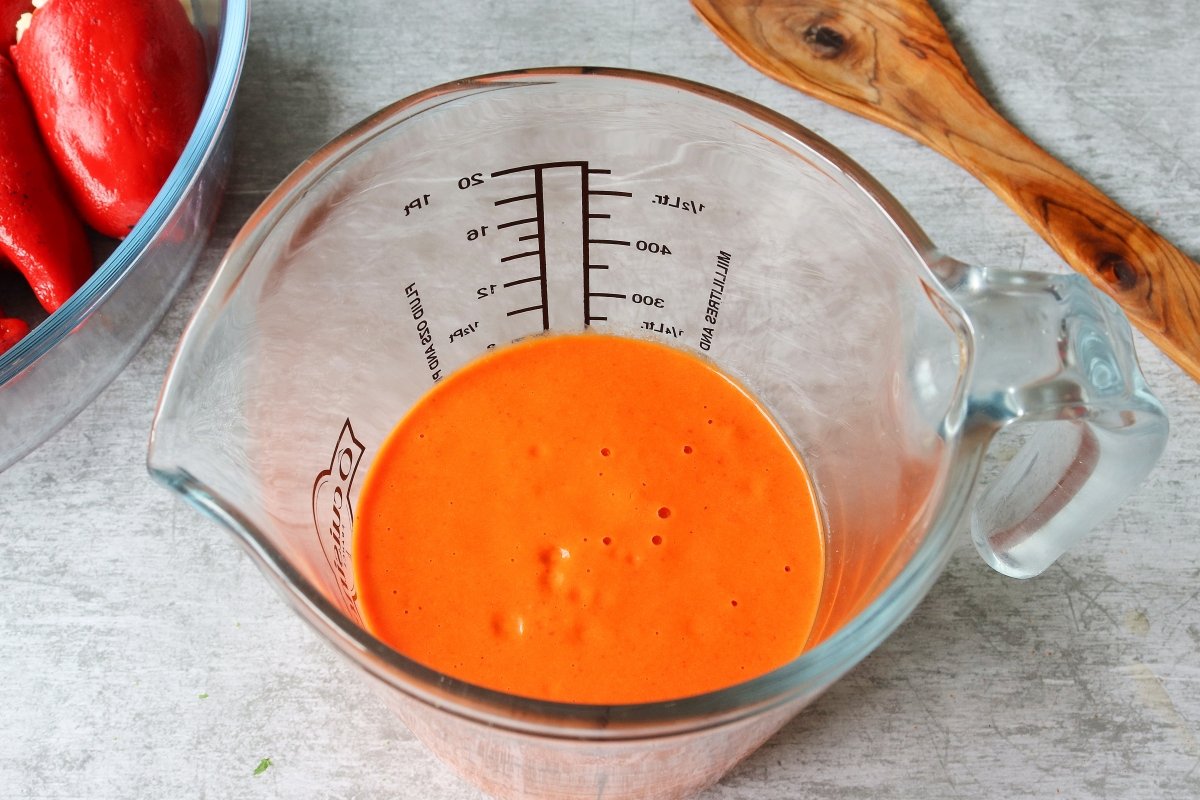 STEP 9
The sauce serves as the foundation for the piquillo peppers, which are then placed on top.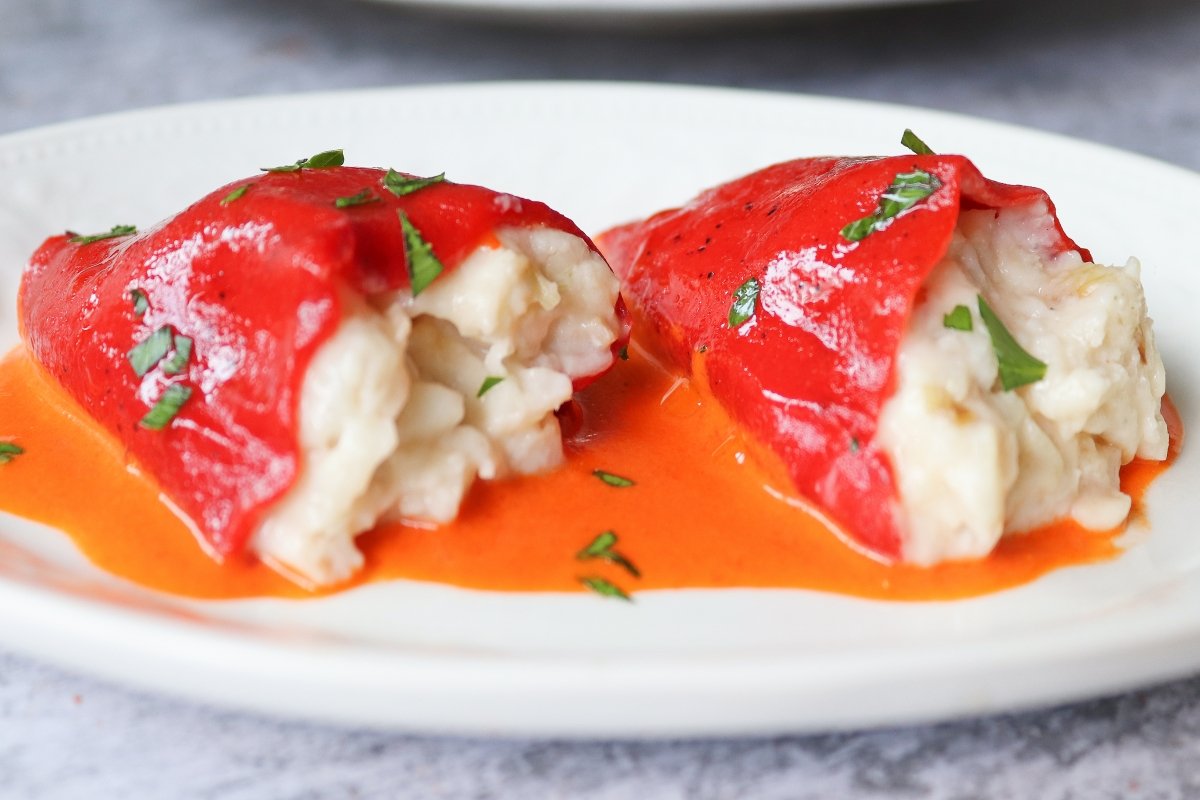 FAQS
What are piquillo peppers used for?
Piquillos are frequently stuffed, roasted, pickled, or deep-fried. They work particularly well for producing stuffed peppers because of their size and density, but they also work well for preparing soups and sauces when cooked.
Is piquillo same as pimiento?
No, piquillo peppers and pimiento peppers are not interchangeable. Pimientos have a softer flavor and are smaller and sweeter than piquillo peppers. Piquillo peppers, which have a smokey flavor, can be purchased online or in specialist shops.
Are roasted piquillo peppers spicy?
Despite their size, piquillo peppers are relatively mild, sweet, and just slightly hotter than poblanos. They are flame-roasted before being peeled, so they have a little smoky flavor. Rather than adding heat to your cuisine, they will provide sweetness and aroma.
Is piquillo a bell pepper?
The piquillo pepper is a type of chili, Capsicum annuum, that is traditionally grown in northern Spain close to the town of Lodosa. It has a sweet flavor with little to no heat with fruits that are approximately 7 cm long and ideally suited for growing in pots.
Are piquillo peppers roasted red peppers?
DeLallo Roasted Piquillo Peppers are coveted, mildly smokey red peppers from Peru that are delicately sweet.
What makes allspice known as pimento?
Its botanical name and some of its common names come from early Spanish explorers who mistook it for a sort of pepper and dubbed it pimenta.
Can you eat roasted red peppers raw?
Absolutely, yes. Green peppers, which are the least ripe, and red peppers, which are the ripest, differ most noticeably. Red peppers are substantially sweeter than their slightly bitter green siblings. Both when baked in the oven and when eaten raw, they have a sweeter flavor.
Which bell pepper is spicy?
The All-America Selections judges laud "Cajun Belle" for its robust, compact growth habit and mouthwatering red bell-type peppers. This pepper has a distinct Cajun flair thanks to the unusual flavor combination of sweetness and a burst of heat!
Are piquillo peppers healthy?
Vitamins A, B, C, and E, nutritional fiber, and antioxidants are all abundant in piquillo peppers. According to research, piquillo peppers' vitamin C content is almost identical to that of citrus fruits, and its beta carotene content is almost identical to that of carrots.
Why are roasted red peppers so expensive?
Since they are picked later, yellow, orange and red peppers require more resources, which raises their price. Also, this explains why green peppers have a moderately bitter flavor as opposed to the sweeter yellow, orange, and red peppers.
ALSO, READ: ITALIAN TUNA STUFFED PEPPERS