This spicy garlic edamame with soy sauce recipe is the ideal way to up your snack game because it is loaded with crunchy garlic, fragrant black pepper, and hot chili flakes.
Everyone could prepare this meal due to how simple it was. Within a few minutes, it was destroyed. All agreed that it was excellent, especially when combined with the toasted sesame oil.
what is edamame? Edamame is the Japanese name given to the culinary preparation of soft soybean pods, subjected to short cooking in boiling salted water.
Among its nutritional characteristics, its protein intake stands out, including all the essential amino acids, among other virtues.
INGREDIENTS 
250g frozen soy pods (edamame)
1 pinch of salt
1 tablespoon extra virgin olive oil
1 pinch of ground black pepper
1 teaspoon of hot paprika
1 tablespoon of soy sauce
1 pinch of sesame seeds
HOW TO MAKE SPICY GARLIC EDAMAME WITH SOY SAUCE RECIPE
STEP 1
The first thing we have to do is put a saucepan with plenty of water over high heat. As soon as it begins to boil, add 250 g of frozen soybeans and 1 pinch of salt.
STEP 2
From the moment the water starts boiling again, we continue to boil for another 5 minutes.
After this time, we would remove the edamame from the cooking water, and we would have it ready to eat. 
STEP 3
In a pan, heat 1 tablespoon of extra virgin olive oil and add the edamame with 1 pinch of ground black pepper, 1 teaspoon of hot paprika, 1 chopped clove of garlic, and 1 tablespoon of soy sauce.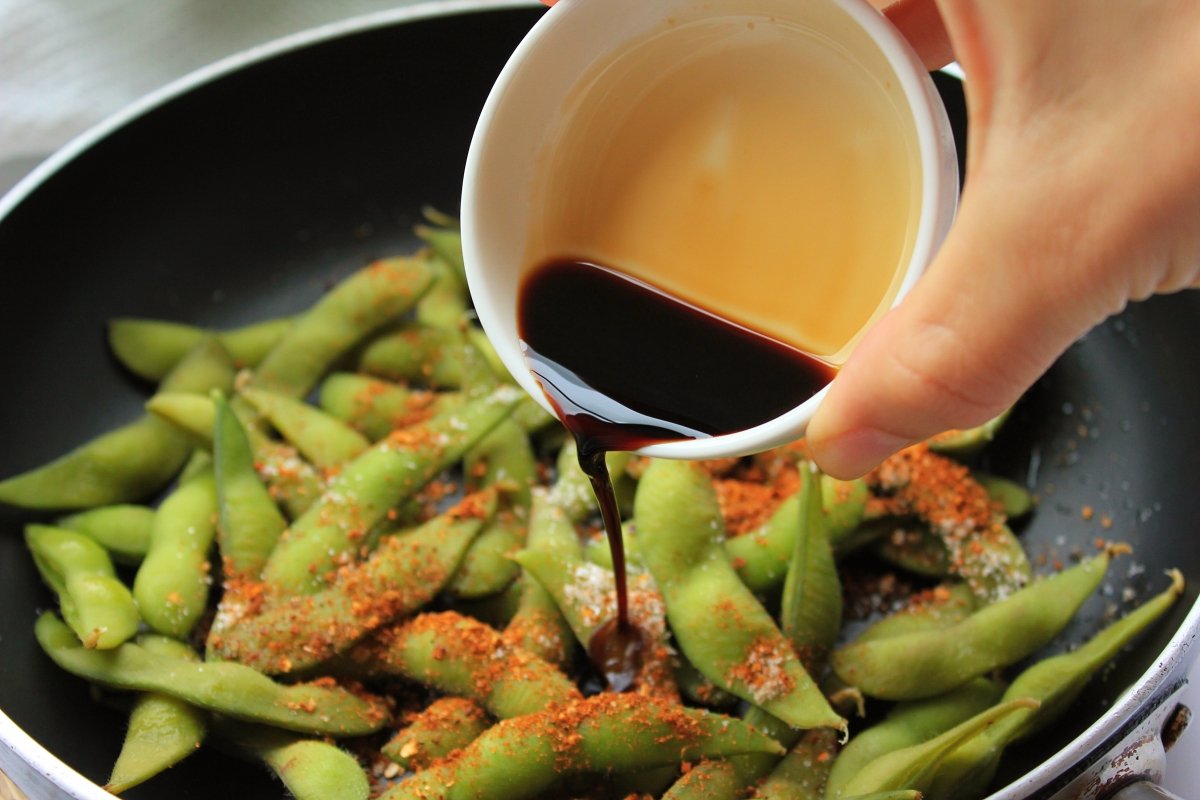 STEP 4
We sauté the edamame for a few minutes so that all the ingredients are unified and the flavors are integrated.
STEP 5
We present the sautéed edamame in a bowl, decorate it with 1 pinch of sesame seeds, and serve it immediately so that it arrives hot at the restaurant.