There are countless stuffed roast turkey recipes, but almost all of them have in common that they are prepared in the oven. In Anglo-Saxon countries, it is generally cooked for large family gatherings.
Despite what it may seem at first glance, baked poultry, especially stuffed turkeys, is simple to prepare.
The process consists of preparing a stuffing or stuffing, inserting it into the turkey, closing it well so that it does not come out—here the skill with the needle comes into play—, putting it in the oven and waiting for it to be well roasted.
Ask your chicken farmer chef to prepare the turkey for the stuffing and just make sure it's really dry and so it doesn't taste bland, sprinkle it well with salt and pepper inside and outside.
Get to work filling or stuffing that you like the most-those of fruits and dried fruits with aromatic touches of sweet wine are a scandal-and get ready to enjoy them.
The amount of oven time the turkey needs will depend on its weight. A formula that never fails, for turkeys over 4 kilos, is to calculate 20 minutes per pound of weight and add 90 minutes more.
Dare to prepare this recipe at your next family celebration. You will surely leave your guests speechless with wonder and pleasure!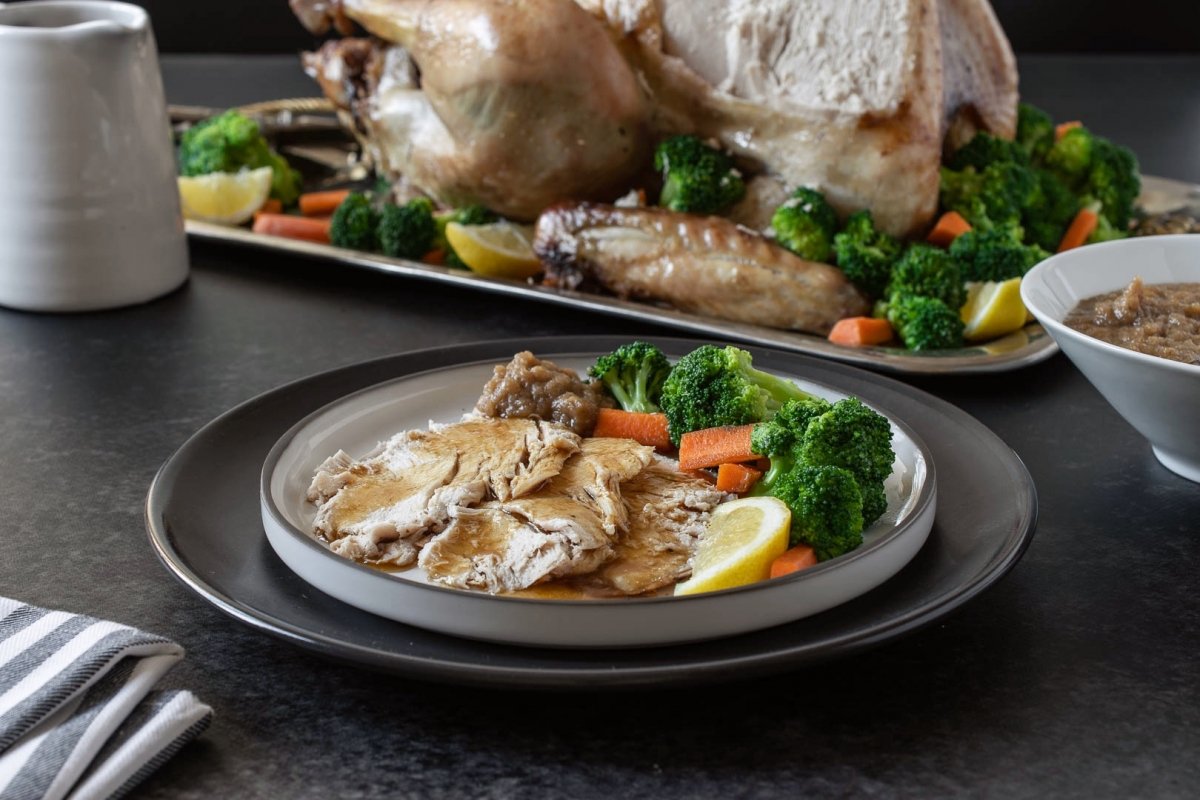 INGREDIENTS
100g dried apricots
100 g pitted prunes
100g shelled walnuts
5 apples
100 g raisins
400ml sweet wine
500g minced pork
200 g cubes of Serrano ham
Sal
ground black pepper
1 gutted turkey of 7 kg
3 onions
6 sprigs of fresh rosemary
extra virgin olive oil
25 g fine corn flour (optional)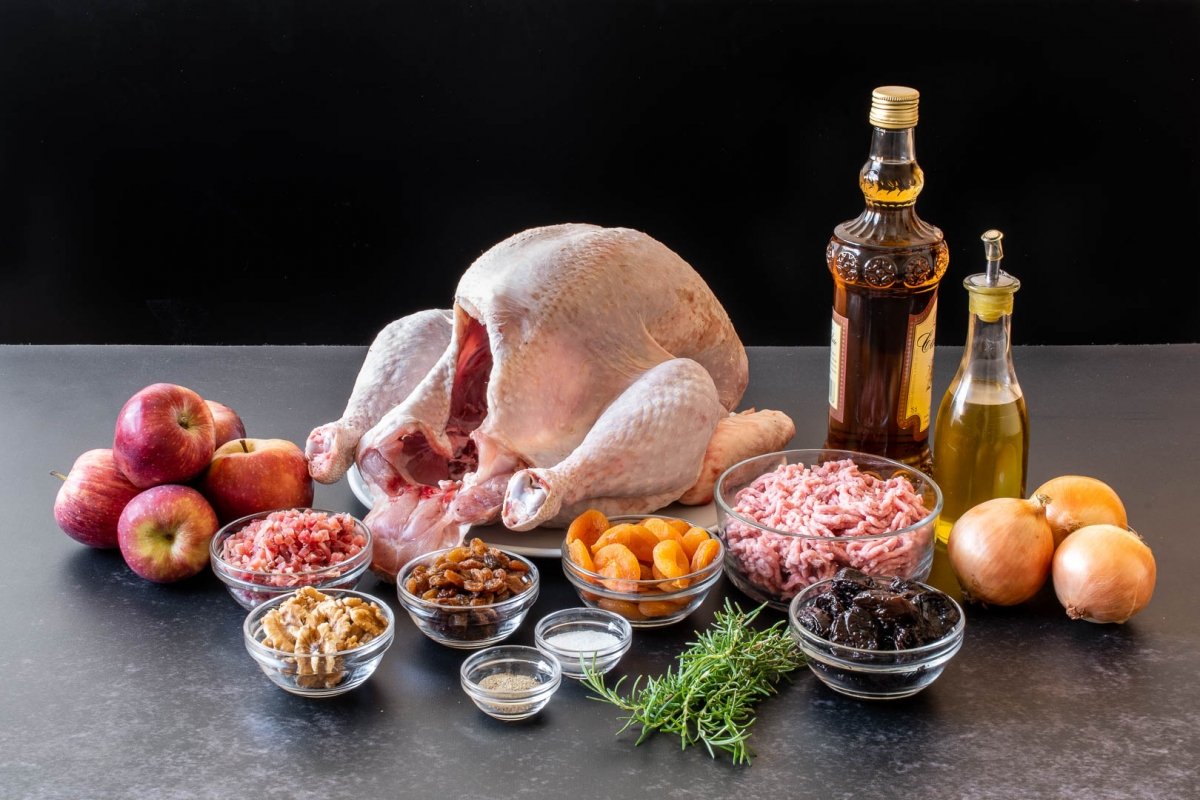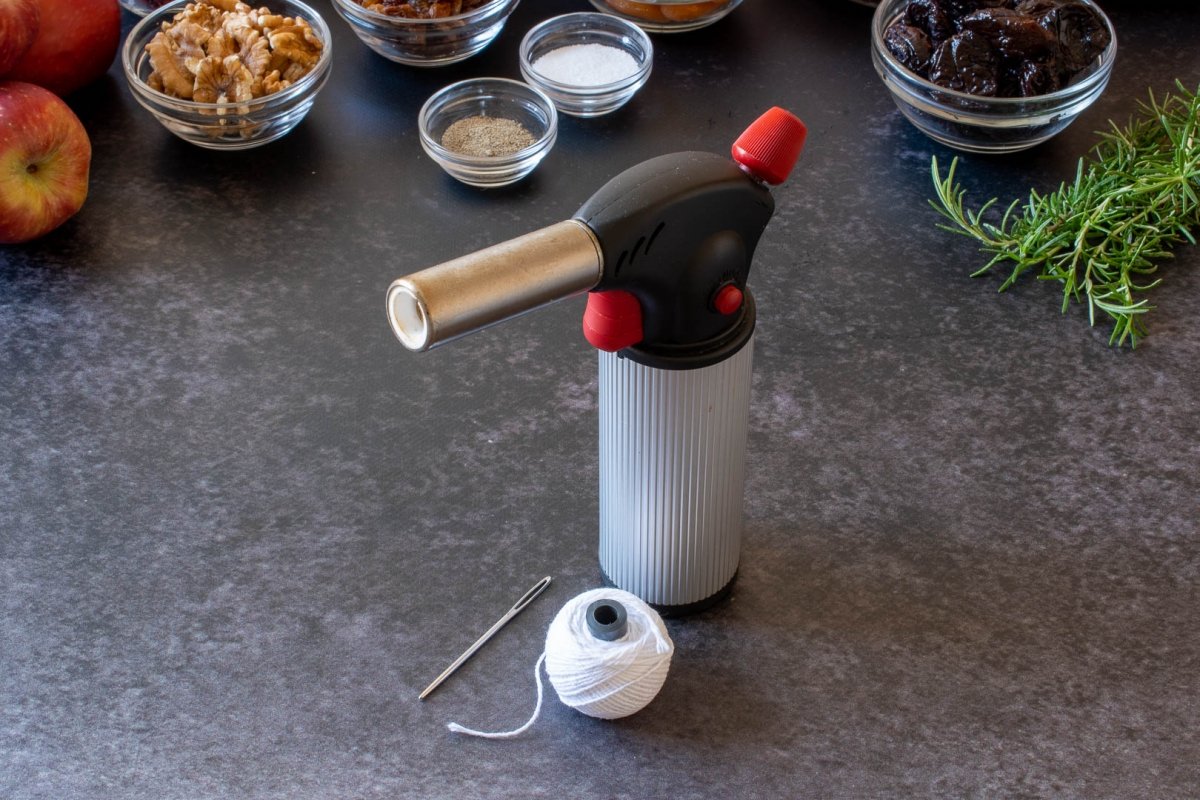 HOW TO MAKE STUFFED ROAST TURKEY RECIPE
STEP 1
To begin, chop 100 grammes of dried apricots, 100 grammes of pitted prunes, and 100 grammes of shelled walnuts for the stuffing or filling. 2 apples, peeled and diced. Place everything in a big container, along with 100 g of sultanas.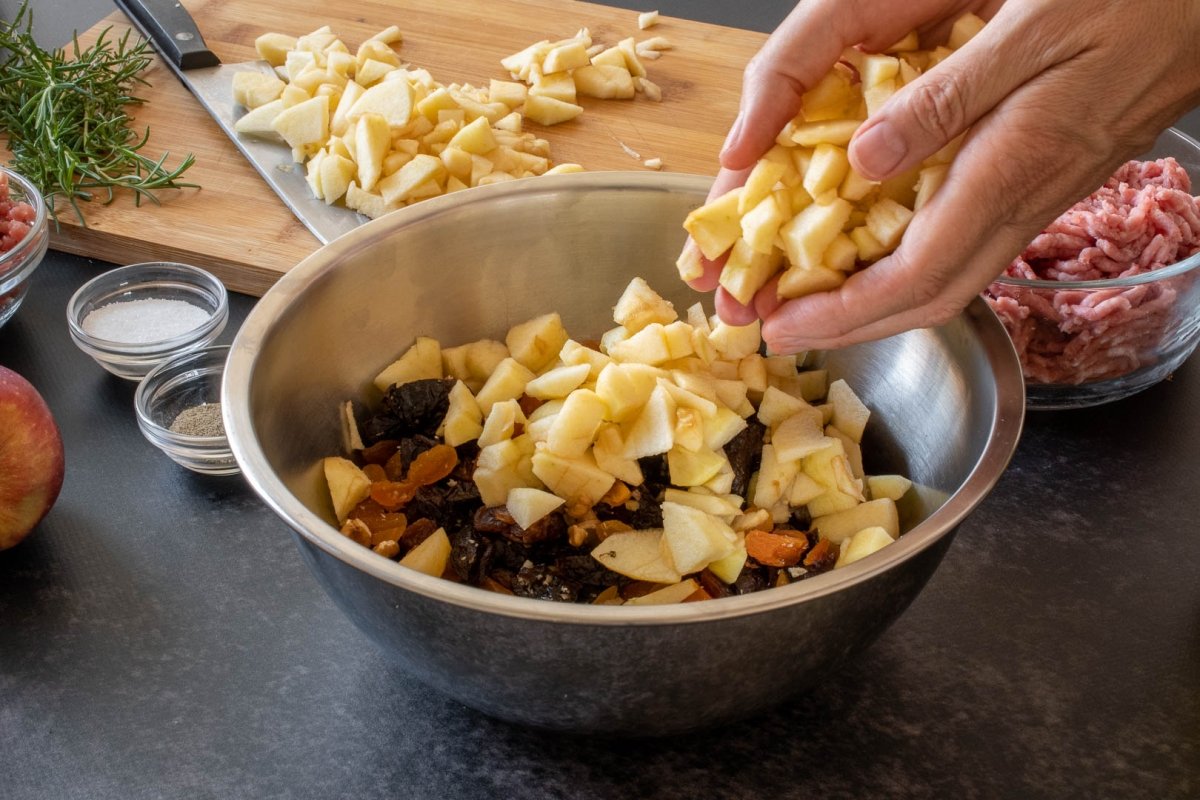 STEP 2
Then stir in 400ml of sweet wine, such as Moscatel or Pedro Ximénez. We macerate the fruit for a few hours, but we can also undertake this step the day before and soak the fruit overnight.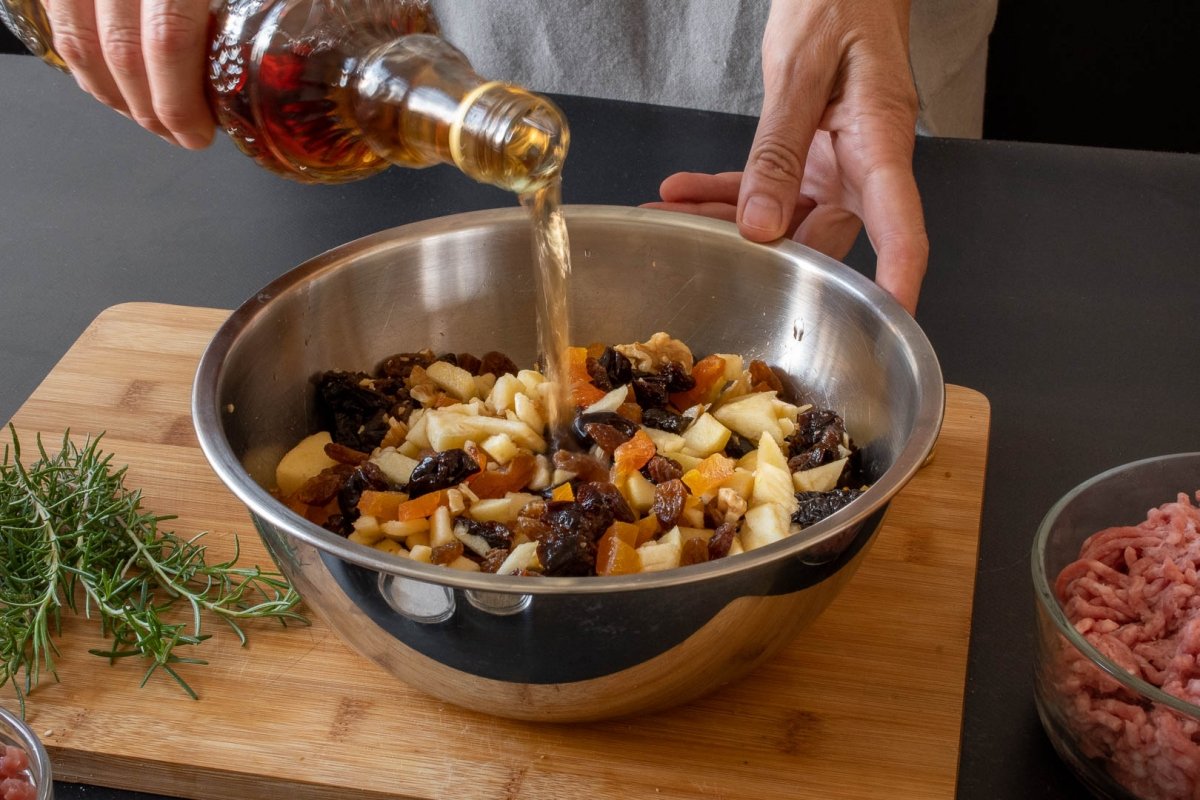 STEP 3
Once the fruits have been macerated, rinse them thoroughly, retaining the liquid, and combine them with 500g of ground pork and 200g of Serrano ham pieces. We've already prepared the stuffing.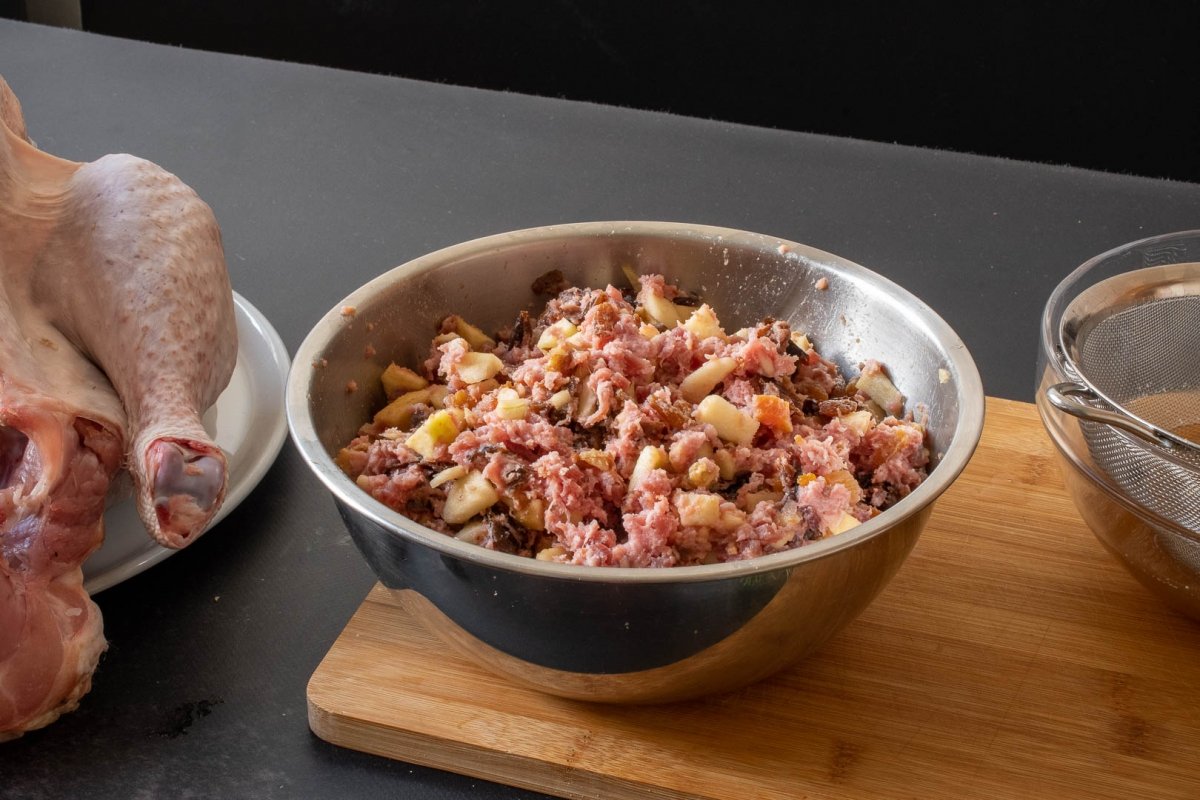 STEP 4
We make sure there are no feathers left on the turkey (ours weighs 7 kilos) before stuffing it. They can be removed manually or quickly with a blowtorch. Simply move the flame over the surface and burn them carefully so as not to injure the turkey's skin.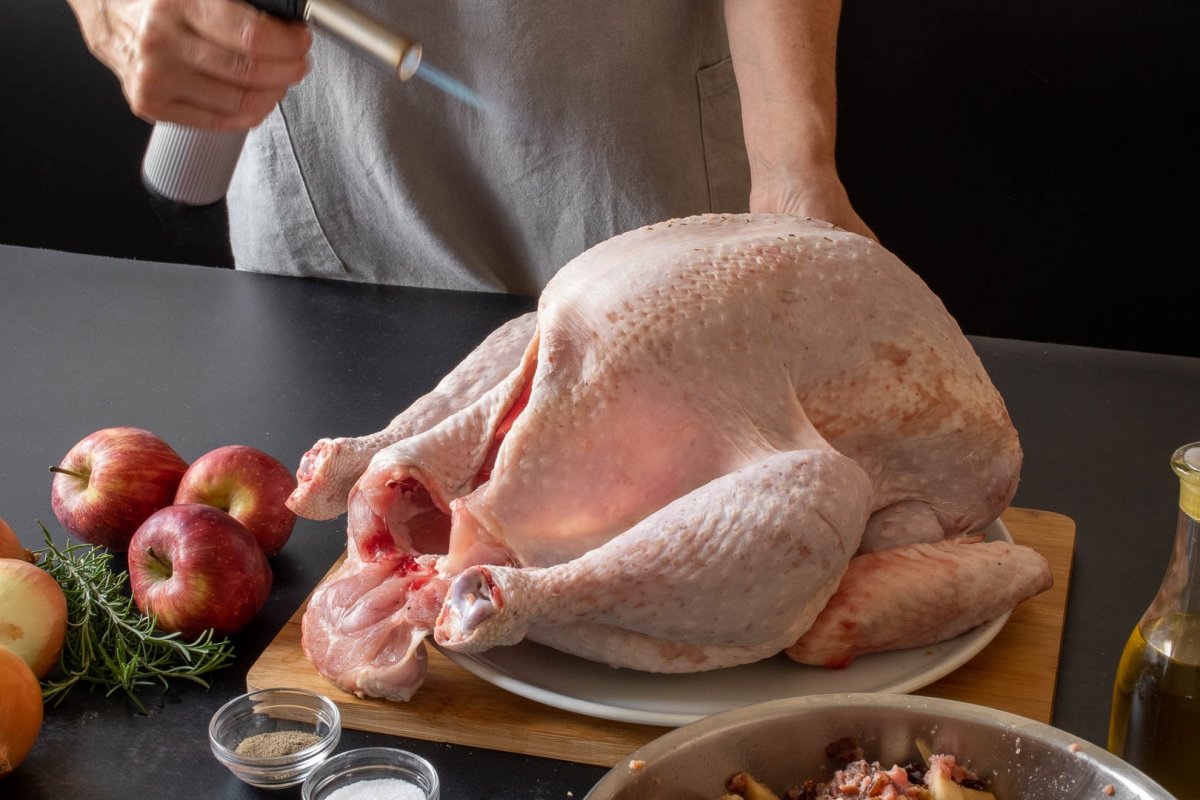 STEP 5
After that, we season the turkey inside and out before inserting the stuffing, pushing gently to ensure that it fills the entire cavity and there are no gaps.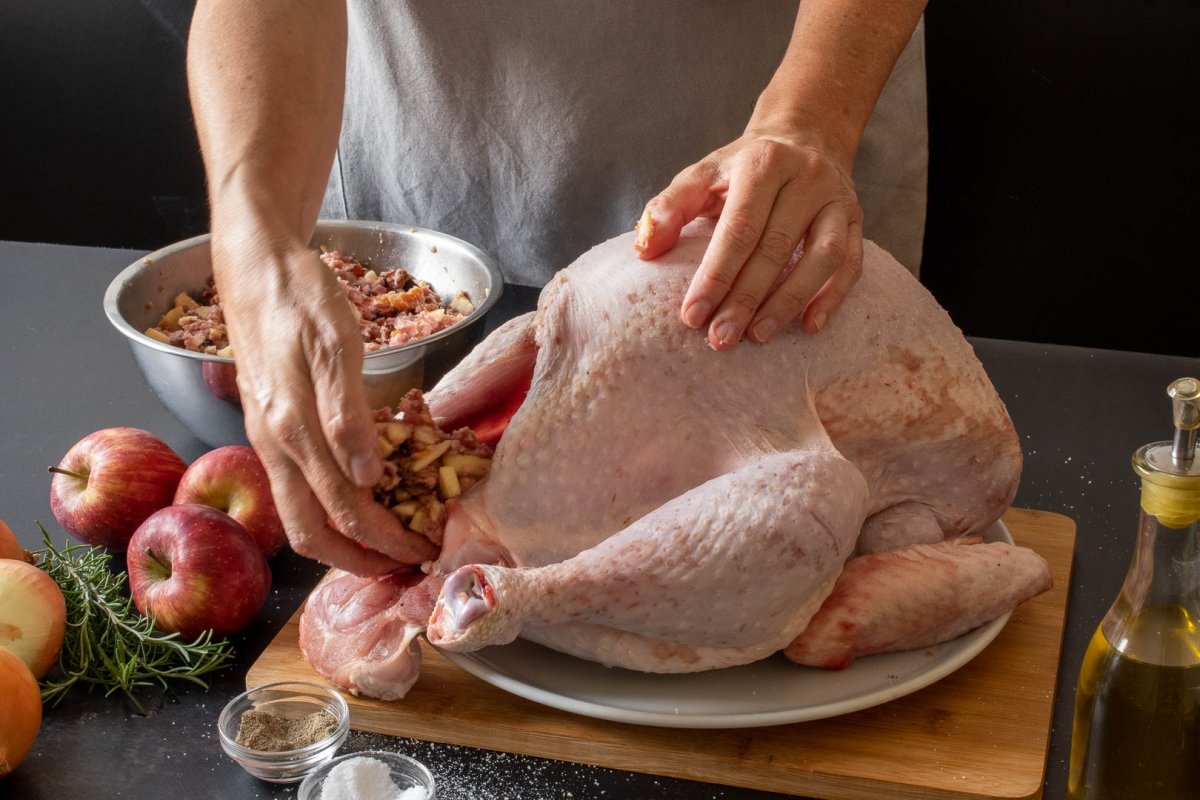 STEP 6
It's time to thread the needle with string and sew up the turkey's opening so the stuffing doesn't leak out while it's baking. At this stage, be cautious since the skin of the turkey is delicate and can crack; ideally, catch part of the meat so that it can better resist the pull of the wire.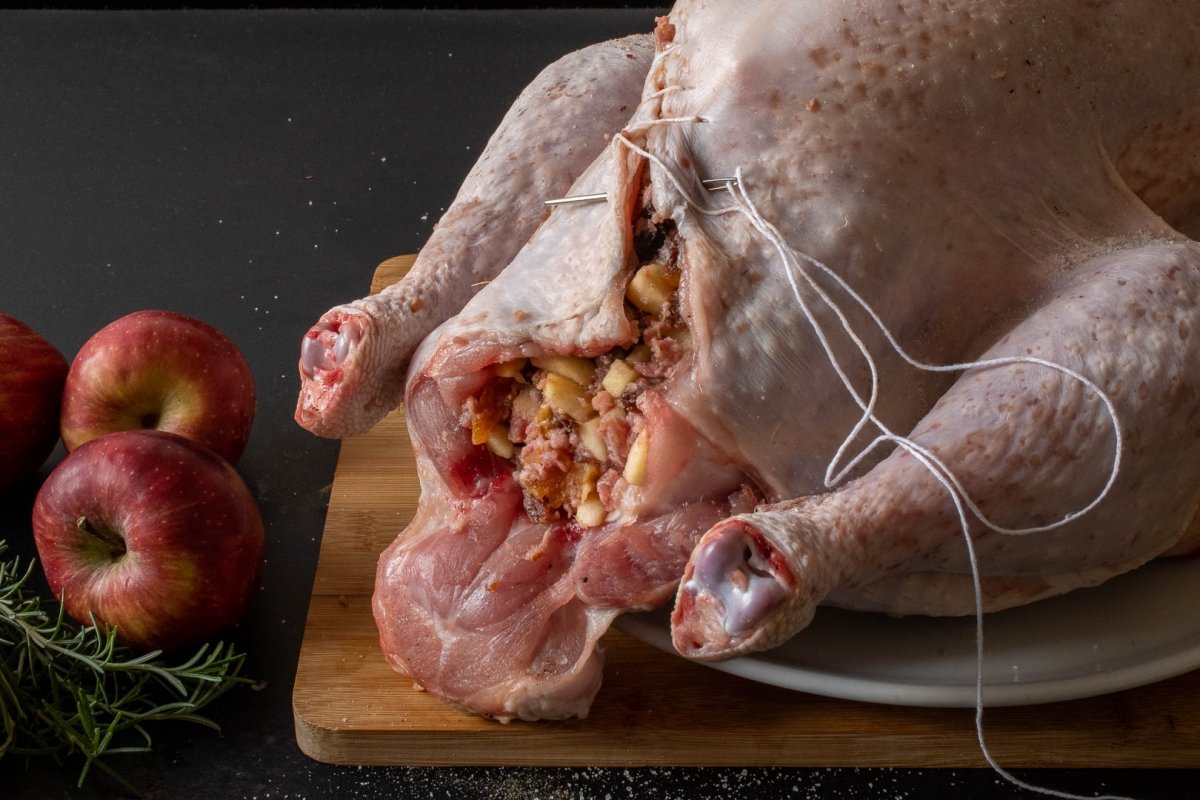 STEP 7
We also bind the legs by combining them at the end with a few wraps of twine and tying a sturdy knot.
If we don't, they'll pop open throughout the roasting process, and the bird will come out of the oven looking unappealing. although it will be just as delicious.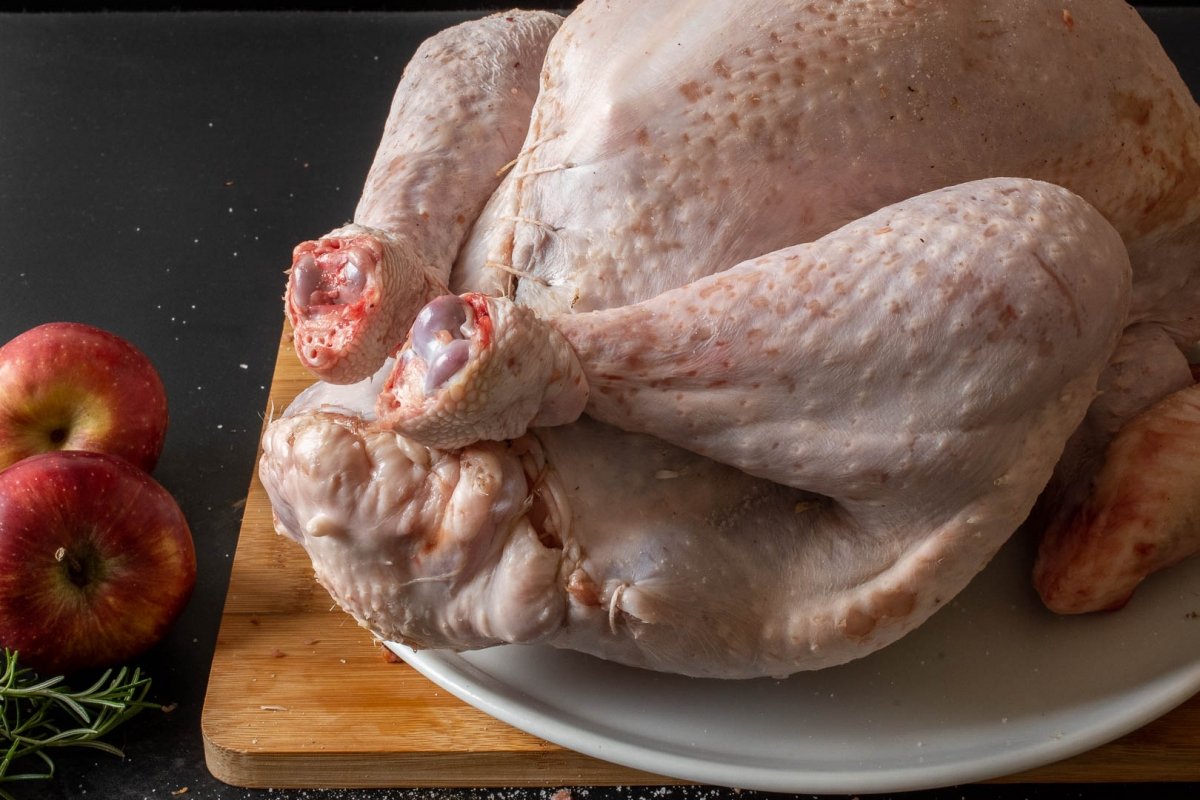 STEP 8
3 onions and 3 apples, peeled and quartered. We use it to line the bottom of a baking pan, then add 6 sprigs of fresh rosemary and the turkey. Grease the pan with extra virgin olive oil and fill it with water from the fruit maceration liquid.
We roast the turkey in an oven prepared at 180 °C with rising and falling heat for 4 hours (20 minutes per kilo plus an additional 90 minutes). If it begins to brown too quickly, cover it with aluminium foil.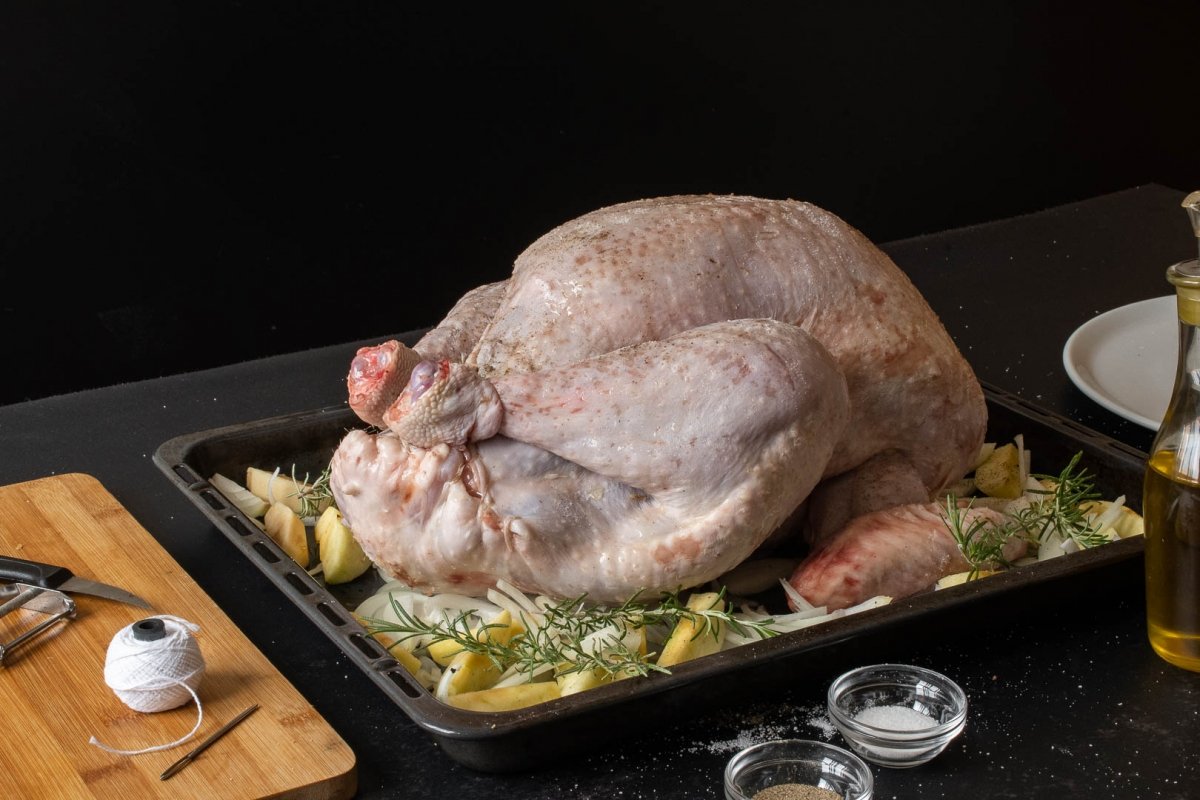 STEP 9
Remove the turkey from the oven and set it aside to rest. Filter the tray contents and pour the liquid into a saucepan. We separate a small bit, then whisk in 25 grams of fine cornmeal.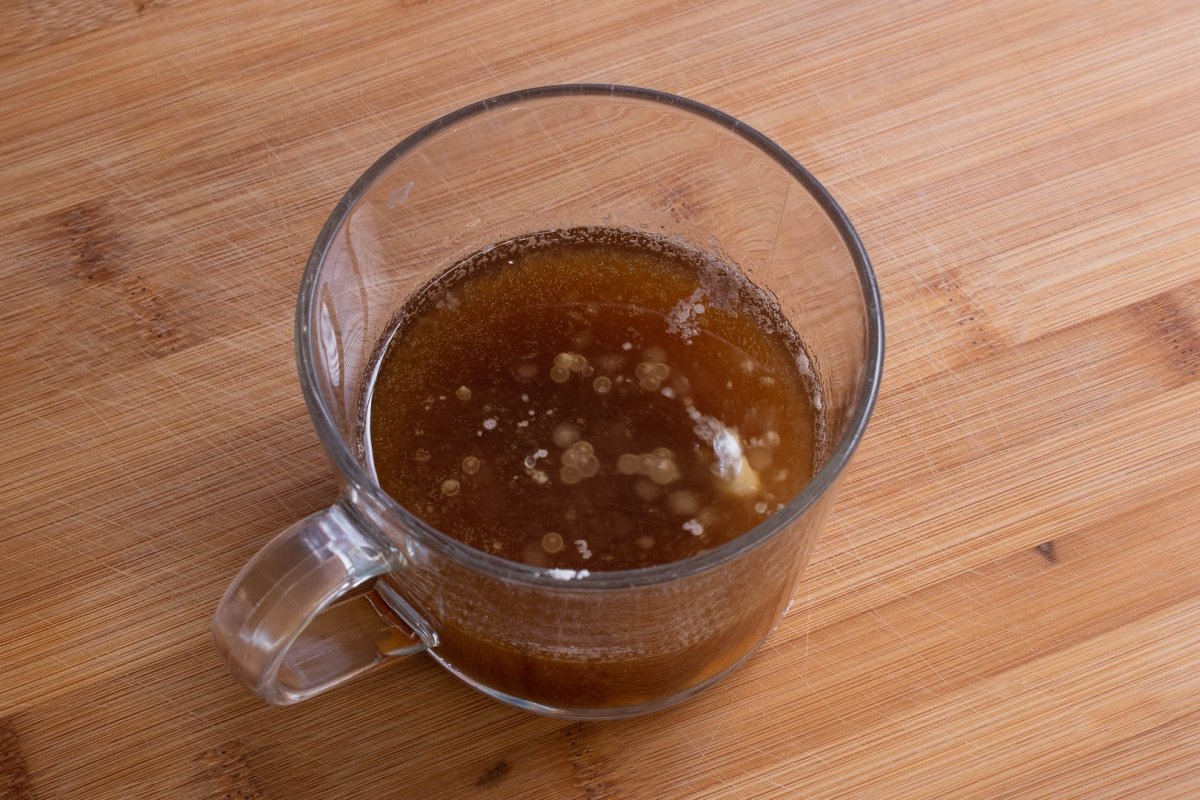 STEP 10
Return the mixture to the saucepan and cook for 15 minutes, stirring occasionally, over medium heat. We've already prepared the sauce.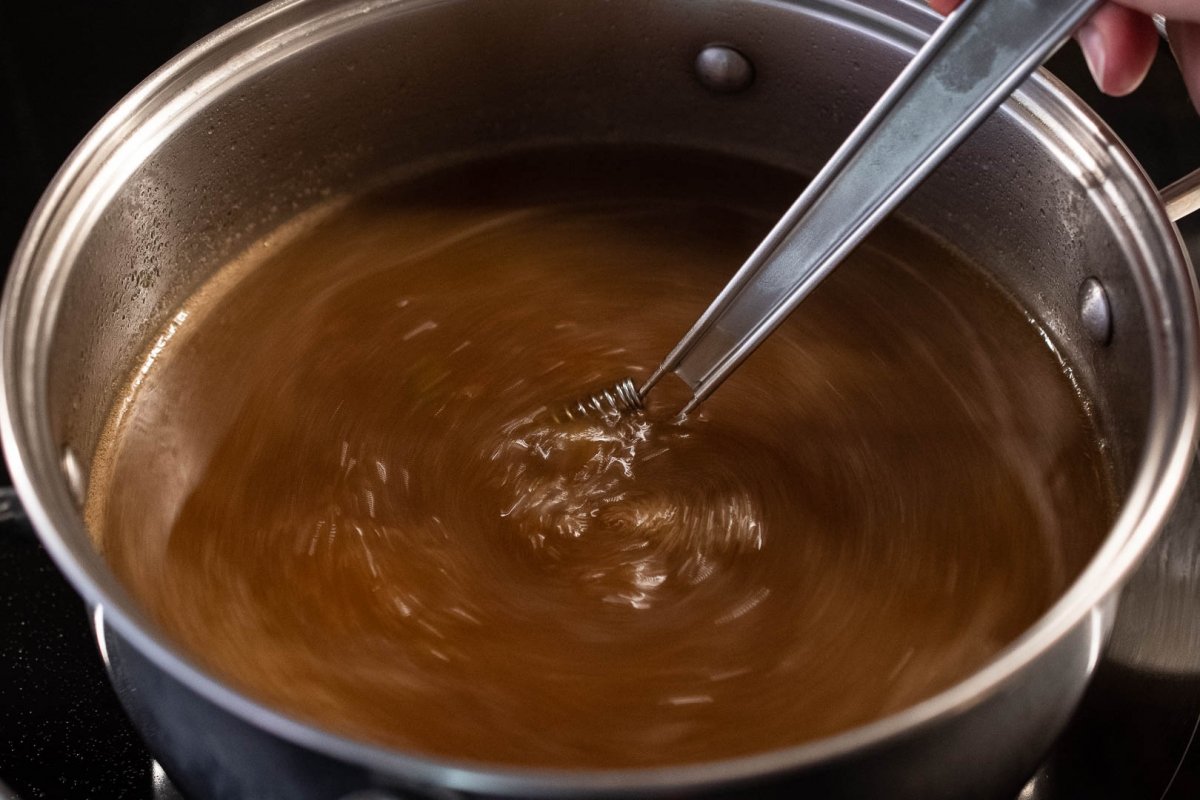 STEP 11
We mash the onions and roasted apples together to produce a mash to go with the turkey. Depending on the texture you desire, you can use an immersion blender or coarsely chop it with a knife.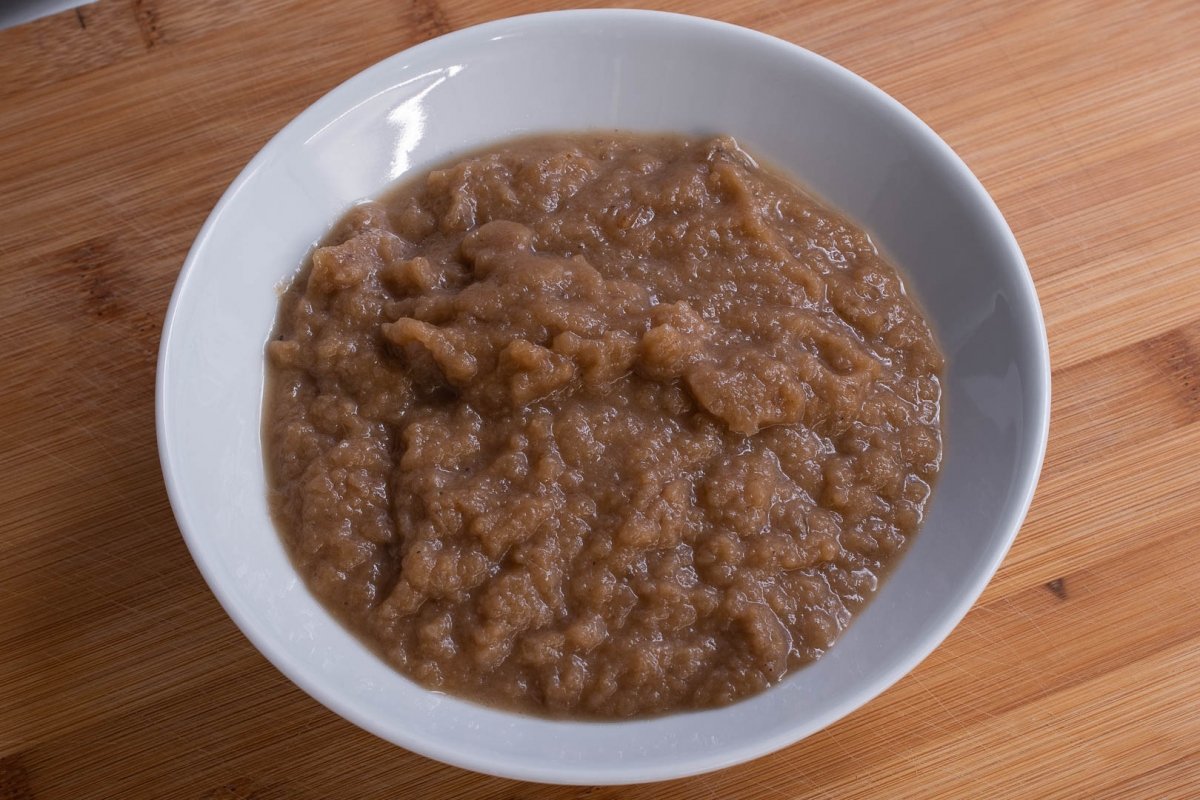 STEP 12
We bring the turkey to the table on a platter covered with various vegetables, fruits, salad, and so on, and it is served with sauce and onion and apple puree. We slice, serve, and taste!