This Vegetable Tagliatelle Recipe uses peppers and is both quick and delicious.
An easy vegetarian pasta recipe that is excellent. The egg tagliatelle is interwoven with pan-fried onions, bell peppers, cucumbers, and carrots, the egg tagliatelle is interwoven.
It's a very simple recipe that is prepared in less than half an hour and, thanks to the umami flavor provided by the soy sauce with which it is seasoned, all the flavors are enhanced by making every bite a real pleasure.
INGREDIENTS
1 small onion
2 small carrots
1/2 green pepper
1/2 red pepper
200g zucchini
1 handful of coarse salt
160g dry egg noodles
1 tablespoon sesame oil
1 pinch of salt
1 pinch of ground black pepper
1 teaspoon sesame seeds
1 pinch of powdered ginger
40ml soy sauce
HOW TO MAKE VEGETABLE TAGLIATELLE RECIPE
STEP 1
The first thing we need to do is peel 1 onion and 2 small carrots. Remove the seeds from 1/2 a green pepper and 1/2 red pepper. We wash 200 g of zucchini and cut all these ingredients into thin strips or sticks.
STEP 2
On the other hand, we heat a lot of water with a handful of coarse salt. When it begins to boil, add 160 g of dry tagliatelle in water.
Cook the pasta for the time indicated by the manufacturer. In our case, for 6 minutes so that they are al dente.
STEP 3
While the noodles cook, add 1 tbsp sesame oil to a wok, and when hot, add all the chopped vegetables, lightly salt and pepper, and season with 1 tsp sesame seeds and a pinch of ginger powder.
STEP 4
Sauté everything over high heat and continuously for 5 to 7 minutes.
STEP 5
When the vegetables are done, add the cooked tagliatelle and 40ml of soy sauce to the wok.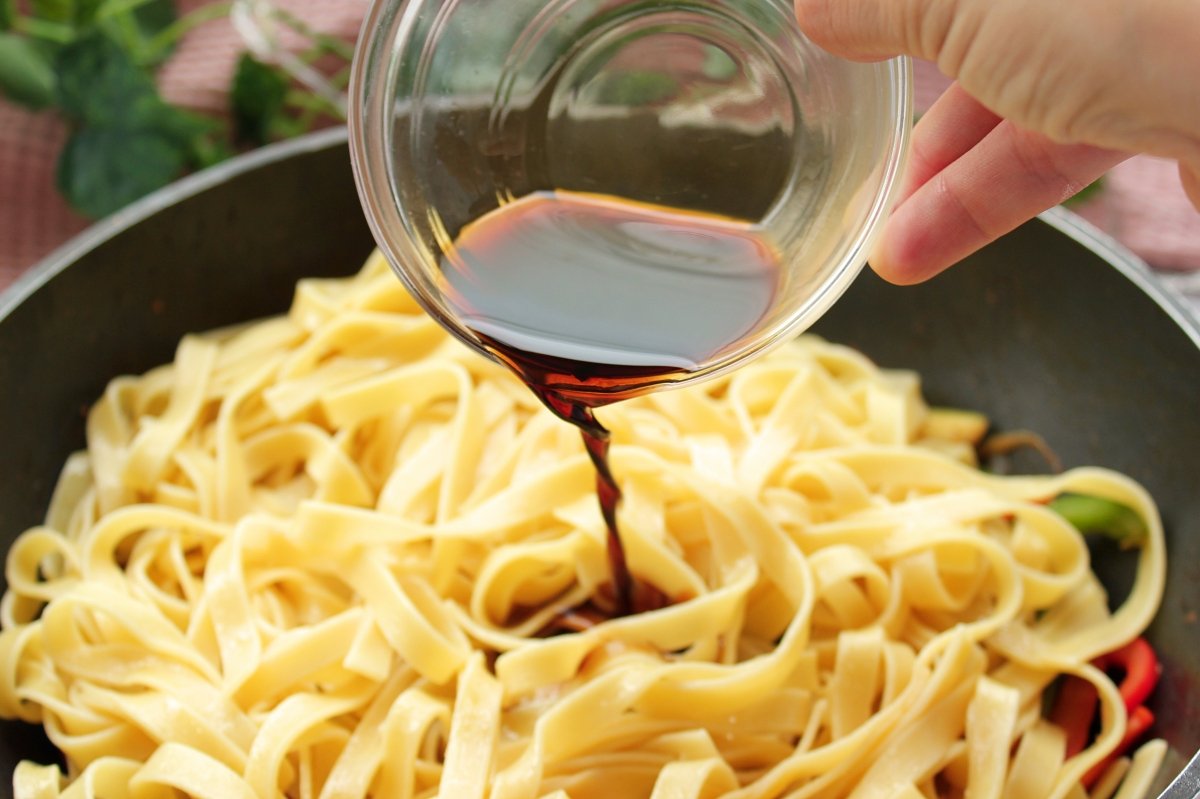 STEP 6
Sauté over high heat for a few minutes so that all the ingredients are incorporated and evenly coated with the soy sauce.
STEP 7
We place the vegetable and soy pasta in a deep dish and decorate the surface with a sprinkle of sesame seeds before serving(additional).