VENEZUELAN SHREDDED MEAT
Venezuelan shredded meat is the recipe for Spanish cuisine. The Carne Mechada Recipe for Meat is one of the great emblems of traditional Venezuelan cuisine. Its modest origins were to be a fairly economical and profitable preparation. Today, it is appreciated even by the most exquisite palates and enjoys national recognition. As often happens with this type of dish, its recipe is not marked by fire, that is, each family has its own combination of ingredients, especially spices. We present here a general version, which you can vary at will to adapt to your taste. It is also a yummy filling for empanadas. Venezuelan shredded meat.
When it comes to consuming the authentic mexican shredded beef, you can enjoy it as is, accompanied by white rice, as a side dish to arepas, or as part of the Creole pavilion, one of the country's most beloved mixed dishes.
The best parts of this quick shredded beef are cuts of meat that can be cooked for a long time and usually have a thick grain. In other words, when you shred the meat, good strips come out. cut like the shank, breast, or needle they are perfect. It does not matter if it is cartilaginous meat, after cooking it will be tender, in addition to the fact that the collagen brings a very pleasant honeyed texture.
We're going to mix the meat with a red sauce as they call it there. A pepper and tomato sauce, which includes, depending on the household, a little sweet pepper. Let's dwell a bit on this ingredient and we'll let you start cooking.
We've written about capsicum before, we have a really nice article you can check out for more info. However, we are aware that it can be difficult to find it. In this case, as we told you, if you can't find the chili, you can give it our twist by replacing it with paprika. However, if you find it fresh or frozen, use it chopped with the pepper or, if you have it in the form of chili paste, put a few tablespoons with the tomato.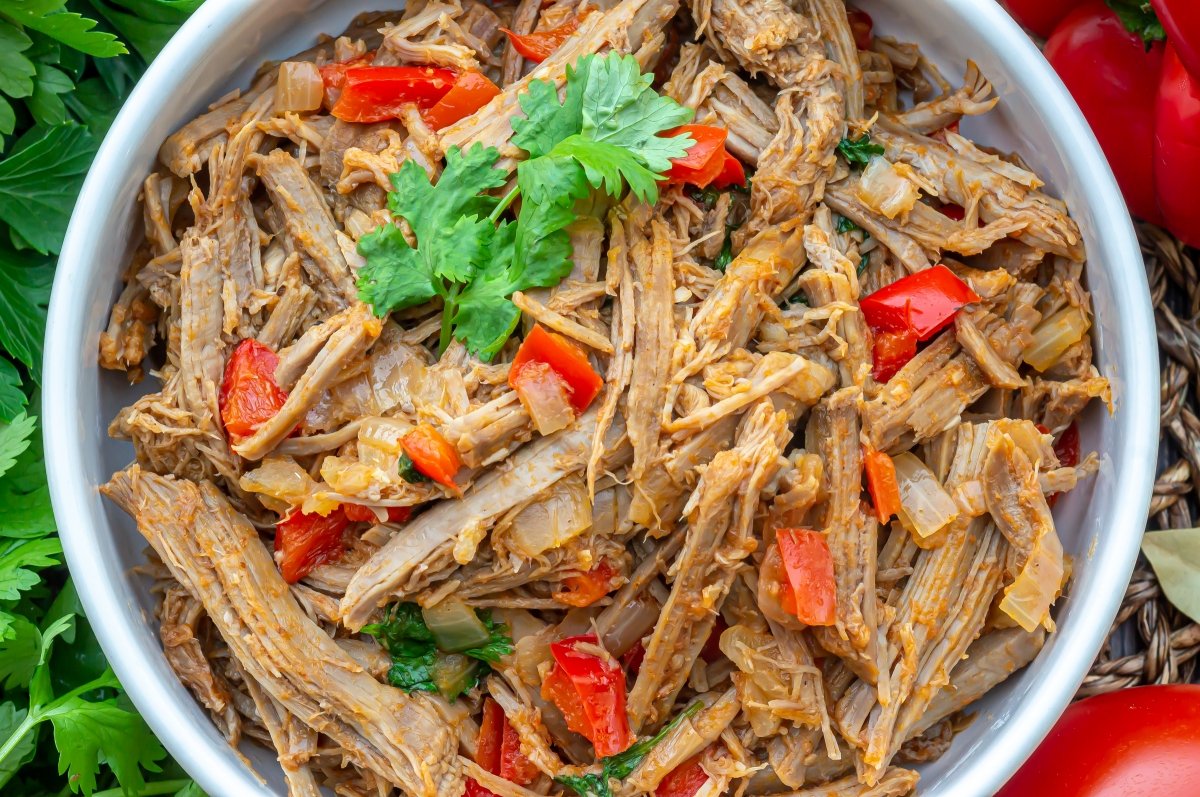 INGREDIENTS 
1 kg of beef to simmer (shank, brisket, needle, etc.)
Two large onions
2 or 3 sprigs of fresh parsley (optional).
1 or 2 bay leaves.
Sal
ground black pepper
1 large red bell pepper
6 tablespoons of extra virgin olive oil.
4 garlic cloves.
400g tomatoes (plain or canned).
1 teaspoon sweet paprika or mix with spicy
½ teaspoon cumin
fresh coriander.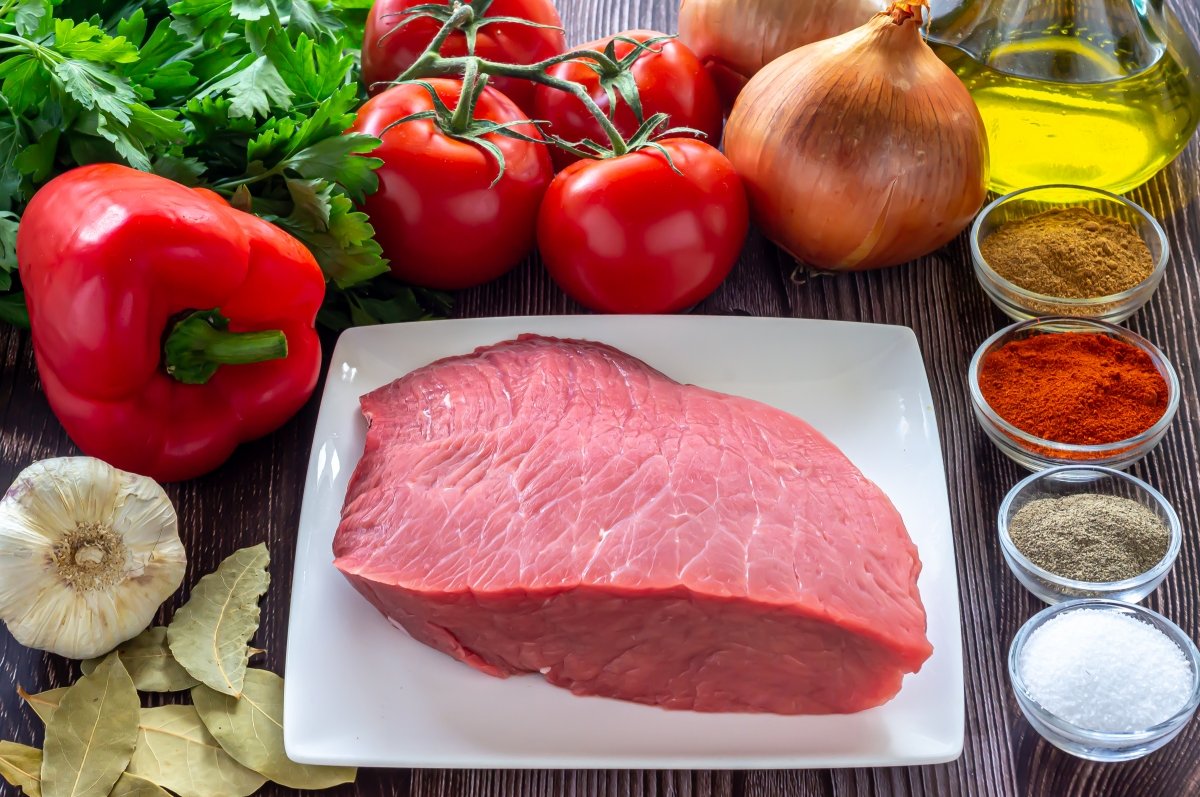 How to Make Venezuelan Shredded Meat
STEP 1
First, we'll take 1 kilogram of the veal that will be cooked (needle, breast, shank, etc.), inspect it, and then, depending on tastes, decide whether to trim off the excess exterior fat or not. The meat is placed in a pot along with some herbs. One peeled and chopped onion, two or three sprigs of parsley, and one or two bay leaves were the ingredients we used. "We pepper and salt." Other possibilities for seasoning include leek, carrot, clove, or thyme, among others.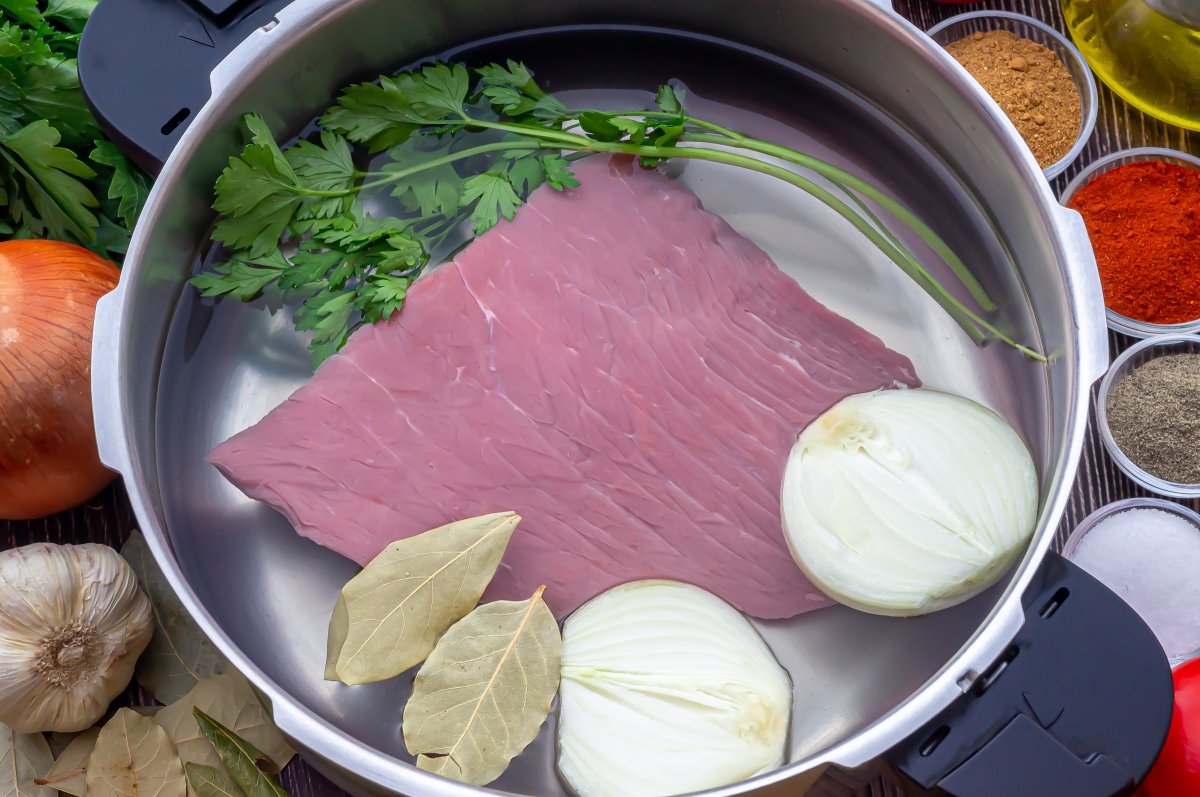 STEP 2
The meat is placed in a pot and heated over a fire. Once it begins to boil, we remove the froth that forms on the surface, cover the pot, and cook the meat for about two and a half hours at a low heat, or until it virtually falls apart when we touch it. After this, remove the meat, saving the broth, and let it cool before setting it aside. The beef can also be cooked in a pressure cooker, slow cooker, or all three, in which case it will be done in an hour or an hour and a half.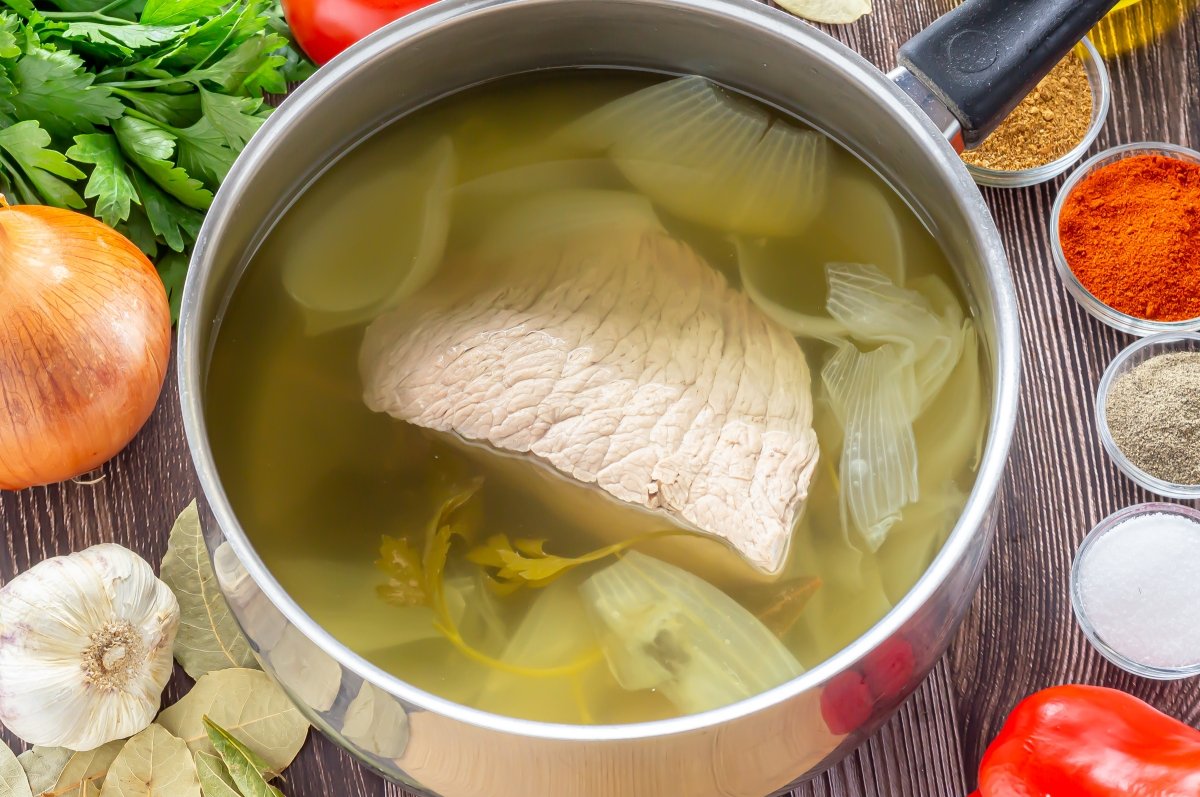 STEP 3
However, we're going to make the red sauce first. We'll need another onion for this, which we'll cut after peeling it. Additionally, we need 1 red pepper, which we will wash, de-seed, and cut into squares. In a big pan with 6 tablespoons of extra virgin olive oil, we heat it up.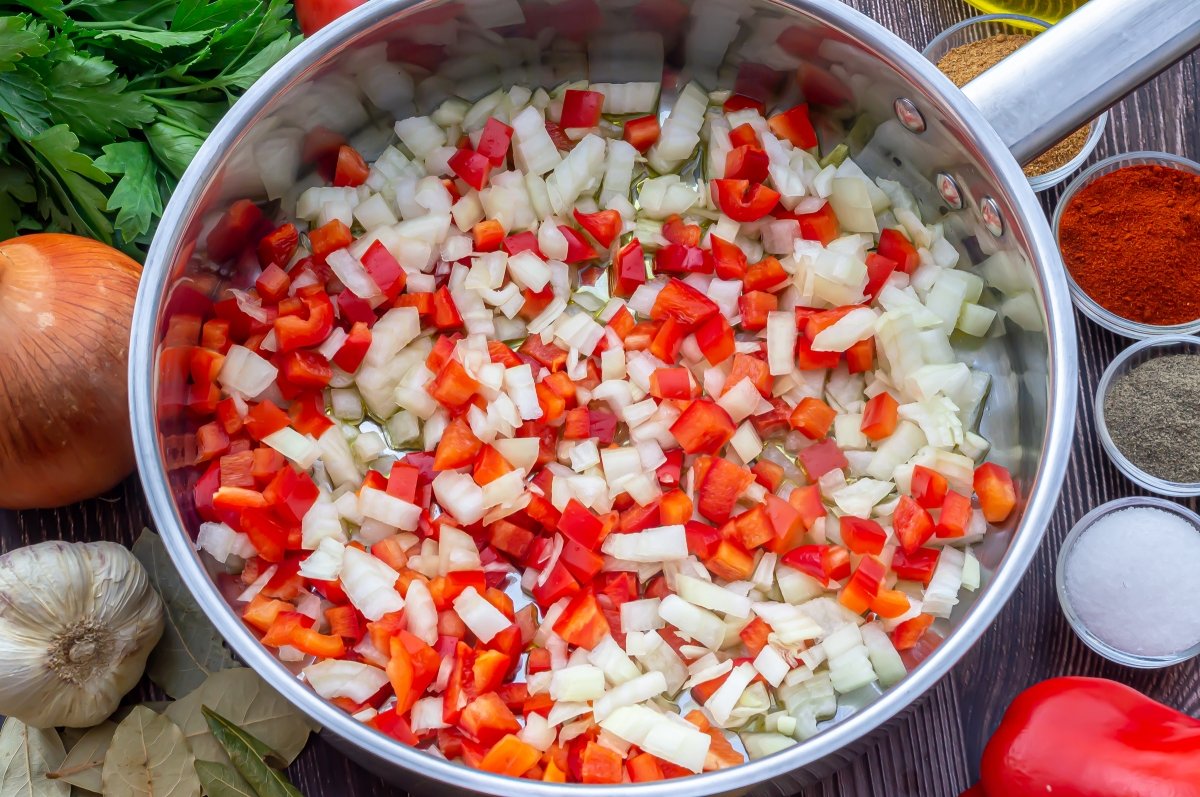 STEP 4
Cook 
these 
ingredients 
for 
about 
10 
minutes 
at 
low 
heat, 
or 
until 
both 
are 
well 
poached. 
At 
this 
point, 
we 
add 
four 
peeled 
and 
chopped 
cloves 
of 
garlic, 
stir 
well, 
and 
cook 
for 
an 
additional 
minute.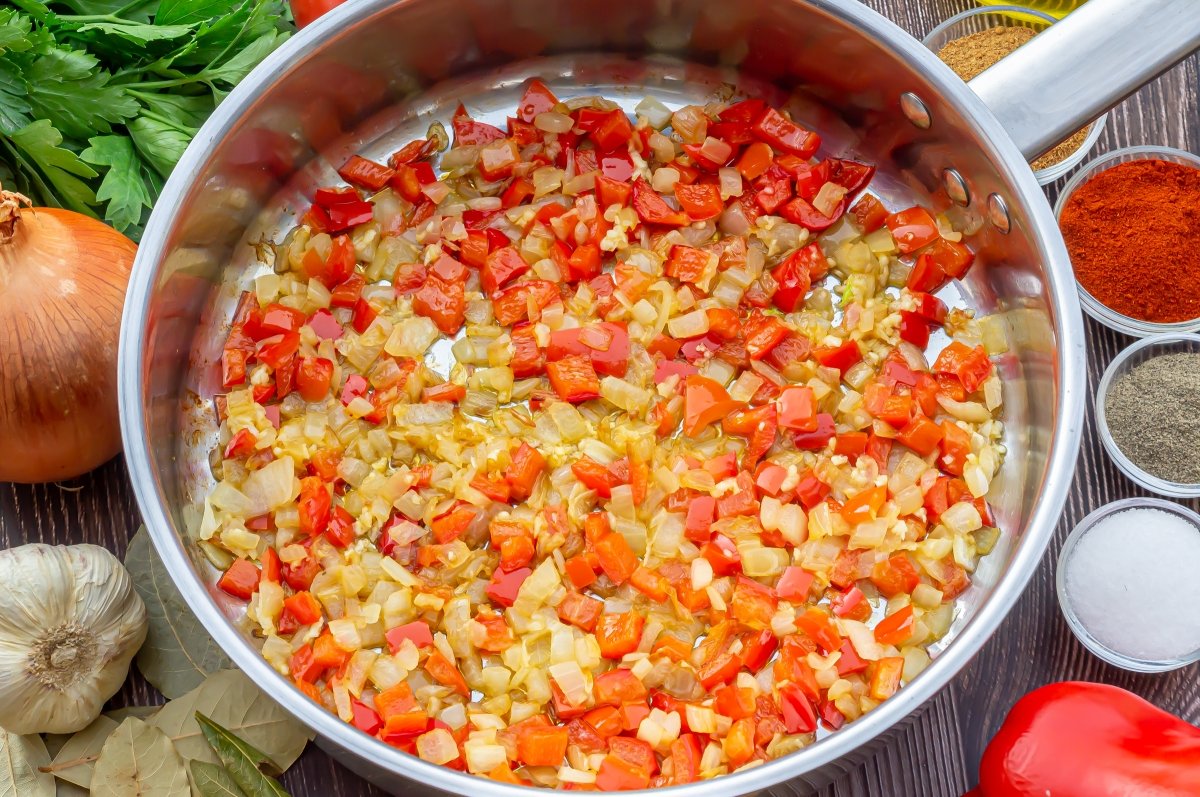 STEP 5
Next, we take 400 g of tomatoes, either fresh or canned. We washed the first ones before using them. The tomatoes should be grated or mashed before being added to the pan with 1 tablespoon of paprika.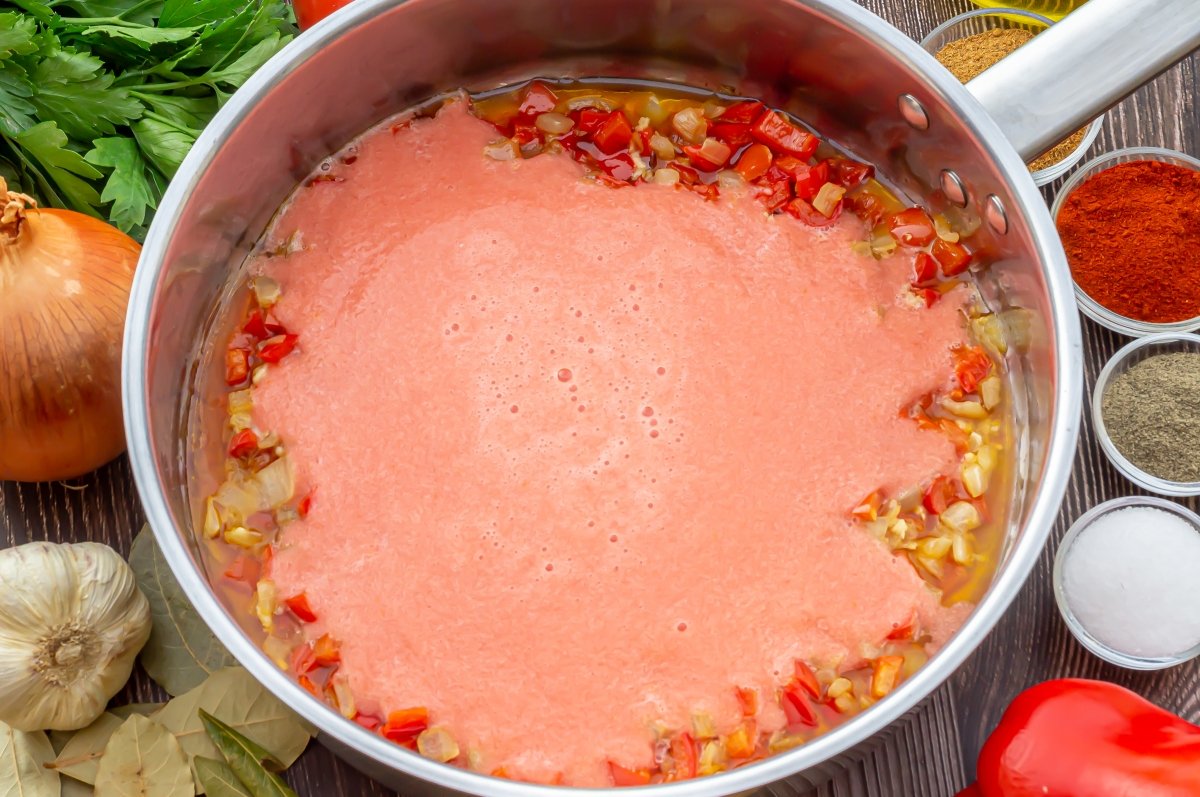 STEP 6
Cook the tomato for 15 to 20 minutes over medium heat until it has reduced, or all of the water has evaporated. It can splatter a lot, so take caution. By lowering the temperature, we'll aim to prevent it by not creating too many bubbles.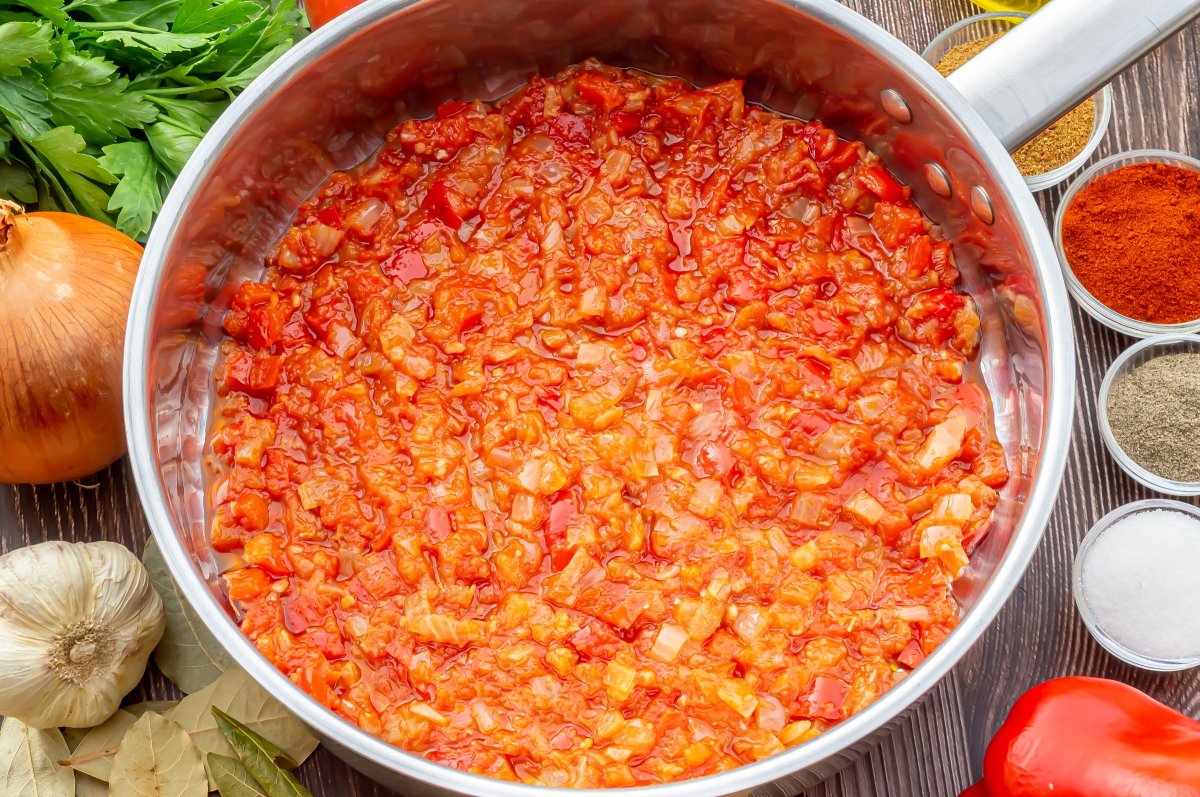 STEP 7
We will go back to the meat that we had set aside while the tomato is cooking. It will already have cooled off a bit by then, making it safe to touch without risking burns. With our hands, we shred the meat, then add it right away to the pan.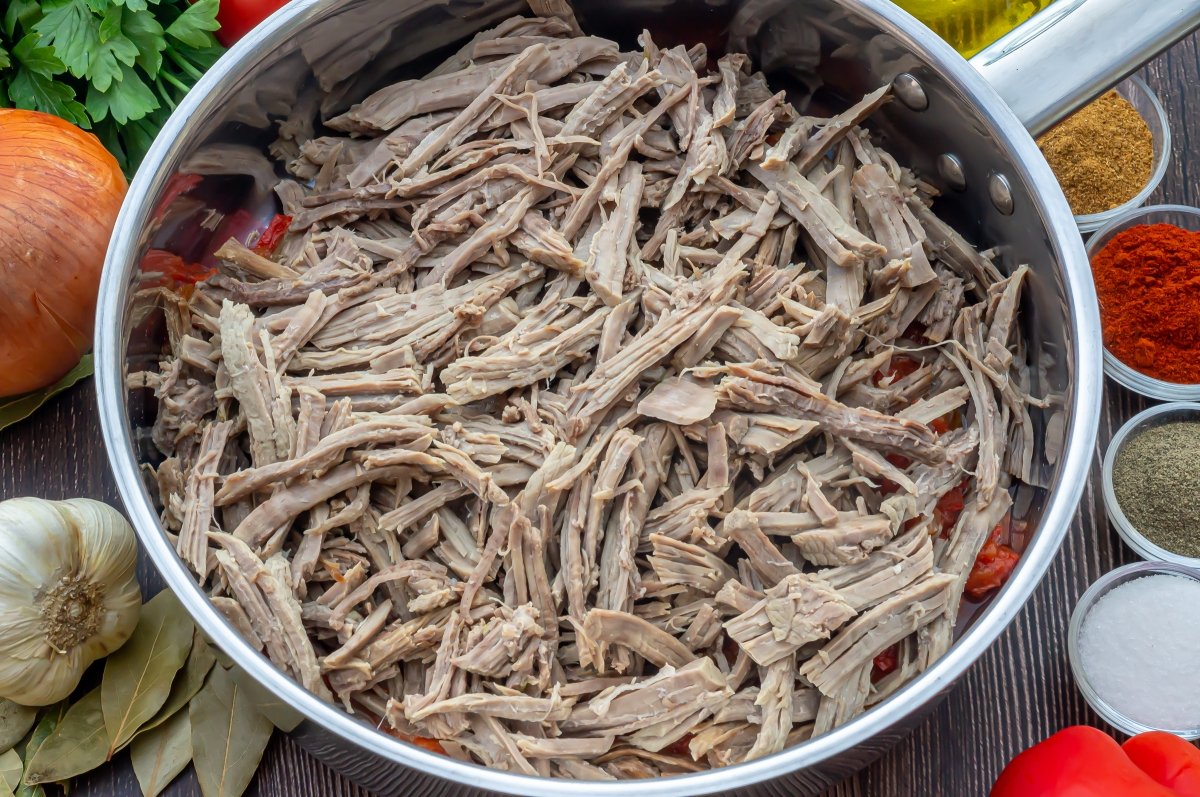 STEP 8
A few ladles of stock should be added to the meat to help it bind and become more juicy. Everything should then be sautéed for around 10 minutes to ensure that the flavours are well-balanced. For use in another dish, leftover broth can be frozen or kept.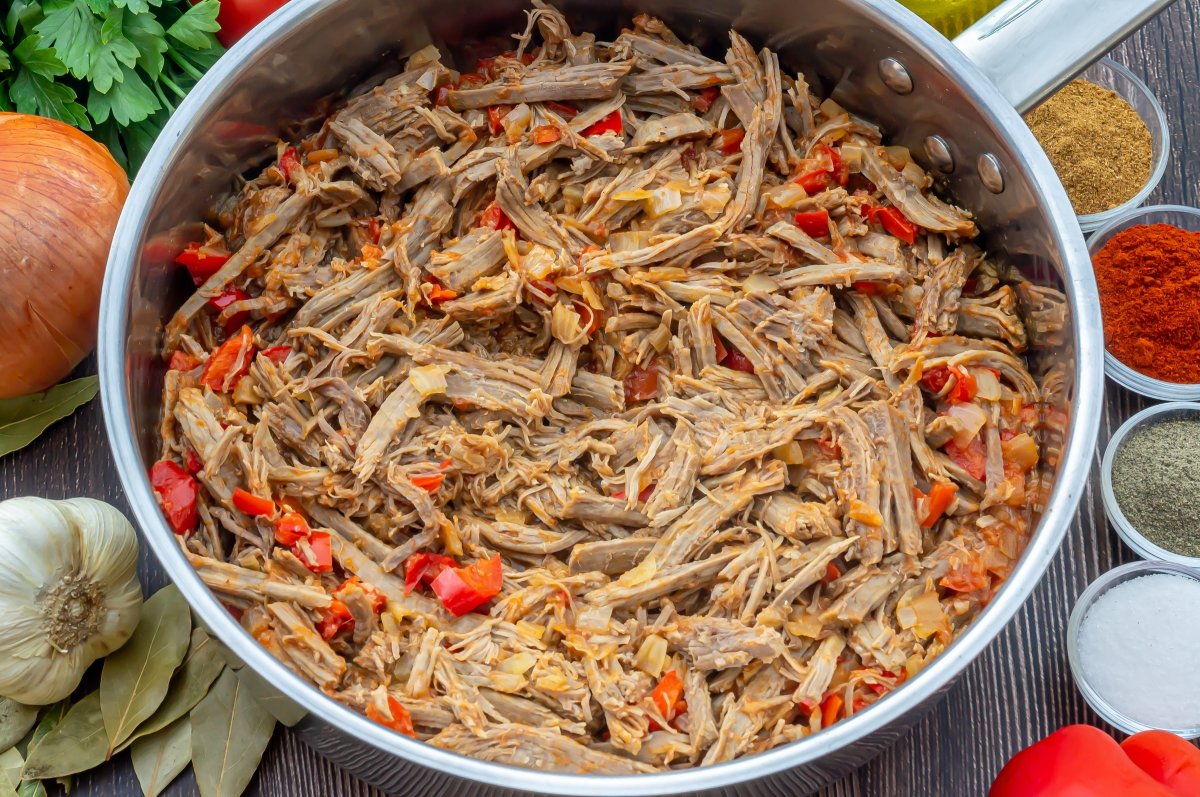 STEP 9
Last but not least, simply season to taste with salt, pepper, and cumin—use only a half-teaspoon so as not to overpower the flavor. As an alternative, you can give the dish the finishing touch by adding a generous amount of fresh cilantro without the leaves.