What are the differences between wholemeal bread and white bread? One of our oldest foods, bread, has three fundamental ingredients: water, flour, and salt. Wholemeal bread has become fashionable, while white bread has suffered from a negative reputation. undeserved or deserved poor reputation in this instance? Let's examine the key distinctions between the two loaves to dispel any confusion.
For millennia, bread has served as a symbol of social rank on par with other things. In actuality, white bread was regarded by the Romans as being of greater quality and more suited for consumption by members of the upper classes. For centuries, this false notion persisted in the minds of Europeans. Wholemeal bread, sometimes known as brown bread or black bread, was despised by the general populace even throughout the Spanish Civil War because they believed it to be of inferior quality. Today we know that wholemeal bread is a source of health. But is white bread bad? Is wholemeal bread good for everyone? What is the difference between them? All your questions about white and wholemeal bread are answered below.
BASIC WHOLEMEAL BREAD RECIPE FOR BREADMAKER
The integral pan is a type of bread made from unrefined flour, implying that the whole cereal grain has been used (usually wheat, but also rye and other cereals), preserving the bran, i.e. the outer layer or husk, and the germ. As a result, the flour used to make it has not been refined in any way. It is a bread that is endorsed because of the significant amount of fiber it contains. It is a well-liked bread that is eaten throughout Europe. Of course, it is wise to exercise caution because not all bread advertised as wholemeal is indeed wholemeal; instead, it relies on the volume of wholemeal flour used in its production. In this regard, the laws of each nation differ in terms of defining the precise proportion of wholemeal flour that bread must include to be classified as such (in Spain, we have Royal Decree 1137/1984, which ensures that the bread we purchase is the one that should be). Today, it may be obtained pretty easily in bakeries.
IS WHITE BREAD HEALTHY?
White bread is a type of bread made with refined flour, that is to say, the cereal grain used for its preparation has been devoid of its outer layer and, in some cases, even the germ of the cereal. This flour, often referred to as white flour, typically contains additional ingredients that extend the shelf life of bread, lighten its yellowish hue, and improve the understanding of how the bread will behave when baked. Its hue is significantly lighter than whole wheat bread because of this. It is the most prevalent bread on our tables, offers more energy than wholemeal, and has less fat and no cholesterol, which is one of its many benefits.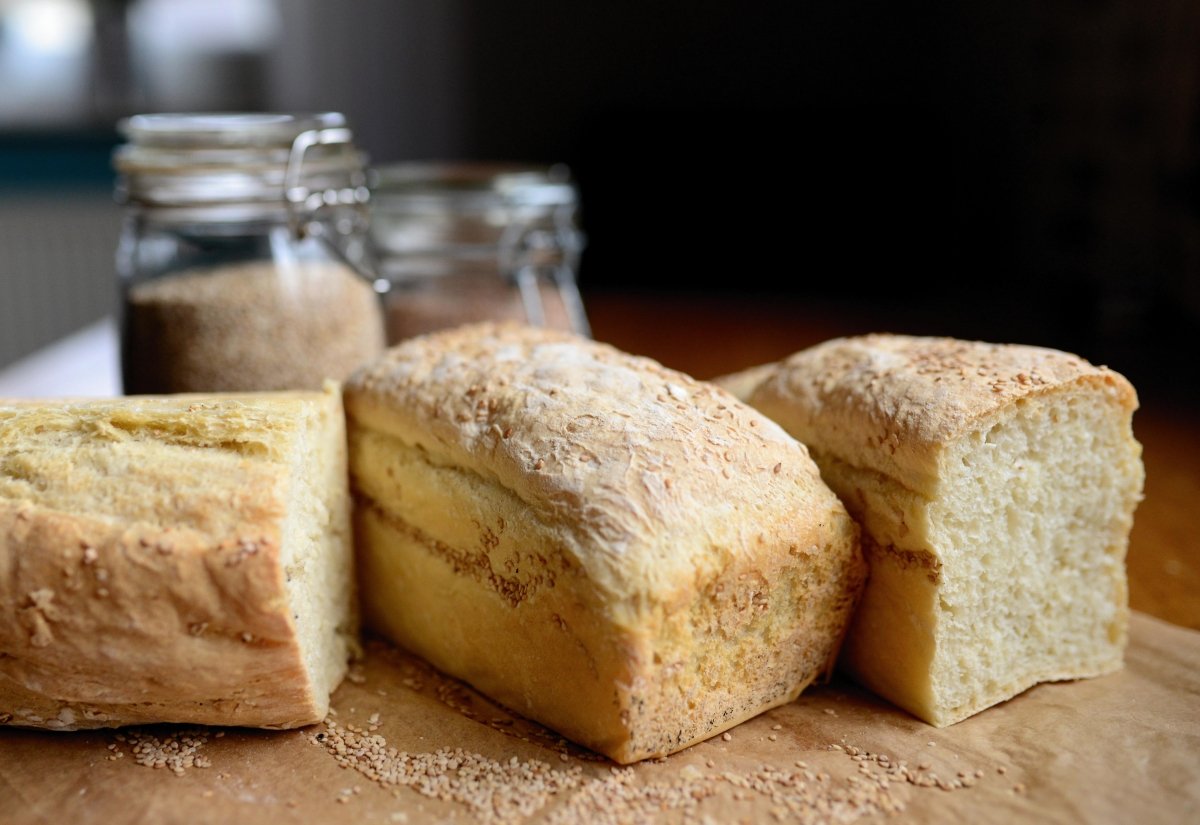 What Are the Differences Between Wholemeal Bread and White Bread?
The composition of the grain used to manufacture the flour, the process for making white flour, and the nutritional qualities of the two products are the key features that distinguish the two forms of bread.
WHOLEMEAL OR REFINED FLOUR, THE KEY DIFFERENCE
The primary distinction between the two loaves is that white bread is created using integral and refined flour. What distinguishes the two types of flour? We must discuss cereal grains used to manufacture flour in order to respond to this query. Whole grains, also known as caryopsis (the plant's seed), are made up of three edible parts, and each of these parts has its own set of nutrients:
Checked in: It is the outer layer, which is abundant in minerals, fiber, and antioxidants.
Germ: It is the grain's interior, the kernel, and as its name implies, it is a crucial component in the reproduction cycle. It is nutrient-dense and abundant in fats and B vitamins.
Endosperm: It is the biggest portion of the grain and has both proteins and carbs.
Whole grain is used to make wholemeal flour, which preserves the bran, germ, and endosperm of the grain wheat. It keeps all of its layers and their nutrient-dense contents intact.
Only the endosperm remains after almost all of the bran and germ have been removed from refined white flour. The grain is ground in this refinement process, and the components are subsequently sieved away from the grain. The refined product has a light color that we find so appealing since the bran and practically all of the wheat germ have been removed. The energy for the seed is contained in the endosperm, or center, of the grain, which is almost entirely made of starch. Proteins and carbohydrates are present, but the other nutrients are far less common. One reason why industrial bakers prefer white flour is its longer shelf life.
NUTRITIONAL VALUES ​​AND FIBER, MORE IN WHOLE WHEAT BREAD
Unlike white bread. As we will see later, this does not necessarily imply that white bread is inferior or of lower quality, but we cannot dismiss the many studies from throughout the world (some from the past, some from more recently) that attest to the advantages of wholemeal bread.
To start, wholemeal bread is recommended for diabetics as long as it is consumed in moderation because it causes fewer changes in the glycemic index because its sugars are slowly absorbed. White bread, on the other hand, is not advisable for those who have this illness due to its highly refined flour. One of whole wheat bread's most prominent advantages is its high fiber content. Compared to white bread, wholemeal bread has up to four times as much fiber, which is extremely beneficial for digestive health. A high-fiber diet may help reduce cardiovascular and degenerative disorders, according to studies.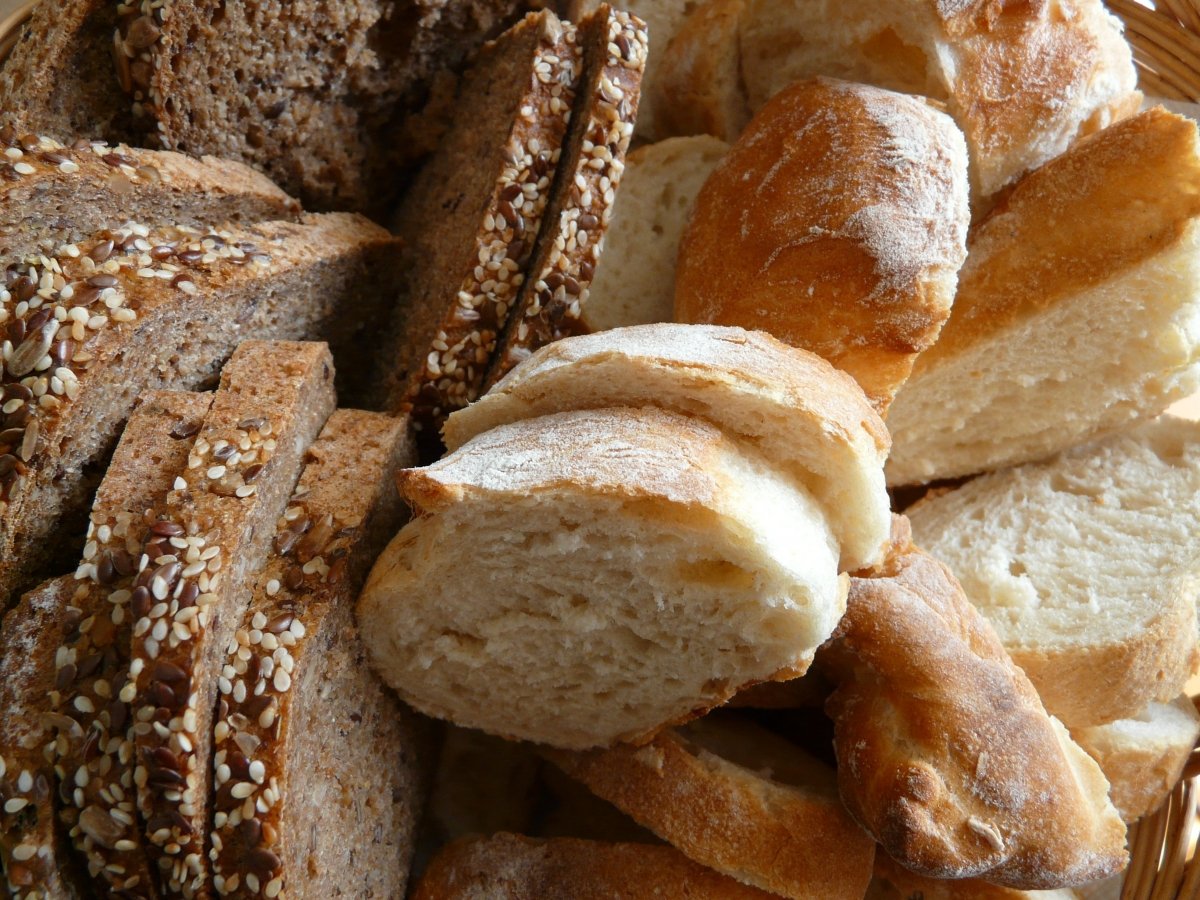 Additionally, wholemeal bread offers an increasing number of minerals, such as iron, magnesium, vitamins B1 and B3, K, and E (vitamins that are absent from white bread), over white bread. Only this particular mineral makes four to five times as much as white. Whole wheat bread also has higher levels of zinc and riboflavin.
THE CALORIES OF WHOLEMEAL BREAD AND WHITE BREAD, ALLIES OR ENEMIES OF THE OVERWEIGHT,
In concept, both slices of bread contain a lot of calories. White and whole wheat bread both provide about 265 calories per 100 grams of bread, which is a similar amount to that of white bread. Even if our bread is healthy and homemade, if consumed in large quantities or with butter, sauces, or other fats, none of them will help us lose weight; instead, we will acquire it permanently. If we consume wholemeal bread sparingly, everything changes.
Studies in this area demonstrate that wholemeal bread, when consumed in moderation, helps to reduce obesity. A significant source of carbs that fill us up more quickly and prevent overeating is whole-wheat bread. Because it contains a lot of fiber, it facilitates intestinal transit and lowers glucose absorption. As a result, it aids in maintaining weight control and, consequently, health. Keep in mind that we always refer to consuming food in moderation—never in excess.
WHICH IS BETTER: WHOLEMEAL BREAD OR WHITE BREAD?
While it's important to note that not all whole grain bread is healthy and not all white bread is unhealthy, whole grain bread generally tends to be better for you than white bread. health. Everything hinges on the components of each, their quality, and whether or not they were created by artisans. Industrial bread typically contains ingredients that are not advised, regardless of the type. Since not everyone digests seeds effectively, seed bread falls under a different category. Additionally, depending on the ingredients and methods used in the preparation, seed bread may not always be healthier. Another thing to keep in mind is that not all wholegrain bread is brown bread, and adding fiber to white bread does not make it wholegrain.
Also read: FRENCH PATE RECIPE